Beach House
Beach House
170 Russell, Melbourne
Thursday 11 February 2016
$63
BEACH PARTY
If you're looking for a band to back up Martin Mull and Elvis Costello's assertion that you can't dance to architecture, then perhaps Beach House is it. Named after an architectural edifice, Beach House are many things – lush, elegant, spectral, majestic and atmospheric – but they're not going to get the dance floor heaving. Gently swaying, perhaps, even quietly emoting, but heaving, no, as the tame mosh-pit at this gig illustrated.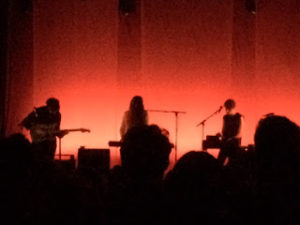 Beach House are nonetheless very popular, not Beyonce level popular, but this was their second Melbourne sideshow ahead of their Laneway Festival appearance, and the place was packed. A positive for the band and the promoters of course, but perhaps less so for the audience. Not just because it made it crowded and harder to see, but because 170 Russell is about three levels underground, with no phone reception and only one narrow staircase to street level. So in the event of fire, there's no point calling for help, and there's even less point trying to escape.
But if you have to go down in flames, Beach House could quite possibly be the perfect soundtrack. There's a soothing, ethereal quality to their music, the sort of music that might be appropriate as your soul slipped away. Elegy For The Void might be a suitable track for them to play to see us all out.
In raising the idea of shaking off one's mortal coil I'm cognisant of comparisons that might be made between Beach House's sound and that of 1980s English collective, This Mortal Coil. Likewise perhaps with The Cocteau Twins, Dead Can Dance and The Cure's slow keyboardy songs. While they all share a certain celestial, other-worldly quality, Beach House have their own sound and they do it all without a black lace fingerless glove in sight.
Indeed when the band took the stage at 170 Russell, singer and keyboard player, Victoria Legrand, appeared in an immaculate white suit with calf length coat. Maintaining their indie credentials, however, Alex Scally, and the other band members – Skyler Skjelset and Graham Hill – were adorned in standard rock 'n' roll black.
Legrand's all white outfit, however, didn't make it any easier to see her given the ill-lit stage. The entire band was submerged in the shadows that were only fleetingly illuminated throughout the gig. For the most part we just saw silhouettes on stage. The inky pitch was occasionally relieved by a simple light show; alternating panels of primary colours, a starry backdrop and the occasional moving projection casting shapes and more shadows over the band.
The gloomy mood lighting at least served to focus attention on the music, which from the first notes of Levitation was mesmerizing and performed with precision, intensity and a generous soaking of reverb.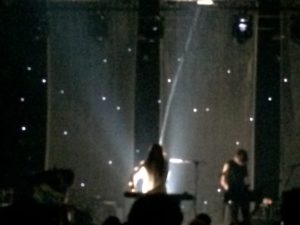 I'm not particularly au fait with the band's complete discography, having come to them only after seeing them perform One Thing on The Late Show with Stephen Colbert in late 2015. I was impressed by their dense, layered sound and picked up the album from which it was taken, Thank Your Lucky Stars, as well as Depression Cherry, the album they'd released only a few months earlier. I particularly like TYLS but both are very good. However, whereas on record I find that my attention can drift in and out, live their sound was more muscular and powerful and packed more of a punch than I expected – partly due to energetic and precise drumming of Graham Hill who brought Scally's guitar reverb and Legrand's waves of keyboard wash into sharper focus.
The set featured songs from across their career, with notable highlights being Space Song, All Your Yeahs and a gripping 10 Mile Stereo that built to a dramatic crescendo. Elegy for The Void, was the feature of the night and perhaps would have been a good song to end on, not just because of its majestic climax, but because once you've reached the void, where is there left to go?
They did continue however, and the encore began with just Legrand and Scally performing 10.37 and then the full band playing a manic version of Sparks, with Scally channeling his inner Reid brother to wrench every last bit of fuzzy feedback from his instrument.
In saying goodnight Legrand referred to playing one last gig at Laneway "before we leave Melbourne forever", a phrase that sparked immediate consternation and conspiracy theories among those around me. She might have just meant before they head off to Perth in a couple of days, but her use of the word 'forever' generated a buzz of speculation.
If they are retiring, breaking up or just taking a rest, it was a fitting note on which to take it and I'm glad I saw them before the end.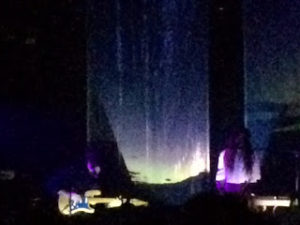 Encore: In an age when musicians routinely carp on about people downloading albums illegally, or not receiving suitable royalty payments from streaming services, Beach House have hit upon an ideal solution – rather than whinge and moan about it, they made the cover of Depression Cherry in a deep, cherry coloured velvet. It's as much a tactile experience as an aural one – you can't get that from streaming.
Setlist
Levitation
Walk in the Park
PPP
All Your Yeahs
Space Song
Silver Soul
Myth
Elegy to the Void
10 Mile Stereo
Wishes
– – – – – – –
10.37
Sparks