Kurt Vile
Kurt Vile
Summer Tones Festival
Shadow Electric at Abbotsford Convent
Tuesday 26 January 2016
$55
OUR HOME IS KURT BY SEA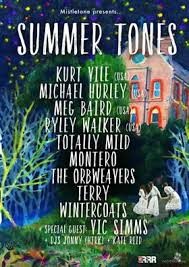 Australia Day, Invasion Day, call it what you will, the main reason for Melburnians to rejoice on this national holiday was the all day Summer Tones music festival at the Abbotsford Convent, featuring Kurt Vile and a host of other acts.
It was a typically boiling hot Australia Day with the temperature in the high 30s and I arrived late after attending a BBQ at my brother's place. But I met up with friends John and Manny at the outdoor stage just as American troubador Ryley Walker was finishing his set. I literally only caught the last three notes of his final song, so when I was briefly introduced to him later in the day, I wasn't sure how effusive I should be in my praise for his set. John and Manny had both thoroughly enjoyed it so I just followed their lead.
Totally Mild
I did catch one of my favourite local acts, Totally Mild. They were playing in the Shadow Electric bandroom, or boller room, as it might more accurately have been named on this day. Sweat was pouring down from my brow and I wasn't doing anything more strenuous than drinking a beer while watching the band.
They play on bravely through the heat, although singer Elisabeth Fraser brings a halt to at least one song a whole verse early. Perhaps she was becoming addled by the heat. The band continued in good humour however, and played through most of their excellent debut album, Down Time, including Christa, When I'm Tired and Battleship. They even added a couple of new numbers.
Michael Hurley
It was a relief to escape the humid and clammy sweatbox of the bandroom and repair once more to the outdoor stage. The outdoor stage enjoyed a bucolic setting with the trees on the banks of the Yarra providing a backdrop and a proscenium arch bedecked in vines and flowers.
Michael Hurley was just beginning his set as we arrived. Michael Hurley represents just one of the vast areas of my musical ignorance. In my world, Michael Hurley is an Essendon footballer serving a ban for his involvement, unwitting or not, in Essendon's 2012 supplements saga, so you can imagine my surprise when instead of a strapping, young blond man of peak physique, the person on stage stomping their boot to get a rhythm up while picking out a melody on their guitar was a thin, rakish septuganarian. It turns out that in the wider world, Michael Hurley is a folk music legend, painter and cartoonist who has been writing, recording and playing music since the mid 1960s. Who knew there was a wider world beyond football?
Anyway, Hurley's performance was raw and rugged and his songs entertainingly jocular, if a little one-paced. But I think I can cut him some slack given that he is over 70 years old, the temperature was still well over 30 degrees Celsius in the late evening and he was on stage playing a solo set to know-nothings like me.
Kurt Vile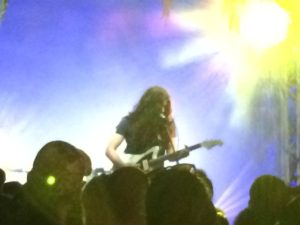 Kurt Vile was playing a solo set sans the Violators with whom he had been playing around town. I had seen him play with the Violators only a couple of years before (see below), so was interested to see him play a solo set.
For music afficianados, Kurt Weill (pronounced Vile) is a famous name in German Weimar cabaret music, so I just assumed that our man Kurt had appropriated the surname with its anglo spelling as a sort of punk pun. But no, in one of the interviews I'd read leading up to the gig he said it is his real name. With a name like Kurt Vile, he was therefore condemned by fate, or perhaps his parents, to a life in music.
Night had fallen and a refreshing breeze had sprung up so the comfort level for the audience had improved markedly. Ryley Walker gave a long, rambling introduction before Kurt took to the stage with his electric guitar. He played a set of typically hazy, meandering tunes that he sang in sneering stoner tones.
Standing in the garden of a former convent with the breeze blowing Vile's hair across his face, I couldn't help but think that in previous times you could have made a lot of shirts out of such abundant locks.
It somehow seems against the spirit of Kurt Vile's relaxed approasch to be taking notes and inventorying the songs, so I don't have a setlist. But he played a good mix of songs from his recent albums: Pretty Pimpin', Dust Bunnies, That's Life, Tho (Almost Hate To Say), Wheelhouse, All In a Daze Work,  Wild Imagination and Baby's Arms among others. He teased us with the possibility of requests, but in the end declined, preferring to just pick out whatever tune took his fancy. Without the Violators to push things along, however, things stayed at a slowish pace for the whole set.
Good gig, but after hours of standing around in scorching temperatures and loads of beers, I was happy to sit down in a taxi and get home.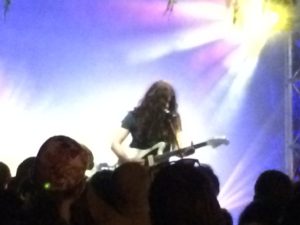 Kurt Vile and the Violators
Corner Hotel, Richmond
Wednesday 5 February, 2014
$54
Violated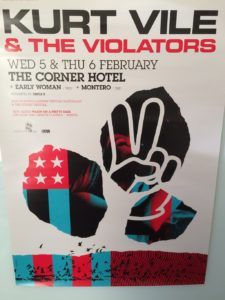 Just a month or so after Adam Granduciel's The War on Drugs breezed through town as part of the Falls Festival lineup, erstwhile collaborator and fellow Philadelphian Kurt Vile was here with his band the Violators for the Laneway Festival and two sideshows at The Corner Hotel in Richmond.
The tour cameon the back of one of the best albums of 2013, Wakin On a Pretty Daze, a sprawling masterwork of meandering, psychedelic laced songs delivered with Kurt Vile's intricate guitar playing, deadpan vocals and long hair.
As was customary for gigs at The Corner, I arranged to meet John and the crew at the Post Office Hotel for a drink before we took in the show. There were four of us on this night – John, Manny, Bruce and myself – the same quartet that had gathered at this venue in December to see Perth band, Pond. While both Pond and Kurt Vile share an interest in what might loosely be called psychedelic music, the general demographic for the two acts is markedly different. Where a group of four men in their 40s don't look at all out of place at Kurt Vile, the same four men looked decidedly suspicious skulking among the barely dressed 20-somethings that were on hand to see Pond. I could feel them looking at us out of the corner of their eyes trying to decide whether we were narcs, paedophiles or both.   
Being a weeknight I'd easily found a park at Richmond station and we secured an outdoor table to take in the balmy evening and chat about music and football over a Fat Yak or two before the gig. Manny was wearing a particularly stylish Bob Dylan tour t-shirt from his Modern Times tour in 2007 and I was decked out in a Television, Marquee Moon t-shirt from their recent show in Melbourne. Both acts seemed to fit the Kurt Vile musical aesthetic, but more importantly, showed off our impressive listening credentials. I doubt the same two t-shirts would have meant quite as much to a Pond crowd.   
Kurt Vile opened the show with Wakin' on a Pretty Day and followed up with Jesus Fever – so for me at least, he could have left it there and I'd have gone home reasonably content. As it was, he continued on with a powerful set mostly drawn from his two most recent albums, Smoke Ring For My Halo and Wakin' on a Pretty Daze. My friend John, who had bought these tickets, had put me onto Kurt a year or so earlier and I only really knew the material from his two latest albums, but as each song from the new album goes for several minutes, and as he embarked on the 10+ minute Goldtone – it constituted quite a high proportion of the set.
My view of the stage was restricted by the notorious pylon that is always front and centre at the Corner Bandroom, and the bane of many a gig. But it would be worse were the roof fall in for want of a supporting structure, so I suppose you just have to get out of its way. Further restricting my view was the presence between me and the stage of several members of what appears to be Kurt's chief demographic – unusually tall men.  But as Kurt himself mostly hunches over his guitar, his face hidden behind thickets of hair, there was not necessarily a lot to look at. It's not like you're missing Rhianna shaking her booty or David Bowie fellating Mick Ronson's guitar. Despite this, if I lowered myself slightly and listed a little to the left, I was able to just make out Kurt's head in the gap between one person's shoulder and another's head. Maintaining this crooked position might occasion remedial massage the following day, I thought, but it was either that or see nothing all night.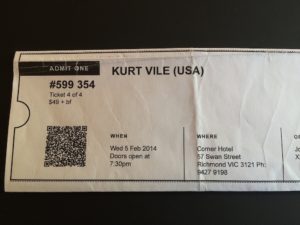 The lack of stage theatre is not a criticism because it is Kurt's guitar work and the band's intricate interplay that take the place of sequins and lighting extravaganzas that other bands might incorporate into their live show. On record Vile's songs meander along and allow you to drift in and out of them until they gradually inhabit you, like a slow release drug. Live, the songs retain this quality but the band injects them with a power and force that is not only a little surprising, but also allows you to bring out your inner head banger without any shame.
Having said that, it remains unlikely that Kurt will ever feature in the half-time show at the Superbowl as Bruno Mars and Red Hot Chili Peppers had done just three days earlier. And if he ever does, hopefully he'll plug in his guitar, unlike the Chili Peppers who mimed their playing and let Anthony Kiedis' charisma carry the day.
Kurt's stage banter was limited to the occasional nervous 'how ya doin?' between songs, and he barely strayed from the central point of the stage. But that's fine, we didn't come to hear a raconteur or see him bust his moves. Given the laid-back nature of his sound, I was pleasantly surprised he didn't perform while sitting on a couch  as depicted on the cover of Smoke Ring.
We did get plenty of guitar pyrotechnics, but of an understated, unassuming kind. He belted through KV Crimes, cranking up the sound and his imperious guitar playing helped him maintain a strong stage presence. Not only when playing the big numbers, but also, and perhaps it was even more marked, when the band left the stage and he played unaccompanied acoustic versions of Peeping Tomboy and Feel My Pain.
Back for the encore they ripped into Freak Train before muttering their good nights and slouching off.
There's a temptation to compare Kurt Vile and the Violators with erstwhile collaborators, The War on Drugs, who had played a Falls Festival sideshow at the Northcote Social Club in late December. But both groups played impressive shows and while I think The War on Drugs were tighter as a group, it might just be the nature of the material. Kurt is not quite so obviously as Dylanesque as The War's Adam Granduciel, and that may or may not be a good thing depending on your taste. Given that Dylan can barely be Dylanesque anymore, I'm just glad someone out there is taking the load.
One of the worst things about band slike Genesis and The Eagles breaking up was that instead of one awful album every couple of years, we had to put up with tedious solo albums from each individual member. It's quite the opposite with Kurt and Adam. With them going their separate ways a few years back, I relish the prospect of hearing from them more often – not only do we get great back-to-back shows, but with Kurt's great 2013 album Wakin on a Pretty Daze still fresh, I now look forward to a new War on Drugs album due in March.
Double Happiness.