Prince
Prince – Piano and a Microphone
State Theatre, Melbourne
Wednesday 17 February 2016
$223 (from a range of $100 to $750)
PIANO AND A MICROPHONE – JUST ADD iPAD AND PRODIGIOUS TALENT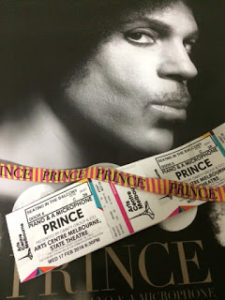 A grand piano sits centre stage under a wash of purple hued lights.  Soft chamber music wafts through the auditorium and a cluster of candles in each corner of the stage flicker with gothic mystique. Suddenly a purple portal, wreathed in smoke, is illuminated in the backdrop. The smoke clears to highlight the silhouetted figure of a man with unmistakable afro leaning ever so debonairly on a cane.
It is of course Prince, here for the third of his 'Piano and a Microphone' shows in Melbourne – no band, no dancers, no extravagant production or costume changes, just Prince and his songs.
Announced with only two weeks notice, it was always going to be difficult to get tickets, particularly as the State Theatre – the one with the spire – only holds 2,000 people. However, as an Optus customer, I benefited from a perfectly timed Telstra outage that took out half the competition at the precise moment I had to get online to book. Strategically, I also selected the mid-price ticket option, knowing that competition for the relatively cheap $100 tickets would be the fiercest.
Nothing Compares To Prince
Prince walked out to a standing ovation and took his seat at the piano. He announced that, "everything begins with rhythm," stomped his foot to establish a tempo and struck the opening chords to Electrum Plectrum's funky opener, Wow. With a simple turn of the head he appealed to the audience to help with the exclamatory refrain of the title at the appropriate moments.
Even though Angela and I were looking down from the balcony (yes we were on level 3 – God knows then where the cheap seats were located), we didn't feel too remote. The piano and voice were mixed loud and the sound was crystal clear.
As Wow ended, his playing changed seamlessly from funk to the boogie rhythms of Rocknroll Love Affair from his latest album, Hit n Run Phase Two.
Prince's playing was astonishing and seemed effortless and masterful – changing from blues to jazz with ease, even improvising classical passages. You got the feeling he might bust out some Rachmaninoff at any moment.
Likewise, his singing was superb – exercising his full vocal range while maintaining complete control of his voice. As Kiss taught us all those years ago, no one screeches quite like Prince. Angela lost count of the octaves he was progressing through.
He played against a projected backdrop of psychedelic patterns that evolved and morphed in kaleidoscopic shapes and that also shone onto the stage itself. Plus he had snazzy red LED lights in his shoes that lit up every time he tapped his feet.
The setlist took in a mix of older album cuts, The Ballad of Dorothy Parker, new songs, Black Muse, B-sides, How Come You Don't Call Me Anymore, covers, Unchain My Heart, and monster hits, with Little Red Corvette providing an early group sing-a-long. His version of Joni Mitchell's A Case of You was an another early highlight.
Within all of this were medleys, where one song bled into another, separated by splashes of piano, as well as songs dedicated to his former lover and colleague, Vanity, whose death had been announced the previous day. Reflecting on this he referenced the 'Black lives matter' movement in the US, simply commenting that 'every life matters'.
Think I Better Dance Now
I wasn't familiar with all of the songs he played, but it didn't matter for his virtuosity of piano and voice were completely absorbing. Evidently he also needed assistance, regularly scrolling through an iPad on top of the piano for the lyrics. Occasionally he would jump up form his stool mid-song to perform a little jig, as if the music was coursing through him and playing and singing were not sufficient as an outlet. He also took frequent turns to the front of the stage to accept the applause and take the outstretched hands of those at the front.
There was plenty of love in the room, with momentary silences filled by screeches of "I love you!" He would hit the opening chord of an obscure song and be greeted by loud whoops and cheers from aficionados who knew them, and wanted the rest of us to know they knew them.
In How Music Works David Byrne writes about the communion between artist and audience and comments that sometimes he thinks the audience are 'applauding for themselves'. There was certainly a fair bit of that going on as long time fans showed their appreciation to Prince for drawing on his entire catalogue for unexpected songs – what David Byrne called 'applauding their joint legacies as performers and audience'.
The only element of the show I don't think worked was the taped accompaniment he employed on some of the slower songs. It consisted of wistful, soupy strings that added nothing, and if anything, detracted from his live playing. He more or less stopped using it in the second half of the show as the tempo lifted and he treated us to a series of encores featuring some of his best known songs.
Raspberry Beret precipitated a stage invasion by one girl who was bundled out of the way before she could get to Prince.
He followed this with Kiss, and any doubt about his funky piano chops were erased as the audience in the stalls was up and dancing by this point. The encore finished with an impassioned reading of Nothing Compares 2 U.
One final encore gave us Purple Music, an unreleased song from the early 1980s, followed by a rousing version of Purple Rain to close out the show with a mass sing-a-long.
Below is my best attempt at a setlist, though it may be incomplete and some songs may have been part of a medley.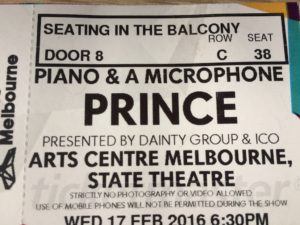 Setlist
Wow
Rocknroll Love Affair
I Love You In Me
The Ballad of Dorothy Parker
Little Red Corvette
Dirty Mind
Strange Relationship
Unchain My Heart (Ray Charles/Joe Cocker)
A Case of You (Joni Mitchell)
Waiting In Vain (Bob Marley) / If I Was Your Girlfriend
How Come You Don't Call Me Anymore
Black Muse
When She Comes
1000 X's and O's
Big City
The Love We Make
Raspberry Beret
Kiss
Nothing Compares 2 U
Purple Music
Purple Rain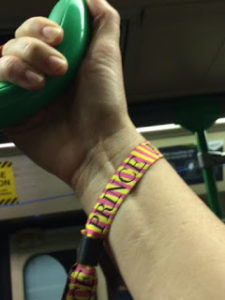 Encore – It's been a bizarre week in music. Tragically, UK indie band Viola Beach perished with their manager in a car accident in Sweden. Rolf Harris was charged in the UK with further counts of indecent sexual assault. Kanye West (sort of) released his new album, The Life of Pablo, after premiering it via his laptop, along with his new fashion range, at Madison Square Gardens, before going on a series of nutty Twitter rants, presumably by way of promotion – although the album is still only available on Tidal. Courtney Barnett lost out to Meaghan Trainor for Best New Artist at the Grammy Awards, in a decision that might one day be seen in the same light as the year Elvis Costello lost out to A Taste of Honey in the same category, or Neneh Cherry was pipped by Milli Vanilli, and Lady Gaga is being feted again, not for anything outrageous, but for her rendition of The Star Spangled Banner at the Super Bowl.