Big Scary
Big Scary
170 Russell, Melbourne
Wednesday 5 October 2015
$30
SCARY MONSTERS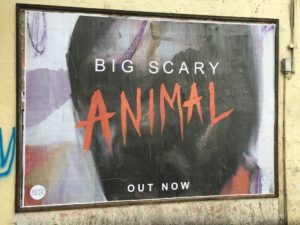 The 2016 ARIA nominations were announced today with Flume, Troye Sivan and Sia dominating the various categories, each receiving multiple nominations for their respective strains of electro-pop.
I don't know what the cut-off release date is for albums to be considered for the 2016 ARIAs, and I don't mean to dismiss the artists who have been thusly anointed, but in my mind the best Australian album for 2016 can only go to Big Scary for Animal.
Just as their second album Not Art was a leap in experimentation and artistry from their debut album Vacation, so the third album, Animal, is a further quantum leap again. It's a similar trajectory to Radiohead's development from Pablo Honey, through The Bends and onto OK Computer, just without the fanfare, the fawning music press (present company excepted) and the Pink Floyd comparisons. Incidentally, Pink Floyd also recorded an album called Animals, although just to be clear, Big Scary's Animal is happily devoid of any bloated prog-rock thematic links to George Orwell's Animal Farm, and more importantly, any overblown 17-minute songs called Dogs.
Instead, Big Scary's sound is rooted in the bold rhythmic structures Jo Syme builds on the drum kit, to which Tom Iansek adds percussive, sometimes dissonant, keyboard patterns with evocative guitar and vocal lines. It all gels perfectly in complex musical arrangements.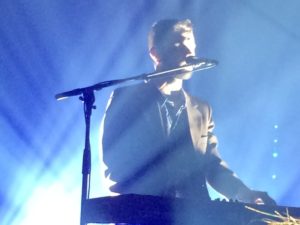 Not only album of the year either, but after witnessing their performance at 170 Russell a couple of nights ago, they should be in the running to win best live act as well – which isn't bad for two people who remain seated for the most of the gig.
For this tour, the Big Scary duo of Tom Iansek and Jo Syme were augmented by Gus Rigby on sax, Christopher Port on electronic percussion and Ted O'Neil on bass. As a unit, they played with power, poise and precision and put on a simply sublime show.
Animal, with its striking expressionist portrait on the cover, would also be in with a chance for album cover of the year, except for the fact that The Veronicas posed wearing nothing but purple glitter paint for their In My Blood cover. Sorry Tom and Jo, but naked twins in glitter paint will beat bold art any day.
Animal Kingdom
On the previous occasion I saw Big Scary at Ormond Hall – see below – I sat upstairs some distance from the stage. This time I edged in towards the front so I could see what was going on. With a line of tall lads strung out across the centre, I took a spot to the left, just under one of Tom's keyboards. It afforded me a good view of the stage, but left me open to the conversation of two girls who moved in behind me and proceeded to critique the romantic choices of one of their university buddies. I felt sorry for the absent friend, even if everything these girls said was true. I just hope they were paying attention when half way through the show Tom and Jo were alone on the stage and played the gentle ballad, Bad Friends.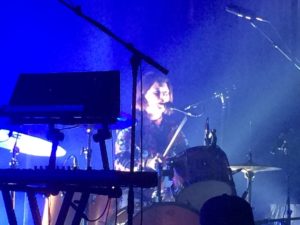 But I'm getting ahead of myself. The show opened with the full band on stage and Jo pounding out the dynamic tribal rhythm that runs through Oxygen, the opening track from Animal.  Tom was seated at a keyboard set on a raised platform to stage left, just above where I was standing, while Jo's drum kit was on a raised platform on stage right, with the supporting musicians strung between them at the rear of the stage. Tom shuffled and shimmied in his seat as he played and sang. He looked thinner than I remember, but it might just have been the sharp 1950s suit he was wearing.
After playing Organism, lead single from Animal, they turned to the previous album for Luck Now and Belgian Blues, which saw Tom move to centre stage and the guitar.
Despite being right down the front, the sound was crisp, clear and full. Tom's yelps during Double Darkness were piercing and every subtle variation in Over Matter's intricate soundscape was perfectly audible, from the pulsing synth to Gus Rigby's sultry sax solo
Tom and Jo remained unfailingly polite and genuine in their 'thank you's' and acknowledgements. Really, the only thing big and scary about the band was Gus Rigby, and that was mainly because of the monster baritone sax on which he occasionally blurted.
The band departed the stage while Tom and Jo performed Bad Friends and Breathe Underwater as a duo, with Jo taking her turn at the keyboard.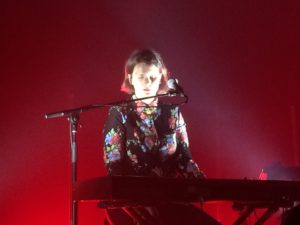 Up and Up and Up
This was a quiet calm before Tom hit us with the storm of metal guitar that opens Savior Add Vice before it settles into a slow funky groove. This set up a run home that was as good as anything I've heard at this venue since Mark E Smith and The Fall played Mr Pharmacist as their encore in 2010. Big Scary may not have played with quite the same ferocity as The Fall, but they did play with a little more finesse and affability.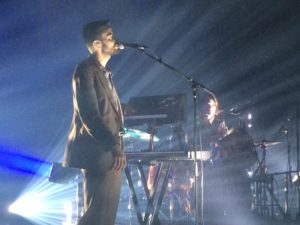 Lone Bird was next – the only song on the album actually named after an animal – with its plaintive guitar motif and churning soul synth that built in intensity until it reached a triumphant and truly astonishing apogee. I couldn't tell you what the song is about, but it sounded so good I wouldn't care if it was a song in support of Donald Trump's presidency.
Hard to top I thought, but they maintained the intensity with The Endless Story and its 'talking synth' trope, followed by The Opposite of Us, whose tinkling piano intro received a roar of recognition from the audience, kept it going with Flutism's warped rap and finished off the set with the piece-de-resistance, Up and Up and Up, an unapologetic funk stomp with Jo's thumping beat and Tom's 'Cool For Cats' inspired vocal. It was such a momentous climax that, along with the traditional 'Woo!' I involuntarily shouted 'Bravo!' at its conclusion.
The encore featured beautiful renditions of Falling Away and Twin Rivers, two of their most well-known and beautiful songs.
I've tried to take a light-hearted approach to these articles or reviews, but it is difficult to be flippant in the face of such a transcendent live music experience. Big Scary might just be the best band in Australia at the moment, our very own Radiohead.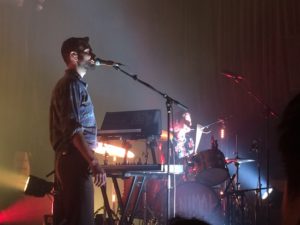 Setlist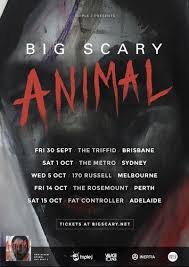 Oxygen
Organism
Luck Now
Belgian Blues
Double Darkness
Over Matter
Bad Friends
Breathe Underwater
Savior Add Vice
Lone Bird
The Endless Story
The Opposite of Us
Flutism
Up and Up and Up
– – – – – – – – – –
Falling Away
Twin Rivers
– – – – – – – – – – – – – – – – – –
Big Scary
Ormond Hall, Prahran
11 July 2014
$25
NOT ROCK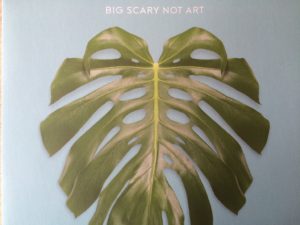 Big Scary seems an incongruous name for this Melbourne band. It's not just that there are only two of them, Tom Iansek and Joanna Syme, so anything but 'big,' but also because they present as polite and courteous to a fault. So far from 'scary' also.
Likewise, their music is gentle, tender and mostly rather quiet. Even 'Gladiator' which opens their debut album, Vacation, has a butch name and begins with a bluster of guitar, but just at the point where it might lift off into a maelstrom of metal, it slows, quietens down, actually stops for a moment or two, and then tentatively gets going again.  On Monsters Inc's scare-o-meter, they'd barely register.
But incongruity is obviously not something from which they shy away, as their second album, released in 2013, is called Not Art, and really, by any objective measure, it is the epitome of art rock; featuring slow, melodic songs, complex rhythms and innovative arrangements. It even has a song called Phil Collins. As one of my favourite albums of last year, I was quite keen to see them play live, even if it did clash with the Hawthorn v Adelaide match being played in Adelaide.
Indeed, the scariest aspect of this gig was the football score I was periodically checking during the first half, as Hawthorn (my team) remained only marginally ahead for most of the game.
Not Theatre
Ormond Hall is an old civic hall with a large rectangular floor area in front of the stage and a narrow balcony upstairs with limited seats in a U shape. I was there early enough to grab one of the seats in the front row upstairs, so had a good view looking over the crowd towards the stage.
There was a short set by support act, Jonty, who hunched over his laptop to coax beats and accompaniment from its various drives, although for all I know he was updating his Facebook profile. He occasionally joined in the pre-recorded vocals or strummed away on a guitar – borrowed from Big Scary because, as he hesitantly explained, he'd forgotten his gear. It seems inconceivable to me that a musician travelling interstate to play a gig could actually forget their instrument, but in his interactions with the audience he seemed shy and awkward, almost apologetic. Perhaps he was just nervous. His music was unremarkable to my ears, but that might have been the mix, which seemed to reduce everything to a sort of indistinguishable sonic stew. The high ceilings of the venue probably didn't help, plus throughout his set I was preoccupied with Hawthorn's progress.
Prior to Big Scary emerging, the stage was in darkness, the only illumination being the back-lit bass drum depicting the magnified leaf of the Not Art album cover.  The room had gradually filled and the audience were standing at least six deep at the bar. When the band came on, Jo took her place behind the kit, which was set forward, while Tom hung a guitar around his neck and stood centre stage. They were augmented by two additional musicians on various keyboards.
They immediately launched into Hello, My Name Is, the opening track from the new album. Short, sharp percussive blasts of guitar give way to a moment of tranquillity before a sustained guitar salvo over which Tom Iansek inventoried the various things he is not, from which we can presumably begin to work out what he is. They followed with single Luck Now, with Tom on keyboards and Jo's beats becoming the focus. The sound in the venue was a bit echoey, and this detracted somewhat, but it may have just my position up high.
Not Dance
Even so, I wasn't going to give up my seat to join the throng in front of the stage, which had swelled as the bar emptied and people joined the general mass of punters in the main hall. They continued with an unbroken run of five tracks from Not Art before playing Gladiator. Possibly because it is their rockiest song, but also because it is on fairly high rotation in the Visa Paywave ad on TV, but it provoked a few of the people closest to the stage to move about in ways generally recognisable as dancing, if not actual moshing.
Perhaps it was the stylish art deco surrounds with its faint hint of olde world grandeur, but this was the stillest, politest mosh pit I'd seen since I heard the Melbourne Symphony play Vivaldi's Four Seasons. Jo was stranded at her kit, but exuded energy and purpose. Tom Iansek focused on delivery, standing erect and inert at the microphone or sitting straight-backed at the keyboard – none of Chris Martin's twirling, stomping restlessness for him. The beauty of their material derives from mood and subtle arrangements rather than energy, but Iansek's stage persona still resembles the new intern in Accounts rather than any sort of rock god.
Still they played the songs well and brought out their nuances, while providing a strong and powerful backing. A testament to the strength of mood they created in songs like Invest was that the bar was completely empty of patrons and there was none of the annoying, loud drunken chatter between numbers or ruining quiet numbers like Harmony Sometimes.
After Gladiator they resumed running through the tracks from Not Art, eventually playing all but the quiet, ethereal, Lay Me Down and Final Thoughts.
Either the mix improved, my ears grew accustomed to the hall's acoustics, or the fact that the Hawks finally won meant that I was able to focus more intently on the gig, but the sound gained intensity and sharper edges as the show wore on. Long Worry was a particular highlight.  Jo Syme was particularly impressive setting up the rhythms and providing the pounding drive in Why Hip Hop Sucks in 13 with its sampled vocal.  Twin Rivers was also played warmly and sensitively.
There was a bit of affable chat, a shout out to Tom's mum, who was in the audience, and the revelation that this would be their final hometown gig for a while as they were about to sequester themselves away to write songs, all of which maintained the friendly vibe.
Jonty was invited on stage to join them for a track they'd co-written many years before. Intended as a finale, they finished and then stood about awkwardly, Tom eventually admitting they weren't very practiced in the art of the encore.
The encore drew on highlights from their first album, notably Leaving Home, Purple and a soaring Falling Away, by which time it was just Tom and Jo on stage.
It was a strong, powerful conclusion to their set and showed they can rattle a few tasteful art deco rafters when they put their minds to it. Perhaps their material is more suited to the studio than the stage, and I can't wait for a new album, but what they may lack in stage presence and pretension, they more than make up for with mature, intricate song writing.  Not Art perhaps, but as close to it as contemporary rock is likely to get.
Setlist
Hello, My Name Is
Luck Now
Invest
Harmony Sometimes
Belgian Blues
Gladiator
Long Worry
Phil Collins
Why Hip Hop Sucks in 13
Twin Rivers
In Paradise – with Jonty
——————–
?
Leaving Home
Purple
Falling Away