The Saints
The Saints
The Gasometer Hotel
Thursday 6 October 2016
$40
PREHISTORIC SOUNDS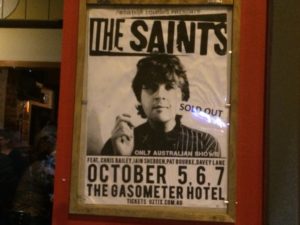 In September this year, Pope Francis declared Mother Teresa a saint at a canonisation mass in The Vatican. Chris Bailey, on the other hand, declared himself a saint in the suburbs of Brisbane 40 years ago. And here he was, still coming among his people at The Gasometer Hotel in Collingwood to perform his good works, well for three nights only at least.
Mother Teresa was known in Calcutta as 'the saint of the gutters' for her work with the poor. I don't profess to know much about Chris Bailey's personal life, but I don't think it's entirely far fetched to imagine that he has at least a passing acquaintanceship with a similar habitat.
Lives of The Saints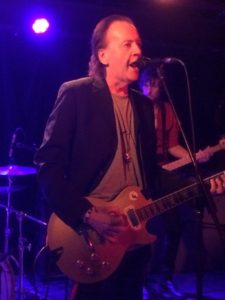 I was too young to see the original incarnation of The Saints that Bailey formed in Brisbane along with Ed Kuepper, Ivor Hay and Alasdair Ward. That version of the band ended acrimoniously in 1978 after three incendiary, but mighty albums, and even though Bailey and Kuepper have reunited once or twice in recent years, I haven't seen them perform together.
After the break up of the original Saints I followed both Bailey's resurrected band as well as Kuepper's various projects. Most avidly I followed Kuepper's Laughing Clowns, but between 1984 and 1990 I was a regular at both Kuepper's solo shows and Bailey's Saints shows. During this period I probably saw Ed Kuepper and Chris Bailey more often than I saw some members of my own family.
Ed Kuepper is probably the artist I've seen most in my life and even though he's played twice in Melbourne this year, I haven't been able to attend on either occasion. In fact I haven't seen him perform since he was part of a Rowland S Howard tribute night at the Melbourne Festival a couple of years ago. (Incidentally, I saw Rowland's brother, Harry Howard, currently of Harry Howard and the NDE on the 59 tram during the week – even post-punk rock identities have to catch public transport!)
And I think the last time I saw Chris Bailey perform was in 2003 when he joined Nick Cave on stage at the Myer Music Bowl. So when I heard that The Saints were playing a series of gigs at The Gasometer Hotel, I didn't want to pass up the opportunity.
All Saints Day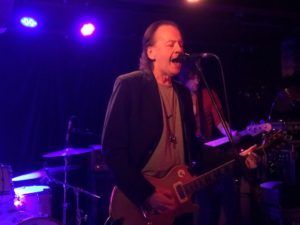 It seemed surprising to me that The Saints would choose to play at The Gasometer Hotel, a venue that has a capacity of only a few hundred people. I could understand it perhaps if it was a warm up for a more extensive tour, but these performances were being advertised as the band's only Australian shows.
This was to be one of those marriages of band and venue that seems so unlikely that you can't quite believe it will come to pass, until such time as you see the band actually take the stage. I've been to a few such shows, PIL at the Pier Hotel in Frankston, Elvis Costello at The Palace in St Kilda, The Dandy Warhols at Vic Market, Bob Dylan in a small pub venue at Crown Casino, The Style Council at The Venue in St Kilda and Daryl Braithwaite at the Lemon Tree Hotel in Carlton – it was a lean period for Dazza, somewhere between Howzat and Horses.
I know The Saints aren't exactly riding a wave of popularity, or even a ripple of nostalgic interest, but even so, I thought Bailey could command a bigger audience than The Gas could hold. As if to underline this, tickets for all three nights sold out almost immediately.
Anyway, I was looking forward to the show. My friend John went on the Wednesday night and reported back that Bailey rambled on too much between songs, didn't play (I'm) Stranded and by comparison, made Mark E Smith look like a picture of health. 'So not much has changed' I thought, but still I was undeterred in my optimistic outlook for the gig.
I arrived just as support act Terry said good night, grabbed a Pure Blonde (the beer) from the bar and wandered in to stand near the front of the stage. The room was filling up as the roadie set up the stage – it is perhaps a measure of The Saints current stature that there was only one. People pushed past me to take photos of guitarist Davey Lane's pedal set up and the setlist. One bloke leaning over to take his snap wondered aloud what we used to do at gigs before mobile phones. A jug of clear liquid with a packed ice was placed next to the central mic stand. "Tequila" the girl behind me speculated. Turns out it was gin and tonic.   
The Saints Go Marching In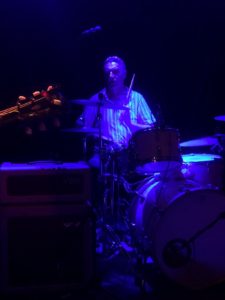 The sound of recorded bagpipes filled the room to announce the imminent arrival of the band. Possibly this is a form of insurance, for regardless of the quality of any given band, they will still sound good by comparison to bagpipes.
Remembering John's description of Chris Bailey, I was keen to see for myself. I'm not sure that Bailey necessarily looked unwell, but his hair has certainly receded at the front and lost volume at the back, but then I haven't seen him for 13 years and he is nearly 60 now, so that was to be expected. My own hair went by the time I was 25, so I wouldn't hold that against him. But it is not only his hair that has partly gone; he has also slimmed down considerably. There was a time when he was known as 'Fats,' but the man in the tartan pants strapping on his guitar was very nearly svelte. It's not just that he had lost weight, but rather his whole body seems to have shrunk, except for his head. He looked a bit like one of those bobble head figurines. In any event, he didn't really resemble the strapping young hood on the posters.
Know Your Product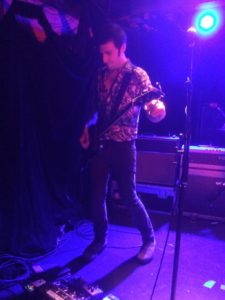 But even if his body has shrunk, his voice hasn't. As the band hammered out the opening of Know Your Product, Bailey let rip with the opening salvo of his blistering attack on marketing and advertising that 40 years on remains as relevant as ever, perhaps even more so.
While music bores like me continue to debate The Saints' place in the annals of punk, the punchy soul horns that drive this song illustrate that when they recorded it in 1977, even as the rest of us were clambering aboard punk, The Saints, who have credible claims on being the first punk band, had already moved on.
The Saints didn't have the horn section at The Gasometer – there wouldn't have been room on the stage – but somehow Davey Lane managed to recreate the brass fanfare on his guitar. A room full of 50 year olds immediately began moshing in their imaginations, which was manifest by a vigorous nodding of the head and a slight twitching in one leg.
Then they played This Perfect Day from the same album and the woman next to me broke out in rapturous hair swinging dance moves. Chris Bailey may no longer physically resemble the aloof young man on the poster, but the songs he was singing still sizzled with the sneering energy and wisdom of that youth.
And the band was generating that energy. Iain Sheddon on drums and Pat Bourke pounded out the rhythm while Davey Lane was a revelation on guitar. His resemblance to Johnny Marr was not only physical. No wonder all of the tech heads were photographing his nest of pedals.
The set list was sourced from across The Saints' entire career. The band drew mainly from the 1970s and 1980s as expected – and as the audience would have demanded – but they played two songs from the most recent Saints album, 2012's King of the Sun, the title track and Sweet Chariot. Plus they played Last and Laughing Mile from 1996's Howling album, all of which showed that even if his hair has deserted him, his songcraft hasn't.
Highlights for me were Swing For the Crime from my favourite Saints LP Prehistoric Sounds, Messin' With the Kid from their debut album, Always, Always from The Monkey Puzzle and Grain of Sand from 1988s Prodigal Son. Bailey was in fine voice and seemed to be in convivial humour. He still exhibited a casual stage persona, playing guitar with one foot on a monitor while scanning about the audience to make eye contact with people. One gentleman with a long beard provoked a riff on men's hairdressing trends, and he began a few minor soliloquies on various topics, only to stop and let the band get on with the music. At one stage he saw me holding up my phone to take a photo and instead of mocking me, as he might once have done, simply groomed himself to pose.
Introducing the band Bailey gestured to Iain Sheddon on drums, Davey Lane on guitar, Pat Bourke on bass, "and me on G&T" as he took a big swig from his jug. At the risk of blunting his image of being a swaggering, big drinking rock singer, the jug was still quite full by the end of the gig. Perhaps that is why he refrained form any elongated rants.
After concluding the main set with a rousing version of Just Like Fire Would, Bailey returned by himself for an encore, playing a trio of slow, powerful solo ballads on acoustic guitar. It was in these songs, Casablanca, Photograph, and the wonderful Massacre – another of my favourite Saints songs – that the strength and resonance of his voice was apparent.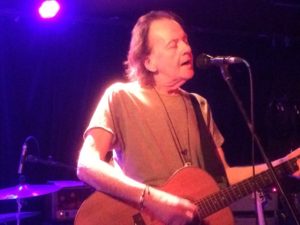 As Bailey began the classic Ghost Ships, the band returned to the stage to join in at the end of the first verse. As he introduced one last song that he promised would be "edifying as fuck" Sheddon hammered out the introductory tattoo to the original Saints classic, I'm Stranded to the obvious delight of the audience, but less so to Bailey. Knowing that they hadn't played it the previous night, I was interested to see Bailey give a subtle two finger gesture to the drummer who had started the song. Perhaps the band had hatched their mutinous plan during the solo set.
I know it is no longer 1976 and that Ed Kueper wasn't on guitar, but there was still something powerful about being an arm's length away from Chris Bailey as he sang this iconic Australian punk anthem. L.P. Hartley once wrote that 'the past is a foreign country, they do things differently there,' but that is not necessarily the case in rock, where heritage acts continue to emerge from the mists of time to play the old hits. Perhaps we are all just stranded in the past.
Setlist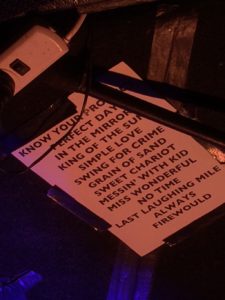 Know Your Product
This Perfect Day
In The Mirror
King of the Sun
Simple Love
Swing For The Crime
Grain of Sand
Sweet Chariot
Messin' With The Kid
Miss Wonderful
No Time
Last and Laughing Mile
Always, Always
Just Like Fire Would
– – – – – – – – – – – –
Casablanca – solo
Photograph – solo
Massacre – solo
Ghost Ships
I'm Stranded
For a more authoritative account on The Saints and their influence, read Robert Forster's memoir, Grant and I, published by Hamish Hamilton, or his article in the September 2007 issue of The Monthly, Tales From Pig City: The Saints at:
https://www.themonthly.com.au/issue/2007/september/1188970325/robert-forster/tales-pig-city