Bob Dylan
Bob Dylan
Palais Theatre, St Kilda
Tuesday 19 August 2014
$100.88
TANGLED UP IN BOB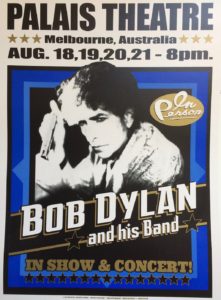 The final track on Leonard Cohen's 1989 album I'm Your Man is called Tower of Song. It describes a sort of high-rise housing development for songwriters, something like the old Brill building perhaps, a place of accommodation in which the best songwriters occupy the highest floors. For example, Cohen describes Hank Williams as living, "100 floors above me."  I think Lenny might be underselling himself there, but either way, if such a place exists in either this world or the next, then surely Bob Dylan would be the sole occupant of the penthouse suite with everyone else crammed in on the floors below him.
Evidently I was quite determined to become a Dylan fan because I first got into his music in the 1980s. At the risk of understatement, it's fair to say that for Dylan, as with so many other established artists at the time, the 1980s was not necessarily his finest or most creative era. Fortunately, in Bob's case, there was a such a rich back catalogue of music and nearly as much legend and mystique surrounding it that the budding fan could afford to ignore the 'new' stuff and focus on the groundbreaking old and relatively recent stuff, and still not have time to appreciate it all.
I know that in general, measuring the worth of one artist's work against another's is a meaningless exercise, but Dylan's songbook is so far above and beyond anyone else in rock music that he is the one exception.
The reason I got into Dylan at all was that almost every single band or singer I liked had at some point covered a Dylan song. Eventually the weight of numbers stacked up and I thought I should check him out. The first Dylan album I bought was Slow Train Coming, the first of his 'born-again christian' trilogy. I knew this wasn't necessarily his most famous, but I really liked Gotta Serve Somebody as well as the title track, and you've gotta start somewhere.
This proved a prescient choice because a visitor to the house in which I lived was so incensed that this was the only Dylan album I owned, he lent me the mid-70s triple album collection, Masterpieces. This album not only lived up to its name, but introduced me to the many moods and stylings of Bob Dylan.
By the time Dylan next toured Australia in 1986, I was if not yet fully fledged, then far enough along that I bought a ticket to the show. He was playing at Kooyong with Tom Petty and the Heartbreakers who were acting as both support act and Dylan's backing band.
Even then the reviews for Dylan were that he was past it and the Tom Petty was the best part of the show. I didn't agree. I still remember from that show the chill that went up my spine when Dylan sang It's Alright Ma, I'm Only Bleeding. There's a line in that song that goes; 'even the president of the United States sometimes must have to stand naked' – which received a massive roar, notwithstanding the fact that the president at the time was a rickety and withered old septuagenarian Ronald Reagan, and the idea of him without clothes would have filled most people with revulsion.
My other memory from that show is watching Nick Cave wearing a bottle green velour suit saunter down the centre aisle to take up a seat in the front rows.
Here I am then, 30 years later and a committed Dylan-o-phile, but still a relative newbie compared to some of the lifers lining up alongside John and I outside the Palais. By this stage, Dylan is as old as Reagan was in 1986, and where Dylan is still making great records, Tom Petty has become a heritage 'greatest hit(s) act or a talking head for hire on rock and roll documentaries.
I've seen Dylan perform many times in the intervening years, most recently in 2011 at Rod Laver Arena when John and I were just a few rows from the front. Most memorably I saw him play a small club at Crown Casino for the Time out of Mind tour, for which I had to sleep out in a corridor at Crown to get tickets.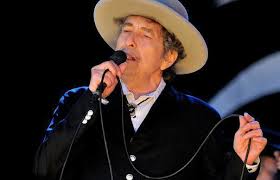 Bob the Dylan
If Dylan is getting rickety, his audience are not faring any better. It's like a scene from The Walking Dead queuing out the front of the Palais. The talk in the queue concerned itself with the previous night's set – this is the second of three shows at The Palais – and a rumour that his album of songs made famous by Sinatra – Shadows of the Night – would be available the very next day. It wasn't.
Even so, I'm a little ambivalent about the new album. As much as I love Bob, and even though the early single from the album, Melancholy Mood is pretty good, even the most committed Dylanologist would concede that however much worldliness and wisdom Bob's distinctive croak might impart to the material, they are still not Dylan songs.
Nonetheless any new Dylan album will cause a certain degree of interest, even the expanded reissue of the widely derided Self-Portrait album caused a ripple of revisionist excitement last year. The idea of Bob lending his rusty pipes to songs made famous by Sinatra's dulcet tones might seem absurd to outsiders, but really, after his album of Christmas songs a few years back, this is business as usual for Bob fans.  The only surprise is he hasn't yet tackled Taylor Swift's back catalogue.
I was at the show with John. We were sitting next to a father who had bought his son. He wasn't alone in this regard, it seemed to be a thing with the baby-boomers – wanting to share or rather foist a bit of musical history on their children, or in some cases, possibly grandchildren.
Even though my kids have grown up knowing Dylan's music – during the height of Bob the Builder fame, Dylan was known in our house 'Bob the Dylan' – I never seriously thought about bringing them along. Mainly because I didn't want to pay $100 for them just to be bored. Instead I'm joining my eldest son Oscar to see his sort of music, the Hilltop Hoods in a couple of months.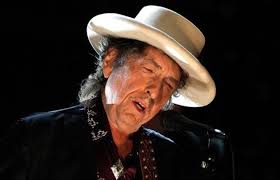 Modern Times
These days Dylan focuses on his more recent material when he plays live rather than the many classics from his back catalogue. That said, there are not many artists for whom a song such as this night's opener, Things Have Changed, from 2000 might be considered recent, However, everything is relative and Bob operates on a different continuum to everyone else.
And things have indeed changed for Bob; he no longer plays guitar on stage, due, I believe, to arthritis. Instead he positions himself behind a piano or stands centre stage behind a series of mics.
Such are the credentials of his band, that Bob's musicianship is not necessarily required. The line-up featured Charlie Sexton and Stu Kimball on guitar, Tony Garnier on bass, George Recile on drums and Donnie Herron on steel guitar, mandolin, violin and anything else that could be plucked or hit.
Bob was looking sharp in a frock coat and Stetson – like a dapper gangster – and the band played with understated restraint in subdued lighting. It's like a club gig, just in a large theatre. John and I were sitting up the top so we didn't see all that much, but I've been a few rows from the front for Dylan a few times, including once here at The Palais in the early 90s near the beginning of what has become known as the Neverending tour. Even then, there was no obvious advantage to such proximity, for Bob performed in virtual shadow and rarely looked up let alone out at the audience.
He followed Things Have Changed with a song that suggests otherwise, She Belongs to Me, one of his timeless classics from 1965. 'She's an artist, she don't look back' sang Bob, and this was one of the few occasions on the night when Bob did look back.
Most of the set was taken from his past few albums, mainly Tempest, with a few surprises and the occasional nod to rock and roll history thrown in. Bob's voice warmed up into a gravelly purr as he sang Beyond Here Lies Nothin', one of the better tracks from Together Through Life, and Workingman's Blues #2.
In an unexpected pleasure, there was even a song I didn't know, Waiting For You, a slow country waltz that I later discovered was from the 2002 soundtrack to Divine Secrets of the Ya Ya Sisterhood.
The first set wrapped with Tangled Up in Blue and Love Sick – written 25 years apart but still two of Bob's absolute best. He was in pretty good voice (again, everything is relative), because there have been times when he was half way through a time-worn standard before you could even pick it. But not tonight – he was even singing with something like force at times.
"Why thank you" he said, his first words to the audience all night, and then muttered something else about taking a break. It's not often you go to gigs with an intermission, but then I don't go to many gigs by septuagenarians. Leonard Cohen was probably the most recent, and he also took a mid-show break.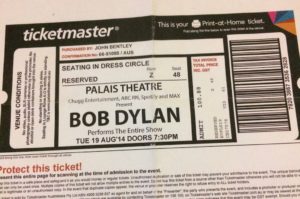 The Hour is Getting Late
John and I had already hit the merch stall so we just grabbed a Boag's and hung about in the foyer. I bought a commemorative poster, even though it is unlikely I'll ever hang it. But I like its old style design, particularly the image of Bob from the 1980s, the 'In Person' boast as well as the explanatory, 'In Show & Concert.'
Like the first half, the second focused on more recent material with Simple Twist of Fate from 1975's Blood on the Tracks the only song to pre-date the current century. There are four more songs from Tempest, and the brooding Forgetful Heart from Together Through Life, but nothing from the supposedly out-any-day-now, Shadows in the Night.
He also played one of my favourite tracks, Spirit on the Water from 2006's Modern Times, a regular in his set in recent years, and made memorable by the pantomime modesty of the line, "You think I'm over the hill, you think I'm past my prime…" which elicits the obligatory cry of 'No!' from the audience.
The show came to an end with a run of songs from Tempest; the bluesy and slightly menacing Scarlet Town, followed by the softer and more melodic Soon After Midnight with Bob back on the piano. They then closed with Long and Wasted Years, a song that pits a depressing, downbeat lyric against an upbeat, if slightly warped, swing melody, in a typical Dylanesque conundrum. And what better note for the great man to take wordless leave of his audience.
Bob and the band returned for a finale featuring two of his best known songs, All Along the Watchtower, played with greater restraint than the fiery rendition with which he opened his show in the same venue some 20+ years previous, but with a big, triumphant finish. This was followed by the always prescient, Blowin' in the Wind. It's a song you never need to hear again, but Bob's septuagenarian, time-worn croak now lends the song a different perspective than his brittle youthful twang once brought to it. And even if Bob occasionally asks himself, 'How many times must a man sing this song…' it is as profound and prophetic as it ever was.
Each time I see Dylan I suspect it will be the last, but he seems indefatigable, even energised by playing the 'new' songs. Maybe this really is the 'Neverending' tour, which means he may never get to move into his penthouse suite in the tower of song.
Setlist
Things Have Changed
She Belongs to Me
Beyond Here Lies Nothin'
Workingman's Blues #2
Waiting for You
Dusquesne Whistle
Pay in Blood
Tangled Up in Blue
Love Sick
———–
High Water (For Charley Patton)
Simple Twist of Fate
Early Roman Kings
Forgetful Heart
Spirit on the Water
Scarlet Town
Soon After Midnight
Long and Wasted Years
————
All Along the Watchtower
Blowin' in the Wind