High on Hawthorn: The Road to the 2013 Premiership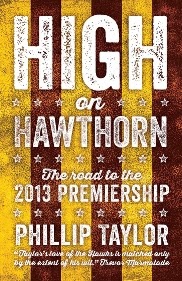 "Taylor's love of the Hawks is matched only by the extent of his wit." Trevor Marmalade.
High on Hawthorn originated from Phillip Taylor's football blog Twenty3 and tracks Hawthorn's triumphant 2013 season. A hallucinatory account of all things Hawthorn, it celebrates the sartorial splendour of the brown and gold stripes, traces the numerological power of the number 23 and reveals how Hawthorn broke its Groundhog Day disorder against Geelong. Plus, it revels in Essendon's plight.
These days, there are more television hours spent analysing the AFL each week than there is actual game time. This book doesn't dwell on the kicks, corkies, handballs or hard-ball gets. Rather, it traces Hawthorn's dramatic and eventful season from the fans' perspective, giving voice to the excitement, exasperation and – ultimately – exhilaration that all Hawks supporters felt.
From the public bar to the members' pocket at the MCG, this is the definitive record of Hawthorn's 2013 premiership campaign, celebrating the AFL's latest (brown and) golden era.
"Taylor takes it one week at a time, making footy part of life – or is it life part of footy? …Taylor's is the lived experience of the fan." John Harms, The Age Saturday 5 April 2014.
"High on Hawthorn is laced with pop culture references, which is a welcome addition to Australian sports writing. From John Milton's seventeenth century poetry to Michael Douglas, Taylor's grasp of both the quirky and the familiar is impressive…a must read for all Hawthorn fans." Michael Collins, The Yorker: Journal of the Melbourne Cricket Club Library, Issue 54, Spring 2014.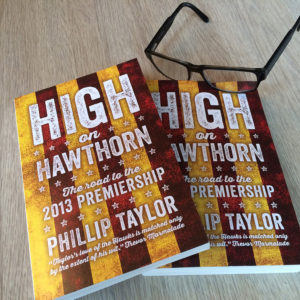 Buy here – https://www.blackincbooks.com.au/books/high-hawthorn
About the author – https://www.blackincbooks.com.au/authors/phillip-taylor