Calexico
Calexico
Krista Polvere
Hamer Hall
Wednesday 3 March 2016
$70
SIT DOWN AND BE COUNTED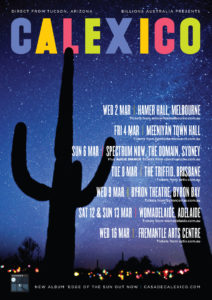 My mum and dad didn't play music all that often when I was growing up. When they did it was often bagpipe marching band music, The Seekers or a cast recording of a popular musical such as Oliver, My Fair Lady or The Sound of Music. No wonder I later found solace in the Sex Pistols.
One of the few records of theirs that I did like was by Herp Albert and the Tijuana Brass – big band Tex-Mex music built around Herp Albert's lyrical trumpet. It was lively and catchy with rapidly strummed guitars, skipping vibraphone rolls and jaunty blasts of brass. Most importantly to my young ears, there were no bagpipes.
Having this music in my childhood meant that I was predisposed to like Calexico when I first heard them supporting Nick Cave & The Bad Seeds at the Sidney Myer Music Bowl in 2003. They were reminiscent of the Tijuana Brass with its vivacious brass reveilles, but also with electric guitars, drums and a slightly twisted mariachi feel. I bought their current album at that time, Feast of Wire, and have followed them more or less ever since.
They've toured Australia a couple of times since then and I've seen some rollicking gigs at the Corner Hotel and the Prince Bandroom. In Australia to play Bluesfest in Byron Bay and WOMAD in Adelaide, they're squeezing in a few shows in between, including this one at Hamer Hall. It is perhaps an incongruous venue for them, but when my friend John said he was getting tickets, I thought why not. As with Sufjan a few nights earlier, our wives joined us.
Krista Polvere
Before Calexico, however, was support act Krista Polvere, a local singer-songwriter. When I checked her out via the usual sites I learned that Ryan Adams was a big fan and had even played on one of her albums. So we thought we'd try and get there in time to hear her.
We were only three or four rows from the front so we had excellent seats. Krista walked out wearing what I can only describe as a teddy – a type of lingerie garment – a sheer, loose top and shorts combo. The sort of thing you might wear when you excuse yourself so you can "slip into something more comfortable" and return with a glass of wine and a 'come hither' look. With her flowing brunette locks and long legs, she looked like Lana Del Ray in sleepwear.
I don't know if this type of look is what attracted Ryan Adams – he's only human after all – but his influence became apparent when she started playing, for between every song she felt the need to gush at considerable length about nothing very much at all…very Ryanesque in other words. Most likely she was very nervous, and full marks to anyone prepared to get on a stage and share the fruits of their art with a room full of strangers. Particularly such a big room. She admitted to having been plied with wine by Calexico, and indeed she still had her glass with her on stage, so perhaps her loquaciousness was just brought on by the house sav blanc.
In fact the problems began before she'd even started. She walked on stage and picked up her guitar from the stand, then took two or three minutes to tune it, all the while talking about what a privilege it was to play such a venue. If it was such a big deal, wouldn't you make sure that you'd undertaken the most basic level of preparation in advance, i.e. tuning your guitar? Presumably she'd had all day to do it. Despite that, her first song, Bluebird was quite interesting. Her voice was strong and she wove an interesting melody over her acoustic guitar playing.
The rest of her set wasn't as strong unfortunately. Not bad as such, just not particularly unique. That's not necessarily a bad thing. She's operating in the country tradition and she was true to that style. She can certainly sing however, and perhaps at her own show or with a full band, her songs would have more bite. Or perhaps if I hadn't been quite so distracted by her legs I'd have listened more intently.
Calexico
Joey Burns is Calexico's lead singer and songwriter, but live, the focal point of the band, at least from the audience's perspective, is Jacob Valenzuela. When he's not playing trumpet, vibraphone, piano accordian or taking the lead vocal on a couple of numbers, he's shaking some form of a percussive rattle, all the while moving from side to side with such fluid grace that you wonder if it's just the music getting to him or whether he functions on some inner biorhythm that only he possesses. You can't take your eyes off him.
They opened with Frontera, a typically swaggering number that you might hear in a western soundtrack. It is driven by a scattered rhythms and swift acoustic strum through which a single guitar line picks out a path, until dual trumpets intervene with a short, rising exclamation. This was followed by Falling From the Sky, the opening number from new album, Edge of the Sun, that features a descending synthesiser motif and showcases the band's melodic pop sensibility.
There were seven musicians on stage, and instruments for several more, with most of the band swapping every song or so. I counted more than a dozen microphones set up to capture brass and percussion sounds as well as backing vocals. Their next gig after this one is scheduled for Meanyian Town Hall, a small country town in south western Victoria – I'm not sure the venue will be large enough to fit all of the equipment, let alone the band and audience.
This was an unusual gig in that Calexico's lively Tex-Mex music, propelled as it is by racing rhythms and layers of percussion punctuated by blasts of brass, seemed particularly unsuited to a stilted, sit-down venue like Hamer Hall. If there is one common reaction to Calexico's music, it is the need to dance, to shuffle and sway – it is a kinesthetic urge and you do it without even realising. So to sit through a Calexico gig felt unnatural, even wrong, like moshing at a Bach cello recital.
Sure I could have stood, but no one else was standing and I didn't have the bravado to be the first. When two women in the second row did try, they weren't howled down, but no one joined them, and they were left conspicuously upright, dancing awkwardly while everyone watched.
Guitarist Jairo Zavala*, uber cool with his pointed sideburns and casually brilliant playing style, seemed perplexed that we remained seated. He kept motioning to the most likely sorts to get up. In our collective defence, I'll just say that in addition to good acoustics, Hamer Hall has extremely comfortable seats. Once you're comfortably ensconced, you don't stand unnecessarily. If my couch at home was that snug, I'd never leave the house.
The acoustics, as mentioned, were perfect and we heard every instrument – and there were plenty of them – with extreme clarity. Only Burns' vocals seemed unusually hushed. What we couldn't hear, however, were the raucous shouts of people having a good time, the clink of drinks and the bonhomie of people singing along that you would normally associate with a Calexico gig. Perhaps that's why Burns sang softly – he was appreciating that for once he didn't have to sing over people.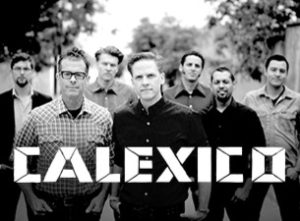 Where Hamer Hall was perfect for Sufjan Stevens, it didn't necessarily work to Calexico's advantage. Nor was it full – the entire top section remained empty. Having said that, I enjoyed being up close watching the musicians. Calexico is very much a collective and this was evident in their on-stage interaction, the way they enjoyed each other's playing. I particularly liked watching drummer John Convertino, whose understated style and subtle touches added volumes to the overall sound.
The bulk of the set was made up of tracks from their latest album, Edge of the Sun, with the rest drawn from right across their career, going as far back as 1998's The Black Light album. Early highlights were Cumbia de donde, an ebullient brass and percussive driven party piece from Edge of the Sun, and Splitter, a dynamic track from Algiers. We also heard the moody Black Heart from Feast of Wire and the evocative Two Silver Trees from Carried To Dust.
When the mariachi band stylings of Crystal Frontier halted and the band left the stage, the audience rose in an instantaneous standing ovation. As they returned, John and I tried to linger in our standing position, but everyone around us promptly sat down so we too resumed our seats. We can say we tried.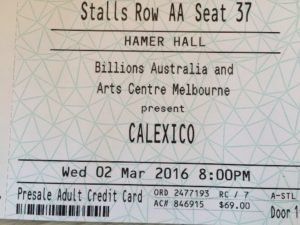 As it happened, the first song of the encore was Follow the River, a mid-paced track from the new album that is fine in its own way, but hardly a party starter. We would have looked particularly awkward trying to maintain a steady shuffle to the end. Things picked up however, with the spirited Beneath the City of Dreams, before they ended with old favourites Corona and Guero Canelo with Jacob Valenzuela urging us to join in the call and response repetition of the title.
Another standing ovation ensued as the band took their bows. The reserve of Melbourne audiences is well known, but the band must have thought it was a little perverse that we'd sat stonily through nearly two hours of rug cutting, shoe shifting, toe tapping, hip swaying, vibrant music and then stood up as soon as it stopped. It was like musical chairs in reverse.
They may not have played many of my favourite tracks, but with nine or 10 albums over 20 years, that was always likely to be the case. I did, however, relish being so close to the band with no one pushing in front of me. And the main thing is I was quite comfy. Sue even managed to get me a setlist from guitarist Jairo Zavala when he returned to unplug his various guitar pedals and tools.
The above photo of Calexico on stage at Hamer Hall was published on saminator.com – for his highly informative review of the same show, see the link below.
http://www.saminator.com/2016/03/02/calexico-hamer-hall-melbourne-arts-centre-melbourne-wed-2-mar-2016/
setlist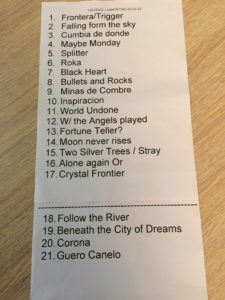 Frontera/Trigger
Falling from the Sky
Cumbia de Donde
Maybe Monday
Splitter
Roka
Black Heart
Bullets and Rocks
Minas de Combre
Inspiracion
World Undone
When the Angels Played
Fortune Teller
Moon Never Rises
Two Silver Trees / Stray
Alone Again or
Crystal Frontier
– – – – – – – –  – –
Follow the River
Beneath the City of Dreams
Corona
Guero Canelo
* Thanks to reader Mark for highlighting my error with the guitarist's name and advising the correct name: Jairo Zavala.
Mark also highlighted that I made no reference to Calexico's wardrobe. He has a point, particularly given that the show took place during Virgin Melbourne Fashion Week and that I'd made such a point about Krista Polvere's outfit. While Krista's ensemble might indeed have warranted her a place on the runway, not so for Calexico who donned not a uniform as such, but a variation on the denim trouser teamed with black shirt look. Smart, pragmatic musician outfits, but not particularly noteworthy.