The Jesus and Mary Chain
The Jesus and Mary Chain
Alvvays
The Forum
Monday 7 March 2016
$95
SCOTTISH PSYCHO
Sets of siblings in rock bands do not generally share happy histories. From the Everly Brothers, the Beach Boys, Creedence Clearwater Revival, The Bee Gees, The Kinks and of course Oasis, fraternal friction tends to be the rule rather than the exception.
Added to this list, somewhere between the Everly brothers and the Gallagher brothers, came the Reid brothers – Jim and William from Scottish band The Jesus and Mary Chain, who were reportedly every bit as fractious as their American and Manchester counterparts, just with more gel in their hair.
Musically, The Jesus and Mary Chain overlaid 60s bubblegum pop melodies with slathers of fizzing, crackling guitar feedback and a disdainful sneering attitude, creating in the process a unique sound.
Michaelangelo reportedly said that 'every block of stone has a statue inside it and it is the task of the sculptor is to discover it.' The Jesus and Mary Chain offer a similar challenge to the listener; buried somewhere within the marble screen of screeching guitar and bass drum thump is a beautiful pop song just waiting to get out, the listener just has to discover it. It is the tension between these two styles that creates the trademark Jesus and Mary Chain sound, and also allows you to simultaneously shimmy and bang your head while listening to them.
This sound was best expressed on their 1985 debut album, Psychocandy, and this tour is ostensibly to celebrate the 30thanniversary of that landmark release – it's just taken until the 31styear to reach Australia.
The first time I saw The Jesus and Mary Chain was also one of the early dates I went on with my now wife, Angela. It was the Darklands tour in late 1987 or early 1988 at The Metro at the top of Bourke Street. At the time Angela was studying performance and classical singing and possessed reasonably refined tastes for someone in their early 20s. Quite aside from the tuneless noise, she was appalled that a band would not only play in such a dense fog – we were only a few metres from the stage and we could barely make them out – but that they would have their backs to the audience for most of the show. Being what I thought of as more savvy, but in reality was probably just that I more susceptible to fashionable tastes, I thought they were brilliant.
Needless to say, Angela didn't join me when they returned to Australia in the mid 1990s to play The Palace in St Kilda in support of their Stoned and Dethroned album, and nor was she joining me for this gig.
Time has not softened her stance on The Jesus and Mary Chain, which I see as a testament to the power of their artistic vision.
On a side note, I'm beginning to fear for the fate of the Forum. The second JAMC show in Melbourne was at The Palace in St Kilda, which eventually burnt down and is now a car park. The venue for that first show, The Metro, which was subsequently taken over by the team at the Palace, is now an empty shell awaiting destruction. Is it the Palace group who are unlucky or is it possible that the Jesus and Mary Chain bring a curse down on any Melbourne venue at which they play?
Alvvays
This show coincided with the opening night of Virgin Melbourne Fashion Week, so it was important, I felt, to dress with appropriate aplomb. When I go to watch Hawthorn play, I wear brown and gold, so it seemed only right that I should don an all-black ensemble to see The Jesus and Mary Chain. One never really grows out of their Goth tendencies.
Before we got the chance to revel in the louche lolly shop of Psychocandy, however, there was a support set from Canadian popsters, Alvvays – I had arrived too late to see the first act Grinding Eyes.
'Alvvays' is apparently pronounced 'Always', but why it is not spelt that way I couldn't say – presumably a cultural reference, joke or generational thing I don't get. It is, however, in keeping with a recent trend in young bands to use the letter 'v' in places it would not normally have any business being – Chvrches and Wavves being other examples.
A five-piece band, they play a variant on melodic, jangling guitar pop. Pretty good actually, although the sound was bit trebly where I was standing. I put that down to the mix or The Forum's uneven acoustics, but the band's melodies were catchy and the songs skipped along pleasantly.
I later listened to the album and could pick out a couple of the songs they played; Atop a Cake, Adult Diversion and Archie, Marry Me. 
Lead singer Molly Rankin was wearing a peach jumpsuit, so she had obviously been alerted to the opening of Fashion Week. At one point she congratulated us on not using our phones at gigs, but perhaps people were just saving their battery for The Jesus and Mary Chain. If so, they would be sorely disappointed, because as the roadies readied the stage for the headline act, the thick Kilburn fog started to blow in to thwart any would be iPhone photographers.
The Jesus and Mary Chain
Those with good eyesight could make out in the gloaming the shadowy figures of the JAMC band members walking on stage. I detected the outline of William's untamed fro. Jim Reid stood in what light there was at the front of the stage and laid out the itinerary – there would be a short set of songs not from Psychocandy, then the band would take a two minute break, and return to play the album in full.
At which point the familiar chug of April Skies started up and we were away. If Alvvays were a bit trebly, the sound people had overcompensated for JAMC who sounded a bit bassy. That's not such a bad thing for April Skies, and by the time its mid-tempo chug had quickened to the faster chug of Head On, my ears had nearly accustomed. The short opening set included a selection of JAMC evergreen tracks including a euphoric Some Candy Talking and a piercing and clamorous Reverence.
Reverence was infamous upon release for magnificent opening lyrical gambit, "I wanna die like Jesus Christ, I wanna die on a bed of spikes…I wanna die like JFK, I wanna die on a sunny day" delivered in Jim Reid's distinctive sneer. However, it should also be remembered for its tumultuous marriage of ferocious fuzz guitar with techno dance beats, a combination U2 also successfully employed on Achtung Baby around the same time, just not quite as manically.
In any case, it took us lurching into the break in a tumult of glorious guitar noise, before Jim Reid announced they were off to 'have a cup of tea'. There was a time when I assumed any food or drink item mentioned in a JAMC song, i.e. 'candy', was a drug reference, so I don't know if the 'cup of tea' in question was a metaphor for a traditional rock 'n' roll 'pick me up', or a sign of their dotage.
Sadly they hadn't played anything from Stoned and Dethroned, but mercifully, nor had they played anything from Munki.
Before the lights lifted, such as they were, the distinctive opening beat of Just Like Honey signaled the beginning of the Psychocandyset. Molly Rankin from Alvvays stood to the side to add the requisite 'honeyed' tones to the title's refrain – a role filled on one famous occasion by another well-known blond, Scarlett Johanssen.
Bobby Gillespie of Primal Scream famously played drums on Psychocandy, and for all I could tell he was behind the kit for this gig as well. The minimal lighting and a dry ice machine set to max made the stage virtually impenetrable. I could make out a guitarist, bass player and a drummer to round out the brothers' sound, but if not for Jim's distinctive vocals and William's coiffure, it could have been anyone up there.
The band worked methodically through the album in its original order, moving from the lush Just Like Honey to the blistering The Living End and the even more abrasive Taste The Floor. Any thoughts that this was going to be an overly reverential homage to former glories were blown aside by the sheer noise and acerbic barrage of these tracks and In a Hole.
There was minimal break between songs, and as expected, no banter, bar the occasional 'thank you' with Jim Reid raising a hand in acknowledgement to the crowd.
There was a core group of moshers down the front and by the time we moved into 'side 2' and Never Understand, the security team were handing out bottles of water to anyone who raised their arm. I was up near the mixing desk with lots of other middle-aged types, and appreciated the break afforded us by the relatively quiet strum and slow plod of Sowing Seeds. Any relief was short-lived however, with a blast of William Reid's industrial chainsaw guitar on My Little Undergound.
As on the record, You Trip Me Up was a masterpiece of melody amid the maelstrom, while closing track It's So Hard was extended into a ten-minute vortex of spiky feedback and reverb. What better way to finish.
There was no encore; in a way they'd played it at the beginning of the show, but really, where do you go after Psychocandy? Other than Darklands of course, and it is the 30th anniversary of that album next year. Already looking forward to it.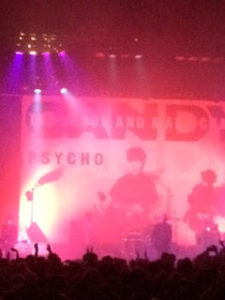 Setlist
April Skies
Head On
Blues From a Gun
Some Candy Talking
Nine Million Rainy Days
Between Planets
Reverence
– – – – – – – – – –
Just Like Honey
The Living End
Taste the Floor
The Hardest Walk
Cut Dead
In a Hole
Taste of Cindy
Never Understand
Inside Me
Sowing Seeds
My Little underground
You Trip Me Up
Something's Wrong
It's So Hard
Encore – The blow-ups between brothers in bands is well documented – only Bros, the Finns of Split Enz and the Youngs of AC-DC seem immune. But what of sisters? There seem to be very few stories of sisterly spats or sororal fallout. Is this because unlike brothers, sisters can operate together artistically in sibling harmony? Or do they just keep their fights to themselves? Or even more bizarre, resolve them?
There have been a number of bands with sisters; The Breeders, The Coors, All Saints, Haim, Heart, The Bangles, Stonefield, Vika and Linda Bull, the Webb Sisters, Tegan and Sara, to say nothing of The Andrews Sisters, The Pointer Sisters, Sister Sledge et al. (The Scissor Sisters and Twisted Sister are not included; the former doesn't contain any siblings and the latter doesn't even contain any females – just men in drag.)
There is surprisingly little scuttlebutt and gossip from the sisterhood. Perhaps it just that the music press doesn't cover female bands or musicians with the same avid attention as their male counterparts. So come on girls, a couple of punches thrown in public, some strategic hair pulling or sniping in the press and your band could be headed for legendary status.