The National
The National
Little May
Sidney Myer Music Bowl
Thursday 1 March 2018
$100
CRYBABY GEEKS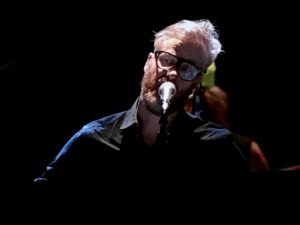 It was the first day of Autumn and right on cue the temperature dropped to a manageable low 20s, clouds moved in to shield the sun and turned the day an overcast grey. Also right on cue, grandiose gloom rockers The National rode into town for a show at the Sidney Myer Music Bowl.
They were here to support their 2017 album, Sleep Well Beast. Featuring songs called Day I Die, Guilty Party and Nobody Else Will Be There, you could be forgiven for thinking the gig was going to be a bit of a downer.
Newspapers headlines also suggested that things weren't altogether well, proclaiming a National Disgrace, and that the Nationals were in Crisis and questioned whether they should disband.
I began to grow alarmed until I realised they were referring not to the band, but to the leader of the National Party, Barnaby Joyce, who had found himself expecting a child by his press secretary, who, as you may have guessed, is a different person entirely to his wife. Not the sort of thing that would constitute much of a scandal in rock and roll circles perhaps, but hardly ideal for the leader of a conservative political party that campaigns on family values. Guilty party indeed.
So the good news was that all was well with the band The National. I mean their music remains moody, introspective and brooding, but as anyone who has seen them play live will testify, they can still turn on a celebratory and exhilarating performance.
Unfortunately John and I could only score general admission lawn tickets for this gig, so I had to get there early to secure a spot near the front. It's not an especially bad spot to see a concert, but all the palaver involved in getting, and then keeping your spot means that by the time the band comes on, you're stiffened with anxiety and completely exhausted. It all just makes enjoying the gig much harder work. If that makes me sound old and weary, you'll probably understand why I like The National.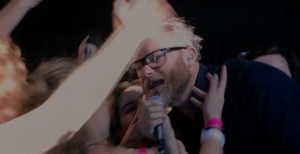 Little May
John's son Seb joined me down the front of the lawn for support act Little May. We sprawled on the lawn and took in their set via the large screens; not because we were being disrespectful, but because we wanted to save our feet for the three hours of standing that was still ahead of us.
Little May is a gentle four-piece folk rock group from Sydney with Hannah Field and Liz Drummond out front playing guitar and sharing vocals. Their music was pleasant accompaniment to the picnic vibe that prevailed and their sound was tough enough that it didn't get lost in the Bowl's vast amphitheatre. I sipped on a couple of beers as I listened, but I couldn't give the band my full attention as I had to keep a watchful eye on intruders trying to edge into my space. I'll have to check out Little May's music properly at some later date.
The National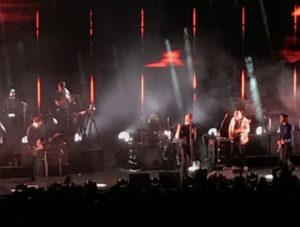 This was the fourth time I've seen The National and as the venues have grown larger with each visit, I've become progressively further removed from the stage, meaning the band members appear smaller each time.
As if to rub it in, they began the show with Nobody Else Will Be There, the low key opener from their latest album. 'If only this were true' I thought; then I might actually be able to get close enough to see the band.
A deafening shriek of guitar from one of the Dresner twins introduced This System Only Dreams in Total Darkness, also from the new album. The title may seem somewhat abstruse, but it was given new meaning here by the stage lighting, which kept everyone obscured in a sort of low lit ambiance. Great for a seance perhaps, but not necessarily ideal for a rock show. Admittedly my eyesight isn't what it once was, but I couldn't help wondering what ever happened to follow spots – bright lights that illuminated the people on stage so the audience could see them.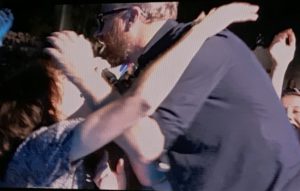 On the whole, the band elevated themselves above these minor quibbles to put on a suitably majestic show. The five band members were supplemented by two additional musicians who alternated between brass, percussion and keyboards, adding extra heft and garnish to the arrangements.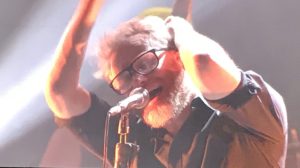 The sound itself was excellent, although Berninger's voice cracked – or was it the P.A. – during his more exuberant moments. They played most of the songs from Sleep Well Beast, mixed in with the best known tracks from previous albums. Don't Swallow the Cap, Bloodbuzz Ohio, Squalor Victoria and I Need My Girl came in a stately quartet of songs that was enough to leave most people happy.
Plus they peppered the set with a few unexpected numbers such as Wasp Nest, Conversation 16, and either side of the encore, About Today and Rylan.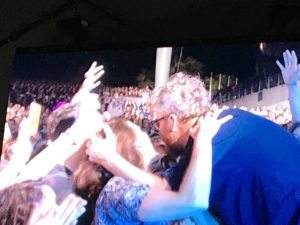 Having seen them a few times, some of their performance tropes no longer have the value of surprise – Matt Berninger getting in amongst the peeps to perform a song from the stalls, this time it was Day I Die, and the unplugged, unmiked conclusion of Vanderlyle Crybaby Geeks, but these moments still provided a thrill.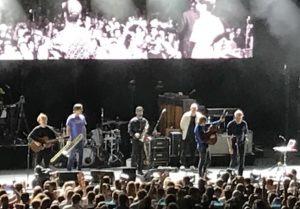 Introducing Terrible Love, Berninger highlighted a spider bite he'd received on his arm while in Brisbane and quipped that he was 'literally walking with spiders.' Vanderlyle, meanwhile proved unexpectedly moving when sung by a chorus of 10,000 people in the Bowl – unexpected because even though the words don't make a lot of sense to me…
"Vanderlyle, crybaby, cry,
Though the waters are rising
Still no surprising you,
Vanderlyle, crybaby, cry,
Man, it's all been forgiven
The swans are a swimmin'
I'll explain everything to the geeks…" (or is it geese?)
…I still found myself tearing up as I sang them aloud into the night sky. There must be something about the song's melody, Berninger's impassioned delivery, the atmosphere or the sense of brotherhood brought on by communal song? Or perhaps I'd just become delirious with exhaustion after standing squashed on a hill for more than two hours. Either way, like Vanderlyle, I became just another crybaby geek. It was a magic moment on which to finish, no matter how many times you've experienced it.
Setlist
Nobody Else Will Be There
This System Only Dreams in Total Darkness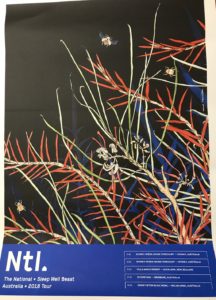 Walk It Back
Guilty Party
Don't Swallow the Cap
Bloodbuzz Ohio
Squalor Victoria
I Need My Girl
Wasp Nest
Conversation 16
Empire Line
Born To Beg
Turtleneck
Slow Show
Graceless
Carin at the Liquor Store
Day I Die
Fake Empire
About Today
—————–
Rylan
Mr November
Terrible Love
Vanderlyle Crybaby Geeks
The close up photos above were taken from the big screen at the Bowl.