Cate le Bon
Cate le Bon
The Croxton Park Hotel
Sunday 15 December 2019
$60
LADY IN RED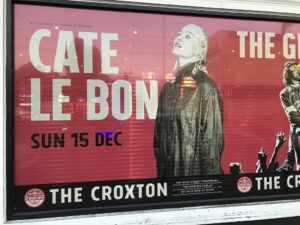 Wales is known as the 'land of song' and is synonymous with vocal prowess – think the Welsh children's choirs, Tom Jones, Shirley Bassey, Harry Secombe – however, I'm not aware of many Welsh artists in the world of rock. John Cale and Manic Street Preachers is about as far as my knowledge extends, although I concede that probably says more about my ignorance than the musical proclivities of the Welsh populace.
However, the fact that every article or review of Cate le Bon references her Welsh heritage suggests that there aren't too many others. Either way, her new album Reward is one of the year's highlights. It's an art-pop gem – a pinch of Julia Holter, a touch of Kate Bush, a little bit of David Byrne and a smidgen of early Split Enz; all adding up to a wholly original sound. Reward follows on from her role as producer on another of 2019's best albums, Deerhunter's, Why Hasn't Everything Already Disappeared? So Cate le Bon cuts a significant figure in the year's musical landscape.
I'd had a nice quiet weekend, so I gave myself a licence to go to the Croxton on a Sunday night for le Bon's Meredith sideshow. The audience was a late 20, early 30s mix, but it wasn't overly crowded so there was no pushing in or jostling up the front.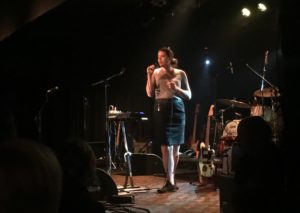 Support came from June Jones, an artist who set up dense synth soundscapes with electronic beats and sang in a deep baritone. I know that there are quite a few trans artists on the scene, but it can still come as a surprise to the uninitiated when you hear a singer with a deep lugubrious voice only to get near the front and see that it's not a burly denim clad chap, but a woman in a skirt and blouse. Jones was quite entertaining and gave good banter, the songs were polished and the music was interesting, if a little one-paced over the course of the set, but she received a positive reception from the audience.
Cate le Bon appeared on stage wearing a stylish cream suit, although given the deep red lighting hues that suffused the stage it was difficult to pick colour. The suit, coupled with a haircut that was short and wispy at the front and longer at the back, plus some artful posing lent le Bon a look of Bowiesque air – David Live era.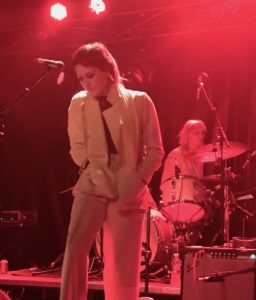 Her band consisted of five players; drums, guitar, sax, percussion and keyboards. A couple of the band members alternated between various instruments. One in particular tried his hand at virtually everything – keys, percussion, guitar when I saw him strap on a saxophone late in the gig I thought he was just showing off.
They were uniformly excellent, as they had to be to do justice to le Bon's complex arrangements and it was fascinating just to watch them play. They injected the songs with considerably more oomph live without sacrificing any of their intricacy.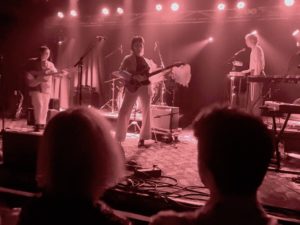 Opening with the laid-back Miami, they worked through most of Reward plus a few tracks from previous albums, as well as an Arthur Russell cover. The highlights were Mother's Mother's Magazines and Magnificent Gestures in which the band flexed their musical muscle and le Bon proved what a great guitarist she is. A couple of her solos were reminiscent of Adrian Belew and all played with effortless nonchalance.
Rather than tiring me out for the last week of work for the year, as I feared it might, the show reinvigorated me with the jaunty descending staccato notes of Magnificent Gestures worming its way into my mind for the entire next day.
Setlist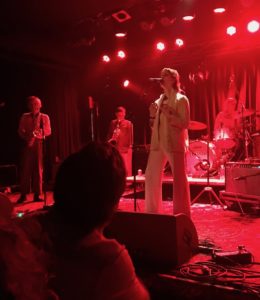 Miami
Daylight Matters
Home to You
Love is not Love
Wonderful
No God
You Don't Love Me
I Just Wanna Be Good
Mother's Mother's Magazines
Magnificent Gestures
Sad Nudes
Habit of You (Arthur Russell cover)
The Lights
What's Not
Meet the Man