Lloyd Cole
Lloyd Cole
Hamer Hall
Wednesday 11 December 2019
$69.90
'A COMPLICATED MOTHERFUCKER'
Come the summer months, Australia becomes something of a retirement home for old-time, once-were musicians seeking out warm weather. Not that Melbourne was obliging on the weather front, but on Wednesday night we had three decades worth of English musicians playing in town. At Rod Laver Arena, 70s Rocket man Elton John was in the midst of his farewell tour that threatens to continue to the 2070s, while 90s main man Liam Gallagher was next door at Margaret Court Arena. Meanwhile I was at the smaller, but far more salubrious Hamer Hall to see 80s indie heartthrob Lloyd Cole.
I was meeting Jason with whom I occasionally catch up for some 80s indie grooves and footy chat. Our previous gig was Morrissey and next up we've got Died Pretty at The Croxton. We're not just reliving our own youth, we're helping the musicians re-live theirs, while contributing to their super funds at the same time. It's a good deal.
Our seats were at the back of the stalls so there was no point taking any photos – the one above is one my friend Linda took at his previous visit to Hamer Hall a couple of years ago. I missed that tour, but I've seen him on several occasions over the years – beginning right here at Hamer Hall in 1985 with the Commotions on their Easy Pieces tour. This time round he was accompanied by just one Commotion – guitarist Neil Clarke.
Lloyd has a nice schtick in dry banter and it was evident early. He opened in solo mode with Past Imperfect and Kids Today before saying, "Let's get one thing straight from the start – you're not getting any younger either," as he picked out the familiar riff to Rattlesnakes and we got our first 80s singalong opportunity. Not that Jason and I could see, for during the entirety of this song a twosome had edged into the row in front of us and were trying to locate their seats, a process that was made more difficult by the fact that there were already people sitting in them. By the time it was sorted and the seated couple were edging their way out of the row, Jodie had sped down the freeway and was turning the final page of Simone de Beauvoir. You do wonder how difficult it can be for some people to get their heads around a basic alpha-numeric seating system. If Jodie needed a gun on account of all the rattlesnakes, I needed one to move these people along.
Hamer Hall operates on a lock-out system with latecomers only admitted between songs. Cole took great delight telling those walking down the aisles that they'd just missed Rattlesnakes. It's always the third song he said – partly as punishment for those who arrive late, and partly as an act of generosity for the rest of the audience. As he sings in new song, Night Sweats, 'I'm a complicated motherfucker, you knew that.'
Lloyd has always been a handsome man, and he's acquired a touch of patrician grey to his hair since I last saw him – just adding to his debonair demeanour. He's also acquired a slight gravelly edge to his voice, which added the impressions of lived experience to his songs.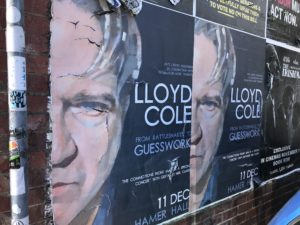 The show was billed as 'From Rattlesnakes to Guesswork' – his first and most recent albums – and sure enough, the first set of songs spanned 35 years and eight or nine albums. And it was a good mix of songs too, including Rattlesnakes and My Bag from the Commotions period and The Afterlife and Moments and Whatnot from his new album.
Between songs Lloyd regaled us with stories and witticisms, including a commentary on the golfing controversy surrounding Patrick Reed who was part of team USA for the Presidents Cup golf tournament taking place at Royal Melbourne. As Jason said, "I wasn't expecting Patrick Reed jokes."
Naturally, there was also a woman calling out, "Love you Lloyd!" on a recurring basis. At first it got a few titters, and even Lloyd responded with, "I know mother" which of course only encouraged her to keep it going.
After a short interval, Lloyd returned with former Commotion Neil Clarke and the two set up the circular acoustic guitar line to introduce Are You Ready to be Heartbroken? From there the two traded riffs as they worked through an extended series of songs from across Cole's career. Clarke remained silent, bent over his guitar to tease out a solo, or waiting patiently while Cole parlayed his well-rehearsed patter.
Highlights included Night Sweats (motherfucker) Why I Love Country Music, Weeping Wine, Jennifer She Said and Woman in a Bar – plus of course several selections from Rattlesnakes (Charlotte Street, 2cv, Down on Mission Street).
As they settled into their set, Cole joked that he used to tell his audience to text their babysitters to warn them they'd be later than expected. But looking at us, he suspects our eldest will be able to look after themselves and any younger siblings.
They finished with a triumvirate of popular Commotions era songs, Hey Rusty, Perfect Skin and Lost Weekend that guaranteed calls for an encore. When they returned they played No Blue Skies, which was appropriate enough for Melbourne's underwhelming summer.
They followed with Forest Fire, which prompted a gasp of delight from 'Love you Lloyd' woman who leapt from her seat and danced down the aisle. I didn't gasp, but I did wonder if he would play that song given the bush fires currently raging through Queensland and New South Wales. The line 'Don't it make you smile, like a forest fire' might have been viewed by some as borderline bad taste in the circumstances. But if anyone thought as much, it wasn't obvious as we tapped out feet and sang along. I remember seeing David Byrne play the same venue the night after Black Saturday and he didn't play Burning Down the House – even though it had been on the setlist for the previous dates of the tour. I suppose Byrne has a few more hits to draw from and can afford to skip one or two without it being so noticeable.  Lloyd probably weighed it up and surmised there would be more complaints if he didn't play it. After all, it's just a simple metaphor.
Setlist
Past Imperfect
Kids Today
Rattlesnakes
Music in a Foreign Language
My Bag
The Afterlife
Moments and Whatnot
Baby
Vin Ordinaire
Late Night, Early Town
———————-
Are You Ready to be Heartbroken?
Women's Studies
Charlotte Street
The Over Under
Sentimental Fool
Why I Love Country Music
Like a Broken Record
Weeping Wine
Jennifer She Said
2cv
Period Piece
Woman in a Bar
Ice Cream Girl
Myrtle and Rose
Down on Mission Street
Night Sweats
Violins
Hey Rusty
Perfect Skin
Lost Weekend
—————–
No Blue Skies
Forest Fire