City Calm Down
City Calm Down
The Corner Hotel, Richmond
Thursday 7 April 2016
$17
CALM DOWN AND ROCK ON!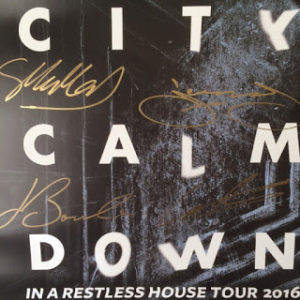 When I floated the idea of seeing City Calm Down live, most of my friends were non-committal. One dismissed them as 'derivative and pretentious' while another, on hearing them, said 'I thought it was The National'. Neither comment is without validity, but equally, neither is necessarily a bad thing.
I had quite liked City Calm Down's first EP and had picked up their album, In a Restless House several weeks earlier. It is a fine album with good songs and interesting arrangements; give or take the occasional cheesy synth wash. But there are moments in which the criticism of my friends is borne out.
Rabbit Run could indeed be by The National, while the chorus from Son sounds alarmingly like something from Spandau Ballet's first album. And lyrical flights like, 'Consider the windows fractured, spiders won't disappear, the visions that you've distorted, are shaping those you love…' does rather leave them open to accusations of pretentiousness.
But when you think about it, you can't be an artist of any sort without some degree of pretension, and if you're working in a musical field where there is a reliance on three chords, a maximum of 12 notes and not many more wardrobe varations, there's inevitably going to be some crossover with the past. Call it homage if you have to, but like Tori Amos to Kate Bush or Interpol to Joy Division, it is possible for artists to carve out their own ground even if 'their sound' is reminiscent of artists from a previous musical generation.
In the end Ralph joined me at The Corner Hotel for the gig. Out of the audience of lively 20-somethings, only we had lived through the 80s synth rock era, so as long as we said nothing, the band's secret was safe. In any case, the 80s generation was prone to raiding the 60s for musical references, so why shouldn't the current generation appropriate the occasional 80s musical motif – although I recommend that they steer clear of the blousey shirts.
City Liven Up
This was the first of three sold out shows at The Corner. We arrived late, missing all but the final two songs by support act Airling. She had a clean, crisp sound with gentle synth pop leanings. I didn't hear enough of her set to form a view, but she received a good reception from the audience.
The audience was densely packed near the front so Ralph and I took up a spot at the back near the bar. City Calm Down opened withBorder On Control, one of the strongest songs from the album, an urgent up tempo rocker that got the crowd immediately on side. They followed up with Pavement, a synth heavy single from a couple of years ago. The lead singer, Jack Bourke has a smooth baritone that invites comparisons with Jim Kerr from Simple Minds, and when you factor in the anthemic synthesizer flourishes and his habit of crouching down on stage and clicking his fingers in time with the beat, you could could be forgiven for thinking that they're about to bust out Don't You Forget About Me at any moment.
However, it didn't take long before the band's energy and power took over and I forgot about trying to spot their various influences and just enjoyed the music. We even edged our way into the throng to get closer to the core of the sound.
They were operating with an extended lineup. During Son I counted eight or nine people on stage, including two brass players and two backing vocalists. It was a big sound, but it wasn't cluttered. In fact the band and the mix were flawless. Ralph and I were impressed by how tight and polished they were, particularly for a relatively young band. What ever happened to bands that can barely play and need five minutes between each song?
Bourke introduced Spanish Sahara, a cover of a Foals song they had recently recorded for Triple J's Like a Version series. It's a track that despite its cautious opening, shares similar DNA to a City Calm Down song – expansive, layered sound, anthemic chorus and general emoting – but they added a bit more punch than is evident in the original. It was a good choice and it received a huge cheer from the audience.
What I like about City Calm Down songs is their inherent melodic hook. The hook is not necessarily obvious at first, but once it gets in, it works like an earworm and you find yourself singing along involuntarily. A song like Falling is a case in point. It is in turn, evocative, propulsive and explosive and I found my inner lead singer getting off the leash, or rather the mike lead. Singing out loud is not in itself a bad thing of course, except that unless you have a voice as rich and smooth as Jack Bourke's, then it's best not attempted in public.
If Falling was the centrepoint of the show, the run home was equally impressive with a succession of songs that built on each other with increasing intensity. In a Restless House led into the power pop of Your Fix, followed by a dynamic and climactic rendition of Rabbit Run that had the audience dancing and jumping. It was arms in the air stuff.
The set might have ended there, but they added to the ongoing Bowie tribute season playing Let's Dance, which seemed a good choice given they had a brass section handy. Plus, Bourke is one of the few Australian singers who can legitimately carry off a decent Bowie croon.
The song of course had the opposite effect to the band's name. Far from calming down, the place was livening up even more. The band took advantage of the general revelry and played Pleasure & Consequence from the Movements EP, a song that ends with an upsurge of swirling synths, blasts of brass and Jack Bourke's soaring baritone.
This wasn't a band labouring under their influences so much riding them home with a blistering hour of rock. 'Derivative and pretentious?' – well possibly, but who cares when the music is delivered with such conviction, power and precision.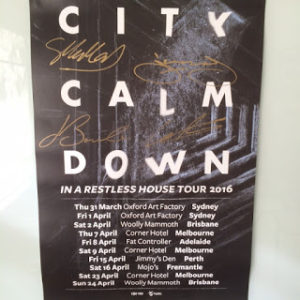 Setlist
Border On Control
Pavement
Wandering
Son
Spanish Sahara
If There's a Light On
Falling
Dare
In a Restless House
Your Fix
Rabbit Run
Let's Dance
– – – – – –
Pleasure & Consequence