Lost Animal
Lost Animal
Jacky Winter
Northcote Social Club, Northcote
Monday 11 April 2016
Free!
OUT OF HIBERNATION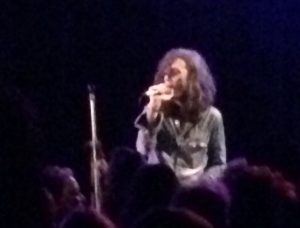 Lost Animal's 2011 album Ex Tropical was something of an inner city indie hit when it came out, but that was five years ago now. Since then we've heard nothing. Perhaps he really has been lost, or at least hibernating. Australia's had four Prime Minister's in that time, and a looming election might usher in a fifth before Lost Animal gets around to releasing a follow up.
Lost Animal is the nom de plume of Melbourne musician Jarrod Quarrell. Ex Tropical is an album of lush electronica with layers of subtle keyboard and percussive trills, and long, meandering songs. So when a free gig at the Northcote Social Club was announced to preview tracks from new album, You Yang, Ralph and I arranged to go along. It's fair to say we're looking forward to the new Lost Animal album with greater anticipation than the election campaign.
The streets were virtually empty as I took the drive across town to Northcote. Monday night is evidently a night when most people stay in. There was very little traffic and only few people on the streets – until I got to the Northcote Social Club that is. Smokers thronged on the street outside the club, while inside, the front bar, rear terrace and band room were all packed. Clearly everyone who had ventured out had ended up at the Northcote Social Club.
'Monday Night Mass' the night is called. It features free bands plus the kitchen and bars are open, and the good citizens of Melbourne's inner north had come in their droves to worship.
Jacky Winter or Microeca Fascinans
Jacky Winter was playing when we wandered into the band room. There was quite a gap between the stage and the audience and as we entered this space we soon discovered why. It was extremely loud, but as Ralph pointed out, not in a good way. The sound was actually distorted and quite discomforting to listen to. Ralph and I took refuge up the back where it was a little less abrasive and we could get a better sense of the band's sound.
The music itself was pretty good and at the risk of appearing old, someone just needed to turn it down a notch so we could hear it properly. From what I could work out, Jacky Winter was the bald bloke on vocals, although it also happens to be the name of a small native Australian bird, the Microeca Fascinans. It looks a little like a grey finch or a sparrow. In this case I presume Jacky Winter to be the singer's real name, as his singing, while tuneful and proficient, could hardly be mistaken for lilting birdsong.
That said, the songs and the band sounded good. In addition to Winter, who also programmed beats, the band consisted of Erica Dunn on bass and vocals, and Paul Pirie on skuzzy guitar and keyboards.
Indie Karaoke
When Lost Animal began his set, he was alone on stage with his Apple Mac and a microphone. As he pressed play on his computer to start the beat and the pulsing reverberations of Say No To Thugs, the band room began filling quickly. Say No To Thugs has had just over 20,000 streams on Spotify and it seemed like most of the people who had streamed it were in the room.
Quarrell was channeling his inner 70s rock god wearing double denim and sporting long tresses of hair. He wandered about the stage singing to the accompaniment of the music emanating from his Mac.
You could argue that it was really just glorified karaoke, with the significant difference being that he had composed, played, recorded and produced all of the music he was now singing along to, which does make it somewhat better than a some pissed dude singing Khe Sanh off key. I did wonder, however, whether the screen on his laptop featured the lyrics and a bouncing ball.
The vocals were performed live and there was also a keyboard over which he occasionally ran his fingers, but the gig would have benefited form more live sounds, especially some of the brass moments. One song featured a saxophone solo that, performed live, would have added a nice theatrical touch. Having said that, this was a free gig and finding a sax player is perhaps easier said than done. According to Ralph he previously performed with another musician on bass, but on this night he was going it solo.
The set featured three or four new songs along with tracks from Ex Tropical, including Don't Litter, Buai Raskol and Lose The Babywhich received a boisterous cheer of recognition from the audience as the beat kicked in.
Quarrell did announce most of the song titles, but so quickly that I missed them, except for the final track, Too Late To Die Young. This song had a Kraftwerk vibe and featured a fast-paced beat that continued as he danced off stage at the end.
Ralph thought the new material sounded sparser than the Ex Tropical songs, so it will be interesting if that is the case when the record comes out. I'm not sure if the new material is complete or still a work in progress, but the new songs did share a similar structure to the older songs in that they eschewed anything resembling a chorus. And I love the title – You Yang – presumably named after the mountain range between Werribee and Geelong.
One guy singing along to an Apple Mac may sound a tad dull, but it was oddly compelling and after five years of silence, I'm just glad that lost animal has finally been found. I look forward to the new album and perhaps a full show.
Setlist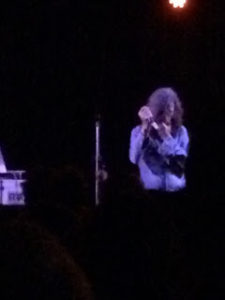 Say No To Thugs
?
Beat Goes On
?
Don't Litter
Buai Raskol
Lose the Baby
?
Too Late To Die Young
Encore: Led Zeppelin's Jimmy Page and Robert Plant are set to face trial over plagiarism claims leveled against their mega hit Stairway To Heaven. The song, it is claimed, copies a chord structure from the song Taurus by a band called Spirit. The composer of that piece is deceased and as usual in such cases, it is the estate running the prosecution. You can't help but think that this is an opportunistic grab for money by people who were in no way injured by the supposed theft. After all, if the riff really was a rip off, don't you think the actual composer might have noticed it at some time in the 40 years since the song was released?  It's not like he wouldn't have heard it.
In more heavy metal news, the announcement that Axl Rose will replace Brian Johnson in AC-DC has reportedly been met with anger and outrage by AC-DC fans. Why I don't know. I'm no Axl Rose fan – I couldn't bear Guns 'N' Roses – and I don't care how fat he's become (truth be told we've all put on a few kilos since Appetitie for Destruction was released in the late 80s), but he couldn't possibly be worse that Brian Johnson. At their most recent Melbourne concert in December 2015 (review coming soon to these pages) Johnson's atonal screeching was less musical than the cannon blasts during Let There Be Rock. Of course, that might have been the appeal to AC-DC fans.