Conor Oberst
Conor Oberst
The Felice Brothers
The Corner Hotel
Thursday 26 February 2015
$65
Zoo Twilights – Royal Melbourne Zoological Gardens
Saturday 28 February 2015
$40
Conor at the Corner
The best concerts are those where the feeling from the show stays with you for several days, even years after the event. The high from Nick Cave's Henry's Dream shows at the Palace in 1992, The Cure's Seaview Ballroom gig of 1981 or Public Image Ltd's Seaview Ballroom show in 1984 come to mind. The same was true for this Conor Oberst show at The Corner Hotel, except the feeling that has stayed with me is less the exhilaration of the show and more the pain in my feet.
I don't know if it was my footwear (funky suede boots), the hard floor of the venue, the unpleasant crush of people up the front that forced me to hold my ground, the length of the show (a good three hours if you count both bands), the general wear and tear of age (mine), or all of the above, but I write this two days after the show still fantasising about a foot bath.
Felice Brothers
I came to this show knowing very little about the Felice Brothers, except that I'd quite liked an album I'd once heard by Simone Felice. A few songs into their set I asked my friend John to point out Simone, only for him to inform me that Simone's not in the band anymore. He added that Simone had written the group's best songs and wondered aloud how many of them were still in the set. Judging by what I heard, very few.
While I quite like some of the acts that fit under the broad 'alt-country' umbrella, such as Conor Oberst, Ryan Adams, Wilco etc, I gravitate more to the 'alt' rather than the 'country.'  The Felice Bros with their fiddle, piano accordian, washboard and overly earnest songs are a step too far for me. For a minute there I thought I was going to hear 'Too-ra-loorali-attity' type shanties.
That said, there was a powerful moment when the fiddle player joined the drummer behind the kit and bashed away at the tom tom for one song's finale, and more excitement when Conor Oberst wandered on stage to share the vocals in one song. So it wasn't that they weren't any good, just not my thing.
But you had to hand it to them, 30 minutes later they fronted up again as Conor's backing band, which meant that by the end of the night, they'd been on their feet for nearly as long as me.
Conor Oberst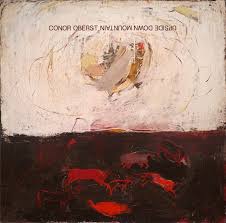 I was there with my friends John and Kath. Kath is a true Conor obsessive, verging on fetishist. We were standing towards the front for Conor, but quite a few others decided to join us in that barging, pushing way that just makes everyone uncomfortable and in my case, a little resentful as well. It was so crowded I had to distort my body and use my elbows for traction, just to remain upright. I'd have been more comfortable in a rugby scrum.
The red curtain masking the stage opened on Conor and the Felice Brothers hunched over their instruments already into the first bar of their opening song. It was a gentle, breezy song, one of those epic lyrical numbers Oberst is known for, though not one with which I was familiar. A bit of subsequent research revealed it to be Napolean's Hat from a Hurricane Katrina benefit LP, a great song and it was obviously something of a talisman because he was dressed for it, wearing a very broad brimmed hat. They followed this with Southern State, another relatively obscure Bright Eyes number.
Not many peformers can open with a brace of little known songs and get away with it, so it was a measure of his artistry, confidence, or the sheer number of songs he has to draw from that he was able to do so. The audience came to life however when the fiddle player launched into the familiar intro to Four Winds, an up tempo number that had the entire throng in the mosh pit bouncing, or at least lurching. The band then settled into a few tracks from the recent Upside Down Mountain album – opener Time Forgot, the jauntyHundreds of Ways and Artifact #1.
By the time the band started playing Ten Women my level of discomfort had reached the point where it had become my focus instead of the performance, so I decided to retreat. The combination of the crush of people and my bloating bladder meant that I had to give up my vantage point and push my way through the scrum to the toilets. Easier said than done of course. So tightly packed was the crowd that I may have inadvertently engaged in several acts of physical intimacy in the process of escaping.
It would have been easier for a camel to squirm its way through the eye of a needle than for me to edge my way back into the huddle, so I took in the rest of the show from the back.
I feel I'm reasonably familiar with Connor Oberst's oeuvre, but there were still half a dozen or so songs that I hadn't previously heard. I tuned in to Bright Eyes with I'm Wide Awake and It's Morning in 2005, and such is his output that keeping up with new releases since then is hard enough, without delving into his back catalogue and the obscure one-off rarities. Still, I enjoyed hearing songs I hadn't heard before.
Standing up the back – even in a room as small as the Corner Hotel – can make you feel a bit removed from the action, particularly as the pain in my feet was becoming acute. But I wasn't overly bothered as I had a ticket to see him at the Zoo Twilights show a couple of nights later, so I knew I'd get my fill of Conor by the time he left Melbourne.
He dedicated Soul Singer in a Session Band to John Darnielle who he suspected to be in the crowd. John Darnielle is from a band called The Mountain Goats. I haven't heard of the band, but I do know the brewery, and was enjoying a Mountain Goat Steam Ale on the night. The man in question was in the crowd, because he joined the band during the encore for a cover of Tom Petty's Walls. Regardless of what you may think of Tom Petty (his music that is, not his hairstyle, which is nearly as enduring as Brian May's from Queen), I'm always a little bit frustrated when good songwriters perform cover versions. Just as I want to hear Dylan sing Dylan, I want to hear Conor Oberst sing Conor Oberst songs.
The highlights of this gig for me were Poison Oak from 'I'm Wide Awake…', Cape Canveral, which is probably my favourite Conor Oberst song, Lenders in the Temple and a lovely gentle version of Milk Thistle that he performed solo as the first song of the encore. It was so moving I nearly forgot the pain in my feet.
Setlist (Corner Hotel)
Napolean's Hat
Southern State
Four Winds
Time Forgot
Hundreds of Ways
Ten Women
Artifact #1
Well Whiskey
Poison Oak
An Attempt To Tip the Scales
We are Free Men
Meadow of a Dream
Lenders in the Temple
Zigzagging Towards the Light
Cape Canaveral
Soul Singer in a Session Band
Method Acting
Easy/Lucky/Free
– – – – – – – – – – –  – –
Milk Thistle
Walls
Another Travelin's Song
A Song to Pass the Time
Zoo Twilights – Riders On The Storm
A hot spell was coming to an end in Melbourne right on cue. It was the last day of summer and it was sizzling hot, but a thunderstorm had been forecast for the evening. When I say forecast, I mean storm warnings had been issued with the precise times they were likely to strike – no one living in or around Melbourne could have been under any illusions about the apocalyptic storm that was brewing, or what time it was going to hit.
Surely that would be okay, because my ticket for the Zoo's outdoor gig said that the show would go ahead 'rain or shine'.  Kath and I were backing up our Conor gig from two nights previous, this time with the prospect of sitting on grass and not having to stand up for the duration.
We arrived lateish, grabbed a Mountain Goat Summer Ale (not as good as the Steam Ale) and found a stretch of grass with a good view while The Felice Brothers did their thing. The temperature was still positively balmy, but from where we were sitting we could see thickets of charcoal clouds massing on the horizon. Still the Felice Brothers played on.
Most people who know me will be aware that I'm not the most organised person. But if it was my job to organise an outdoor show, for example, and I had received quite precise forecasts about the time and severity of an incoming storm, then I'd possibly take a few precautions – like cut the support act short. Or cut out the break between the support and the main act, especially if the support act is doubling up as the back-up band for the main act. Or both!
Instead the Felice brothers played for what seemed like hours. No one seemed to be in a hurry, so we assumed that perhaps the organiser knew something about the path of the storm that we didn't and that time wasn't a factor.
After the usual break between bands, Conor came on and played Time Forgot, then Four Winds, which was appropriate, because at least four, but more like six or seven winds were just beginning to gust. Then a treat, he played one of my favourite songs, We Are Nowhere And It's Now, that he hadn't played two nights previous at The Corner Hotel. The elephants trumpeted during this song, which under normal circumstances might have been seen as an amusing brass accompaniment, but in this situation, probably just reflected the animal instinct for the approaching storm. The trumpeting could possibly have been translated as, 'Run for your lives!'
Conor and the band played a couple more songs, Well Whiskeyand Ten Women, but during Southern State bolts of lightning could be seen forking in the near distance, cracking open the night sky, bringing 'ooohs' and 'ahs' from those of us who could see it. For a few moments it was like being at a Kiss concert with special effects providing a dramatic backdrop to the music. Oberst, who wouldn't have been able to see the storm, must have wondered what we were all gasping at. In this case, however, some mysterious person walked onto the stage and whispered in Conor's ear, and then he abruptly announced that he'd been ordered to stop playing.
The show was abruptly cancelled and we were all ordered to leave as soon as possible. There was none of the 'in an orderly fashion' urging, it was more along the lines of 'Quick –Get out now!' It was as if they feared the big cats were about to escape, although in reality, they were probably more fearful of a law suit.
Kath and I were very disappointed, well outraged really. Even though the storm did hit with unusual intensity, it didn't last very long. The worst was over by the time we got back to the car. I'd have been happy to ride out the storm and then get to the second half of the show. I'd rather sit on sodden lawn than be crushed in the mosh pit at the Corner Hotel. Instead, we were sitting in the car park and I couldn't help but think Conor was right; 'we are nowhere and it's now'.
Sure we received a refund, but we couldn't work out why the organisers hadn't started the gig earlier or cut time from the support acts and the break, to at least minimise any time lost to the main act.
In the end I'm just glad we'd gone to the gig at The Corner Hotel and hadn't put all of our Oberst eggs in the Zoo Twilights basket.
Check out the photo gallery of the gig, such as it was, published on What Sound Melbourne – photos by Lou Lou Nutt
http://www.whatsoundmelbourne.com/shots-conor-oberst-at-zoo-twilights-february-28th/
Setlist (Zoo Twilights)
Time Forgot
Four Winds
We Are Nowhere and It's Now
Well Whiskey
Ten Women
Southern State