Perfume Genius
Perfume Genius
Aldous Harding
Corner Hotel
Sunday 15 February 2015
$45
Eau de Genius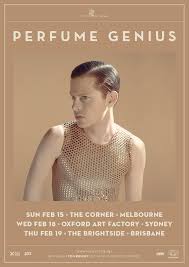 Generally there are few prospects less inviting than attending an event at the Corner Hotel on an evening of 30+ degrees heat. Low ceilings trap the heat and sweaty bodies close to combusting infuse the atmosphere with an uncomfortable cloying consistency. The closest comparison might be a sauna, and having seen Mike Hadreas' music videos, I wouldn't be surprised if that was exactly the sort of vibe he was trying to create. Certainly there was a piquant tang to the air, which was quite apposite really given that he goes by the nom de plume Perfume Genius.
'Who is Perfume Genius?' That was the question most frequently asked when I told people about the gig I was attending. I first heard his work when following a thread of "People who bought this also purchased…" links on iTunes. The songs sounded intriguing, but even more compelling was the album cover showing him wearing what looked like a gold mesh vest. Combining elements of Bowieesque melodrama and structure, Antony Hegarty's phrasing, Tubeway Army's electronica and Freddie Mercury's wardrobe, he nevertheless has a unique sound. Short songs of beautiful balladry that are almost elegiac, but punctuated by sudden blasts of dissonance and drama. I loved it.
And then what should pop into my inbox but an email from one of the many concert promoters who regale me with such material to inform me of this impending show.
As a result I found myself entering the humid interior of the Corner Hotel on a hot summer's night. My concert buddy John was with me. He's always up for something new, especially something that has a whiff of subversiveness to it, and anyone who has checked out Perfume Genius' videos will know that he more than satisfies this requirement. It is perhaps no coincidence that in the Australian classification system, his initials, PG, stand for Parental Guidance Recommended.
Aldous Harding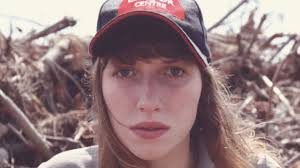 Support act Aldous Harding, a young New Zealand singer-songwriter was on stage as we entered, warbling away in a Joan Baez-like vibrato while accompanying herself on acoustic guitar.
The few songs we heard were long, meandering numbers with dense lyrics sung over a repetitive guitar refrain – not unlike early Leonard Cohen numbers, with the obvious disadvantage of not actually being early Leonard Cohen numbers.
Which is not to say the songs weren't good. They were just as intense as some of laughing boy Lenny's and had a haunting, madrigal-like quality wafting through them. She had quite a singular sound, which is no mean feat for a solo singer with acoustic guitar.
Her between-song banter also betrayed a sharp sense of self-deprecating humour, "I have stuff for sale; not that I would expect any of you to buy it," as well as a realistic appraisal of the predicament of being the support act. The very perversity of her marketing technique might even have worked on me and I might have found myself buying some of her 'stuff' had I been able to find the merchandise table.
Then she did something quite remarkable, which she even prefaced by telling us she was going to do something pretty impressive. She put down her guitar, stood awkwardly at the microphone and talked about her outfit and enquired if we could see her breasts through her white shirt (we couldn't, but I don't know if she was disappointed or relieved by this) and then she belted out a powerful a capella rendition of what sounded like a French cabaret number. It was astonishing.
What made it so impressive was that her voice, fragile and tremulous in her other songs was suddenly transformed into a strong, expressive instrument that filled the room and commanded attention. The audience whooped and applauded with genuine appreciation as she bade us farewell.
She seems a likeable sort of person, such as these things can be known, and is evidently quite talented. Her name may never come top in a Google search starting with 'Aldous H…' but on the evidence of what I heard, over time it may come a legitimate second. The doors of stardom as well as those of perception may yet open for her. And if so we'll do what we did for Phar Lap, Sam Neil and the Pavlova, and claim her as an Australian.
Scent of a Genius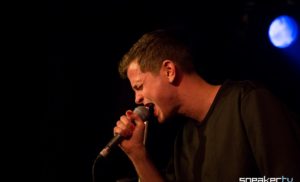 The room began to fill as we waited for Perfume Genius to appear and I was impressed at how well the Corner's air conditioning was holding up. John and I moved closer to the front and I positioned myself under a particularly strong thermal. Of course as any visitor to the Corner Hotel knows, the major impediment to enjoying any show is the pylon that is situated dead centre, four feet from the stage, effectively taking out 25 per cent of the viewing areas.
The problem was compounded on this night by a bloke who was about 190 cm tall standing just to the right of the pylon – basically creating a second pylon, at least from the perspective of anyone standing behind him. They were like goal posts right in front of the stage.
I'm quite short so my take on this is no doubt quite biased, but I was slightly perturbed that someone as tall as this man would stand right in the middle at the front and block the view of dozens of others. Still, he seemed perfectly relaxed about it, and really, why should tall people always have to stand at the back?
I was keen to see the sort of stage outfit Perfume Genius would don for the gig. Even though it was only a pub in Richmond, I was still hoping for something with a touch of edgy bohemian elan. And he didn't disappoint, walking on stage a minute or so into the band's intro of My Body wearing a loose black top with a hem just below crotch level, and fishnet stockings. A little bit Rocky Horror, a little bit Liza Minelli. 'I wear my body' as he sang in the opening song.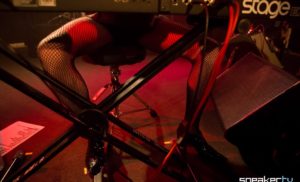 "It's my second show without pants," he announced later in the show. Bright red lipstick and nails completed the look. In fact he looked a little like Neil Finn in his Split Enz days, just in a little black dress.
My Body, meanwhile, chugged along with a bluesy bass riff that gave the opening of the show an atmospheric noir edge. Just as the audience was getting into its slow groove, however, the music stuttered, stopped and morphed into the sort of dystopian industrial blast that Throbbing Gristle would be proud of.
When not seated at the keyboard, Perfume Genius stalked the stage, pacing back and forth and moving his upper body like a batsman swaying out of the path of a short-pitched delivery. Even when he wasn't actually singing, his lips scrunched and straightened as if forming the shape of words he wasn't able to articulate. His stage presence is magnetic and quite mesmerising.
Restraint is one of the key hallmarks of his music, both in the length of his songs – they generally come in at less than three minutes – and their mood, which is light and delicate. Even when they veer into sonic violence or vocal excess, it is sudden and momentary, a dissonant jolt that adds to the effect.
After My Body, Perfume Genius sat at the keyboard and played a series of tracks from his earlier albums, Learning and Put Your Back N 2 It. Having only just come to his music, I wasn't so familiar with these songs, although I had streamed a few of them online. On record the earlier material is very reminiscent of Antony & The Johnsons, whereas Too Bright signals a move to a bolder, more distinct sound.
These songs, Take Me Home, Dark Parts, Lookout, Lookout and 17, sounded more powerful live than the recorded versions, the band investing them with some oomph, but without sacrificing any of the nuance and subtlety of the original.
Admittedly I missed the first couple of bars of each of these songs as the two guys directly behind me whooped and on some occasions even screamed to signal their familiarity with this earlier material. It was like they wanted to let everyone know that they were longtime fans, not like us Johnny-come-lately's who had only come on board for Too Bright.
Of course roaring for an old favourite is fine if the performer is say, Bowie bringing out Suffragette City from the Ziggy album, or even Radiohead playing Creep, but for an artist like Perfume Genius who only has three albums, surely every song is an old favourite at this juncture of his career.
One of these two guys also sang along at a volume that threatened to drown out the amplified vocals of Perfume Genius. This was saved from being irritating only by the fact that he could actually sing, something of a rare quality among those who choose to sing along loudly at gigs.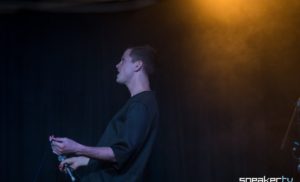 There was a three piece band; drums, synthesisers and keyboards, and a player alternating between guitar and bass. Their contribution was tight and minimalist and they provided occasional and timely backing vocals.
Perfume Genius did introduce them informally at some point but their names escape me (Alan?, Tom?…possibly). In any case, their impassive personas were the perfect foil for Perfume Genius's more flamboyant stage presence. They each came and went a couple of times to vary the tableau and for Learning, the synth player joined Perfume Genius at the keyboard to play two-handed piano.
The mid-gig highlights for me were Grid and Fool, both from Too Bright. Both of these songs venture to the outer edges of Perfume Genius's musical universe with a driving electronic soundscape and vocal screams. In particular Fool which paused in its stride so that Perfume Genius could unleash a prolonged cathartic yelp, before resuming its slow groove.
Perhaps surprisingly the bulk of the set came from his second album, Put Your Back N 2 It, rather the latest album. This was only a problem because of the duo behind me who whooped loudly at the beginning of each track, although I was a bit disappointed that he didn't play I Decline. Far more disappointing was the fact that the air conditioning seemed to breakdown towards the end of the show.
The final song of the main set was Queen, lead single from Too Bright and probably the song most known to the audience. Over a grandiose Gary Numanesque keyboard motif and choral backing, Genius snarled, "Don't you know your Queen? Cracked, peeling, riddled with disease," summarily dispelling any thoughts that the song might be about Australia's monarch. All the while he swayed, sashayed and stared defiantly out into the audience. It's a veritable masterpiece of a song and his performance of it on this night was daring and dynamic.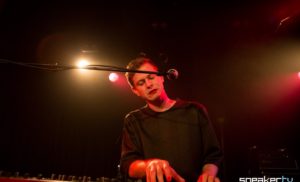 There was genuine warmth from the audience as he left the stage after a great show. Returning for an encore he played Mr Peterson, All Along and Normal Song and commented that the size of the crowd had doubled since he last played here.
It is evident that Perfume Genius has the sort of charisma and talent that will make him a star. It's my guess that the audience will continue to double each time he visits. In years to come when he is filling Hamer Hall, those of who were there on this night will provoke envy and disbelief, and possibly the rolling of eyes, when we announce loudly, like the two men behind me, that we once saw him play The Corner Hotel.
Setlist
My Body
Take Me Home
Dark Parts
Lookout, Lookout
17
Body's in Trouble
Grid
Thing
Fool
No Good
Sister Song
Learning
Dream
Hood
All Waters
Floating Spit
Rusty Chains
Queen
————
Mr. Peterson
All Along
Normal Song
Katie
* Due to technical difficulties, I don't have any photos from the night. The photos in the article are taken from speakertv.com. Photos by Dan Soderstrom, View their full gallery at http://www.speakertv.com/photos/perfume-genius-corner-hotel/
There is another excellent gallery at Kazzthespazz flickr site at https://www.flickr.com/photos/kazzthespazz/16606125266