Tex Perkins and the Dark Horses
Friday 1 May 2015
Northcote Social Club, Northcote
$27
MA15+ – Strong Tex Scenes
The Beasts of Bourbon, The Cruel Sea, Tex, Don and Charlie, The Man in Black – The Johnny Cash Show, The Dark Horses, T'n'T, Tex Perkins and his Ladyboyz – there is of course one common denominator in all of these bands – Tex Perkins, the deep-voiced Renaissance man of Melbourne rock.
Everyone has their own favourite iteration of Tex – mine is The Dark Horses, pleasantly laid-back and atmospheric music that is both tough and tender. Tex sings with the urbane voice of hard-won experience while the Dark Horses accompany him with immaculate touch and restraint.
This restraint has an air of thoughtful melancholy that made Tex and the Dark Horses a suitable soundtrack to end a harrowing week in international news. The week had been dominated by the devastation of the earthquake in Nepal and the executions in Indonesia of convicted Australian drug traffickers Andrew Chan and Myuran Sukumaran. It wasn't a night for chirpy pop, but some slow, mellow, reflective rock.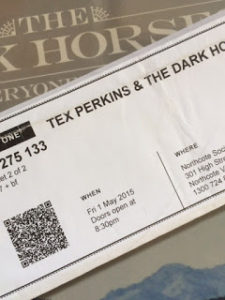 I met my friend and regular band buddy John in the front bar. He's a Collingwood fan so we got in some beers and watched the Collingwood v Carlton game on the various screens while we waited for Tex to come on. As a result we missed the support act, Zevon and the Werewolves of Melbourne, who we assumed to be a Warren Zevon covers band, but I later discovered are actually an accomplished blues band. I suppose we shouldn't have assumed anything – it's not like Powderfinger were a Neil Young tribute band or Oh Mercy a Dylan tribute act. In any case it was good to be able to chat, take in the footy and enjoy a Coburg Lager before heading into the band room.
When I say chat, John was actually haranguing a couple we had got talking to about the quirks, foibles and genius of Ryan Adams.  We'd secured tickets the day before for Adams' forthcoming Melbourne show*, so John was just getting in the mood by extolling his many vices and virtues. We'd also scored tickets for Blur's July show after I spent some agonising minutes punching keys into the system right at the start of the presale.
So with July's gig guide sorted, and Collingwood thrashing Carlton, we were relaxed as we wandered into to see Tex and the boys.
The band began by building a typically slow, intricate soundscape with piano and picked guitar, over which Tex contributed a whistling refrain, giving it a sort of Morricone western feel. I wasn't familiar with the song, but if the chorus was any indication, it might have been called Lucky Me (Oh Lucky Me as it turned out).
And we were lucky, because after the second number, another gentle song with minimal instrumentation, Tex announced that they were playing their forthcoming album from start to finish. After two tracks it was a case of 'so far, so good'.
Some people like to hear the hits, or at least the familiar songs when they go to a gig, and so do I to a certain extent, but I always really enjoy it when artists play their works in progress, or new, unreleased songs. You feel privileged to hear them before they become part of common musical currency. It also bestows bragging rights in the event that the song does become a classic, "Oh yes, I heard them play that before it was a hit. Of course it was much better then."
The album continued with a standout song called Tunnel at the End of the Light, through to an impassioned cover of They Shoot Horses, Don't They 'to close out side one.' Between sips from a ceramic mug that might have contained whiskey, lemon infused tea, or possibly cocoa, Tex said that it was the only cover they would be doing for the show and he didn't want anyone telling him it was their best song of the night.
Side two began with Slide On By, a slow burning blues number with a distinctive and devilish riff. This was followed by two instrumental pieces; the first a delicate acoustic track that drifted by at a leisurely, unhurried tempo. The second was a mellow piano based track with a hazy electric guitar motif that slowly built to a crescendo of sorts. The western overtones of these pieces suggest they'd work well as a soundtrack to a Cormac McCarthy book. They'd have been even more effective if not for the three women who pushed in right next to me and proceeded to yak all the way through the rest of the show. I'm not usually a 'shoosher' but I came very close on this occasion.
The final song of the set focused on various last moments. Suitably melancholic, it was a song that made for a subdued ending, though was quite in-keeping with the overall tone of the set.
As Tex had promised, the band returned for an encore to play some of their older tracks; So Much Older from 2011's Tex Perkins and The Dark Horses album, Cold Feet from 2003's Sweet Nothing, She Speaks a Different Language from 2009's Dark Horses album, before finishing with Getting Away With It, also from Tex Perkins and The Dark Horses.
It was perhaps risky for them to play an entire set of new, unreleased material, but when performed so beautifully, they did indeed get away with it.
* I never got to that Ryan Adams show. On the day of the gig my son Oscar was injured playing football and I was in hospital with him. Turns out he had fractured three of his transverse processors – little jutting bones connected to the spine. So instead of enjoying what John later described as one of the best Ryan Adams shows he'd seen, I was bedside at the Royal Children's Hospital listening to Oscar recount his injury. I think we all know I was the real victim.
Encore: After the gig I bought the vinyl edition of Everyone's Aloneand was informed that everyone who purchased tickets online would receive a free download of the album once it was released. Sure enough, a month or so later I was sent a link to download the album, Tunnel at the End of the Light and it is every bit as subtle and polished and as their performance of it that night. That's one way to combat illegal downloading – make it legal.
Setlist
Oh Lucky Me
All is Quiet
Tunnel at the End of the Light
Right Here in front of you
They Shoot Horses, Don't They
Slide on By
The View South
Un Sound
Last Words
– – – – – – – – –
So Much Older
Cold Feet
She Speaks a Different Language
Getting Away With it.