Milk Records Xmas Party
Courtney Barnett
Milk Records Xmas Party
Northcote Social Club
Saturday 22 December 2018
$28.40
HOLY NIGHT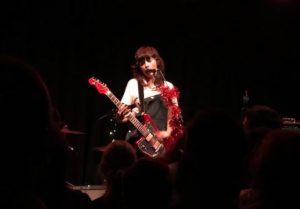 Amid the crass commercialisation of Christmas, it's easy to overlook the spiritual basis underpinning the festive season. Thankfully Milk Records and the Northcote Social Club combined to bring the real spirit of Christmas with the Milk Records Xmas Party featuring performances by five of Melbourne's best artists; Courtney Barnett, Hachiku, East Brunswick All Girls Choir, Evelyn Ida Morris and Loose Tooth.
There were two shows; an all aged matinee and a show for the adults in the evening. Fiona and I had tickets for the evening show. The chance to see Courtney Barnett in an intimate venue like the Northcote Social Club was the main drawcard, but we both like all of the acts. Plus, it was seasonally appropriate because the Northcote Social Club bandroom has a sense of the manger about it, and for some, Our Courtney represents something of a saviour of Oz rock. She is certainly a female deity of the electric guitar.
And for those for whom Christmas is all about crass commercialisation, then the merch desk was well stocked with gift ideas. I bought a Milk Records stubby holder, mainly because the Asahi stubby I'd picked up at the bar was thoroughly chilled and uncomfortable to hold.
We also bought raffle tickets. In a sign that Courtney hasn't forgotten her origins, she was manning the raffle ticket table herself and seemed happy enough to sign albums and pose for photos with fans. It's not often you have an international rock goddess saying to you "one for five or three for ten."
Loose Tooth were playing when we arrived. They were as entertaining as ever with their playful stage banter and smart, 60s inspired melodies. They played material from their excellent Keep Up album, concluding with the near title track, Keep On.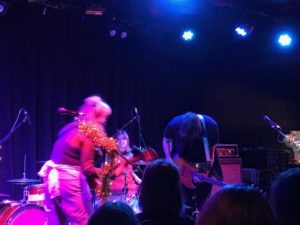 Evelyn Ida Morris invited us to sit on the floor for her set, because, as she said, "I'm just playing the piano." My old friend Biddy Connor joined Morris on viola for a few songs as did a woman playing the French horn. Morris played material from her self-titled album and seemed relaxed and jovial, despite the sometimes dark subject matter of her songs.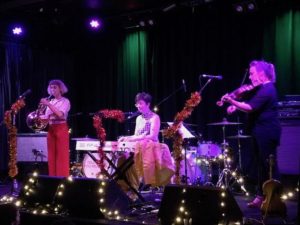 East Brunswick All Girls Choir played a loud and energetic set of Scientists inspired swamp rock that had me wishing I'd followed Fiona's example of inserting earplugs. They certainly provided a contrast to Evelyn Ida Morris' piano post-modern compositions. Courtney Barnett's drummer Dave Mudie joined Jen Sholakis on drums for one track to generate even more noise. In truth though, it was lead singer Marcus Hobbs' yelping and searing guitar that was hurting my ears.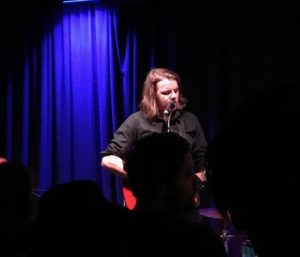 Hachiku is the musical nom de plume of Anika Ostendorf, who not only looks like the smart kid in class, but is possibly a musical prodigy of sorts. She plays guitar and keyboard, sometimes both at once, and along with her three-piece band, lays down quirky avant-garde grooves. Like all the acts on Milk, she has a charming and witty personality that is as idiosyncratic as her songs.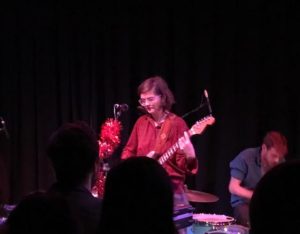 Courtney Barnett was the final act; a three-piece for this gig with Barnett on guitar, Bones Sloane on bass and Dave Mudie on drums. Nevertheless, they were tight, loud and intense, opening with History Eraser and blasting out a short, sharp set of back to back hits and favourites. Nameless, Faceless and I'm Not Your Mother, I'm Not Your Bitch both fizzed with raucous squalling feedback.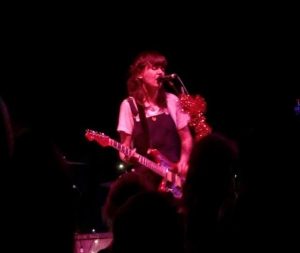 The other performers joined Barnett's band on stage for a ramshackle, punked up group singalong of Wham's Last Christmas that took us into the night and set the scene for a cool Yule.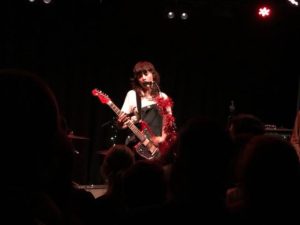 Courtney Barnett Setlist
History Eraser
City Looks Pretty
Nameless, Faceless
I'm Not Your Mother, I'm Not Your Bitch
Avant-Gardener
Depreston
Pedestrian at Best
Last Christmas