The Breeders
The Breeders
Corner Hotel, Richmond
Saturday 8 December 2018
$71.02
THE REAL DEALS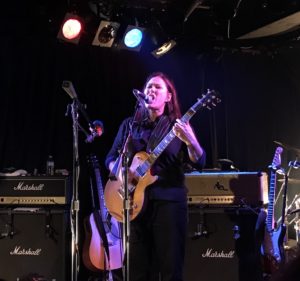 One of the highlights of seeing Pixies play live was the beaming smile Kim Deal wore throughout the show, even as Black Francis just to her right sang songs about waves of mutilation, alien invasions, mutations and bleeding. The Breeders brought twice the joy at the Corner Hotel on Saturday night with two Deal sisters, Kim and Kelly, both beaming away constantly through the show, while Josephine Wiggs' deadpan grimace and Jim Macpherson's determined focus served as counterpoint.
I joined Fiona and Mark up near the stage in what at first seemed like a good vantage point. However, as soon as the curtains parted to reveal The Breeders ready to launch into opener, Saints, I realised I was sandwiched between two superfans. The girl directly in front of me, wearing a Garbage North American tour t-shirt, launched into an immediate and elaborate interpretive dance that involved rocking back and forth and side to side while waving her arms like branches in a gentle zephyr.
I was fine with her enjoying the show and giving full vent to her fandom, why not, it was just that on her regular lurches backwards she more than once left me with a stray strand of sweaty jet-black hair stuck to my mouth. I even had to weave aside on a few occasions to avoid a reverse Liverpool kiss.
The girl behind me meanwhile sang along to each song with an exuberance that nearly made up for her lack of tonality. Divine Hammer in particular set her off. She was clearly getting more and more emotionally involved with each passing song and roared her approval of each number with a guttural intensity that you might associate with a Norwegian death metal band, more so than a young Breeders fan. If I could have moved, I would have let her in front of me, if only to preserve hearing.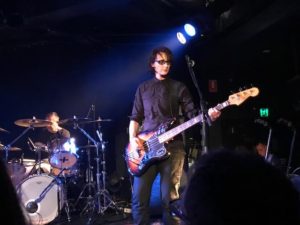 Their enthusiasm was fuelled by the band's powerful bursts of short, sharp new wave. Songs drawn from new(ish) album All Nerve were greeted with as much enthusiasm as songs taken from early 90s albums Pod and Last Splash. Indeed, the girl in front of me, who might have been their biggest fan, wasn't yelling for Cannonball, which unexpectedly, came half way though the set, but for Metagoth – which she would get right near the end of the set.
Courtney Barnett, sporting a mullet, her bassist Bones and a couple of members of support act Hachiku joined the band on stage to add backing vocals to Howl at the Summit. Not long after that Cannonball sent the crowd into a jumping, heaving, sweaty frenzy, which, if nothing else, created a bit of wriggle room up the front.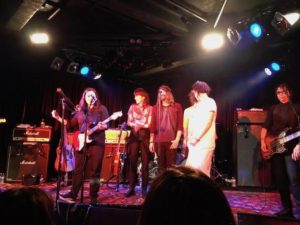 When the band began the opening chug of Drivin' on 9, the girl behind me literally broke down sobbing. I turned to see if she was okay; she was, just emotionally overwrought. With some more space to move in, I edged aside so her and her friend could push in front of me and get closer to the stage. She squeezed through but it didn't stop her crying.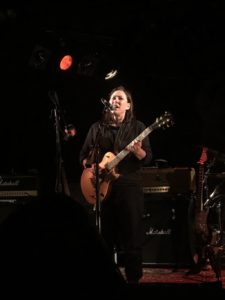 I was a little surprised to see she was in only in her early twenties, so possibly not even born when Last Splash was released. Talk about devotion. But having been overcome just a week earlier while watching David Byrne, I understood where she was coming from, even if I think Driving on 9's lazy country twang is surprising source material for such emotion. Who knows what it means to her though, and despite her tears, she was jumping up and down exuberantly when Josephine Wiggs took her turn on lead vocals for Metagoth before the set's climax of Gigantic.
New album opener Nervous Mary also opened the encore that ended with When I was a Painter, during which the respective band members departed the stage in turn, each giving a copy of the setlist to an audience member as they left. I was pleased when Jim Macpherson emerged from behind his drum kit to present his set list to the girl who had been crying. No one deserved it more.
I had seen The Breeders just once before, in 2013 when they played at The Palais Theatre as part of an All Tomorrow's Parties line-up to commemorate the 20th anniversary of the release of Last Splash. They were good on that occasion, but with new material, and their own dedicated fans packed into the Corner Hotel, this was by far the better of the two shows.
Setlist (taken from setlist.com)
Saints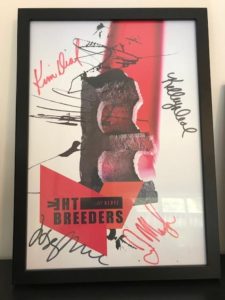 Wait in the Car
No Aloha
Divine Hammer
All Nerve
Invisible Man
Fortunately Gone
Howl at the Summit
Glorious
Safari
New Year
Cannonball
Bang on
Skinhead #2
Drivin' on 9
Walking With a Killer
Spacewoman
S.O.S.
Metagoth
Gigantic
————
Nervous Mary
Do You Love me Now?
When I was a Painter