Interpol
Interpol
Psychedelic Porn Crumpets
Palais Theatre
Friday 4 January 2019
$90
TURN ON THE BLOOD RED LIGHTS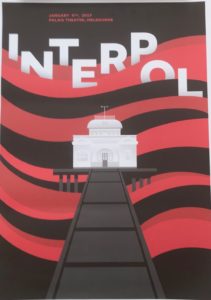 The cool change swept through Melbourne in the late afternoon, bringing welcome relief. The temperature still hovered around the 23 degrees Celsius mark, so it wasn't cool as such, just less oppressive than the 42 degrees Celsius it had reached before the change.
This was important because I had a seat upstairs in the Lounge section of the Palais for Interpol's gig. It can get quite hot near the rafters of an old theatre, but more crucially, in such humidity, how was I going to carry off the three-piece black suit look that is mandatory at an Interpol show?
The wonderfully named Psychedelic Porn Crumpets were up first. They are a Perth band who play guitar-heavy, psychedelic prog-rock at full throttle, all while wearing skinny jeans. Not bad if you like that sort of thing and the lead singer displayed a good sense of humour in his between song banter. Given the weather though, most of the punters preferred to be in the foyer drinking or taking in the cool breeze coming off Port Phillip Bay. I did a bit of both but caught most of their set on the basis that a band with a name that good deserved my attention.
Interpol emerged in the early part of the new century around the same time as fellow New Yorkers The Strokes and San Fran's Black Rebel Motorcycle Club. Music press types hailed these bands as the saviours of rock, though from what they were saving it remained unclear. For old post punks like me, it was like revisiting my youth. Where The Strokes sounded like a cross between Iggy Pop and Television and Black Rebel Motorcycle Club were reminiscent of The Jesus and Mary Chain without the feedback, Interpol sounded a lot like Joy Division.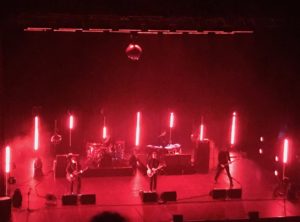 I don't consider any of that a bad thing; I liked all those bands, the originals and their modern equivalents. After all, popular music is all about archetypes and Interpol are guitar, drums, bass and baritone, so there is a point where their sound intersects with hundreds of bands. Besides, Joy Division were no longer making records – well, they were, but they were called New Order and didn't sound anything like Joy Division – so someone else may as well explore the grandiose glories of gloom and evil portent. And no one does it better than Interpol.
If the comparisons bothered them, they haven't let it affect their sonic aesthetic. Six albums in and their sound has remained remarkably consistent. A friend gave me their first album, Turn on the Bright Lights, for my birthday the year it was released. I've bought all of their subsequent albums, and while the respective albums don't differ markedly, it is to their early records that I generally return. A point on which the band seem to agree, for along with tracks from new album, Marauder, the bulk of the set for this show was drawn from Turn on the Bright Lights (2002) and its follow-up, Antics (2004).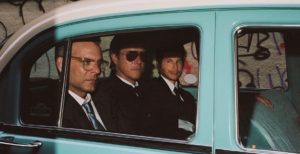 The previous occasion I saw Interpol at The Palace at the top of Bourke Street their set followed a similar template, consisting of the album of the time (2010's self-titled Interpol) along with the selected songs form their first two albums.
That night I was with John and we were entertained by the couple next to us who squealed with delight as each song commenced, sang out the first few words with impassioned intensity, and then proceeded to make out with increasing ardour. No I in Threesome took on new meaning.
Nine years on and on this occasion the band opened with Pioneer to the Falls from their third album, Our Love to Admire, which probably ranks as my favourite Interpol album. It is a glorious majestic lament perfectly suited to the grand interior of the Palais. Spotlights hit the mirror ball hanging above the stage and circled the Theatre as they played it while the band largely remained in the shadows.
When they commenced C'mere, the lights turned blood red and although blue and green hues washed over the stage at various times, blood red remained the default hue. Their first album may be called Turn on the Bright Lights, but it wasn't advice the band felt any inclination to heed.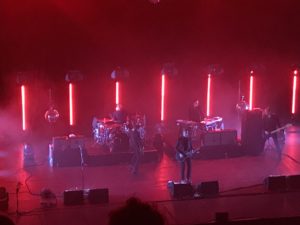 There were five musicians on stage, the core trio of Paul Banks (guitar, vocals), Daniel Kessler (guitar) and Sam Fogarino (drums) supplemented by Brandon Curtis on keyboards and Brad Truax on bass.
My seat was five rows back from the balcony and behind an aisle, nicely elevated so I could see the stage and the first few rows of punters in the stalls. The lounge seats are quite spacious so I could rock back and forth and side to side and stay involved in the gig while still complying with the 'STRICTLY NO STANDING IN THE LOUNGE' edict.
There is a comforting sameness to the composition of an Interpol song; Kessler teases out a reverb rich riff and the others gradually join in to build an ever heightening maelstrom of sound over which Banks intones his dire lamentations.
The sound was strong throughout and Banks' baritone reverberated in my ribs as he sustained those impossibly low notes.
The row of women behind me sang along loudly to most of the songs and what they lacked in harmony (with each other or Paul Banks), they made up for in enthusiasm. Sure, it did nothing to enhance my experience, but they were enjoying themselves. The rest of the audience behaved like a typical Melbourne crowd, sitting in stony, if appreciative silence until the first 'Thank you, good night' whereupon we whooped, hollered, synchronised our hand claps and crowded the aisles arm-waving, foot-stomping pandemonium.
I don't know if this is true of other audiences, but in Melbourne it's like we are awoken from some sort of torpor by a sudden panic that the show might be over unless we somehow prove that we were listening all along. Then we tend to overcompensate for the previous lack of anything like demonstrative interest with an overt outpouring of appreciation.
It was quite dark so I couldn't make out anyone's expressions, but Banks seemed to be smiling as he returned for the encore, so our ruse obviously worked.
A virtual 'hit parade' of Not Even Jail, Evil and Obstacle 1 kept the crowd on its feet and the goodwill flowing. If existential gloom can be exhilarating, then Interpol are the best possible exponents. It may have been the hottest day in Melbourne for five years, but Interpol were still super cool.
Setlist
Pioneer to the Falls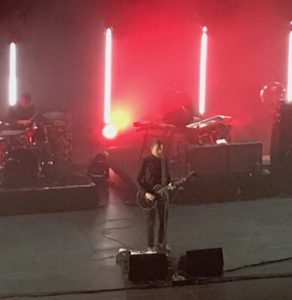 C'mere
If You Really Love Nothing
Public Pervert
Roland
Complications
Say Hello to the Angels
NYC
Leif Erickson
The Rover
Number 10
Rest My Chemistry
NYSMAW
All the Rage Back Home
The New
Slow Hands
————–
Not Even Jail
Evil
Obstacle 1