Crowded House
Crowded House
Sydney Opera House
Sunday 27 November 2016
CROWDED OPERA HOUSE
There were many good reasons for Crowded House to recreate their 1996 farewell concert on the steps of the Sydney Opera House: to celebrate the 20th anniversary of their famous farewell show, to promote the release of their re-mastered back catalogue with all the usual bonus stuff, good old nostalgia and well, why the fuck not!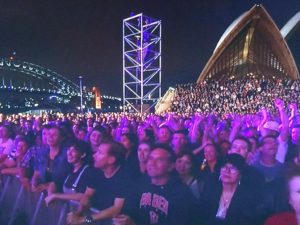 But perhaps the most compelling reason to stage a loud rock concert in this public space was that broadcaster Alan Jones, resident of the Toaster, a luxury apartment block built on Bennelong Point in the time since the original concert, was objecting to the series of shows and was actively campaigning to stop the event.
Knowing that, I'm just sorry that it was only for four nights and that Neil Finn didn't ask Rammstein to support.
I was never an obsessive fan of Crowded House. I saw them once or twice plus I also saw The Mullanes, the forerunner to Crowded House, at the Venue in St Kilda. But you can't hear that string of memorable singles: Four Seasons in One Day, Weather With You, Distant Sun, Don't Dream its Over etc without singing along. And their farewell show outside Sydney Opera House in 1996 was a landmark event for a certain generation. It was televised live and was to Australian rock music what Cathy Freeman's run in the 400 metre final at the 2000 Sydney Olympics was to athletics. It may not have been on quite the same scale as Oasis at Knebworth just a few months earlier, but it was certainly more scenic and I suspect the Finn brothers bickered less than their Gallagher counterparts.
So when they announced a series of shows to celebrate the 20th anniversary of the original event, the ABC made plans to televise the final concert. This suited me because I wasn't able to go up for the show.
The national broadcaster comes under fairly regular attack for its left wing political bias and other perceived failures, and perhaps rightly so in the case of Q&A, but at least its management understands when an event of national significance is taking place and is prepared to interrupt its schedule of QI reruns and B-grade British detective shows to televise it.
Like most Australians, I was going to take in their concert the same way I'd taken in the original, via television, albeit a much bigger and flatter screen than whatever clunky box I had in 1996.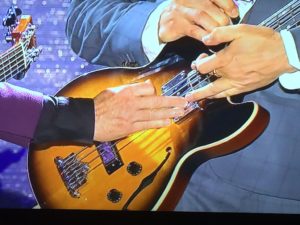 A Sonic and Scenic Spectacular
The strains of a Gregorian chant filled the room and the vision showed several shadowy figures in monks' habits walking about the stage. The lights came up just as the monks let slip their habits to reveal the band members standing centre stage. An effective opening, except that the sight of monks disrobing may have triggered traumatic flashbacks for some viewers.
Fittingly they opened with Mean To Me, their first single – which I recall them debuting on Hey Hey It's Saturday – and followed it up with Something So Strong. It was still twilight so the viewing audience was treated to lots of shots of the Opera House sails and the crowds on the steps, as well as the bridge with ferries chugging past in the foreground.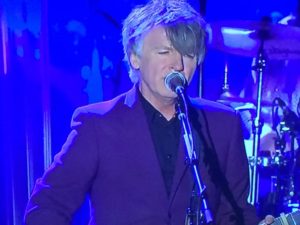 This didn't quite make up for not being there to experience the full sonic and scenic assault. But the real advantage for those who were actually on the steps of the Opera House was that they were spared the inane tweets the ABC were running across the bottom of the screen.
I'd been looking forward to sharing the event with my teenage children, but they got bored half way through the third song and wandered into their room to watch YouTube clips curated by Pewdiepie and the sidemen. In their defence, the third song was Don't Stop Now, which was not exactly a crowdstopper. In fact I didn't recognise it, and judging by the muted reception it received, not many people sitting on the steps were familiar with it either.
Perhaps it was a calculated move to heighten the reception for the next song, Fall at My Feet. If so it worked, for this track triggered the first of what would be many mass sing-a-longs for the night.
Most of those big moments were still to come in the second half of the show. Meanwhile, the band rolled through some of their lesser known songs. For a band who were virtually ubiquitous in their day, I was surprised by how many of the songs like Don't Stop Now that I didn't know: Italian Plastic which was dedicated to Paul Hester, When You Come, Recurring Dream, Either Side of the World. Some of them were perhaps from the second phase of the band, post farewell concert, or just album cuts that didn't particularly stand out. A good chance however, to refill my wine and make coffee.
They shot to rapturous crowd scenes of people dancing and singing. One woman in particular seemed to catch the director's eye. She looked a bit like Andie MacDowell. There was a guy in the front row singing along to Sister Madly who I see at quite a few pub gigs in Melbourne.
That's the thing about Crowded House, they cross all tastes, trends and tribes. You didn't have to be a fan to sing along to Fall at My Feet.
Of their albums, my fave was the final one of their first incarnation, Together Alone and they played plenty of songs from it, including Pineapple Head, Private Universe, Fingers of Love and Nails in My Feet – possibly my favourite Crowded House song.
Crowded Karaoke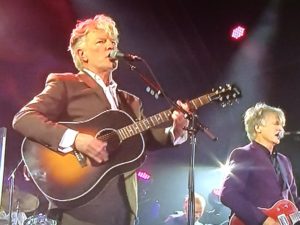 The line-up was Neil Finn on guitars, Nick Seymour on bass, Mark Hart on guitars, keyboards and anything else that needed hitting or blowing, and Matt Sherrod on drums. Plus some other guy who snuck on occasionally to play the keyboards while everyone else was busy on guitars.
Neil's brother Tim joined the band for It's Only Natural – with the famous family harmonies kicking in from the very first note.
They followed up with Four Seasons in One Day that triggered another mass sing-a-long. The director cut straight to the Andie MacDowell lookalike. The audience, you'd have to say, were remarkably tuneful. This was no AC/DC shout-a-long, it was like all ten thousand of them had been at rehearsals.
Every year there is scoffing when the AFL announce the artists who will perform at the Grand Final, and usually more scoffing once they have done so. May I humbly offer a suggestion – Crowded House, or even just Neil Finn, singing Four Seasons, Weather With You, World Where you Live, Distant Sun – you know the ones. Finn doesn't really have to do anything except start everyone off; the crowd will take it from there.  Just an idea.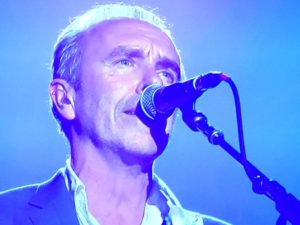 Neil was on piano for an extended Chocolate Cake while Tim led the singing from the front. The run home started with In My Command before another mass choir joined in for Don't Dream It's Over, which even from the comfort of the couch, and admittedly after one or two red wines, was very moving. I wasn't quite tearing up, but I might have done had I been there. They closed out the set with Distant Sun, a song so good it didn't feel like an anti-climax after the spine tingling sing-a-long of Don't Dream It's Over.
Of course it wasn't over, there had to be an encore and because it was being televised on a non-commercial channel, they didn't keep us waiting too long. Also it was looking chilly in Sydney. Some of the crowd were decked out in waterproof ponchos, so they probably didn't want to be hanging around any longer than necessary. The band honoured the conditions by playing Weather With You.  Neil Finn dedicated songs to people on the Manly Ferry, those in the crowd and those at home, even residents of the Toaster. They finished off with World Where You Live and Better Be Home Soon in which the audience actually drowned out Neil Finn.
As befitting any event in Sydney, literally any event, the conclusion of the show was marked with a burst of fireworks.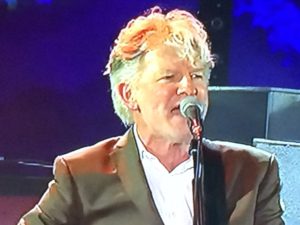 Twenty years ago when Crowded House played the forecourt of the Opera House, Bill Clinton had just been elected as US President for a second term. This time around, Bill's wife Hilary had just been defeated by Donald Trump, ushering what was being referred to as a post-truth world. I have no idea what that actually means, but pre or post truth, perhaps the reasons for coming together for a good old sing-a-long have never been stronger.
Setlist
Mean To Me
Something So Strong
Don't Stop Now
Fall At Your Feet
Whispers and Moans
Pineapple Head
Into Temptation
Sister Madly
Italian Plastic
When You Come
Recurring Dream
Private Universe
Fingers of Love
Either Side of the World
Nails In My Feet
It's Only Natural
Four Seasons in One Day
Chocolate Cake
In My Command
Don't Dream It's Over
Distant Sun
– – – – – – – – – 
Weather With You
World Where You Live
Better Be Home Soon