Angel Olsen
Angel Olsen
Jack Ladder
Corner Hotel
Monday 28 November 2016
$55
SEND ME AN ANGEL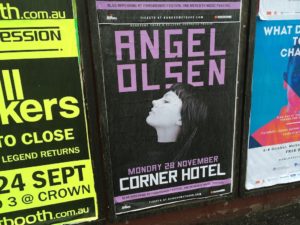 It is well known that hair is as critical as any other factor in rock and roll success. Think of A Flock of Seagulls, The Ramones and ZZ Top – they're as famous for their hair as their music. Then there's Split Enz, Haircut 100 and The Beards where the centrality of hair is right there in the band name. Consider The Beatles' mop tops, Dylan's curls, Bowie's dye jobs, Marley's dreadlocks, Rotten's spikes, Robert Smith's bird's nest, Grace Jones' flat-top, Phil Spector's hydreangas, Philip Oakey's asymmetrical look, the Jackson 5's afros and whatever it is that the bloke from The Prodigy has on top of his head. Plus, if you consider the entire blow-waved decade of the 1980s, it becomes clear that one's ability to handle a hairdryer or straightening wand is as important as one's ability to handle a Fender Stratocaster.
Despite this hair hegemony, the fringe has played a comparatively modest role in rock history. Perhaps the owner of the most famous fringe is Dave Hill from Slade, who admittedly didn't leave much room for others to experiment, although Sia has found a creative way, even if it is it at the expense of actually being able to see. There's a certain type of English mod fringe as sported by mid 60s Beatles, the bloke from Blondie, Johnny Marr, Ian Brown, The Gallagher brothers, et al, but on the whole it is a much neglected hair trait.
But Angel Olsen has taken up for the challenge. On her album cover for My Woman, she is sporting a positively Dave Hill-esque fringe. What does it mean? Well perhaps not much, other than that if she is making such a feature of her hair, then she must be approaching her music with newfound seriousness.
Jack the Lad-der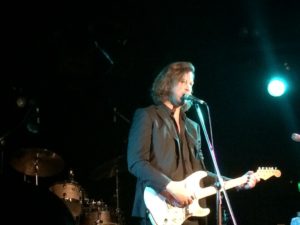 Jack Ladder was supporting. I'd never heard of him before, but he was quite entertaining. He is tall, thin with shoulder length unkempt hair, dressed in black and sings in a deep baritone – in other words, he's the new generation update of the Nick Cave, Tex Perkins prototype.
He was laid back almost to the point of lying down, taking a minute or so between each song while fiddling with his guitar and making epigrammatic utterances. He performed solo with just electric guitar and occasional harmonica, but he was not alone, for there was a core group of fans up the front who sang along with every song and even pogo-ed. Well three guys anyway.
He was quite engaging and I made a note to self to check out his recordings at some point. I'll have to do it on the quiet, however, because my wife already jokes that the only new artists I like are those who sound exactly like all the old artists I already like. My concern is that she might just have a point, so there is no need to fuel that perception any further. But I won't let that stop me; Jack Ladder can't help having a baritone and Nick Cave doesn't tour every year. Actually Ladder's voice has more of a Chuck Prophet like drawl, and Chuck Prophet never tours Australia, so Jack Ladder will do just as nicely.
Fringe Artists
Talking of my wife, I discovered the music of Angel Olsen while playing about on iTunes and following the 'people who bought this also bought this…' links so that I could find some new singers she might enjoy.
As usual this exercise simply resulted in me discovering lots of great new artists that I could listen to while yielding almost nothing my wife might like. I can't recall my starting point, but Perfume Genius' Queen and Angel Olsen's Lights Out appeared with such frequency that I eventually succumbed to iTunes' marketing ploy and checked them out. Both were great, and Perfume Genius' album I found particularly enthralling. He too played at the Corner Hotel not long after – check out my review here – and was highly entertaining.
The sealer for Olsen was not so much Lights Out, but the title of the opening track from Burn Your Fire For No Witness called Unfuck The World. Sometimes a title is enough. In light of Donald Trump's election as President, this title takes on unexpected prescience. So when I walked into the Corner I was pleased to see this title was emblazoned across a t-shirt at the merch stall. As with Johnny Marr's 'Johnny Fucking Marr' t-shirt, I admired the sartorial intent, but couldn't think of an occasion when I might wear such a garment, except perhaps polling day.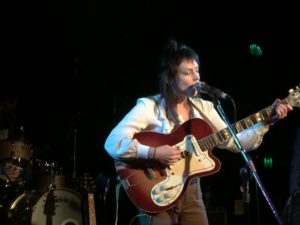 Angel Olsen and her band had no such sartorial anxiety. They came on stage wearing matching grey suits and white shirts with a bolo tie (the type that look like a thin cord). You could tell Angel was the star because she was the only one without a jacket. Plus she had the best fringe.
The band achieved gender equality, at least in so far as there were three men and three women. It's probably an article better suited to The Guardian, but just as there are more 'all-girl' groups these days (Savages, Camp Cope etc) I'm also noticing that there are more bands with a greater mix of genders, i.e. more than just one woman on bass or drums surrounded by a scrum of blokes on all the lead instruments. It is now much more common to see a band with two, or in this case three women, and not just on backing vocals. Or Anohni.
Social ethnographers probably have any number of theories as to why there are now more evenly mixed gender bands than previous. It's possible that this change is a 'Millenial' thing, although we tend to only invoke that generation when we need a scapegoat for a social ill. A more interesting point to ponder is whether this trend will signal the end of 'cock rock,' or even what Jenny Hval terms 'soft cock rock'?
Angelic Grunge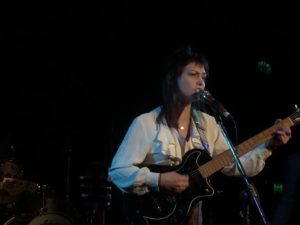 Opening with Never Be Mine, one of the more up tempo songs from new album, My Woman, the band roamed through a selection of songs from her two most recent albums, Burn Fire For Your Witness and My Woman.
It is predictably trite to say that Olsen sings like an angel, but it is nonetheless true. I was standing up the front and she seemed to expend no real effort in her performance, even as her voice raced up and down the octaves and did that warbling Joan Baez vibrato on Hi-Five. Shut Up Kiss Me was delivered with appropriate punch while Lights Out, Heart Shaped Face and Sister illustrated the subtle variations of the band and the nuances in Olsen's voice.
I was up the front, but despite the show being sold out, I remained relatively unruffled. There was no pushing or moshing, just gentle head nodding. The three guys who sang along to Jack Ladder were giving equal voice to Angel Olsen.  This must have been their dream line-up.
Even on the slower, more languid songs I was impressed by the band's intensity, particularly the playing of the guitarist closest to me who went at his work head down and with a frenetic edge that wouldn't have been out of place in Gang of 4. Luke, his name was. I know that because Olsen mentioned that it was his birthday. Upon learning this, the audience dutifully joined voice for the traditional sing-a-long. Needless to say we should have left the singing to Olsen.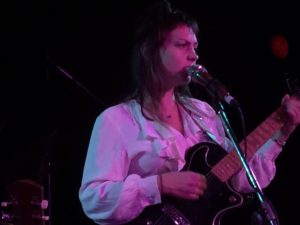 There were a few songs from earlier albums and EPs with which I wasn't familiar – Drunk and With Dreams and Special to name two.   These songs betrayed Olsen's country folk origins more clearly than the most recent material, but their laid back vibe was soon shattered by the rush of electric guitar of Not Going To Kill You.
At one point Olsen paused to enquire of her audience whether we had Uber. I wasn't sure, however, if she was testing Melbourne's credentials as a progressive metropolis or just planning how she was getting back to her hotel?
After our brief Happy Birthday interlude, the band wound up with the feedback drenched grunge of Forgiven/Forgotten before concluding with a rousing Give it Up. The audience duly did, enticing the band back for more.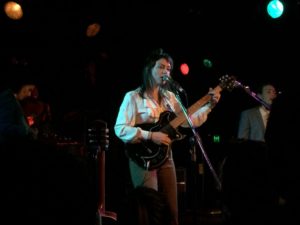 The encore opened with Olsen and the drummer taking up position at the keyboards where they were joined by one of the guitarists – the one who wasn't celebrating his birthday – to perform a smoky version of the electro, Julee Cruise-esque Intern, the foreboding synth-based lead-off track from My Woman. The rest of the band gradually rejoined her and finished the night by playing the brooding and sultry, quasi-title track Woman.
"I dare you to understand what makes me a woman" she sings. On that score I wouldn't presume to know, but surely her fringe is part of what makes her a rock goddess. And her voice makes her a double threat.
Olsen's query regarding Uber was quite prescient. When I emerged onto Swan Street I noticed all the young peeps hunched over their phones tracking the progress of their various Uber drivers. Meanwhile I simply haled the solitary cab waiting outside the Corner Hotel.
Setlist
Never Be Mine
Hi-Five
Shut Up Kiss Me
Lights Out
Heart Shaped Face
Sister
Those Were The Days
Drunk and With Dreams
Special
Windows
Not Going To Kill You
Sweet Dreams
(Happy Birthday Luke – audience)
Forgiven/Forgotten
Give It Up
– – – – – – – – – – –
Intern
Woman