DAF, Total Control, Dark Water
D.A.F.
Total Control
Dark Water
Melbourne Town Hall
Sunday 17 November 2019
$40
POST PUNK – PRE TECHNO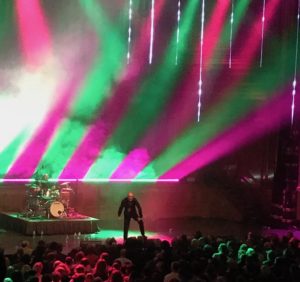 I missed the final episode of Total Control on the ABC because, ironically enough, I was watching Total Control. The legendary Melbourne band that is. And I don't mean legendary in the modern sense of someone who is a 'bloody legend', but in the true sense, that of a band whose existence verges on the mythical.
I have followed them for a few years now and have bought their albums, but have never seen them play live. In fact, I've never even seen their name on a gig guide, other than once at Sydney's Vivid Festival. And that seemed like a long way to go to see a local band. So while I may not quite 'sell my soul for total control', to quote The Motels' song, when they were announced on the bill for Melbourne Music Week I bought a ticket immediately. Even if they were the support act for German techno pioneers D.A.F. and the gig was on a Sunday night.
Dark Water
I was meeting Ralph, Fiona and Mark at the gig, but I was the only one there in time to catch Dark Water – a local three piece who ply what their Bandcamp page calls '80s darkwave synthpop' though it is more like '80s darkwave organ-pop' because they were incorporating into their sound the lugubrious tones of the Town Hall's famous organ. In fact, they had recorded much of their E.P. using the organ, though for this gig the organ sounds were coming through the singer's Apple Mac. It was a shame not to use the real thing given they were there, but perhaps there were logistics of which I was unaware.
Anyway, I liked their sombre, yearning songs with rolling drums, echoey beats and mono-tonal keys – they reminded me very much of many of the 80s bands like early Dead Can Dance that used to play at the Seaview Ballroom in St Kilda. Adding to the darkwave pastiche, they played behind a thick pall of smoke and shadowy lighting.
I was glad I caught them and would have bought their E.P. but it was only available on cassette – one of the less welcome manifestations of retro fashion and certainly the least effective means of listening to music, both for sound quality and convenience. Good band though.
Total Control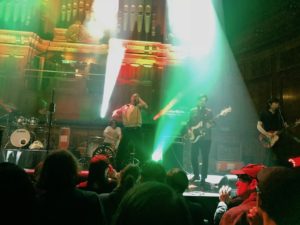 Another disappointment at the merch desk was that they had sold out of Total Control's 'Laughing at the System' t-shirts in X-Large. Only Smalls and Mediums were left, which could mean their fan base are largely portly oafs like me and had already bought out the plus sizes, or the band don't want to encourage such people into their fan base, so only offer merch for those who are lithe and lean. At least Fiona was able to snaffle one in her size, so she added some sartorial gravitas to our group.
Clearly, I wasn't the only person looking forward to Total Control, for quite a crowd of people were gathering in front of the stage. And despite my queries about their fan base, there was a strong mix of ages and sizes, from old fat bastards like me to youthful sprites.
The set up was elaborate with several microphones spanning the length of the Town Hall's wide stage and quite a few people milling about on stage. When they were ready to start, there were at least 8 or 9 people up there, including a knot of backing vocalists, people playing strings and woodwind and someone perched high up in the organ turret.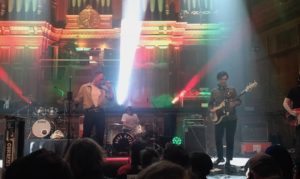 In keeping with their post-punk, anti-establishment ethos, Total Control are one of those bands that provide no personal information on their record sleeves as to who does what, nor are there any band photos. All of this adds to their mythic status. They are similarly uninhibited by a desire to share on stage, proffering nothing in the way of song intros or band member intros, let alone banter. I'm not sure I expected anything different, but where I mention a band member by name, I'm relying entirely on information gleaned from old online reviews and articles – and even then all I can really say is that Dan Stewart is on vocals, Mikey Young plays guitar and they are joined by Al Montfort, James Vinciguerra and Zephyr Pavey among others – though this roll-call may not be accurate or current.
Where The Residents don masks, TISM balaclavas and Kiss make-up, Total Control are virtually as anonymous simply through withholding information. In a way it's admirable in today's ultra-connected world.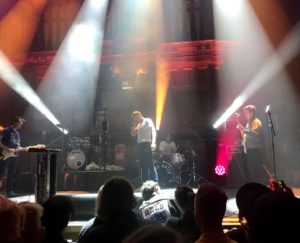 Total Control immediately opened with the virtual chamber pop of Her Majesty, Budgie from their latest release, Laughing at the System, their muscular sound, bolstered by the Town Hall and the extra musicians. The band exhibited an air of uber-cool detachment as they played, which Ralph interpreted as boredom, but I think was just put on post punk aloofness. For the musicians were going for it, particularly during the spikier thrashy tracks like Expensive Dog.
The sound in the Town Hall can tend to echo as it struggles to fill the space, so it was at its best here when the organ was employed, for its deep, sonorous tones laid a solid base over which the other instruments rode.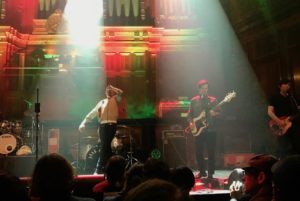 Stewart meanwhile, maintained an intense and intimidating presence up front. He didn't make eye contact with the audience and wore a blank expression throughout as he gazed upwards, downwards or to the side. With a tight white t-shirt accentuating a muscly frame and arms, his buzz cut gave him the look of a bovver boy. If Ralph thought they looked disinterested, he wasn't about to tell Stewart.
The set drew from their past few releases, with half of the 10 songs taken from their excellent 2015 album, Typical System. Flesh War, Liberal Party and Glass were the highlights for me before they finished with incendiary throb and thrash of Black Spring.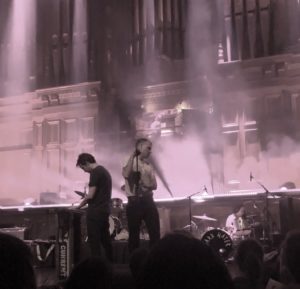 To some degree Total Control abide by Mark E Smith's famous dictum of the three R's of rock and roll – Repetition, Repetition, Repetition – which adds to the intensity and edginess of their aural barrage.
According to their various bios, the band was originally established to explore electronic soundscapes, and while that aspect certainly exists in their music, there is just as much drone and industrial noise in their compositions as there are keyboard noodlings. And the Town Hall organ served to accentuate this aspect of their sound.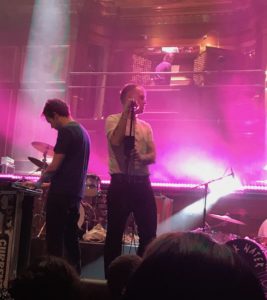 Fiona, Mark and I loved it. Ralph wasn't completely sold, but liked a good portion of it. And either way, it was a powerful performance that highlighted what a shame it is that hey play so infrequently.
Setlist
Her Majesty, Budgie
Expensive Dog
See More Glass
Flesh War
Vote Cops
Liberal Party
The Hammer
Glass
Carpet Rash
Black Spring
D.A.F.
I have one 12-inch single by Deutsch Amerikansche Freundschaft or D.A.F. as they're known, 1981's Der Mussolini/Der Rauber und Der Prinz, plus a few tracks on a compilation cd of German bands from the era, so I'm not what you'd call an obsessive fan, but there was a time when I was vaguely au fait with their work.
I bought the 12-inch from a record shop that used to be located in an alcove on the corner of Swanston Street and Flinders Lane that specialised in German electronic and metal music. Yes, there was a time when such a niche store could exist in the CBD. My copy still bears the price tag of $3.99 stuck in the corner.
In truth I didn't know D.A.F. were still operating until they were announced on this bill for Melbourne Music Week, but given I was seeing Total Control anyway, why not hang around and catch D.A.F. and relive, ever so fleetingly, a fragment of my youth.  They were being billed as the godfathers of techno, which I suppose is better than being labelled the grandfathers of techno. I think this was their first time in Australia and clearly plenty of Melburnians had been eagerly awaiting their tour because the place was packed. And not just with old goths or techno heads of my vintage, there were plenty of young people pushing up the front.
We went upstairs to get a seat from which vantage we could see the mass of people crammed up the front as well as about 20 bottles of water set out in front of the drum kit. Live, D.A.F. is Gabi Delgado on vocals and Robert Gorl on drums and programming. Most of the music was pre-recorded or programmed by Gorl, while Delgado displayed lithesome energy as he bounded from one side of the stage to the other, delivering strident recitations. As he upended a bottle of water over his head it became obvious why he needed so many, for he repeated this after every second song, also spreading a stream across the audience.
Delgado sings in German and he also kept to his native tongue in the snippets of banter between songs. So I have no real idea what their setlist consisted of, but they did play both Der Mussolini and Der Rauber und Der Prinz. He illustrated the former with a fascist salute while the latter represented one of the few moments when the tempo of the music slowed.
Overall, there was a certain sameness to the electro pulse and rhythms of the music, but I enjoyed the performance. Gorl's drumming was energetic and lively while Delgado was the ultimate showman who played up to the crowd and was in constant motion. Sometimes you don't have to comprehend the words to understand the language. And D.A.F. spoke loud and clear. So much so that they returned for three encores, the audience refusing to let them stop. Let's face it, any German who can get away with a cheeky Nazi salute as he exits the stage has won over the crowd.