David Byrne
David Byrne
Kimbra
Margaret Court Arena
Saturday 24 November 2018
$100
ONCE IN A LIFETIME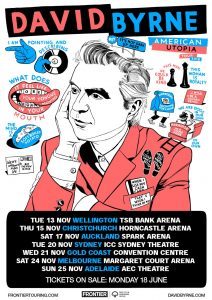 In the early part of this century, my friend John and I vowed to never miss a David Byrne show if he was in town. No matter what. The promise came after a friend had convinced us to attend the Grown Backwards tour at Regent theatre.  Although we were long-time Byrne fans and had seen all his previous tours, we were lukewarm about his solo albums in that era and had considered not attending. In the end we went to the show and had our minds duly blown by Byrne's staging, energy and creative interpretation of his back catalogue.
He has toured a few times since and John and I have reported for duty on each occasion. And each time we've renewed our vow. Most recently in 2012 he played Hamer Hall with St Vincent.
Along with Nick Cave, he is probably the most consistently brilliant live performer I've ever seen.
TRUE STORIES
In fact, the first concert I paid for with my own money was Talking Heads' More Songs About Buildings and Food tour in 1979 at Dallas Brooks Hall in Melbourne. It was a remarkable performance, even if I didn't have anything to compare it to at the time. It was also formative for me on a personal level, because I was only 15 and my mum let me stay at the flat of my friend's older brother in Gertrude Street Fitzroy. Gertrude Street these days is the home of gentrified fashion boutiques and edgy foodie havens, but back then you rarely heard it mentioned without an accompanying reference to a grisly discovery or someone assisting police with their enquiries.
I was a 'just a suburban boy' in the words of Dave Warner – the musician, not the cricketer – so it was a big dose of culture shock for me. Even hearing The Clash on the radio was a new experience – I had the albums, but at the time 3RRR only broadcast in inner Melbourne.
Nick Cave was in the audience that night too. Our hosts, Ross and Louise pointed out some dishevelled types walking through the crowd and informed us they were the Boys Next Door. For a kid from Burwood, it was like seeing big game in the wild.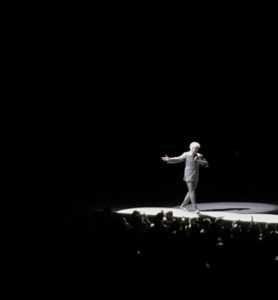 I've seen David Byrne him on each of his subsequent tours, from Talking Heads' Stop Making Sense tour in 1983 at what was once the Olympic Swimming pool, the Uh-Oh show in 1992 at the Palais where I caught one of the condoms he threw from the stage as part of a safe-sex message, unless he was attempting to proposition me, the Grown Backwards tour in the early 2000s, the Everything that Happens Will Happen Today show at Hamer Hall the night after Black Saturday (where he thoughtfully dropped Burning Down the House from the set) and his show with St Vincent.
Our hopes were therefore high for his American Utopia tour. Quite aside from our past experiences, I'd been following reviews of the tour as it wound through the US and Europe, and they were unanimous in their gushing praise. Although I saw the odd snippet on social media, I resisted the urge to watch excerpts of the show online, as I didn't want to ruin the live experience.
KIMBRA
It was the election day in Victoria. The polls closed at 6.00pm, but the results were already in by the time we met up with John, Sue, Fiona and Mark in the foyer. A landslide victory to the ALP – in fact a virtual wipeout of the conservative party – so our mood was already buoyed by the time Kimbra took the stage to open the show.
Kimbra was a good support for David Byrne. She is yet another fine Kiwi singer who produces smart, sophisticated pop music with layered rhythms and strong up tempo vibes. In fact her recent single Top of the World wouldn't be entirely out of place on a David Byrne album. She performed that song along with other tracks from her recent album, but all eyes were on her flared trousers, which were perhaps the most remarkable pair since the voluminous parachute pair Bowie donned for the back cover of Hunky Dory.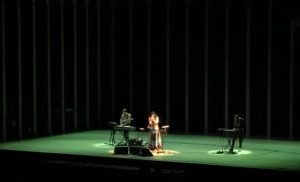 TALKING HEAD
Byrne's performance opened with him sitting at a table holding a human brain that he serenaded like a nutty scientist to the song, Here, from American Utopia. The rest of the stage was completely bare – no musicians, no instruments or wires. Just beaded curtains around the sides and rear of the box proscenium.
So far, so Byrne, but from that moment he unfurled the single most captivating and creative concert experiences I've ever seen. The only thing that rivals it is perhaps the Stop Making Sense show from 1983/4, but even that seemed formulaic by comparison. This was equal parts musical concert, theatrical production, choreographed dance and conceptual art exhibition. It was all parts thrilling and inventive.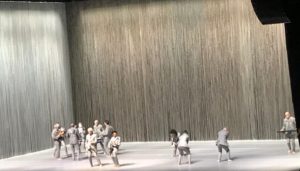 Lazy brought on musicians dressed in grey suits with bare feet and their instruments draped around their necks. By I Zimbra and Slippery People, which was our cue to stand and dance, there were upwards of 11 people on stage carrying either a keyboard, guitar or any conceivable percussion instrument. All of them moving around the stage with fluidity and precision, coming together and dispersing again with smooth, synchronised beauty.
I began this blog way back quoting David Byrne who wrote that writing about music is like dancing to architecture. At the time I scoffed, but of course he was right, for there is no way I can convey in words just how joyous and uplifting this show was.  It was all in the moment and what a transporting two hours' worth of moments it was.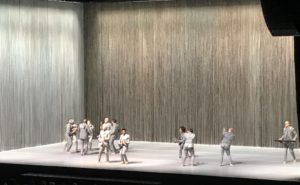 The set list drew heavily from American Utopia, but brought in enough Talking Heads songs to satisfy most of the audience; from I Zimbra to Slippery People, This Must Be the Place and Once in a Lifetime.
Born Under Punches included one of the best band introductions I've witnessed, with Byrne responding to queries about whether all the music was indeed played live, by bringing in each musician in turn to set up the rhythm track and the accompanying layers of funk until everyone on stage was contributing something to the greater whole. And we were away with one of the Heads' most brilliant tracks.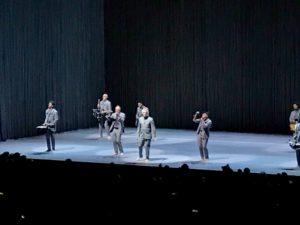 I Dance Like This and Bullet benefited from dramatic staging with Byrne alone on stage and the band prostrate in tableaux.
Acknowledging the election, he congratulated us on our compulsory voting law, even if it didn't necessarily guarantee good outcomes.
The show ended with Blind, one of my favourite Heads' tracks, followed by Burning Down the House, both performed with exhilarating rhythms and lively exuberance. The band members' sweat was apparent very early on but had turned the grey suits to a universal charcoal by this point.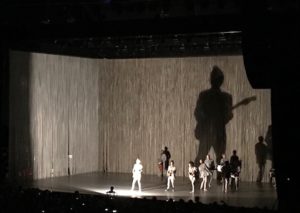 When they returned and played Road to Nowhere and The Great Curve I was overcome with the emotion of it all and shed a tear of enjoyment.  For the second encore, Kimbra joined the group as they assembled at the front to sing the Janelle Monae protest songs Hell you Talmbout in which they list the names of African Americans killed by police.
From a musical, theatrical and artistic aspect, this truly was a once in a lifetime concert experience. I have tickets for several events in the coming weeks, but if I ripped them up and didn't attend, I'd still feel sated.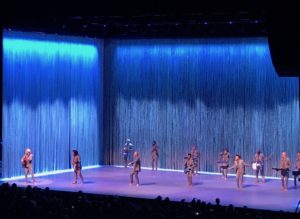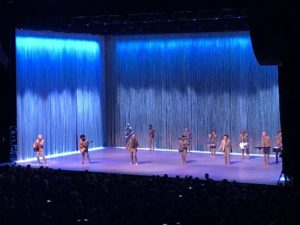 Setlist
Here
Lazy
I Zimbra
Slippery People
I Should Watch TV
Dog's Mind
Everybody's Coming to my House
This Must Be the Place
Once in a Lifetime
Doing the Right Thing
Toe Jam
Born Under Punches
I Dance Like This
Bullet
Every Day is a Miracle
Like Humans Do
Blind
Burning Down the House
———–
Road to Nowhere
The Great Curve
———–
Hell You Talmbout