Tiny Ruins
Tiny Ruins
Evelyn Ida Morris
Northcote Social Club
Thursday 15 November 2018
$17.82
OLYMPIANS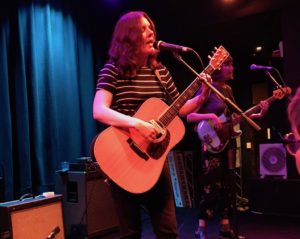 Subtlety and gentleness are not generally prized in the rock 'n' roll pantheon. Even in cases where these qualities are acknowledged, they are usually accompanied by an arty preciousness or overweening posturing – at least that is the way I respond. Likewise with virtuosity; while it is celebrated, it is most commonly recognised only in flamboyant, big-haired, scarf-wearing, strutting peacocks.
Tiny Ruins, however, contain all of these qualities and more, but as the humility of their name suggests (even as a ruin, they are not a grand crumbling castle but a modest dismantled shack), they're not exactly shouting it from the turrets.
Tiny Ruins is name under which New Zealand singer-songwriter Hollie Fullbrook puts out her music. After seeing Jess Cornelius and Sarah Mary Chadwick last week, and with Kimbra supporting David Byrne next week, Tiny Ruins form something of a Kiwi choir on the Australian gig circuit. So much so I wouldn't be surprised to learn that Dame Kiri Te Kanawa is playing The Tote in the coming weeks.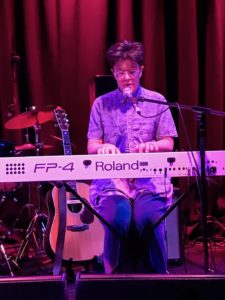 They were playing a sold-out show on the back of two excellent singles – How Much and Olympic Girls – as they preview their forthcoming album. Support act was the equally excellent Milk Records label mate, Evelyn Ida Morris, formerly known as Pikelet. Fiona and I arrived just in time to grab a beer and see Morris take their seat behind her white Roland FP-4 (Morris identifies as non-binary and uses the 'they', 'their', 'them' pronouns).
Their self-titled album, is a triumph of avant-piano pop (if that's a thing). It is reminiscent of Liszt's piano compositions with an occasional plaintive vocal. I had seen Evelyn Ida Morris perform at the Recital Centre earlier in the year. On that occasion there was a band and I was seated behind Morris, who had their back to me, so it was good to be face-on for this show.
Most of the set was drawn from the album, opening with Forecast and closing with Dear Unimaginables from their Pikelet years. Their playing was immaculate and full of drama, striking the chords with gusto and not afraid to embark on an extended instrumental run.
Between songs however, Morris was chatty, checking in on how her new Roland was sounding – "nice sustain" offered one punter – and suggesting that our polite applause made her feel she was at a golf tournament.
That said, the applause grew with each piece as more people filed into the room and even if a number of them remained cross-legged on the floor, I suspect that Morris converted a few of them into fans, while those of us already on board re-committed.
Setlist
Forecast
What to Give
The Body Appears
Stop Driving
Freckles
Dear Unimaginables
Tiny Ruins
Tiny Ruins are Hollie Fullbrook on acoustic guitar, Cass Basil on bass, Alexander Freer on drums and Tom Healy on guitar, effects and an occasional keyboard thing.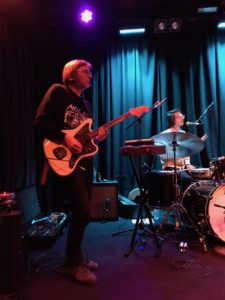 They opened their set with the gentle, Me at the Museum, You in the Wintergardens, from the Brightly Painted One LP. This, like many of Fullbrook's songs, was built on a circular, hypnotic acoustic guitar motif, a style I associate most with Leonard Cohen's early music. The other band members added their own musical decoration with Healy contributing a range of sonic splashes and tonal buzz.
Some of his guitar work wouldn't be out of place in Bowie's band, but at no point did it take over, instead it melded perfectly into the soundscape. It was a subtle style that suited the quiet songs and all the players added their own touch – at one stage Freer played drums with the palms of his hand, while Basil added vocal harmonies.
The set was a mix of new songs from their forthcoming LP, including the sublime How Much, plus a few tracks from previous recordings – mainly from the Brightly Painted One LP. The songs are uniformly slow-paced and meander rather than drive to their conclusion, yet for all that, they are layered, complex and full of energy – thanks largely to Tom Healy, who was working extremely hard. Perhaps my impression of his contribution was heightened by the fact that I was standing right next to him so I could see everything he was doing, but he was extraordinary. It was no surprise that Fullbrook revealed he had produced the new record.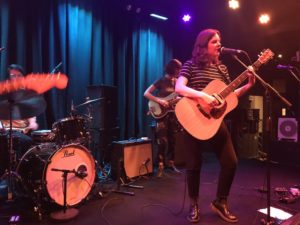 One song, Hurtling Through, was a song Fullbrook wrote and recorded with Hamish Kilgour of The Clean – a great, if chronically underrated, New Zealand band. I was pleased to be reminded of them and it reinforced for me that beyond the Finns and Lorde, New Zealand has always had a rich and highly original music scene.
Fullbrook, who is the driving force and songwriter of Tiny Ruins, has a melodic, lilting voice, full of expression – not entirely unlike Laura Marling. Although she is nowhere near as prolific as her English counterpart, having released two albums and a handful of EPs and singles in 10 years, compared to Marling's seven in the same period.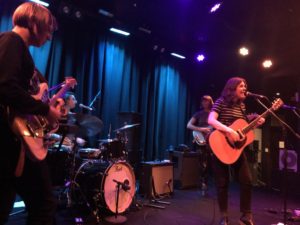 That sense of there being no rush filtered through to this performance – both in the gentle tempo of the songs and the tuning required between each of them. While Fullbrook made a joke of it, the biggest laugh came when an audience member offered a gentle heckle of 'Tuney Ruins."
There was an air of respectful quiet between songs, not the customary chatter that permeates most gigs. I wondered if this was due to the air of quiet contemplation the band created, or just because it was a Thursday night. Unlike rowdy Friday and Saturday night crowds who shriek and shout at each other over the music, people who attend shows mid-week tend to act with less of a sense of wild abandon. In fact it was so quiet I was able to greet a friend several metres away without even raising my voice.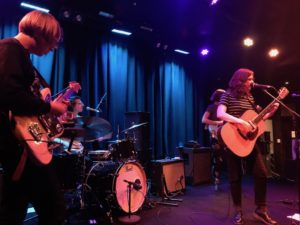 They closed their set with the latest single and title track of the forthcoming album, Olympic Girls. Fullbrook returned to play two solo numbers, Tread Softly and Bird in the Thyme, before the band re-joined her for Straw into Gold.
This was a sublime show and well worth the trek to Northcote on a school night. I'm looking forward to the album's release in February.
Setlist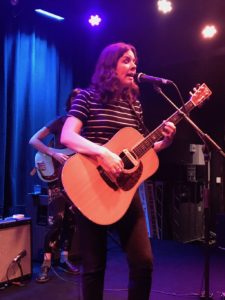 Me at the Museum, You in the Wintergardens
School of Design
One Million Flowers
Chainmail Maker
Holograms
Dream Wave
Sparklers
Hurtling Through
How Much
She'll be Coming
Olympic Girls
Tread Softly
Bird in the Thyme
Straw into Gold