Kevin Morby and Waxahatchee
Kevin Morby
Waxahatchee
Northcote Social Club
Wednesday 28 November 2018
$50
(INNER) CITY MUSIC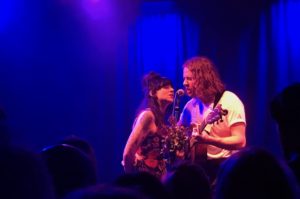 When I saw Tame Impala a few years back, I wondered if Kevin Parker might be the most significant 'Kevin' ever in rock music. The point being, of course, that there aren't many. I mean there aren't many Kanyes or Kendricks either, but then Kevin doesn't have quite the same cachet as a muso name. I could only think of two other Kevins; Borich and Carmody, or three if you count the late 1970s Melbourne indie band called The Kevins. Yet here I was at the Northcote Social Club about to see another Kevin – Kevin Morby. Suddenly the place is lousy with Kevins.
I first heard of Kevin Morby via Spotify. For a period of a few months in 2017 whenever an album finished playing, the Spotify algorithm would deliver up either a Car Seat Headrest song from Teens of Denial or a Kevin Morby song from City Music. Naturally, part of me resented that my taste was so uniform and predictable that a simple algorithm could easily pick it in one, but when I actually listened to Kevin Morby, I realised I quite liked it. Sort of like a cross between Dylan in the early 70s and Ryan Adams in the early 00s – if it's fair to lump that combination on anyone.
Not that I would necessarily have rushed off to see him play, but my friend Kath is a little obsessed with Waxahatchee, and they were playing a joint show at the Northcote Social Club, so I said I'd go with her. Kath got tickets immediately and it's lucky she did, because not one but two shows sold out within a day. Then a third was added at the Corner Hotel. It seems the promoter had severely underestimated their popularity. Either that, or people knew this gig clashed with the ARIA Awards and wanted a good excuse to go out and hear some music instead.
There were quite a few of us meeting up in the front bar of the Northcote Social Club. John was with us – he's always up for a dash of Americana – as well as Bruce. Bruce's friend Mark, who I had met at the recent Jess Cornelius gig, also turned up with his two daughters. Even among my small circle of friends, it seemed Kevin Morby and Waxahatchee were more popular than I imagined.
Waxahatchee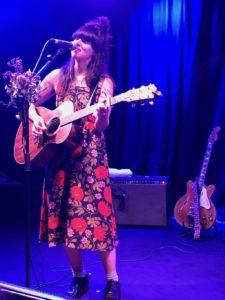 If there aren't many Kevins in rock, there's even fewer Waxahatchees I imagine. I didn't know much about her or her music, or even what her name signifies. I'd played one of her albums a few times on Kath's recommendation, and had given her latest release, Great Thunder a spin on my way to the gig, but I was not so familiar with her music that I was likely to recognise any of the songs.
Because Kath is such a fan we pushed up to the front for her set. I say 'pushed' but the room still hadn't filled out by the time she came on stage. She had big black hair with a fringe, a stunning floral dress that she teamed with socks and school shoes, and heavily tattooed arms. Perfect, and that was before she'd sung a note. The stage itself was decorated with dried flower arrangements
There was no band; it was just Waxahatchee (apparently, it's the name of a creek, nothing at all to do with hair removal) on acoustic guitar. Her voice was pure and resonant, and the songs were all pretty good. There may have been a couple of covers (perhaps not). Mostly she played acoustic guitar but switched to keyboard for a few numbers – possibly for songs from Great Thunder which is a quiet, keyboard driven E.P.
It's fair to say that she's more Linda McCartney than Regina Spektor on the ivories, and more Amy Winehouse than Adele on the tatts, but her songs have heart and she delivered them in gorgeous, impassioned honeyed tones. The audience Iistened in rapt silence, or silence at least, which is a triumph in itself for a Melbourne pub gig.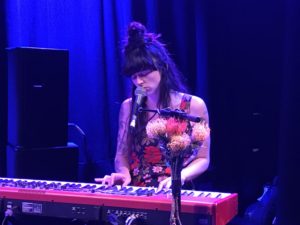 It would be interesting to see her perform with a band who might help her conjure more variation in pace and tempo. Having said that, there was something vulnerable and intimate in this performance, qualities that would be lost with a thumping drummer and a throbbing bass player.
But Kath loved it, and as the genuine fan her view matters most.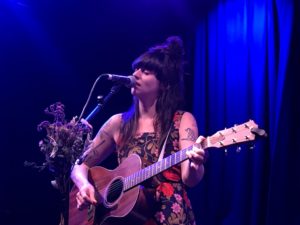 Kevin Morby
Even though I was more familiar with Kevin Morby's material, I was by no means an aficionado. Even so, I wasn't quite prepared for quite how good he would be. From the moment he walked on stage he was utterly compelling.
Where Waxahatchee accompanied herself with an acoustic guitar, Morby elected to go with an electric guitar. He was an intense performer and he sang with passion and potency. Particularly songs like Crybaby and Aboard My Train, both from his most recent album, City Music.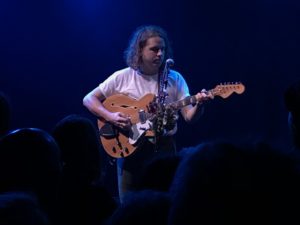 There was a group of guys who did qualify as aficionados who were getting right into it. They even provided the "Ha Ha's" in Aboard My Train. Such was their enthusiasm that at one point another member of the audience asked them if they could "please stop singing." They even managed to get a pogo going to I Have Been to the Mountain, which is not bad for one guy with a guitar.
Morby also took to the keyboard for Ferris Wheel and Destroyer and his playing was impressive. The majority of the set came from 2016's Singing Saw, which is perhaps more conducive to a solo performance than City Music. He did however give us a snippet of the title track as part of a medley with Harlem River.
At this point he asked for requests and our friend Mark was first off the bat with a shout for Wandering – a song from an old album with a former band. "Ooh, deep cut" said an impressed Morby. He then took a vote for Wandering, which he said he hadn't played live for a number of years, or Black Flowers. Wandering won a show of hands marginally, and Morbygot most of the way through it before he had to bail.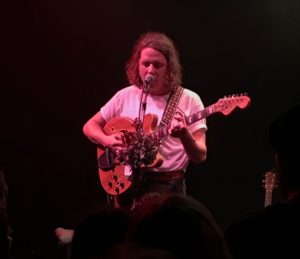 He wound up the set with two further songs from Singing Saw, Cut Me Down and Dorothy.
Waxahatchee joined him for the encore and they played a song from their joint EP, The Dark Don't Hide It, followed by a beautiful version of Dylan's It Ain't Me Babe. Having heard Dylan play it only a few months earlier, I think Morby and Waxahatchee outdid the master.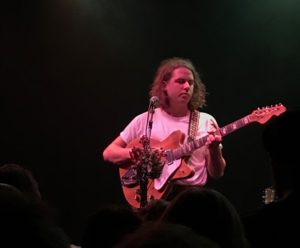 He closed the set with his signature tune Beautiful Strangers. Having seeing David Byrne perform a few nights earlier, I would have happily torn up the tickets for every forthcoming gig, because it was highly unlikely I would see anything as stunning or electrifying. But I'm glad I didn't because while Kevin Morby is no David Byrne, well, he had five fewer percussionists for a start, he might one day challenge for the role of the greatest Kevin in rock and roll.
Setlist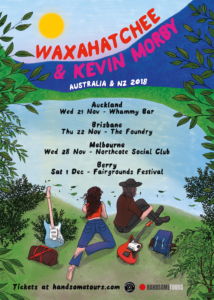 Dowtown's Lights
Parade
Crybaby
Aboard My Train
Anything you Need?
Destroyer
Ferris Wheel
I Have Been to the Mountain
Harlem River/City Music
Wandering
Cut Me Down
Dorothy
———–
The Dark Don't Hide It
It Ain't Me Babe
Beautiful Strangers