Emma Louise
Emma Louise
Corner Hotel, Richmond
Saturday 8 October 2016
$30
EMMA OF THE UNDERFLOW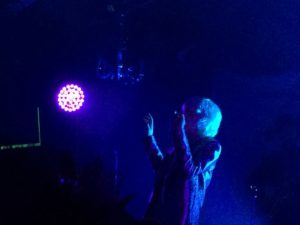 I don't often listen to the radio and when I do it is because my kids have tuned the car radio to Nova or Fox. As a result my radio experiences tend to consist entirely of listening to inane banter, infuriating ads, Justin Bieber songs and even more infuriating ads. How do tradies put up with it all day every day? And at such a neighbourhood unfriendly volume?
Sometimes however, when I can't decide what to listen to, I'll turn to Triple R or Triple J. That often helps me make a quick decision, suddenly the playlist I was growing sick of takes on a whole new welcoming glow. However, occasionally I'll hear something interesting – a distinctive new singer or an arresting band I've never previously heard.
I had just such an experience earlier this year while driving from Essendon to Camberwell. I was listening to Triple J when I heard a beautiful, haunting song with minimalist music and a female singer who sounded downcast and slightly disconsolate. Not great driving music admittedly, but it was a powerful song nonetheless. Possibly I was just surprised to hear something low key on the radio. The song was Underflow by Emma Louise.
Over the next several weeks, I checked in on Spotify as Emma Louise drip-fed more new songs from her forthcoming album, Talk Baby Talk and West End Kids. These also sounded good. I was hooked.
When the album, Supercry, finally appeared, I thought it lived up to the promise apparent in Underflow. The songs are intense and emotive, and paradoxically perhaps, her understated and restrained delivery lends them even more power. It's minimalist without being miserable-ist, although as befitting an album called Supercry, it's not overly chirpy. Still, the songs are excellent and she has a great voice with a broad range that she doesn't overplay. Also the cover image is suitably striking and the record came in novelty white vinyl. Really, there was nothing not to like.
Give Way to Peds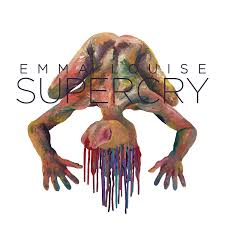 My friend Rachel and I often laugh over the flashing traffic light sign at Melbourne intersections instructing drivers to 'Give Way to Peds'. Obviously 'peds' is meant as an abbreviation of 'pedestrians', but of course, to pretty much everyone except the good people at Vic Roads, 'peds' is short for 'pedophiles.'
I passed just such a flashing warning at the corner of Royal Parade and Victoria Street as I drove to the Corner Hotel on Saturday night for Emma Louise's show. It struck me, not long after, as I was pushing my way through the predominantly youthful female crowd to get to the bar, that to an impartial observer, I may have resembled just such a 'ped.' Needless to say they all gave way.
Feeling just a tad self-conscious, I decided against buying a tour t-shirt depicting a naked woman on all fours who may or may not be bleeding from the mouth. Striking as the image might be on an album cover, worn on the chest of a 50-something male it could take on an unintended meaning.
But I wanted to get somewhere near the front because at The Corner, unless you're at the front it's virtually impossible to see anything. Plus I wanted to get a photo or two to accompany this article and the camera in the iPhone 5S has a focus range of about one metre. So I squeezed in several people deep near stage right – not ideal, but at least there was a chance I'd see something.
Musical Chairs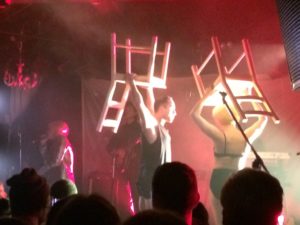 As the curtain opened the first notes of All We Ask Is Time trickled out and Emma approached the mic, looking resplendent in the sort of silver suit that Elton John might once have worn. I like it when performers make a bit of sartorial effort, even if it is just to set themselves apart from the audience. It's a sign they're taking the performance seriously. Besides, where other than a stage or the Spring Carnival can you rock a silver suit?
However, either something wasn't to her satisfaction, she wasn't feeling the right vibe or she just wanted to tease us, for she backed off again and the band gave an extended version of the song's opening. It is a slow, quiet and gentle song, so it was a bold choice as an opener. You have to admire the confidence of a singer who is not frightened to take on the yakking multitudes with a song that barely rises above a whisper. But it is a sign of her command that the audience went quiet and waited for her to breathe into the mic. Her quiet, ethereal vocal was accompanied by single notes picked out slowly from a solo piano plus the industrial blast of The Corner's air-con that gusted away just behind me. Probably not the sound Emma was aiming for, but it lent the opening a certain David Lynch quality.
This song morphed into the single, Talk Baby Talk, which is slightly more 'up' by way of tempo, but not any more 'up' vibe-wise.  It did bring the whole band in however, not that I could see them from my vantage point, so I couldn't tell you who was strumming or striking what, but they sounded good. The band played with restraint that brought out the subtleties in each song, while Emma's voice poured out like honey.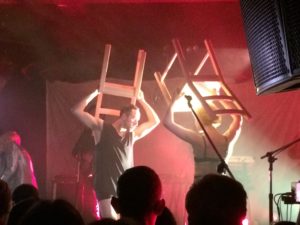 After the wistful Colours, she sang the beautiful and soulful Shut the Door, during which two dancers appeared on stage and began moving chairs about – carrying them above their heads and manoeuvring their lithe bodies in, over and around them. If it wasn't for their stylised lurching and the fact that they were both wearing underwear we might have mistaken them for roadies setting up stage props. It stands as a mark of Emma Louise's ambition, or folly, that she would introduce interpretive dance – with furniture – into the insalubrious surrounds of The Corner Hotel's modest stage.
The dancers disappeared to a huge roar, but returned a few songs later in new costumes to give bodily expression to an elongated version of Underflow.
The Ship Song
The majority of the set was made up of songs from the new album and by the end of the show she'd performed all of it. But she also played Boy and Mirrors from her first album, as well as 1000 Sundowns from her debut e.p.
She performed the latter solo on electric guitar, then swapped to acoustic guitar for a solo rendition of the nostalgic West End Kids that she explained was about revisiting her old stomping ground in Brisbane.
After squeezing in behind the keyboard to play the quiet and elegiac Grace, Emma disappeared and the keyboard player, Yeo, took the mic saying that Emma had to get ready for the next song. He then attempted to rouse the room with a dance number of his own called Got No Game. It's not that the song was particularly woeful, even by Australian electro-pop standards, but it certainly changed the mood after the intensity of Emma Louise's mature slow, brooding songs. Much like when you're listening to a Beatles album and suddenly Ringo starts singing one of his novelty songs.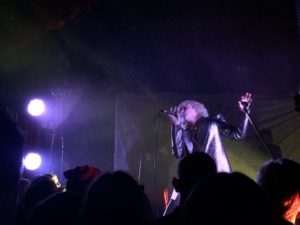 Emma returned to the stage and kept the upbeat mood going with Two Bodies, the song she sang on the Flight Facilities' Down To Earth album, followed by her best known song, My Head is a Jungle. This brace of songs brought more of a celebratory vibe to the room as the audience took advantage of a rare opportunity to sway and bop to some up tempo grooves.
She closed the set with Illuminate, probably the most lush sounding song from Supercry, in which her voice sounded like a cross between Kate Bush and Sia.
The band returned for an encore, and just as the show had begun with the opening song from Supercry, so it ended with the album's closer, the enigmatically titled, I Thought I Was a Ship (I suppose she could hardly call it The Ship Song). Like the opening song, it is a quiet, meditative number. Normally such a song would struggle to be heard above the chatter of a Corner crowd, but with the dancers returning to slowly cavort and contort while Emma sang, the audience remained largely transfixed.
In Banjo Paterson's classic poem, Clancy of the Overflow, the narrator reflects romantically on the charmed life of a drover, a free spirit living at one with nature in the open air, compared to his own pitiful existence undertaking a boring job in a noisy, dirty, overcrowded city. If the 'overflow' serves as Paterson's idealised physical location, then Emma Louise's 'underflow' might refer to an idealised internal location, more a subterranean strata or state of mind. For while her songs tend to yearn for something, it is not any one place as such, but something far less tangible: the freedom of youth, a lover's arms, or faith and trust.
In any case, it's a current in which I'm glad I got caught. Having said that, I still don't think I'll be tuning into the radio with any greater frequency.
Setlist
All We Ask Is Time
Talk Baby Talk
Boy
Colours
Shut The Door
Mirrors
Nowhere
Everything Will Be Fine
Underflow
1000 Sundowns
West End Kids
Grace
Got No Game* – Yeo
Two Bodies
My Head is a Jungle
Illuminate
– – – – – –
I Thought I Was a Ship