Evelyn Ida Morris
Evelyn Ida Morris
The Salon, Melbourne Recital Centre
Saturday 2 June 2018
$30
THE ARTIST FORMERLY KNOWN AS PIKELET
Note: Evelyn Ida Morris identifies as non-binary and uses the they, them, their personal pronouns.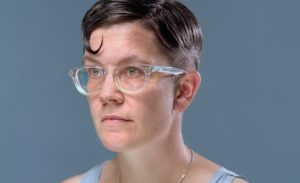 I recently found myself wondering what Melbourne experimental musician Pikelet might be up to these days. Serendipitously, or perhaps spookily, the very next day I read a review of a new album by Evelyn Ida Morris album that outed Morris as the artist formerly, or at least, also known as Pikelet.
I checked out the album on Spotify and found it utterly mesmerising. Mostly instrumental, it consists of post-classical piano compositions that are in turn tender and tumultuous, with Morris' plaintive voice singing oblique lyrics in approximately half the pieces. Turns out it's another fine release on Courtney Barnett and Jen Cloher's Milk label, so I popped into Rock Steady Records the very next night and picked up a copy of the vinyl.
In interviews and bios much is being made of Morris' non-binary status – to the point that the Recital Centre's booking engine was updated to include title options other than Mrs, Ms, Mr and Dr. I don't fully understand what non-binary actually means, or more to the point, how it manifests in the lived experience, but then it's not about me, so if that is how Evelyn Ida Morris makes sense of their life, I'm not going to judge them. I can't say as much for Essendon supporters.
I went to the show with Angela, who shares my enthusiasm for music that veers away from the conventional. Support act, Waterfall Person, had already begun when we arrived, but rather than barge in, we enjoyed a drink in the foyer, to make the most of a rare date night.
The Salon at the Recital Centre is large room that offers a flexible performance space. There is no stage and the seats aren't fixed so it can be set up for any type of performance. It has a high ceiling and timber walls that have ragged, jutted surfaces, like large building blocks that have been stacked unevenly.  The acoustics were excellent and the sound from each player was clear.
For this show there was a grand piano set up near the back wall, with a drum kit, vibes and chairs for the other band members, Seats for the audience were set up in a 'u' shape around the edge of the performance space. There was space for around 120-150 people and all but 10 or so were filled.
Morris opened the show with Today is Warm that was played solo at the piano. It is an intricate, contemplative instrumental piece that set the tone for the performance.
Morris then invited guest musicians to join them progressively, firstly Biddy Connor who played viola as well as the saw, Aviva Endean on clarinet and bass clarinet and Nat Grant on drums and percussion. All three of them provided vocals and harmonies at various stages.
One of the highlights of the show was when Endean and her bass clarinet kicked in with a deep oom-pah blast during Forecast.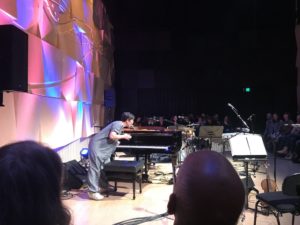 It was a well-paced set with excellent playing and a polite and attentive audience. Morris spoke occasionally to introduce a song, but also ran one piece into another. The ensemble worked through most or all of the album  –  I recognised the pieces but couldn't say in which order they played them. Certainly, When the Body Appears, Forecast and Freckles were among the highlights.
My knowledge of classical music is limited, but the best comparison I can come up with is Franz Liszt's intricate and explosive pieces. In an experimental pop sense, or piano-core if I can coin a phrase, Julia Holter is probably the closest comparison – in terms of song structure and vocal timbre. Between two such diverse comparisons, there is plenty of scope for Morris to stake an original claim, which their virtuosity easily enables them to do.
It was an exhilarating performance showcasing Morris' complex and interesting compositions and great control and cohesion from the ensemble.
I wasn't sure if photography was permitted so I refrained while the group was  playing, but took a quick snap while Morris took their bow after an encore.