Middle Kids
Middle Kids
Corner Hotel, Richmond
Saturday 26 May 2018
$31.74
HERE'S LOOKING AT YOU KIDS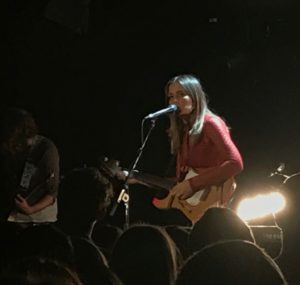 My band buddy Fiona and I bought tickets to see Sydney indie darlings Middle Kids some time back. However, when the day of the gig arrived, the Corner website indicated that they'd be coming on stage at 11.00 pm, an hour that presents something of a challenge for a couple of fifty-somethings.
Well, me at least. I'm way too middle-aged for the Middle Kids. I'd much prefer to be tucked up on the couch with a Shiraz and a Kit Kat at that hour. However, there I was pushing through hordes of young people drinking and smoking on Swan Street to meet Fiona. At 10.30 pm I was in the front bar of the Corner imbibing a Young Henry's lager and obliging the requests from the girls sitting opposite to take photos of them – with their cameras I hasten to point out.
Talk about intrepid. Not only am I too old to be seeing bands that late at night, I'm certainly too old to be seeing bands with the word 'Kids' in their title. Having said that Fiona and I are both middle kids in our respective families, so we fit the band name demographic, if not the early-20s age demographic of their fanbase. Besides, their debut album, Lost Friends, is a nice slice of indie power pop, so we thought we'd check them out live.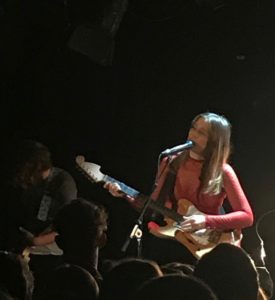 I'd seen them support Ryan Adams at Margaret Court Arena 12 months ago. They were pretty good, even considering the difficulties of being a support act in an arena venue, so I was interested to see them in something like their own environment.
The problem was that by the time we entered said environment close to curtain time, the vast bulk of the audience had been drinking for some hours and were very well oiled. If our age didn't set us apart, our relative sobriety certainly did.
We pushed our way through to what we thought would be an inconspicuous corner up the back and snagged a spot where a few steps afforded us something of a view. Of course we should have known that the rear of the venue near the bar is also where the most pissed people gravitate towards.
This isn't necessarily problematic in itself, except that they are also the most voluable. There was an inordinate amount of audience yakking – even through the first, relatively quiet opening number, Bought It. Not that it dissipated at all during the more raucous numbers, in fact it just got louder.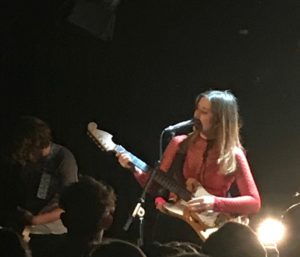 In addition to the blather from the punters up the back, the sound during the early part of the set was beset by a constant buzzing from the P.A. Plus it wasn't quite loud enough. I'd inserted ear plugs but took them out because I could barely hear the music. At least I know the ear plugs worked.
All of this impeded our enjoyment of the gig a little, but there were also other issues: the bassist, Tim Fitz, liked a chat between songs, but if his microphone was on, it wasn't very loud, and certainly didn't drown out the cacophony of conversation from those surrounding us. The result was long Babel-like pauses between songs.
When the band were playing, however, they were pretty good.On My Knees and Edge of Town got the crowd going in a glasses raised, sing-a-long way. Some of their songs, like Maryland and Doing it Right, the latter of which was played solo at the keyboard by Hannah Joy, were perhaps too subtle in their instrumentation and performance for the football crowd vibe in attendance, but I imagine those near the stage were engrossed. Another of their singles, Mistake, restored the energy levels in the room.
It was that sort of crowd – wild, raucous participation whenever the band were belting out a hit, and back to chatter in between.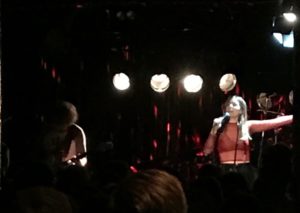 Hannah Joy's voice has a Stevie Nicks like vibrato at times, and if she doesn't necessarily have quite the stage presence of Camp Cope's Georgia Maq, or the observational quirkiness of Courtney Barnett, her songs do come armed with big choruses and some fine writing.
They closed the set appropriately enough with So Long Farewell I'm Gone but returned to play the title track of their album, Lost Friends. They followed this with their big hit, Never Start that provoked the biggest reaction from the crowd . Even those who had paid no attention at any other stage of the night found occasion to wave their arms in the air and shout out the chorus.
It was past midnight when we pushed our way out into Swan Street.
Setlist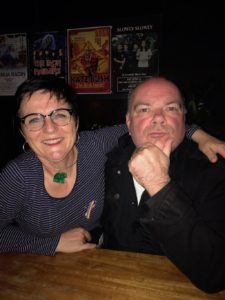 Bought It
Old River
Your Love
On My Knees
Edge of Town
Don't Be Hiding
Maryland
Doing it Right
Tell Me Something
Mistake
Fire in your Eyes
Please
So Long Farewell I'm Gone
———
Lost Friends
Never Start