Exo-Tech
Exo-Tech
State Theatre
Wednesday 18 July 2018
$35
TECH HEADS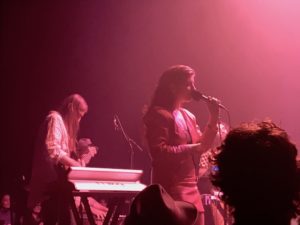 The world is this week rightly lauding the bravery and courage of the Wild Boars junior soccer team and their coach in Thailand, as well as the rescue team who managed to extricate them alive from deep within a dark, flooded cave network where they'd been trapped for two weeks.
But courage comes in many forms, and I'd like to think Angela and I showed considerable daring, at least of an affluent, middle-class arty variety, when we bought tickets to see Exo-Tech, an improvisation ensemble from New York visiting Melbourne as part of the MEL&NYC program at the Arts Centre. Anyone who has been to an evening of jazz fusion improvisation will know the dangers inherent in such an exercise, so the fact that we pulled through largely unscathed is a tribute, not only to our fortitude, but to the musicians who spared us the worst excesses of their ilk.
Exo-Tech are led by 'art-pop visionaries' Australia's Sophia Brous and New Zealand's Kimbra and feature a well-credentialed collective of New York musos, including members of MGMT, Antony & the Johnsons, Darkside and Chairlift among others. Or so I read. Other than Kimbra, I hadn't heard of any of them, and even then, someone had to point out to me which one was Kimbra. But then I'm hardly in the know about such things. Hawthorn half-forwards, yes, but New York improv maestros, not so much.
The guitarist, Dave Harrington's name rang a bell, but I could have been thinking of Kit Harrington from GoT and Dave Brubeck – perhaps he is their love child?
Exo-Tech were billed on the Arts Centre website as a cutting edge group who, 'explore the intersections of collective improvisation and pop song composition, traversing fields of modern pop and R 'n B alongside free jazz, no wave, disco and film music.' That seems quite a lot to achieve in 90 minutes. I'm not sure even Prince could hope to do as much. And what- no shoegaze!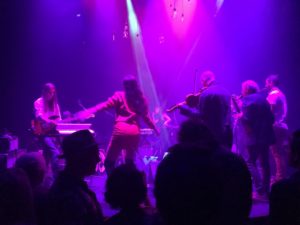 The performance took place on a circular stage set on the stage of the State Theatre. Individual lights hung low over a raised platform chock full of shiny equipment, knobs, wires and plugs. It looked like the setting for a ritual sacrifice or a menacing scientific experiment rather than a concert – but then the music hadn't started, so who knew what awaited us.
The Dave Harrington trio consisting of Harrington on guitar, Spencer Zahn on bass and keyboards and Jeremy Gustin on drums opened the show. They played half a dozen instrumental pieces that veered between slow ambient noodling and wig-out jams. Danny Meyer joined them to add saxophone accompaniment on a few of the pieces.
Impressively, these four musicians backed-up as part of Exo-Tech, which is either a sign of a solid work ethic or of a desperate yearning to be in the limelight.
They were joined by the rest of the ensemble including Benjamin Lazor Davis on synths and bass, Cleek Schrey playing the violin/hardinger fiddle, Kimbra and Sophie Brous who shared and alternated vocal duties. There was also a clarinet player, who didn't make the online credits. He was possibly replacing Yuka C Honda who had pulled out due to illness, or he had just stormed the stage with his instrument.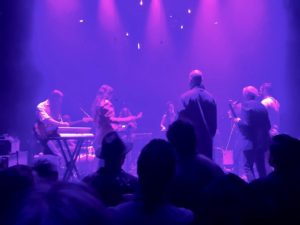 Sophie Brous was clearly the band leader, giving little cues to players when to come in and nodding approval at their contributions. She also had the most authoritative footwear, with boots as long as her skirt was short. Men, it is well known, are simple creatures, and we're always going to take orders from a woman wearing thigh high boots. For her part Kimbra was dressed in a sort of corset with long flowing layers of skirting in a mix of colours and fabrics.
The men had made less effort with their outfits, although Cleek Schrey was wearing funky overalls and Benjamin Lazor Davis sported a striking black and yellow checked shirt. What they did have going on, however, was distinctive hair; from Zahn's long straight Marcia Brady locks, Harington's asymmetrical curly mop, Lazor Davis' Hair-bear look, the unnamed clarinet player with a top knot, while the drummer, presumably with nothing else to offer, wore a hat.
The music was equally eclectic and if it didn't quite match the ambitions outlined in the pre-gig blurb, that is no reflection on the players, who were uniformly deft and dynamic as the composition required. The pieces varied in tone and tempo and the musicians served each piece with thoughtful playing and considered restraint.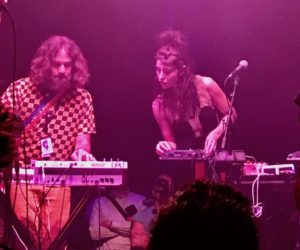 There were moments of exuberance and exhilaration as well as intimacy and intricacy in the playing. None of the musicians felt the need to be playing constantly, so the compositions had space and clear air. And the music was never boring – always a danger at an improv gig. Certainly one or two audience members engaged in robust dancing, while most of the rest of us  restricted ourselves to thoughtful head nods and an occasional flex of the knee.
The players were positioned around the perimeter of the stage facing inwards towards each other. I understand why this might be necessary in improvised performance, but it meant that they had their backs to the audience for the entire performance. From an audience member perspective, this had the effect of shutting us out and gave the impression that the band were playing for each other rather than us.
Only the two vocalists had the freedom to turn around and direct their performance to the audience, and Brous was certainly making an effort to include us.  It was difficult to make out most of the words, and about the only ones I could distinguish from Sophia Brous were, "Silly me, I'm a chicken', so I'm not sure we were missing out on too much lyrical profundity.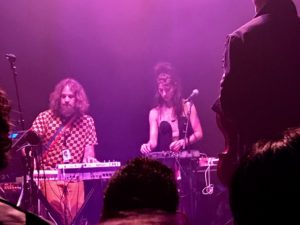 Kimbra, for her part, filtered most of her vocals through a series of effects that rendered her vocals interesting, if indistinguishable. She sounded good though and she displayed an array of facial expressions almost as varied as her electronic vocal effects.
She was matched in this aspect of performance by Benjamin Lazor Davis who seemed to be carrying on an animated conversation with his keyboard or an inner demon, his eyes darting from side to side while he mouthed words, pursed his lips and stretched his gums. Positioned next to Kimbra they resembled a couple of panto actors with their colourful outfits and exaggerated expressions.
Fortunately I had a position that meant if I tilted my head and waited for Sophia Brous to shake her hip to the left, I could keep those two in my sightline for the bulk of the gig.
It was a good show and despite my reservations about the staging, it warranted the punt we'd taken when buying tickets. Angela was quite transported and inspired by the performance. I suspect if they'd had t-shirts she'd have bought one.