Bob Dylan (2)
Bob Dylan
Margaret Court Arena
Monday 13 August 2018
$209
NOT DARK YET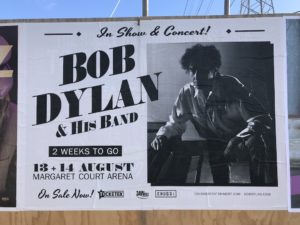 "Tick it off your bucket list and see Bob Dylan live in concert!" read Chugg Entertainment's social media post, which some might see as a little insensitive given the age of most Dylan fans. After all, the bucket in question is looming a little large – even those with remaining cognitive functions have their knuckles poised and cocked, ready to knock on Heaven's door, as Dylan might have put it.
"It's not dark yet, but it's getting there."
Not Bob though. He is close to 80 years old, but still playing night after night. My ticket to this show was a 54th birthday present from the family. I feel as though I'm getting on a bit, but at my age Bob still had ahead of him his great, late renaissance of Time Out of Mind, Love and Theft, Modern Times, Together Through Life and Tempest – songs from which feature heavily in his live set. Time out of mind indeed.
This is probably the sixth or seventh time Dylan's Neverending tour has swung through Melbourne since it began in the early 1990s. I've dutifully reported on each occasion, each time thinking it could be the last. But it never is. It's the Neverending tour after all. Over the course of these gigs he's been masterful, middling but never mundane, and always worth seeing. Plus, he's won a Nobel Prize for literature since last we saw him. Not that he seemed to care much.
Anyone for Tennis?
This time he was playing at Margaret Court Arena. This is the third tennis court I've seen Dylan play. I first saw him play on the grass courts at Kooyong with Tom Petty and the Heartbreakers in the mid 1980s, and I've also seen him play on the hard court of Rod Laver Arena. I can't say what he's like on clay or En tout cas, but it occurs to me I've seen Bob Dylan play on more tennis courts than I have Roger Federer.
Modern Times
I bought a t-shirt from the merch desk; there were several designs, most of them showing a young Dylan in his 20s. I bought a Modern Times t-shirt, which depicted a cartoon marching girl, not an image you readily associate with Dylan. But it is a great album, and if nothing else, a suitably anachronistic design.
The modern times have brought with them the modern problem of smart phones and the threat of filming and photography. Bob is not alone among performers who don't like to have 5,000 cellphones cameras trained on him, however, instead of the usual message 'respectfully requesting' that we refrain from taking photos, the audience was harangued and threatened. There were signs at the entry to the seats and a voiceover at regular intervals announcing, "The use of cellphones, iPads, cameras or recording devices will not be tolerated. Those caught disregarding this condition of entry will be escorted from the venue."
And they meant business; from my vantage point on the side I could see the security personnel patrolling the aisles on the lookout for the tell-tale glow of an iPhone screen. Perhaps Dylan fears he'll crumble to dust if exposed to too many flashes simultaneously.
In any case, the stage lighting was subdued, creating an intimate lounge setting and preventing anyone defying the 'no photography' decree from getting a decent shot anyway.
The band wandered on and took up their instruments – Bob positioned himself behind the piano, standing with his legs splayed. They launched into Things Have Changed – the same song he opened with four years ago. So not everything has changed it would appear.
It Ain't Me Babe was recast as a soft lounge croon with Bob's voice a warm croak. His first harmonica blast came during Simple Twist of Fate and was greeted with the customary cheer. When I Paint My Masterpiece was an unexpected oldie thrown in.
Pay in Blood
The set spanned his entire career, from 1963's Don't Think Twice, It's Alright to 2012's Pay in Blood, one of four songs he played from Tempest, his most recent album of original songs. Pay in Blood was an appropriate choice too, for tickets to the concert cost $209 – compared with $100 just four years ago. That's an increase of more than a 100 per cent in four years – you have to hope there is something decent on Bob's rider to justify such a hike?
Even though most eras were represented, he didn't play anything at all from the 1980s, and only a couple of songs from the 1970s. After Tempest, 1997's Time Out of Mind and 1965's Highway 61 Revisited were the best represented albums, but as almost every song was reimagined with a new arrangement, in some cases an entirely new melody, or even new lyrics, it didn't really matter what songs he played. Tangled Up in Blue was reinvented as a jaunty blues jig, and even relatively recent songs like Thunder on the Mountain shed its driving blues motif and came in an unfamiliar time and tempo.
Ring Them Bells
A dedicated crew near the front gave a standing ovation after every song regardless, and remained standing until Security or the people behind coaxed them back into their seats.
One of them came even prepared with a bell and gave it a resounding peel at the appropriate moment in Early Roman Kings: "I ain't dead yet, my bell still rings."
"Voice Like Sand and Glue"
Bob's voice was high in the mix and mostly fine, by which I mean I was able to pick most songs by the first or second line – not something that is always possible. Bowie sang in 1972 that Dylan had a "voice like sand and glue" and I still haven't heard a better description, although the sand has probably hardened and the glue become gluggy.
The band were in cracking form. I didn't buy a $25 program (I figured that at more than $200 a ticket, the program should be free), but it looked like the same players as his previous tour; George Recile on drums, Tony Garnier on bass, Stu Kimball and Charlie Sexton on guitars, and Donnie Herron on pedal steel, guitar, violin and mandolin.
Piano Man
Dylan remained behind the piano for the duration of the gig, never once venturing to the two microphones set up for him at centre stage. His piano playing was more nuanced and varied than I remember, but he was quick to break out into a sort dissonant boogie-woogie, at times racing ahead of the band as he extemporised. I enjoyed the carefree nature of his playing.
For me the highlights were Love Sick with its stilted staccato rhythm and Gotta Serve Somebody. It came replete with almost entirely new lyrics, but still rang true with uncanny prescience and Bob sang it with snarling venom.
It was a resounding closer and I was out of my seat for the ovation as quick as possible, partly because of the performance, but mainly because the seats had grown exceedingly hard and uncomfortable after 1.5 hours. How do people sit through a tense five-setter in these seats?
As we've come to expect, Bob said nothing to the audience all night, but he did move to centre stage and gave a little jig to signal the end of the set before disappearing behind the curtain. It was an acknowledgement of sorts and it set off pleading from behind me of "One more Bob. One more!"
Bob did return and performed a couple of his best known songs from the 60s, the time honoured Blowin' in the Wind ('How many times must a man sing this song?), and Ballad of a Thin Man. Both received the rapturous welcome you'd expect, the crew at the front in defiant standing ovation throughout.
Not everyone was so enraptured. The guy in front of me wearing the Harley Davidson t-shirt proclaimed, "that was shit. I want my money back." It's really not a Dylan show unless someone says something along those lines. I'd have also accepted "Judas!" The people screaming for 'one more Bob' turned out to be a young Asian couple in their early 20s. Bob not only spans the generations, he still has the ability to divide opinion. Not bad for a septuagenarian.
Setlist
Things Have Changed
It Ain't Me Babe
Highway 61 Revisited
Simple Twist of Fate
Duquesne Whistle
When I Paint My Masterpiece<
Honest With Me
Tryin' to Get to Heaven
Make You Feel My Love
Pay in Blood
Tangled up in Blue
Early Roman Kings
Desolation Row
Love Sick
Don't Think Twice, It's Alright
Thunder on the Mountain
Soon After Midnight
Gotta Serve Somebody
————-
Blowin' in the Wind
Ballad of a Thin Man