Thurston Moore
Thurston Moore Band
Harry Howard and the NDE
Prince Bandroom, St Kilda
Thursday 10 December 2015
$72
SONIC MIDDLE AGE
or Distortion Product Otoacoustic Emissions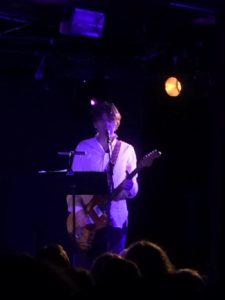 Since moving to Melbourne's northern suburbs in 1999, I've only been to the Prince Bandroom sporadically, but in the 1980s I used to see gigs at the Prince of Wales regularly. Died Pretty, I recall, used to play there quite frequently, as did other local punk bands. I also saw Killing Joke, Butthole Surfers, Mudhoney, Dinosaur Jnr and other noise merchants of that ilk play there. And 3PBS, where my friend Ralph had a regular slot playing alternative music, was housed upstairs.
The Prince was also a drag venue on Sunday nights in the 1980s. The entry up the staircase is now standard issue rock and roll black decor, but it used to be far grander; carpet, chandelier, red velvet and brocade wallpaper over which hung smiling portraits of the drag stars that performed there. I went to the drag night a few times and it always an absolute hoot. Punk and drag might seem odd bedfellows, but back then both were part of Melbourne's counter-culture and both involved men wearing make-up, so there was a degree of crossover, and indeed, cross-dressing. Plus bands like Jimmy & the Boys straddled both sub-cultures.
No sign of that scene remained, however, when I arrived to see the Thurston Moore Band. The most glamorous it got on the night was Dave Graney's rakishly worn hat and the rosy red lipstick worn by Clare Moore, both of whom were playing as part of the support band – Harry Howard and the Near Death Experience – or NDE as they are billed. Dave was on bass and Clare on drums while Harry Howard, little bro of Birthday Party guitarist Rowland S and former member of These Immortal Souls, is on guitar and vocals.
As their name suggests, their material was of a decidedly different hue to the Donna Summer, Shirley Bassey and Madonna hits that the former drag stars once belted out, or mimed to, but nor were they as gloomy as you might think. Keyboard player Edwina Preston injected jaunty melodies into the songs, a la early Modern Lovers, that propelled the songs along nicely and lent them a shade of light to counterpoint Harry's mournful baritone. The bulk of their set, according to Harry, were new songs from a forthcoming album and if their performance on the night was any indication, it will be worth a listen when it comes out.
The venue was crowded without being packed, but there was a fair deal of competition for Melbourne eyes and ears on this night. Father John Misty was playing a second show at the Forum and Shellac was playing The Corner.  Like Thurston Moore, they were in town for the Meredith Music Festival. Taylor Swift was also playing the first of two nights at AAMI Park, although it is unclear how much crossover there is in the respective fan bases of Tay Tay and Thur Thur – other than Ryan Adams that is.
My Sonic Youth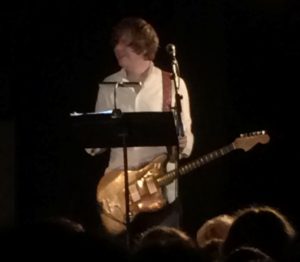 Thurston Moore's band consists of Sonic Youth drummer Steve Shelley, former My Bloody Valentine bassist Debbie Googe and James Sedwards on guitar. Comparisons with Sonic Youth are inevitable with the same singer, same drummer, a female bassist and a guitarist who looks a little bit like a young Lee Ranaldo, I just hope that if called upon to do so, Sedwards singing is a little more tuneful than Moore's erstwhile bandmate.
I saw Sonic Youth a couple of times. The first was in the late 1980s at Chasers Nightclub in South Yarra on their Daydream Nation tour. Chasers was a glitzy mainstream disco not far from where I lived at the time. For a short period every Wednesday they held what they called Alternative night, with live bands like The Go Betweens, White Cross and Tall Tales and True, as well as occasional international acts, such as Sonic Youth, who were just gaining an audience in Australia at the time.
The bands would play on the dance floor so the audience was up nice and close. I was standing next to Kim Gordon as she played. I really liked the gig, I don't think I've seen or heard guitars thrashed with such delirious gusto before or since. I do remember that Lee Ranaldo and Kim Gordon's singing tended to the shouty style on the night. I grew to like Kim's vocal style over the years, in particular her 'talking' delivery, but I remember leaving the Chasers gig thinking that they should let the tall, thin guy sing most of the songs.
I also saw Sonic Youth at the Big Day Out in 1993, on the same bill as Iggy Pop and Nick Cave, but it was one of those gigs where getting my spot for Nick Cave's set meant that I had only a distant view of the stage on which Sonic Youth were playing. And by then they had become a big deal, so while the set included a few more indie anthems by that stage, it wasn't quite the same intimacy as at Chasers.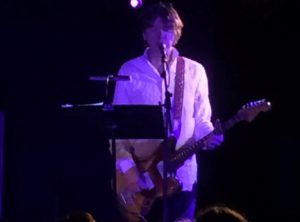 Thirsty Work
Of the three songwriters in Sonic Youth I've only really followed Thurston Moore's solo career; perhaps because his song Teenage Riot was my entrée into the band and of the three vocalists I preferred his singing voice, or perhaps because he has the coolest sounding name, calling to mind as it does Thurston Howell III from Gilligan's Island. I saw Moore's show at Hamer Hall a few years ago when he visited for the Melbourne Festival to play his Demolished Thoughts album. It is my favourite of his solo repertoire, perhaps because its intense acoustic aesthetic distinguishes it from the Sonic Youth sound.
We wouldn't hear anything from that album on this night, nor anything from the Sonic Youth back catalogue, but I wasn't really expecting to. Moore is an artist who generally looks forward rather than back, so the set he played was based mostly around his latest album, The Best Day, on which his current band had featured, as well as a few songs from a forthcoming album that he said would be called Rock and Roll Consciousness.
Fans hoping to hear Sonic Youth material would at least have been pleased that the new and recent material bore all the traits of Moore's former band, or at least his contribution to it; elongated ambient feedback intros, extended jams of undulating intricate guitar interplay, a propulsive dynamic rhythm section and clipped, cryptic vocals.
The set was more or less divided into groups of three; after a long free-form sound wave intro piece, they launched into Forevermore, Speak To the Wild and Germs Burn from The Best Day album.
They followed this with three new songs; Cease Fire, Aphrodite and Turn On, all of which suggest the next album won't differ too markedly from its predecessor. And they finished with Grace Lake, also from The Best Day, a long instrumental piece that developed into a lengthy jam.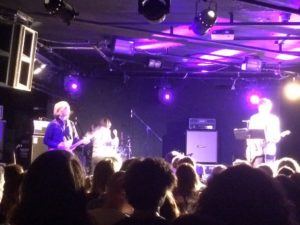 Much of the playing was exhilarating, particularly during Turn On in which Moore and Sedwards engaged in a strumming duel of harmonic dissonance, while Googe and Shelley ground the sound with thumping rhythmic precision. As with some of Sonic Youth's more experimental music, his new material is more soundscape than song, complex structures that change in tone and tempo. The playing, however, was always tight and controlled, even when the piece changed direction. The sound in the venue was excellent, if loud. It took considerable self-control to resist breaking out some air guitar moves.
A seven-song set may not seem like much, but each piece went for around 10 minutes, so a gig that didn't start until just before 10.30pm was edging deep into the night as they left the stage. I was beginning to fret about missing the final tram out of St Kilda. Plus there had been a brief adjournment while Sedwards replaced a string, during which Moore took questions form the audience. He commented at one point that Fitzroy Street wasn't as seedy as he remembered, and that it seemed to be suffering from too much money being injected into the area. All true, and with the Prince charging $9 for a stubby of Heineken, it was evidently still going on under our very noses.
The final trio of songs in the encore were all taken from Moore's first and most Sonic Youth-esque solo record, Psychic Hearts, back in 1996; Staring Statues, Pretty Bad and Ono Soul, the last of which featured an extended 10 minute exploration of feedback fusion.
Otoacoustic Emissions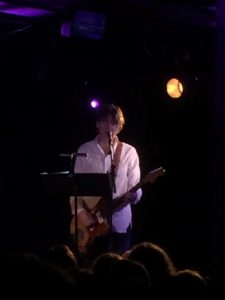 My friends Jillian and Paul had seen the Thurston Moore band play in London not that long before and had raved about the show. Jillian had also attended a presentation by Moore on tonal experiments inspired by American composer and sound installation artist, Maryanne Amacher (1938–2009). Amacher experimented with auditory perception. I checked out some of the online links and if I understood it correctly, this entailed creating tones and frequencies that the listener then transforms into virtual tones through their interaction with the environment. That is, certain tonal sounds and frequencies create reverberations in the listener's inner ear to produce or emit distinct and actual sounds in what she termed the 'third ear'. The phenomenon is known as 'distortion product otoacoustic emissions (DPOAE)'.
Whatever the science behind this, it certainly sounds like the sort of wankery that would interest Thurston Moore. I'm not sure if he was trying to coax some of these supplementary sounds from our ears at this gig. For the most part the band was so loud that any auxiliary sounds my third ear might have been composing and broadcasting were entirely drowned out by the barrage of noise assaulting my first and second ears.
Then as the band wound down the final song of their encore, another new one, they embarked on an extended interweaving of buzzing mono-tonal feedback, perhaps deliberately trying to tease out my 'otoacoustic emissions'. I can't say for sure that it worked, but somewhere in my third or ear, or possibly my sixth sense, I picked up the distant but distinct noise of the night's final tram trundling around The Esplanade, so just as the band sauntered from the stage, feedback still reverberating, I took the stairs two at a time and dashed across Fitzroy Street to clamber aboard the final No.16 back to the city.
The best day? I don't know, but it was a pretty good night.
Setlist
Forevermore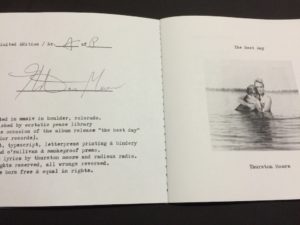 Speak to the Wild
Germs Burn
Cease Fire
Aphrodite
Turn On
Grace Lake
– – – – – –
Staring Statues
Pretty Bad
Ono Soul
– – – – – –
Exalted