Hawthorn 2016 – Leading in the Polls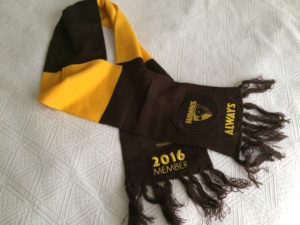 According to political pundits and Canberra commentators Australia has been plunged into a constitutional conundrum after the tallying of votes in this weekend's federal election revealed no clear winner. There's been a lot of talk about legislation logjams, budget blockages, leadership challenges and hung parliaments, but personally I don't see the problem. Here we are at the conclusion of round 14 and the bye period, with all teams having played the same number of matches and Hawthorn is sitting on top of the ladder with a clear majority.
Forget the election, in the only contest that really counts, the Hawks are on top, captain Luke Hodge is back and the 'Fourthorn' is on!
Some close observers of the game are finding it difficult to understand how we arrived at this juncture of the season with the Hawks on top. After all, the team has displayed few signs of the dominance that marked the 2013, 2014 and 2015 seasons. We're not scoring as much and we're conceding more, yet somehow we're still winning. Our only convincing wins up to this point have been against West Coast, Richmond and Essendon. All other games, even those against lowly Brisbane and Gold Coast have been exercises in scarf chewing anxiety until half way through the final quarter. Also, in an echo of our triple premiership, we won three matches in succession by three points, against Western Bulldogs, Adelaide and St Kilda – another three-peat if you wish.
#freekickhawthorn
These narrow victories gave rise to a viral internet meme #freekickhawthorn after Paul Puopolo (The Poo) was awarded a free kick against Adelaide with which he gave us the lead with only seconds left. Despite losing the free kick count in almost every game this season, the perception perpetuated by this meme is that Hawthorn is getting an easy ride from the umpires.  Such a view is of course at odds with reality. The Poo's free kick was definitely there – he was ridden into the ground while trying to take a mark. There was no contentious free in the narrow win over the Bulldogs – James Sicily took a mark and calmly slotted the goal. Nor was there a free kick involved in the win over St Kilda, although we did benefit from a fortuitous 'not 15' call from one of the field umpires when St Kilda was trying to clear the ball from defence, allowing Jordan Lewis to dispossess a Saints defender and kick a goal.
However, the reality is that in most matches Hawthorn is losing the free kick count quite comfortably. Most memorably against North Melbourne when early in the second quarter the free kick count was 17–4 in North's favour, that's right, 17 to four, yet Brad Scott still whinged and moaned about the umpires at the post-match press conference! This was impressive, even by his Kyrgios standards of persecution and complaint.
Rough justice
It is well documented that Hawthorn has overcome massive obstacles in each of the past three premiership years: Buddy's defection, long-term injuries to key players (Rioli, Hodge, Mitchell, Shiels, Roughead), serious illness (Roughead, Clarkson) and even the tragic death of assistant coach Brett Ratten's son in a car accident.  This season is no different with perhaps the biggest obstacle of all: the news that Jarryd Roughead's cancer had spread, ruling him out of the game indefinitely.
That Hawthorn lost the match to Sydney in the week this news was revealed was perhaps no great shock. That we have won any games at all since the news is perhaps the only real surprise. Rough's absence is probably the most telling factor in the reduction of Hawthorn's scoring power this season, but even the most avid Hawks fans are concerned less with winning this year than with Roughy's recovery. Though winning would be nice too.
There's never a frown with the pink and brown.
To support the Tasmania Cancer Council, Hawthorn changed their traditional brown and gold stripes to brown and pink for the match against Gold Coast. I thought the jumper looked pretty good too, but then again, anything looks good by comparison with the Power Rangers outfit that we donned against the Giants. No surprise that we lost that game, though I was a little taken aback by the 75 point margin. As hideous as the Power Rangers top is, I don't think we can lay all the blame on its shimmering silver base and gold brocaded yolk. But you can understand why players don't want to go near the ball in case they're filmed wearing it.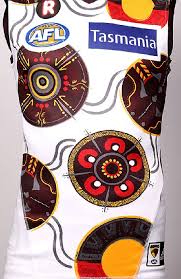 The indigenous top we wore against Brisbane in round 10 was designed by artist Jirra Lull-Harvey in consultation with Hawthorn's indigenous players; Bradley Hill, Shan Burgoyne, Cyril Rioli and Jermaine Miller-Lewis. The design features a series of circles with insignia and markings that tell the personalised story and culture of each of the indigenous players. I thought it was reasonably stylish until someone pointed out to me that it looked like the players all had large pizzas on their jumpers. It was difficult to view it in any other light after hearing that – the capricciosa Hawks. But hey, if our season must be viewed through the prism of pizza, then all Hawks fans can look forward to tasting a little slice of history.