Saatsuma
Saatsuma
The Toff in Town
Saturday 9 July 2016
$15
SAATSUMA – BUOYANT BEATS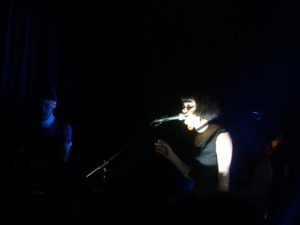 One week on and the result of the previous Saturday's federal election was still not quite finalised, with the exact makeup of racists, bigots, mining magnates, climate change deniers, anti refugee advocates and Trump apologists in the House and Senate still to be decided. The upshot of this was that, even if only momentarily, Australia was effectively without a government.
Feeling the buzz of liberation I thought I'd take advantage of this all too fleeting window of emancipist freedom and hit the town to celebrate. And I wasn't the only one; the city was athrong with revelers as I made my way down Swanston Street. I don't know if the others were taking to the streets in the same spirit of revolutionary zeal as I was, or whether this is just what the city is like on a Saturday night – I don't get out much – but you could feel the buzz as packs of young people swarmed the streets, phones out as a matter of course, but chatting lively amongst each other. There was a general 'up' vibe, like when mum and dad have gone away for the weekend and left no one in charge. As I later discovered, these crowds were most probably early enthusiasts of Pokemon Go, but even so, given the winter chill in the air, it was astonishing that so many people had ventured out, even if they were just roaming the streets in search of virtual critters that weren't actually there.
I was on my way to Curtin House and The Toff in Town to see a band called Saatsuma. I had heard one of their songs on the radio during the week and had quite liked it. The announcer, Chris Gill, had described them as a 'neo-soul' oufit – whatever that means – but to me the name Saatsuma was more descriptive of a brand of cracker that you might serve with dips. Or perhaps a type of Pokemon? They are in fact a young Melbourne electronic outfit, 'neo' if you must. So neo in fact that I could only find two songs on Spotify; Floating, the song I'd heard on the radio, and an earlier single called Storm. In any case, there was a happy confluence of me feeling like getting out and them performing at The Toff. Saturday night sorted then.
Neo-Soul Train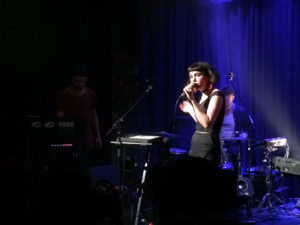 Curtin House is one of Melbourne's best locations. It is a seven-storey art deco building on Swanston Street that contains most of what anyone might conceivably need for a day and night out. The Toff in Town on level 2 has a band room and bar. The band room holds a couple of hundred people, has a couple of different levels, a smattering of chairs and tables and a small balcony that can accommodate two smokers at any given time. In addition to The Toff, Curtin House is also home to fashion boutiques, a bookshop, Mexican and Thai restaurants and a rooftop bar and cinema. If there was a laundrette and free wifi, you'd never have to leave, other than to go to the adult cinema a couple of doors up.
As with most gigs that I attend by myself, I arrived too late to catch the support acts, Eilish Gilligan and OCDANTER. While I'm happy to venture out by myself, there's only so much time I can spend in my own company, so I timed my arrival to enjoy a beer and then catch the main act.
While waiting for Saatsuma to perform, I sipped on a Two Birds Golden Ale and scrolled between the Guardian app and the progress scores of the Western Bulldogs v Richmond game on the Footy Live app. Just as the novelty value of these activities was beginning to grow thin – usually the sign for another beer – the curtains slid open and the show started. Well sort of. The video for Saatsuma's new single, Floating, was shown on a screen at the back of the stage. It was an evocative enough clip of three people engaged in choreographed dance moves in an otherwise empty warehouse.
I assumed that the band would bounce on at its conclusion and begin the show with a crisp blast of beats and their own choreographed moves, but no, the curtains abruptly closed again.  Just like election night when the nation had geared itself up for the climax to an endless political campaign, only to go to bed with no resolution, the audience at The Toff had got all excited at the prospect of Saatsuma's performance, but had to go back to small talk, drinking or in my case, checking the footy scores.
Eventually, and it took a while, the curtains re-opened and the band took their places. The band members are Memphis Kelly, Cesar Rodrigues, Maddy Kelly, Andrew Congues and Lachlan Stuckey. Memphis Kelly took vocal duties and also punched the occasional button on a keyboard or console, while Rodrigues played keyboards and adopted the serious demeanour of a NASA programmer at a moon launch. Maddy Kelly (Memphis' sister) also plays keyboards while Congues and Stuckey played drums and guitar, although I couldn't say who did what, and I doubt I could pick them out in a lineup, given they were hidden deep in th shadows.
Opening song Wait For Me is a slow and brooding piece that gradually built to a raucous crescendo before ebbing quietly away. This set the tone for songs of lush, slow-tempo electronica that followed, composed of crisp beats, chiming guitar notes and purring, bubbling synth sounds with Memphis Kelly's voice rising over the top. There were elements of Portishead and Policia in there, as well as older 80s electronic outfits, but it is a unique mix and the live drums gave the overall sound a powerful edge.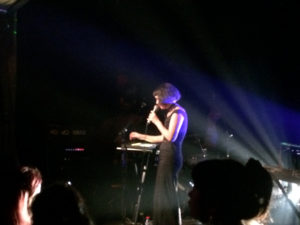 A buzzing electronic crackle disrupted the second song, but that was soon rectified and the remainder of the set showcased some strong material. Storm, their first single has a smouldering intensity that suits the song's theme and got the audience swaying to its slow groove.
The only other song I recognised was Floating, the single they were launching on the night and the final song of the set. It was more up-tempo than most of their songs and has an unashamedly dance quality to its churning synths and layered beats. Knowing it was the final song and perhaps sufficiently loosened by booze and the beat, the audience danced with less inhibition, particularly the woman in front of me whose handbag swung heavily into my stomach more than once. She apologised, but she needn't have really, it was quite understandable that she might be getting carried away by the irresistible silky groove and swaying crowd. After all, as Kelly herself sings, "Maybe I can finally let go."  This woman sure had.
It was a good note on which to finish, not least because I still had 15 minutes to get to my train. Australia may still not have had a government in place by the night's end, but at least we could dance to fill the void.
On Swanston Street people were still searching for Pokemons, and although I didn't have the app to play the game, I felt that I had found something equally valuable, a good new band.
Setlist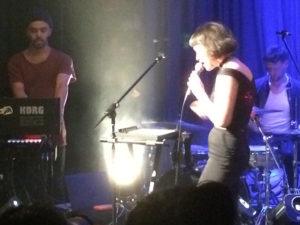 Wait For Me
Insanity
Feel It All
Twice
Storm
Closer
Breathless
Floating