Tex Perkins & Charlie Owens
Tex Perkins and Charlie Owens
Yarram Club Hotel
Friday 10 June 2016
$25
SO MUCH OLDER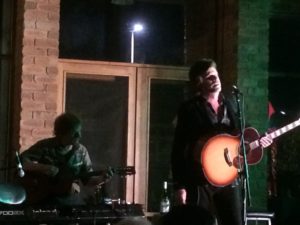 There are certain things a person should have learnt by the time they get to my age: don't have a beer after you've already been drinking champagne or red wine (and vice-versa), don't stay out in the sun for more than 15 minutes without applying sunscreen, and make sure you've got a good excuse handy in case your partner discovers multiple entries for 'Nicki Minaj' and 'yoga pants' in your Google search history.
These tenets are universally understood and you've only got yourself to blame if you fail to observe them, irrespective of the fact that searching images of Nicky Minaj is quite legitimate for a music writer.
There are also social guidelines specific to living in Melbourne that you would expect someone of my vintage to have absorbed, never again to contravene. These include not contradicting Jon Faine on talkback radio (unless you've got half an hour to spare while he berates you on air), avoiding Punt Road when there is a game on at the G (actually, just avoid it at all times, even if that means never crossing the Yarra River again), and if you hear the sound of motorbikes as you're leaving Kittens in the early hours of the morning, duck! Also, never try to leave town on the Friday afternoon of a long weekend.
My wife Angela and I were on our way to Yarram. Our friends Peter and Jess own and manage the Yarram Club Hotel in East Gippsland and Tex Perkins was playing there on Friday 10 June. It being my birthday we thought we would make the trip down for the weekend. It's normally a pleasant three-hour drive taking in the beautiful pastoral countryside of Victoria's dairy region, so we set off on Friday afternoon anticipating a pleasant drive though bucolic scenery.
Of course in our excitement none of us (my sister in law Kath and her kids were also driving down) realised that this was the Friday afternoon ahead of a long weekend for Monday's Queen's Birthday holiday. We therefore didn't factor in the likely traffic gridlock of cars trying to leave Melbourne after school hours.
Driving between the goal posts on the Bolte Bridge was no slower than the usual sluggish crawl, so that was okay, and even the Monash freeway out past Chadstone and Mulgrave wasn't too bad. As we reached Narre Warren however, we came to a sudden halt and remained in virtual stasis for the next couple of hours, inching along through Berwick, Pakenham and Na Na Goon in short, irritating lunges.
Due to a bad accident the three-hour journey ended up taking more than five hours and it was dusk by the time we drove through the coal mining and processing region of Traralgon and Yalourn. In the gloaming's half-light the massive power stations in Yalourn reared up menacingly in our windscreen like a dystopian industrial vision, or something out of Mad Max.
Can't Say No
We eventually reached Yarram about 7pm; happily the kitchen was still serving. More importantly, so was the bar. However, Peter informed us that they still hadn't heard from Tex, who we assumed was also stuck in the traffic. At least we hoped he was for there had been talk that the gig might not go ahead. As late as the day before, only about 30 tickets had been sold, leaving Tex's manager to cancel the show.
The plight of Australia's dairy industry and particularly the farmers has been well documented. Upon hearing of his manager's plans, Tex apparently intervened and insisted on performing for the struggling dairy farmers of the region. He even agreed to a price cut on the tickets.
As far as promoting the cause of milk producers, Tex's gesture of solidarity and support highlighted what a caring and honourable person he is. Of course it's arguable that Fergie's song M.I.L.F. $, with its accompanying video featuring Fergie and Kim Kardashian showering under a downpour of milky white liquid might be a tad more persuasive. "You got that, you got that, you got that milk money…I got that, I got that, I got that MILF money"
As it happens, an additional 100 tickets were sold on the day of the show. Hardly surprisingly, but people in Yarram don't book too far in advance for concerts. In any case the hotel's Glasshouse Bistro was packed with diners and music lovers alike as word filtered through that Tex was in the building.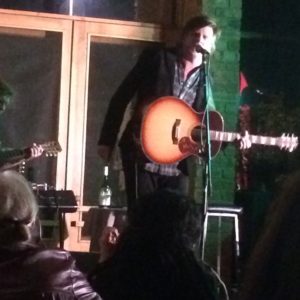 Psycho
A general air of anticipation built in the room, led largely by one bloke standing at the bar who gave loud, gutteral and ambience shattering yells of "C'mon Tex!" every minute or so. The rest of the room was keen for the show to start, if only so this bloke would shut up.
Tex did eventually 'come on' and introduced Charlie Owen who was accompanying him on guitar. I was sitting next to my nephew Max as we were keeping an eye on how the Hawks were going via the AFL live app. Max is learning guitar so I told him to check out Charlie who is one of the best guitarists in Australia. Of course his mum had already passed on the same advice, so being an assiduous 12-year old I imagine he ignored both of us.
On a side note, I realise the ARIA Hall of Fame is reserved for multi-platinum selling bands and balladeers, and old rockers whose chief triumph is in not dying despite a lifestyle marked by debauchery and excess. Doubtless these people warrant their place, but there should also be a special category for the Charlie Owens' of the recording industry – those go-to people, 'Luscombes' you might call them, who may not be household names, but who pluck and play, strum and drum, blow and bellow on albums by all of those who are.
Anyway, it was Owens sitting at the back in the shadows who picked out the guitar part as Tex leant into the mike and intoned that he'd just received a postcard from Elvis, a song the duo had originally recorded with Don Walker.
It being my 52nd birthday, I identified all too clearly as Tex moved on to sing, "I feel so much older, than I was yesterday" from his Dark Horses incarnation. In my case I was taking advantage of on- the-house birthday beers to suppress this reality.
The Glasshouse Bistro at the Yarram Club Hotel is a nice intimate setting for a concert. And Tex, by his insistence on performing, showed that he is a man of the people.
But perhaps a venue can be too intimate, and even a man of the people doesn't necessarily crave constant human contact. Or so Tex must have thought as a lady dressed in purple pants and purple jacket, thereafter known as 'purple lady,' not only called out from her seat, but pushed her chair back and approached the stage to open a dialogue with Tex that seemed to be about a previous meeting some years back. Tex tried to point out that he was in the middle of something, i.e. a gig, and perhaps now wasn't the time or place for such reminiscence, but the purple lady continued her slurred dialogue, even as our host Peter escorted her through a side door. He had earlier removed the man who had been yelling out, but he was back in the room by now, and resumed his catcalling.
Tex's other problem was a PA that he described as the worst he'd ever heard. I think 'shitbox' was his exact phrase, and indeed, the sound was a bit fuzzy around the edges. The fidelity would not have satisfied an audiophile, but happily such people were scarce among the farmers of East Gippsland.
As Peter had explained to us however, they were extremely lucky to have a PA at all. When the gig was cancelled, the PA was disassembled and set up at some other event in a neighbouring town. So when the gig was suddenly back on, they had to scramble to track down another PA. The one Tex and Charlie were playing through was not long removed from a local farmer's shed. And sounded like it.
Unsure of what he was hearing, or just incredulous, Tex took to stepping from the stage and joining the people at the front tables so he could get a reading on the sound from the audience's perspective. At one stage while he was singing he took the seat of someone who had headed to the bar or toilet, only to be harangued mid-song by the absent person's companion about the seat already being taken. As if Tex might be planning to join them for coffee and dessert. As Tex sang Fake That Emotion, it was easy to see that he wasn't delving too far inwardly for inspiration.
Kath was laughing and said that the 'nutbags and pissheads' in the room were so distracting that Tex looked like he was having an out of body experience. Which was only remarkable, she added, because someone who grew up in St Kilda's post punk scene and who has been in the music industry for 30 years would be no stranger to nutbags or pissheads.
She also noted however, that both Tex and Charlie were rising above these interruptions and inconveniences to play with a poise and professionalism not necessarily befitting the occasion, but which nevertheless kept the show going.
Right on cue of course, purple lady re-emerged, staggering down to the stage to resume the conversation with Tex that had been cut short. Peter got to his feet again and helped her outside. In fact this time he drove her home – just to make sure she didn't return. He later told us that she the wife of the man who had earlier been yelling "C'mon Tex."
When Tex and Charlie later played their song Psycho, there was little doubt as to whom it was secretly dedicated.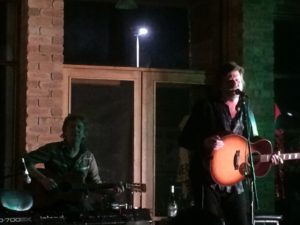 Tramwreck
It wasn't visible because of the dark, but at the rear of the Glasshouse Bistro there is an old W Class Melbourne tram positioned so that it looks like it has run off the rails and crashed through the beer garden. In a way, this unusual sight acted as a metaphor for the show. With all of the things that had gone wrong in the lead-up and all of the interruptions on the night, the show could have been a veritable tram wreck, but just as the derailed tram works as an unexpected attraction in the pub, so too the circumstances and the unique characters of Yarram helped make the gig a truly memorable one.
Tex and Charlie concluded the show by playing Getting Away With It, which perhaps had never sounded more apposite, before returning for an encore to play a cover of the Stones' No Expectations and Johnny Cash's Sunday Morning Coming Down. Tex introduced this final song as 'the grand pooh-ba of hangover songs' and regardless of whether he was still a drinking man, I suspect he was anticipating a hangover of one sort or another the next morning.
Setlist
Postcard From Elvis
So Much Older
Whenever It Snows
Another Rain Song
Fake That Emotion
Can't Say No
Snakes
Word To Come
Psycho
Getting Away With It
– – – – – – – – – – – – – –
No Expectations
Sunday Morning Coming Down