Hawthorn 2016 – Ménage a Trois
Hawthorn's Ménage a Trois – The Second Half of 2016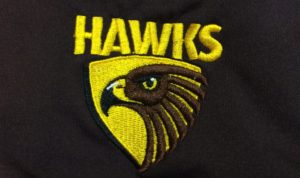 With just two minutes left of the home & away season, and having blown a three goal lead in the final quarter, Hawthorn trailed Collingwood by a goal and sat in sixth place on the ladder.
Sixth! That's the sort of position that might satisfy North Melbourne or the Western Bulldogs, but not Hawthorn. Frankly, after three premierships in succession, it would be a little embarrassing to take part in an Elimination Final. Like following up an Academy award with a Logie nomination.
This was especially demoralising as we had been two games clear on top of the ladder with just four matches left to play.  How had things degenerated so badly? As David Byrne once asked himself, "well, how did I get here?" Or more pointedly when, in the same song he discovered he was in the wrong house, with the wrong wife, he exclaimed, "My God, what have I done?"
Like an Australian swimmer at the Olympics, we had turned for home with a decent lead only to be overrun by lesser lights. First we lost to Melbourne, with their midfield cutting a swathe through our defence, delivering our first loss to the Dees since 2006.  That's 10 years. Australia has been through six Prime Ministers in that time!
Then we got trounced by the Eagles in Perth for the second season in succession. In between this we struggled to defeat North Melbourne, despite an eight goals to one first quarter. Even our other victories in the second half of the season had been less than convincing – edging ahead against Port Adelaide, a five point win over Sydney and a dour struggle to beat Carlton in Launceston. Only the win over Richmond was in any way commanding, and for that you have to factor in the extenuating circumstances that, after all, it was only Richmond.
Jack Takes the Hawks Back Up the Beanstalk
So from almost certain top spot, we were suddenly in freefall. You know that feeling you get when you plummet and feel your stomach lurch up to your throat – well that's how I felt as Adam Treloar kicked an admittedly sensational snap to put Collingwood in front with just two minutes to go. Suddenly we were sixth!
At the centre bounce following Treloar's goal, Hawthorn ruckman, Jack Fitzpatrick, playing his very first game for the Hawks, tapped the ball down to where Rioli, Burgoyne and a couple of Collingwood players scrambled for possession. Rioli somehow got it to Burgoyne who turned around and handballed quickly to Fitzpatrick, who finding no one blocking his path simply lumbered off, took a bounce and from 65 metres launched the ball goalwards, where it took one bounce in the square and bobbled through to level the scores. Suddenly we were third again!
That goal, more than anything else, highlighted that football is a relatively simple game. For all of your game plans, structures, set ups, processes, the press, zoning and GPS data, sometimes simply grabbing the ball and slamming it on your boot in the general direction of the goals is the most effective means of scoring.
Some commentators were critical of Collingwood for allowing Fitzpatrick to break away, but in fairness, the Magpies midfield were justifiably more focused on Rioli, Burgoyne and Mitchell. Of the four Hawthorn players in the square at the bounce, Fitzpatrick was the least likely to come storming out of the centre with the ball. He was basically the Ringo of the quartet, albeit a seven foot tall Ringo.
The draw was sufficient for the Hawks to climb to third place – which is at least in the premiership hemisphere – but then Puopolo scurried a behind to give us the lead and ultimately the win. This meant that while we finished third on percentage, it's not quite the same as settling for bronze. We were actually equal top with Sydney and Geelong on 17 wins – forming a sort of ménage a trios with the two other dominant teams of the era.
So we can thank Jack for taking us back up the beanstalk. Fitzpatrick was the match winner in his very first game for Hawthorn. I can't think of any other player who can claim as much. Sure John Platten and Dermie were both best afield in their respective first games for Hawthorn, but that's not the same as kicking the winning, or in this case, levelling goal. It even took Buddy until about his 40th game to kick the winning goal. If the Hawks go on to win the flag from here, we might have to erect a statue of Fitzpatrick next to the one of John Kennedy Snr at Waverley.
Cyril!
In truth the Hawks haven't been dominant all season. We scraped and scavenged our victories, winning five games by less than one goal, and six by less than 10 points.  As a result we've managed to remain at or near the top of the ladder. Hawthorn is not unlike a political party who hold on to power not because they are riding a groundswell of popularity, but because the opposition is inept or dysfunctional.
Without those narrow victories we might well have missed the finals altogether, so it is a measure of the Hawks professionalism and poise, and the rather more salient fact that Burgoyne and Cyril have been on hand, that we've managed to win every one of them.
The highlight of the second half of the season for Hawthorn was the victory over the Sydney Swans in Sydney. After a close contest all night, the Swans held a one point lead with less than two minutes to go. From a throw-in on Sydney's half forward line, Jordan Lewis went third man up in the ruck and tapped the ball blindly back over his head, where Sam Mitchell volleyed it out of the air for a good 30 metres or so towards Gunston. Gunston fumbled the mark but even this worked in our favour as he kept the ball in front of him, gathered it and handballed it to Isaac Smith who was running past. Smith banged it onto his boot and it floated unevenly before falling into the arms of Cyril about 50 metres or so from goal. Cyril is known for his miracle dribble kicks and leg-break goals, his interceptions and snap shots, but long set shots from 50 metres have never been his forte. Until now that is. Cyril sent the ball high, long and need one say it, handsomely. It flew over the outstretched arms of the pack for the match-winning goal and an eruption of noise at our house. So often have my neighbours heard me squeal the name 'Cyril' in high-pitched excitement over the past couple of years that they must think I have some sort of Tourettes condition.
The Final Score
The Hawthorn Sydney game was tough and tightly contested, making scoring difficult…on the field at least. For as it transpired, Cyril's last minute goal wasn't the only lucky escape for Hawthorn that weekend.
After the match Sydney defender Michael Talia was caught in possession of cocaine and later charged. Skulking down the same laneway at the same time was Hawthorn player Jonathan O'Rourke, who fortuitously, had nothing on him.
Whether O'Rourke had already disposed of the ball or had never taken possession, we'll never know. But Talia wasn't the only Swans player to take the fall for O'Rourke that weekend. After O'Rourke took a mark about 80 metres out from goal late in the third quarter, Dan Hanneberry encroached on his protected zone and O'Rourke was awarded a 50 metre penalty, brining him within range. He duly scored…so to speak.
Milestones and Millstones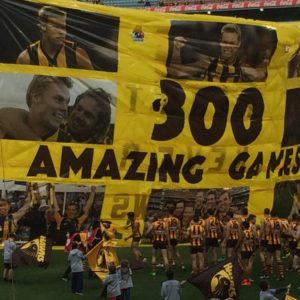 The other highlight of the back half of the season was Sam Mitchell's 300th game that came against Richmond. The game wasn't particularly inspiring, only Mitchell's 38 possessions and a nine goal final quarter for the Hawks saved it from being completely mediocre, but it was great to see our champ reach the milestone.
More disturbingly with respect to Richmond, however, is news that Hawthorn is considering drafting Tyrone Vickery. I consider Vickery to be a sort of Nick Holland of the new millennium, similar unkempt curly hair, nearly as good a mark, but a wildly more errant kick for goal. Which is saying something given that I once saw Holland miss a set shot from the top of the goal square.
Now it might be that Vickery would be a better player at Hawthorn than he is at Richmond, but it is difficult to see how someone who struggles to get a game with the Tiges could walk into the Hawthorn line-up. Having said that I look forward to eating my words when he wins the Norm Smith medal in the 2017 Grand Final.
The Un-Australian Team
The tradition of all-Australian absurdity continues in 2016 with only one Hawthorn player, Cyril of course, making the team. You could argue that Hawthorn plays as a unified team and doesn't rely on individual players (other than Cyril obviously), but even that doesn't disguise the fact that two Richmond players, Alex Rance and Dustin Martin, made the team. That's double the representation for a team that won just seven games.
Rance is an outstanding defender, so I understand his selection, but you can't tell me that if you were actually picking a team to play, then you wouldn't pick Mitchell ahead of Martin. Unless of course the selectors were nervous about the consequences they might face from some of Dusty's outlaw bikie gang mates were he to be overlooked.
Fourplay
But if Hawthorn players were cruelly overlooked by the all-Australian selectors, they haven't been overlooked by the fans, finishing on top of the membership table with 75,351 members, nearly 1,000 more than Collingwood.  That is at least some buttress against the anti-Hawthorn sentiment that currently prevails among fans of other teams. Sentiment, I might add, that is quite virulent. The '#freekickhawthorn' meme is just the tip of an iceberg that includes all sorts of wild conspiracy theories. A casual glance through online footy forums and Facebook groups such as 'The Real AFL Alliance' suggest that Hawthorn's popularity sits somewhere between Isis and The Taliban.
Having said that, if the Hawks 'embrace the hunt', as the club's finals slogan puts it, and we get to hug the cup, then we might fuel further anti-Hawthorn sentiment of the best possible kind – pure envy. Fourthorn!