PJ Harvey & Seamus Murphy
PJ Harvey and Seamus Murphy
Melbourne Writers Festival
Athenaeum Theatre, Melbourne
Thursday 1 September 2016
$60
WE WILL RECITE YOU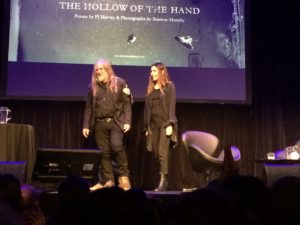 A first-time visitor to Melbourne walking along Collins Street on Thursday night (the bottom part of the Paris end, we'll call it the 13th Arrondissment), would have seen the crowds milling outside the Regent Theatre for the opening of the musical We Will Rock You and thought, 'ah, here's a city that loves its musicals.' There were cameras, lights, and no doubt breakfast radio hosts and ex-footballers on comp tickets walking the red carpet.
Had this visitor looked across the road they would have seen an even bigger crowd gathering outside the Athenaeum Theatre, the queue stretching all the way to the Town Hall on the corner of Swanston Street. Had the visitor enquired of a passer-by what event people were queueing for, he or she would have been informed that a poetry reading was about to take place, at which point you imagine our visitor might have reeled in disbelief at the cultural hotspot into which they had unwittingly stumbled – a queue for a poetry reading!
Of course all of this is true up to a point. Indeed, there was to be a poetry reading as well as a photography exhibition. But without wishing to impugn the motivation of any of the individuals in the queue, of which I was one, the real reason for the queue, I suspect, was not poetry per se, but the fact that the poet in question was global rock goddess PJ Harvey. With all due respect to the literary arts and the world of letters, that's certainly why I was there.
PJ was in town for a special one-off event at the Melbourne Writers Festival with photographer Seamus Murphy to talk about their book, The Hollow of the Hand, that features poetry and photographs about their travels in Kosovo, Afghanistan and Washington. At $60 a ticket it was possibly the most expensive poetry reading ever staged in Australia, unless Pam Ayers ever toured here.
Uh Huh Her
Having waited in line for an hour, the theatre doors finally opened and I got a pretty good spot several rows back. After 30 minutes or so, George Gittoes appeared on stage to talk about the importance of art and poetry in war zones. Gittoes would know – he's an Australian artist, filmmaker and activist who at one point hung out with Andy Warhol, as his shoulder length white hair and beard of a 60s survivor testified. More importantly however, he has also made a name for himself documenting the experiences of people living in some of the same war zones Murphy and Harvey visited. It's hard to know which would be more surreal, dodging bullets in Kabul or hanging with Andy at The Factory.
When the lights dimmed one of Seamus Murphy's short films depicting scenes of life in Kosovo was projected onto a large screen. PJ Harvey then walked on stage and read a selection of her poems about Kosovo while Murphy's still images were shown.
Harvey's poems are short prose vignettes depicting scenes and images of people living their lives amidst the upheaval. Short observations of ordinary moments. Her deliberate, deadpan delivery sharpened the picture she painted with her words. Some of the poems, such as Zagorka, Chain of Keys, and Where it Begins were familiar from songs on her latest album, The Hope Six Demolition Project, with the latter better known in its guise as single The Wheel.
The accompanying photographic images from Seamus Murphy ranged from scenes of normal domesticity such as people in their homes and family groups to more surreal images of cows nosing for food in a supermarket, or a fork in a road with people walking down one path carrying their shopping as a horse lay dead on the other.
I concede that prior to this collaboration I hadn't heard of Seamus Murphy. However, I was impressed by a comment I heard from a woman seated behind me who enquired of her companion whether Seamus Murphy was American. Now I know there was a lot of Irish immigration to America in the 20th century, but with a name like Seamus Murphy, wouldn't your first guess be Irish? The only way he could sound more Irish is if he was called Leprechaun Riverdance or Sinn Fein.
The Community of Hope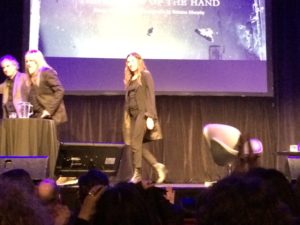 Poems, film and photographs of Afghanistan and Washington followed. The photographs were not the typical images we see of war torn countries – soldiers with rifles or the wounded. Likewise the poetry offered something different to the insurgencies, death tolls and drone bombs that we normally get from war correspondents.
The poetry and photographs were both striking in their own right and complemented each other, but avoided direct commentary or didactic links.
In a way it was parallel journalism in that it offered us a glimpse into the lives lived in between the statistics. Even simple footage of a busy intersection in Afghanistan was fascinating to watch for someone who hasn't travelled to this part of the world. LIkewise footage of Suffis chanting and a man taking part in a community dance while balancing a glass of water on his head.
The audience was very respectful, reverent even. Surprisingly people were even refraining from taking photos and there were no calls of "Love you PJ!" interrupting her poems about the children begging in Afghanistan and Washington.
I felt sorry for the woman in the row in front of me who having waited in line for over an hour, and then sat patiently in her seat for another 30 minutes, suddenly had an uncontrollable coughing fit as soon PJ Harvey began reading. No amount of water seemed to help and her attempts to stifle or delay her cough simply made it worse.
Gittoes Gets to Work
George Gittoes, however, was the star of the show. After the reading, Gittoes led a discussion with Harvey and Murphy and here he showed his wisdom and compassion. Gittoes was generous with his praise for the work of both Harvey and Murphy, genuinely interested in understanding their motivation and illuminating in his view of the role artists can play in war zones.
He also tried to engage the audience at various stages, making regular eye contact and turning to us to share a laugh. Unlike Harvey and Murphy who focused solely on Gittoes throughout. It was like we weren't there. Tellingly perhaps, there was no Q&A with the audience.
Gittoes, on the other hand, was quite natural, even allowing silences to evolve, but they were contemplative rather than awkward. To say he was chilled would be like saying most if us were only there to see PJ. It was no surprise to learn afterwards that he is the recipient of the Sydney Peace Prize.
Dollar Dollar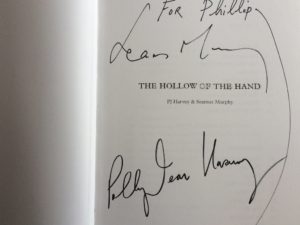 Being a Writers Festival there was of course a book signing. I bought a copy of the book, but I had also taken in my vinyl copy of my favourite PJ Harvey album, To Bring You My Love, to see if she would sign that. The signing queue wasn't that long, but as I reached the vetting point, I was told that PJ wasn't signing records, only books. I'm not a troublemaker so I acquiesced politely.
On one hand I thought fair enough, you don't want everyone in the queue lugging in their entire record and cd collection for her to sign. On the other hand, the vinyl edition of her latest album, The Hope Six Demolition Project was on sale at the venue for $60, so was it that she wasn't signing records or just that she was only signing records purchased on the night for $60? Either way, I figured that if she wasn't signing albums, any chance her signing my left buttock was probably out of the question.
Also, given that the ticket for the event cost $60, the book $35, and that morning I'd spent $120 on a ticket to her forthcoming January concert, would it really have been too much trouble for her to scrawl her name on my album cover? At least it made me feel better about flouting the 'no photography' rule (ironic at a photography exhibition don't you think?).
Still I'm not a global rock goddess and I probably don't understand what a drag it would be to have sad, fawning 50-something men asking you for photos and autographs – and that's just the polite requests – every time you left the house.
Good on the Melbourne Writers Festival for getting PJ Harvey and Seamus Murphy to the event. I'll read Harvey's poems, check out Murphy's photographs and play the The Hope Six Demolition Project, but to be honest, I'm most interested in learning more about George Gittoes and his work.