The Cure
The Cure
Rod Laver Arena
Thursday 28 July 2016
$140
JUST LIKE HEAVEN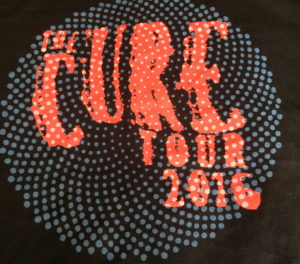 Boys don't cry, but grown men do. A dozen or so songs into their epic three hour set at Rod Laver Arena on Thursday night, The Cure played Just Like Heaven and for some unaccountable reason I began to tear up. Not tears streaming down my cheeks stuff, but I was definitely moist around the lashes. I don't know if it was exhilaration and happiness at hearing one of my favourite Cure songs performed live, sadness for the naïve longing expressed in the song (although by Cure standards, it is not even close to their most melancholy), or just simple nostalgic yearning for times past?
There are formative, revelatory moments in any person's life – for some it's their first kiss, a religious awakening or the birth of their first child. For me it was hearing Simon Gallup thrum out the opening bass line of The Holy Hour at The Palais Theatre on The Cure's Faith tour of 1981. The deep resonant notes reverberated around the old theatre at the start of the show, adding even more grandeur to the velvet and gold leaf trim of the décor and possibly peeling a layer or two of paint from the mural on the high ceiling. It was a glorious opening to a memorable concert. The next night they played upstairs at the Seaview Ballroom and I remember we could feel the floorboards rising and falling under our feet as the audience bounced as one to the primal throb of Primary. That was an even better gig.
I've seen The Cure in Melbourne a few times since – there was The Top tour in the mid 1980s, again at The Palais, and the Wish tour in the mid 90s at Rod Laver Arena. In the interim they had grown from new wave Goth darlings to global megastars with a string of massive hits that somehow straddled the line between crass pop and indie credibility.
The most recent Cure concert I've attended was as memorable as the first. Celebrating the 30th anniversary of Faith in 2011, they played a one-off show for the Vivid Festival at the Sydney Opera House. The set consisted of their first three albums, Three Imaginary Boys, Seventeen Seconds and Faith played in their entirety from beginning to end. For the encore they played all of the B-sides and singles up to Love Cats. Somehow my friend John had managed to get tickets for us and it remains one of my favourite gigs.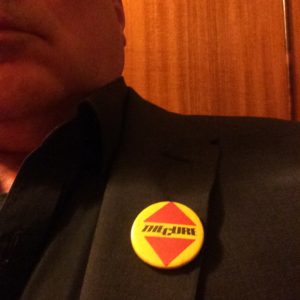 John had also secured tickets for this concert and we met on the steps outside the arena. I don't know if it was just the anticipation I was feeling, but there was a bit of a buzz in and around the venue before the gig. We ran into a few people we knew and there were a number of excitable Facebook posts flying through the ether. The the vibe was definitely up, although we were a little disappointed at the lack of Goths slinking about. Judging by the prevailing crowd fashion, it could have been anyone playing that night. John thought we resembled an Andre Rieu crowd as much as a Cure crowd. I was doing my bit however with black jeans, black boots, black shirt and vintage Cure badge. Plus I bought a tour t-shirt on the night. My Cure couture.
Never Enough
There was no support act and word had reached town that they had played three-hour sets in Sydney and at Splendour, so there was anticipation for a long show and the audience in the arena built up quickly. I was happy to be able to point out to John a Goth chick in traditional tartan mini skirt, push up bustier, long black nails and heavy black eye make-up seated near us.
The show began just after 8pm when the band ambled on stage and launched into the stately lament of Plainsong from the Disintegration album. For the ensuing three hours they held the audience spellbound with a succession of songs from across their entire career. No band can claim quite the same mixed repertoire combining anthems of apocalyptic gloom, existential angst, dystopian despair and kooky pop. Some of their albums are a bizarre mix of laments, lullabies and loony tunes.
But no matter which type of Cure song you prefer, every fan was catered for at this gig. Those who like the catchy pop hits got to bop along to plenty of them; Love Cats, Friday I'm in Love, The Caterpillar, Lullaby, Let's Go to Bed and Close to Me. Those who like the shimmering mature melodies of In Between Days, Just Like Heaven, Pictures of You and Lovesong were also happy. Those who prefer the epic 10 minute dirges also got to bang their heads along to Disintergration, From the Edge of a Deep Green Sea and One Hundred Years, while those wanting to hark back to the early years got their wish (but not until the encores) with A Forest and Boys Don't Cry. People looking for deep album cuts would have been happy with Push, Bananfishbones and Doing The Unstuck – particularly the girl a couple of rows behid me who positivelty squealed when Robert Smith announced it. There were obscurities, Burn, Want and even a brand new song, It Can Never Be The Same, which non Cure fans might think to be ironically titled given that it sounded like it was straight off Disintegration.
Those who particularly like Disintegration were positively coddled as the band played eight of the album's 10 songs. I was immensely pleased to hear Prayers For Rain, a more than usually morose example of Smith disconsolate angst.
So given all of this, it seems churlish to quibble after a three hour set, but it would have been nice to hear Primary and Play For Today. However, as Smith himself put it so eloquently in his 1990 single, 'It's never enough' and yes they played that too.
Thursday, I'm In Love
Rock and roll is crowded with famed duos; Lennon & McCartney, Richards & Jagger, Page & Plant, Cave & Howard, Bowie & Ronson, Morrissey & Marr, Albarn & Coxon, Simon & Garfunkel, even Liam & Noel. I could go on. Most of these are singer/guitarist couplings and the thing that most distinguishes them, other than the fact that most of them can't stand the sight of each other, is their unique songwriting, soundcrafting partnerships. Less celebrated, but equally potent is the partnership of Robert Smith and Simon Gallup. To me they are the sound of The Cure, regardless of who else may from time to time troop through the band. Smith's languorous guitar washes and gorgeous strangulated, falsetto mixed with Gallup's deep resonating bass lines are every bit as important to rock's pantheon of partnerships as any of the bickering duos above.
Smith and Gallup had their own brief separation – Gallup left the band in 1982 after Pornography and rejoined in 1985 in time for The Head on the Door. I don't know if the break was due to the time honoured musical differences, but basically he skipped the kooky, albeit commercial successful, singles phase of the band. Perhaps because I too took less interest in the band during this period that I felt an affinity with Gallup, for as soon as he returned they got good again.  In my view his bass playing is as essential to The Cure as Smith's unkempt birdsnest hair and wonky make-up.
In any case, Gallup was on stage for this show, and while the other band members largley stood still for the entire show, Gallup loped about the stage with his low slung bass, running from one side to the other, providing the only moving target. In fairness, Smith did his own little jig durng Lullaby.
The band on stage here were Smith on guitar and vocals, Gallup on bass, Reeves Gabrels, Bowie's guitar foil of the 1990s on lead guitar, Jason Cooper on drums and Roger O'Donnell on keyboards. The addition of Gabrels is relativey recent, but Cooper and O'Donnell are hardly newbies – Cooper's been in the band for the past 20 years, while O'Donnell has been with them on and off for nearly as long. It's just that many of fans at Rod Laver, judging by their age, have been with the band for even longer.
John and I were seated on the upper level towards the back, nearly as far away from the stage as you can get, but the sound was excellent – probably the best I've ever heard it at Rod Laver. Smith's voice was piercingly loud at times and there was subtlety in the maelstrom of sound.
Our view was perhaps somewhat remote, but we could still make out the wispy halo of Smith's hairdo, even if we couldn't see the blacks of his eyes and the red of his lips. A series of screens behind the stage alternated between recorded video, special effects and occasional silhouttes or rear views of the band that shed occasional light on things for those of us up the back.
Despite the distance, those around us were enjoying themselves. Small groups of people would hit the aisles or jump up from their seats to dance to In Between Days or Friday I'm in Love, and then sit down until the next hit or personal favourite. No one complained or whinged when someone in front of them felt the urge to get to their feet. It was implicitly understood that such urges were uncontrollable bursts of joy that needed to be enacted and indulged. It possibly helped that getting booze during the show was relatively easy. By the end of the night quite a few people tottered precariously on the stairs as they returned to their seats with their tray of maximum four drinks, particularly as they dodged those dancing in the aisle. My seat was on the aisle and I very nearly wore several drinks, and other for the fact that I'd worn my good jacket, I wouldn't have minded.
Hot Hot Hot
The initial set of 1.5 hours was followed by four separate encores of four songs each that lasted as long as the original set.  Even Smith at one point lamented the rod they'd made for their own back by playing such long sets. But it didn't stop him.
The encores were as enigmatic in song choice as the main set; the first encore commencing with new song It Can Never Be The Same and Burn from The Crow soundtrack – hardly exultant crowd pleasers – only to be followed by perennial favourites One Hundred Years and A Forest. I remember buying the 7" single of A Forest when it came out in 1980 and 36 years later it remains an unadulterated pleasure to hear the song. John commented that the version they played might have been the best he's heard.
While A Forest brought back nostalgic memories of being young and discovering evocative new music for the first time, One Hundred Years triggered sad memories of my friend Sara, now deceased, who loved early Cure and particularly the Pornography album. That's the thing with hearing old favourites – you can't necessarily control the emotions hidden within them.
The second encore was all feedback, screeching guitar and Smith's shouty vocals, starting with the near metal of Shake Dog Shake followed by Fascination Street. If you didn't know Reeves Gabrels was in the band, you'd have guessed it from his trademark Tin Machine-esque soloing during Never Enough and Wrong Number.
It got lighter after that with crowd-pleaser Lullaby, accompanied by a projection of a massive spider squirming in its web. Smith commented that he didn't realise how cold it got in Australia, "I thought it was all sunshine and love" – he obviously hasn't heard of Manus Island. The band duly played Hot Hot Hot, Let's Go To Bed and Close To Me, by which time it was indeed 'all sunshine and love' in the room. No one remained seated by this point and as the final encore collected up any remaining hits: The Lovecats, The Caterpillar, Why Can't I Be You? and Boys Don't Cry, the place was erupting in unabashed rapture.
It is the miracle of The Cure that a show featuring such doom-laden downers as Prayers For Rain, From the Edge of a Deep Green Sea and One Hundred Years can still be such a joyous, even euphoric occasion. They're not called The Cure for nothing perhaps.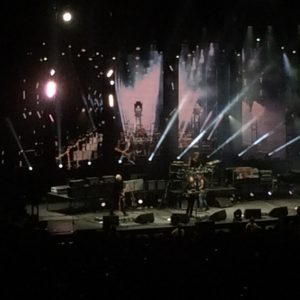 Setlist
Plainsong
Pictures of You
Closedown
A Night Like This
The Walk
Push
In Between Days
Doing the Unstuck
Friday I'm in Love
Bananafishbones
High
The End of the World
Lovesong
Just Like Heaven
Jupiter Crash
From the Edge of a Deep Green Sea
Want
Prayers For Rain
Disintegration
– – – – – – – – – –
It Can Never Be the Same
Burn
One Hundred Years
A Forest
– – – – – – – – – –
Shake Dog Shake
Fascination Street
Never Enough
Wrong Number
– – – – – – – – – –
Lullaby
Hot Hot Hot
Let's Go To Bed
Close To Me
– – – – – – – – –
The Lovecats
The Caterpillar
Why Can't I Be You?
Boys Don'y Cry