Hawthorn 2017 – Home & Away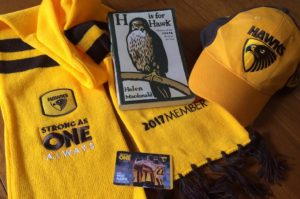 Round by round, match by match, follow the mighty Hawks as they attempt to break their longstanding premiership drought. Unthinkably, it has been 18 months since we last won the flag. This deprivation can't go on lest we go from Four-thorn to No-more-thorn?
Round 23
Hawthorn v Western Bulldogs
Etihad Stadium
Friday 25 August 2017
LUKE'S LAST STAND
How has it come to this? How has history brought us to a juncture whereby Luke Hodge is playing his final game? The man is, after all, an immortal. Worse, it's not even a Grand Final.
In a quirk of cosmic fate, Hodge is retiring at age 33 – the same age that Jesus retired. Admittedly, Jesus' was more of a forced retirement. I'm no Christian, but I think Hodgey's legacy will live on longer. His miracles have been more profound and impactful – the goal in the 2015 Grand Final, the smother in the 2014 Preliminary Final, every second of the 2008 Grand Final. By comparison, turning water into wine is at best a party trick and at worst, irresponsible in this age of binge drinking. Besides, Hodgey is a man of simple tastes – he'd have probably turned the water into Crown Lager. And sure, Christ rose from the dead, but that's nothing compared to getting up for the 2008 Grand Final after cracking your ribs the week previous, and then winning the Norm Smith medal.
Luke Hodge made his debut for Hawthorn against Richmond on 27 April 2002. My second son, Declan was born just over a month later, on 30 May 2002. I was on hand for both events and have watched both of them develop and mature over the years; Declan into a fine young man and Hodge into one of the GREATEST PLAYERS OF ALL TIME! No one likes to play favourites, but as I've told Dex, the day he wins a Norm Smith medal playing for Hawthorn, he'll go straight to number one on my list.
So, it was a sad occasion on Friday night when the champ retired. There were plenty of cheers and just as many tears as he was chaired off alongside fellow Bulldogs retirees, Matthew Boyd and Bob Murphy. I don't mind admitting I teared up as Hodgey left the arena. Nor do I mind admitting that I had to be restrained by Security as I tried to clamber over the fence screaming, "DON'T GO. DON'T LEAVE US HODGEY! And yes, the police had to be called when I was seen loitering outside the Hodge residence some hours after the match.
Both clubs managed the occasion well. Gibbo did a lap at half time where he high-fived pretty much everyone who was there. He was still circling the boundary when the teams ran back out for the second half. Matthew Boyd was cheered, even though half the Hawks fans have no idea who he is. Bob Murphy's career was duly celebrated. I know there are those that have questioned Bob Murphy's value to the team. After all, the Dogs were crap for 15 years when Bob was playing, then Bob went down with a knee injury and they won the premiership! And when he came back to the team they were crap again. I'm not saying he was no good, but it's hard to ignore the data.
The important thing is that the majority of the crowd stayed until the end. Which I suppose is what we were there to see – the end of the season, the end of four great careers, and the end of an era.
And it was worth staying until the end, because the match wasn't exactly a great spectacle of skill. Sure, it was reasonably high scoring, but that was only because both sides gifted the opposition multiple goals through terrible turnovers on the backline.
Roughead kicked a goal in the first quarter when he stood the mark after we scored a behind and took an intercept mark from Jason Johannisen's kick-in. We got another one in the second quarter when The Bont miscued a switch kick in the middle and we ran the ball down the field. While for the Hawks, Tim O'Brien twice passed it directly to Bulldogs players who were close to goal. It was fairly clear that we were watching 11th versus 12th on the ladder, rather than the collective winners of the past four premierships.
Having said that, Roughy played well, as did Tom Mitchell, the Poo and the new guy, Harry Morrisson, or The Moz. Jaeger O'Meara also played extremely well. However, perhaps the most surprising part of the match came at half time when the ground interviewer (why have these people sprung up at every match?) asked a young Hawks fan who her favourite player was and instead of the expected answer of Hodge, Roughy or Cyril, she blurted out Ryan Schoenmakers' name. Now, I love 'The Cobbler' as much as the next man, but you could hear a slight titter ripple around the crowd at Etihad Stadium.
But why was the game at Etihad? Or Shitihad, as my friend Linda called it. It was a Hawthorn home game against the Western Bulldogs, at the Western Bulldogs home ground. Go figure. As a Hawthorn member and an MCC member, a game that shouldn't have cost me anything extra to attend ended up costing me $70, or $150 when you add in the kids.
That is because booking seats for a match at Etihad is one of the most confusing and stressful activities you can undertake. It would be easier to master string theory or tax law. My MCC Hawks membership equates to a Silver status for the Grand Final, but not for this occasion apparently, meaning that I couldn't book a seat in a Hawthorn member's section with my children, who also hold Silver memberships. So, we had to go to Level 2.
Etihad Stadium itself is a fine venue, and the seating on Level 2 is probably better than any equivalent vantage point the MCG offers, but it would be easier and possibly less expensive to get a ticket for the Mayweather v McGregor bout in Vegas.
I justified it on the basis that I don't have the expense of finals tickets this year. Which is a bit disappointing. I'm a fan of maintaining fixturing traditions: Richmond plays Carlton in the opening round of the season, Collingwood plays Essendon on ANZAC Day and Hawthorn plays in the Grand Final.
Even though it was pretty obvious from early in the season that the Hawks weren't going to make it, I still held out some hope. The AFL was toying with the idea of a wild card system for teams placed 8th-12th. But I think a better wild card system would be one in which a team that has competed in say, six or more consecutive finals series, and then misses out, should have the option of exercising a wild card to replace the team that finishes eighth. It seems only fair and would add an extra element of intrigue to the finals permutations. Admittedly, this system had more appeal when it looked like it was Essendon that was going to finish eighth, but it is still worth considering.
Oh well, this year we miss out, but there are some good signs for the next few years, depending on how the young players develop and how they get through Mad Monday. At the time of writing I've seen no scandals on the news, but that might simply be a sign of strong media management or that Brad Hill has gone to Fremantle.
Last week I listed some of the season's lowlights, but forgot one of the very worst – the goalless first half against Port Adelaide. When I say forgot, it is probably more that I suppressed it as a sort of self-protective mechanism. I'd have been in serious danger of self-harming had I watched it. But it made me realise that I missed many of our more embarrassing matches this season, either because I was at a concert (Carlton, Port Adelaide) or because I don't have Foxtel (Gold Coast at Cararra, St Kilda in Launceston). So, perhaps I have an acute antennae for potential Hawthorn disasters. Hopefully there will be less need to call on this power next season.
I'm glad I was on hand to see Hodgey's final game though. And I'm glad we won, even if it wasn't necessarily his best performance. He was known for making the right decision on the field so it is fitting that he has also made the right decision about when to leave it.
On that note, it is time I also left the field of play for my own Mad Monday. There's still Box Hill to watch for my fix of brown and gold, Tom Mitchell might yet win the Brownlow, Ryan Burton the Rising Star, and the Grand Final retirement cavalcade will be a convoy of Hawthorn champions. Plus, if the Hawks get an AFLW team up, the season starts over summer, so there's barely a break for the brown and gold, which is just how we like it.
The Final Siren
Thanks to anyone who has been reading this blog. Especially to Darren Sovereign for posting these articles on the We Are Happy Hawks Facebook page. I hope these posts have helped visitors to philliprtaylor.com and We Are Happy Hawks ride the bumps of 2017 with something like a grin. Go Hawks!
Final scores: Hawthorn 15 9 99 d Western Bulldogs 13 12 90
Round 22
Carlton v Hawthorn
Etihad Stadium
Saturday 19 August 2017
I GUESS THAT'S WHY THEY CALL IT THE BLUES
The only satisfying part of Saturday night's game between Hawthorn and Carlton was that I didn't see any of it. I was at a performance by Pussy Riot Theatre at the Arts Centre and so couldn't attend, or even watch the game.
Nor could I keep up with the scores because the theatre was several leagues underground and I had no reception. By the time I emerged to street level the match was virtually over, and with it, our season.
In the show Maria Alyokhina from Pussy Riot told the story of her group's activism, their persecution and arrest, and her trial that led to banishment to a forced labour camp in Siberia for two years, leaving behind her four year old son. As horrible and traumatic as these experiences no doubt were for her, I would almost rather go through that than watch Hawthorn lose to Carlton.
I called home to see WTF was going on and I have it on good authority from my son Declan that the cause of our loss can be sheeted home to the umpiring. Now I know I haven't seen any of the game, but I have no reason to doubt Declan. He wouldn't lie about such a thing.
Besides, this is something that I've had independently confirmed by the sworn testimony of several people venting on Hawthorn Facebook fan groups. I won't quote them verbatim, suffice to say that the consensus view is that collectively, the umpires are quite proficient in matters pertaining to fellatio.
But seriously, how is a game against Carlton even close enough that umpiring can be a factor?  In a season that has already seen us lose twice to Gold Coast (once by 86 points), go down St Kilda by 12 goals, concede 11 goals in a quarter to Geelong and then blow a 43 point lead against Collingwood, this still ranks as the lowest point. I'm even beginning to doubt that Clarko can win us this flag from 12th on the ladder.
The Bulldogs winning last season's premiership is an indication that no one is taking this competition seriously anymore, but even so, how embarrassing to lose to Carlton. The fact that even Langers kicked a goal for us and Levi Casboult kicked two goals and no behinds for Carlton is a sign that something was seriously amiss on the night.
There is some solace in knowing that we haven't lost to Carlton for 12 years, so I suppose this was bound to happen at some point. I remember being at that match in 2005 and it was decidedly unpleasant, so I'm just glad I wasn't around to relive the experience this time.
There is also a small degree of satisfaction in knowing that some Carlton players would have played out their entire career without ever defeating Hawthorn – even Chris Judd while he was there – but I'm not sure even this can compensate for such a loss.
Numbers Game
Having not seen the game, I can only rely on the stats – and what a depressing set of numbers they are. The accountants auditing the books after the collapse of Enron would have found more encouraging figures.
The only positive number I can see is that Tom Mitchell managed 40 plus possessions, which may at least translate into a Brownlow vote or two.
Tom Mitchell has been one of only a few bright notes in an otherwise disastrous year for Hawthorn. Even then however, two of his most prolific ball-winning games have been two of our most embarrassing losses – this match against Carlton and his 50 disposal game against Collingwood where we blew a 43 point lead. Depending on how you interpret the numbers, he is either saving us from far greater embarrassment, largely ineffectual or worse, counter-productive.
I'm hoping it's the first of those options because the other two don't bear thinking about. Mainly because I want to be able to claim at least one success from our off-season trade exploits. To call our post 2016 trade moves radical or exploratory would be a taking the long view. And yes, they still might turn out okay, but let's have a quick recap.
When the good people of the Kulin Nation traded away what we now know as Melbourne for some blankets and mirrors, they at least had the mitigating excuse that they didn't realise they were involved in a real estate transaction. It was only the subsequent threat of muskets that made it apparent. However, Hawthorn had no such excuse when they traded Sam Mitchell and Jordan Lewis for two picks in the late 80s.
But this is not the only aspect of our off-season trading strategy that is prompting questions. I don't think Jaeger O'Mera has played in a win for us yet. We even lost that Box Hill match in which he supposedly dominated, despite holding a 40 point quarter time lead. I'm not saying it's his fault, but perhaps he is cursed. It's as good as any other theory for how we lost to Carlton.
I'm reasonably confident that Jaeger will come good, so I'm not too worried about that. However, it is perhaps emblematic of our season that our other high profile recruit, Ty Vickery, has ended the year getting suspended while playing for Box Hill. Not even the senior team.
To make matters worse, even our position at the top of the pokies ladder is under threat by pesky do-gooders who want to reduce AFL clubs' reliance on ill-gotten gambling gain. First they want to rid the game of wanton violence, now they want to stop the wealthy from preying on the poor.  No wonder people don't understand the modern game.
Like everything, it's simply a matter of perspective. I don't see that Hawthorn is necessarily profiteering from the misery and pain of problem gamblers. Rather, this is a perfectly natural redistribution of wealth towards the noble cause of Hawthorn winning premierships. It's grass roots philanthropy really.
Retiring Types
First Luke Hodge, then Sam Mitchell, now more Hawthorn greats are calling it a day.
I speak of course about Zac Dawson and Jack Fitzpatrick. Both have given great service for Hawthorn, Fitzy by kicking the match winning goal against Collingwood in the final game of 2016, and Dawson by joining St Kilda.
Oh yes, and Josh Gibson has also retired: 3 x premierships, B&F in two of those years and 7 x All Australian most handsome. Go well Gibbo!
Final scores: Carlton 12 5 77 d Hawthorn 10 10 70
Round 21
Hawthorn v North Melbourne
University of Tasmania Stadium
Sunday 13 August 2017
MATHEMATICALLY POSSIBLE
Let's look at the positives:
– the Hawks won
– it was on free to air TV
– Luke Hodge didn't get suspended
As for the negatives:
– fireworks in the daytime are not overly spectacular
– another third quarter lapse
– the game didn't actually matter
I know there are Hawks fans who have worked out labyrinthine scenarios by which it is still possible for Hawthorn to make the finals, but really, these are as convoluted as the plot of Twin Peaks and about as likely as me and Scarlett Johansson engaging in a steamy sexual dalliance. All the more reason to never lose hope I suppose.
Quite aside from this, do we really want to simply make up numbers in the finals? Unless there is a realistic chance of actually winning the premiership, then we may as well let the players – and even the supporters – take a proper September break for a change. I know I could use it. Who wants the expense and hassle of finals tickets, the stress of the games, the worry of procuring sufficient French champagne and the queuing for premiership merchandise?
Don't get me wrong, I want the Hawks to win the remaining games. If nothing else, there's still a sense of urgency about finishing above Collingwood. Plus, we play Carlton next and it is always important to not only beat them, but where possible completely humiliate them. It's not quite as much fun since Malthouse left, but it's still emotionally fulfilling.
The final game against the Bulldogs, however, presents a more problematic situation. Clearly it would be good, even morally righteous, for the Hawks to win Hodgey's final game. However, if we do, this could open the door for Essendon to make the finals. What a dilemma. Do we do the right thing, or do we try to win?
To be honest, even if we win both remaining games, I still don't think we'll make the finals. That will be a shame of course, but it will give Hawks fans the chance to focus on the pressing issues of the day, such as marriage equality (which I presume refers to the right to marry people who support a different team), Matthew Guy's dining habits, the inalienable right for people to have pineapple on their pizza and the impending nuclear armageddon.
The Good Old Days
The Hawthorn v North Melbourne rivalry is a long and proud one. This largely stems from the mid 70s when over the course of five years between 1974-1978, the two teams competed in no less than 10 finals (Hawthorn 6-4), including three Grand Finals (Hawthorn 2-1).
In 1979 we played the first game for premiership points at the SCG, which the Hawks won, while in 1982 Dermott Brereton kicked five goals on debut against North in a final, that we also won. In 1985 on my 21st birthday the two teams played a draw. Then in 1994 we played another draw in a final – the first final to have extra time, which North, or rather Wayne Carey won.
But our recent history is equally storied. Some big names have been traded between the two clubs, with Jonathan Hay, Nathan Thompson, Jade Rawlings and Jed Anderson all moving from Hawthorn to North. The distinguishing factor in all of these trades is North's uncanny sixth sense for picking up players who are on the cusp of injury, illness, loss of form, or in the case of Jonathan Hay, entirely forgetting how to play.
On the other side of the coin, we recruited Josh Gibson from North who has gone on to play in three premierships, win two Best & Fairest awards and be generally considered the most handsome and hip of the Hawks. Then of course there's the great Clarko who began his career at North.
Also, it was against North in 2012 that Buddy kicked 13 goals in a game. More recently, however, the rivalry has taken on more of an aggressive edge. There was the night Luke Hodge elbowed Swallow in the chin and Jordan Lewis caught Todd Goldstein with a forearm across the back of the head. The next time we played them Brian Lake tried to choke Drew Petrie.
It's been noted that with Sam Mitchell and Jordan Lewis leaving the club, Luke Hodge retiring and other senior players missing through injury, that it's time some of the younger players stepped up. And there were some encouraging signs of this on the weekend when Taylor Duryea punched Scott Thompson in the guts, Liam Shiels bitch slapped anyone he could reach and Will Langford upended Scott Thompson over the fence. Admittedly it was the only time Langford was on target for the afternoon, but it showed admirable intent. However, in another sign that the game has lost its way, Langford was penalised. Next they'll come down hard on the boot in the face.
Apple Grapple
In the scheme of things it was a good win by the Hawks, Big Boy and Breust, Smith and Sicily were all good, as were Henderson, Hodge and Hardwick. And of course Mitchell, even if he doesn't fit the alliterative pattern. Nonetheless, a few questions still remain, not least of which is how you pronounce Teia Miles first name.
The main question however, is how despite kicking five goals, the third quarter was still almost our undoing. After building up a hard-earned but commanding 50 point lead half way through the quarter, suddenly North kicked five in as many minutes and we went into the final quarter with a threadbare and vulnerable 19 point lead.
Unsettling as this was, it wasn't the worst part of the day. Channel 7's coverage began with a skit that tried to paint the battle of these two part-time Tasmanian teams as a local derby of sorts, bigger than the Q-clash, (ok fair enough), Sydney's Battle of the Bridge, WA's Derby and Adelaide's Showdown. Laughable as this was, it wasn't even the worst part. That honour goes to the name they gave it, the Tassie Tussle. Really, is that the best they could come up with? What about the Apple Grapple? the Van Diemen Dust-Up? the Thylacine Thug-fest?
Personally I resent that North are even viewed as a local rival given that Hawthorn have been playing in Tasmania for 20 years compared to North's three. This is our island – home of Huddo, son of Huddo, Rocket Eade, Birch. It's too late to redraw the map of Tassie now.
In any case, a good final quarter by the Hawks put paid to any pretensions to victory North might have had and kept us in the 'mathematically possible' Purgatory zone. And while it may still be mathematically possible for the Hawks to make the finals, I'm not even sure that playing Pythagorus at Full Forward will help us get there.
Final score: Hawthorn 18 8 116 d North Melbourne 14 5 89
Round 20
Richmond v Hawthorn
Sunday 6 August 2017
MCG
"YELLOW AND BROWN!"
It can't be an accident. The day Hawthorn's 2017 finals hopes are definitively extinguished, I suddenly fell ill and have been bedridden ever since.
On the face of it I have all the symptoms of a severe cold (headaches, dizziness, fever, sore throat, tight chest etc), but you don't have to be a general practitioner or a practising psychologist to recognise the possible hallmarks of a psychosomatic illness. Which isn't to say it isn't genuine – it's just the manifestation of my body going into shock with the awful realisation that the Hawks won't be playing in the finals.
After our horrendous start to the season, we always knew that this was the most likely scenario, but that doesn't make it any easier to deal with now that it has come to pass. Even prior to Sunday's game our finals chances were wafer thin, but they existed nonetheless. We didn't hold out much hope that we could win the premiership, but my son Declan and I were excited at the possibility of the Hawks making the finals, if only because it would piss off a lot of people.
For the past seven years and nine of the past 10, the Hawks have featured strongly in September action, playing in five Grand Finals and winning four of them. The only campaign of comparative success over the same prolonged period has been the Liberal and National coalition's campaign to stall, obstruct and obliterate any chance of legislating for marriage equality.
Of the two issues, I'd say Hawthorn will be back in the finals long before our government gets anywhere near allowing same sex marriage – and that's taking into account our poor showing against Richmond on Saturday.
The Hawks returned to some of their early season form. Watching it was as dispiriting and unedifying as listening to a Liberal party hack explain their reasoning for a postal plebiscite on same sex marriage. Highlights were rare: Jarryd Roughead getting chaired from the ground at the end of his 250th game, Conor Glass chasing down Richmond's Anthony Miles as he strolled into goal in the final quarter and the streaker who invaded the field, also in the final quarter. The jungle cat print of his jocks betrayed his Richmond leanings. And the tattoo etched across his stomach suggested he might be related to Dusty Martin.
Of our players, Sicily played well, Roughead was okay, despite kicking two set shots on the full, Mitchell, Burgoyne and burton were alright, and young Teia (Tay Tay) Miles kicked a couple of goals. But without Luke Hodge, the defenders were a bit lost, as evidenced by the number of goals Richmond kicked running into an open goal. Hopefully this was not an indication of how we'll be next season without him. Even if he isn't playing next season, he'll still be quite fit so perhaps we should use him as the runner – he can just hang about at half back telling everyone what to do.
I've heard this game referred to as the Ty Vickery cup, and perhaps we made our first mistake at selection by not picking Ty to play. There is a long, proud tradition of players who have left one club to join another playing a blinder when they come up against their former team. You never know, perhaps Ty would have kicked a bag. Though quite possibly Clarko was protecting him against being jeered by two sets of supporters.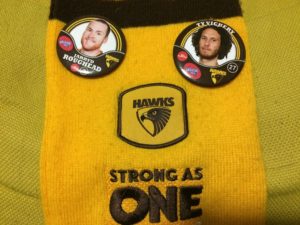 I'm on the mend as I write this, so perhaps this is a sign that I'm coming to terms with our position outside the eight. That doesn't mean I'm happy about it, but it does at least free up September. And if the Tigers can win a final or two, at least the town will come alive and the finals will be interesting.
Final scores Richmond 13 15 93 d Hawthorn 9 10 64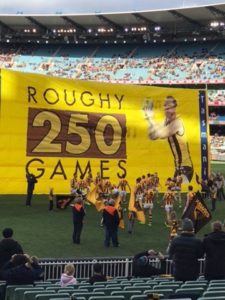 Round 19
Hawthorn v Sydney Swans
Friday 28 July 2017
MCG
HOMOEROTIC HAWKS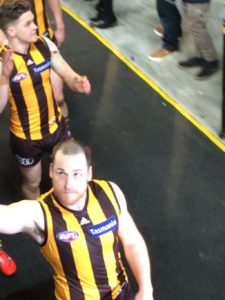 Much like Vegas, it was once thought that what happened on the field stayed on the field. But football is getting weird. A few weeks ago AFL executive Ali Fahour was charged with assault for an onfield incident in a suburban football match. Then two more AFL executives were sacked for sexual dalliances with female staff. As one of my work colleague asked, do you need to take a vow of chastity to work at the AFL these days?
Last week North Melbourne coach Brad Scott gave Majak Daw an old fashioned spray over the phone from the coaches box. Fairly standard according to the AFL coaches' book of etiquette, but the next day there was a workplace lawyer in the media declaring this an act of workplace bullying.
Then this week Hawthorn's Will Langford gave Sydney Swan Jarrad McVeigh a peck on the cheek and McVeigh labelled it as 'disrespectful'. He'll be accusing Langford of sexual assault next. And perhaps it was, but as Sydney players spent most of the first quarter belting Luke Hodge across the back of the head, perhaps McVeigh needs to examine his definition of respect. Sure, McVeigh is within his rights to call it disrespectful, degenerate or even depravity, but what I want to know is whether Langford found McVeigh's beard a bit scratchy.
Leading into this match against Hawthorn, Sydney openly admitted to targeting an opposition player to rough up each week.  As co-captain, presumably McVeigh endorses this tactic and even joins in. So however disconcerting he may have found Langford's advances, perhaps he might want to reflect on his own actions and those of his teammates before he goes whingeing to the media. Make love, not war as the saying goes -that's all Langers was doing.
Personally I think he should feel flattered that Langford singled him out, after all, there are far more handsome specimens than him playing for the Swans – Buddy for one, young Heaney, to name another. But perhaps Langford was just being an opportunist. It's difficult to pick up what he was saying to McVeigh just before he pursed his lips and moved in, but I think I made out something like, "You don't have to be rich to be my girl, you don't have to be cool to rule my world, ain't no particular Swan I'm more compatible with
I just want your extra time and your…Kiss"
I don't think you have to be a relationship therapist though to understand what is really going on here.  McVeigh's protest was just a tad strong for such a trifling incident don't you think? I suspect that he was simply trying to hide his true feelings. After all, one man's disrespect is another man's debauch.
Just on McVeigh though, I thought he'd reached the end of his career a couple of seasons ago, but he played very well in this match and you can't argue with his record this season. The Swans were less than ordinary when he was out of the team injured, and they've been virtually unbeatable since he returned to the team. That can't be a coincidence.
I say 'virtually unbeatable' because of course, we've beaten them twice, so if the Hawks achieve nothing else this season, that is something to hang our beanies on.
I don't want to go on too much about the game – we've all seen it, many of us more than once, so you'll be aware that we benefited again this week from the fine work of Burgoyne, McEvoy, Hodge, Sicily, Gunston, Howe, Mitchell and Roughead. In fact the whole team played exceptionally well. Liam Shiels was good too, his two soccer goals highlighting the flaw in his set shot technique. Perhaps next time he has a set shot he should attempt a place kick. His second goal was the most crucial as it regained the lead for us in the final quarter
Aside from the kiss, this became the other talking point of the match after Swans coach John Longmire whinged about the video review during his press conference – or 'presser' as everyone feels the need to call it these days.
Clearly it was a goal, I think all Hawks fans can agree on that, but Longmire nevertheless raised a very interesting point about technology. And the reason I say that is because I raised the exact same point four years ago in my book, High on Hawthorn: The Road to the 2013 Premiership.
Writing about our win in Round 7 over Sydney, as it happened, I critiqued a goal review decision that I thought was incorrect and argued that the AFL needed to invest in high resolution video technology of the sort used in any half decent Japanese porno, where you can pause the footage at any moment and see "with absolute clarity which fingertip is grazing against which erogenous zone, and whose incisor left bite marks on whose thigh" (p. 80). On that occasion it was a Hawthorn goal kicked by Jordan Lewis that was ruled to have been touched – by the boundary umpire I might add. Funny, I don't recall John Longmire carrying on about that decision.
But I suppose the main thing is we won the Beyond Blue Cup. It may not be the premiership cup, but it's nonetheless a cup, or silverware as Clarko insists on calling it, as if he's working in the Home section at David Jones.
We started the match well again with four first quarter goals, continued into the second quarter and then had our now traditional third quarter lapse. Look I don't mind the third quarter lapse. At least we know when it's going to happen and in my case at least, I can remain, as i did on this occasion, in the Hugh Trumble Bar with Linda and Melinda and enjoy a second half time beer safe in the knowledge that I wasn't missing anything, like goals.
Generally our first halves have been good this season, and on that basis I think Hawthorn would welcome the proposed AFLX competition, in which game time consists of two shortened halves. We'd actually be a good chance to win that.
On this occasion we rallied well in the second half of the third quarter and did just enough to thwart Sydney and kick a couple of goals in the final quarter to win. Rough took a very strong mark and kicked a particularly important goal to give us the edge near the end.
We've beaten Sydney by an even goal twice this season and on both occasions it has been Rough who has kicked the final goal. 'Nuff said.
I suppose I can't cover a Hawthorn v Sydney game without mentioning Buddy Franklin. Most commentators have reported that he had a poor game, and although he missed a couple of shots, he set up some crucial goals with telling kicks, including the last goal of the match. He seems to always be on the angry pills when he plays Hawthorn, and generally that has worked in our favour, so I'm not going to complain. I suspect he picks on Hodge because he knows Hodge can take it. And look, I'm not saying that Buddy is past his best, but I wonder if Clarko was sending Buddy a message when he manned him up with Connor Glass, a second gamer from another country. That, Mr McVeigh, is disrespectful.
The talk is now all about it being 'mathematically possible' for Hawthorn to make the finals, but really, that's the wrong language – what about 'morally right', 'spiritually important' or 'mindfully decent'. But even if we don't make finals, we might still become the first team to win the flag from outside the eight.
Final scores: Hawthorn 10 12 72 d Sydney swans 10 6 66
VFLW: Great to see the Box Hill VFLW team get their second win for the season. You go girls!
Patrick Dangerfield: The topic of Dangerfield's tackle on Matthew Kreuzer and his subsequent suspension – and resulting Brownlow ineligibility – has occupied much football talk this week. As a Hawks fan, my official position is, 'about time that dirty thug got suspended, he should've got six weeks.' My rational objective position, however,  is, 'how ridiculous to suspend him for that' – after all, it was only a Carlton player.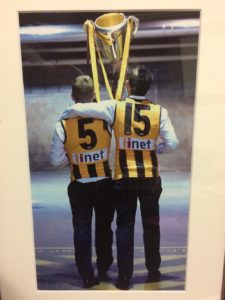 Luke Hodge: As for Hodge getting a week for tickling Papley, and Franklin just a fine for his coathanger on Hodge, I do wonder sometimes if the MRP are watching the same game as everyone else.
Sam Mitchell: Another great of the club, the game and indeed humanity, Sam Mitchell has announced his retirement – 4 premierships, 5 times Peter Crimmins medallist, 1 Brownlow, 1 Rising Star, 1 J.J. Liston Trophy, 3 times All Australian (is that all?), 2 Lou Richards medals (which is awarded for either being short or for corking opposition players), quite possibly a Coleman medal or two, the rightful winner of at least 1 Norm Smith medal (2014) and the best onfield sledge against Essendon, he is one of our most decorated champions – and we can't wait for his daughters to join our AFLW team under the father-daughter rule. One of the few Hawthorn momentos I have on the wall is this great photo of Sam Mitchell and Luke Hodge after the 2014 Grand Final. How fitting  that they retire on the same weekend – it's just a shame that it will be from opposite sides of the country.
Round 18
Fremantle v Hawthorn
Domain Stadium
Saturday 22 July 2017
ETERNALLY YOURS, CLARKO
Not for the first time this season, I found myself at a concert while the Hawks were playing interstate, meaning that I was unable to watch the game live. This time while Hawthorn was playing Fremantle in Perth, I was watching Ed Kuepper playing at the Melba Spiegeltent as part of the Leaps and Bounds Festival.
On the face of it these two events may seem to have very little in common, other than the fact that Leaps and Bounds is a Paul Kelly song that references the MCG. And even though the song contains no explicit mention of football, it has nevertheless become an a quasi footy anthem. It's a sign of how desperate we are for footy anthems that even if songwriters don't write them, we'll find something to fit the bill – Mark Seymour's Holy Grail, even Daryl Braithewaite's Horses, anything to replace Up There Cazaly!
However, as I sat in my booth at the Spiegeltent checking the app for score updates, I was watching Ed do his thing while reflecting on Alastair Clarkson's 300th game as coach of Hawthorn, and realised that there are certain parallels between the careers of Clarkson and Kuepper.
Ed Kuepper was the founding member of The Saints – the proto-punk band from Brisbane who some argue invented punk rock. But even as everyone else copied their style, Kuepper had already moved on, changing the band's sound by introducing soul elements and a horn section. The Saints broke up after a short reign, but Kuepper maintained his spirit of reinvention and formed Laughing Clowns, an avant-jazz band that mixed free-form jazz with krautrock and punk – so revolutionary that no one has ever been able to copy their sound. When the Laughing Clowns broke up, Kuepper reinvented himself again, this time as a contemporary 1980s rock act. Another creative dead end forced him back to basics as a bluesman – from which emerged a series of classic albums, including the award winning Honey Steels Gold, Black Ticket Day and Serene Machine – a three-peat if you like.
Revolutionary approaches, constant reinvention, a reputation for grumpiness. Remind you of anyone? Thus did I console myself that even if I wasn't watching Clarko's 300th game as coach, I was seeing the next best thing – Ed Kuepper play a solo request show at the Spiegeltent.
When he sang the opening couplet to his classic song, Eternally Yours,
"I see the light that shines on you
I see the legend, you see it too…"
…well, he could well have been singing Clarko's praises.
Not having seen the game, my ability to comment on it is somewhat hampered. However, while watching Ed, I kept fairly regular watch on the scores. Gratifyingly, every time I clicked in the Hawks had added another goal or two, so I never really experienced any moments of anxiety.
It all seemed reasonably comfortable and I was sorry to be missing the game. I was therefore looking forward to checking the highlights when I got home, but was disappointed that the only match highlight that the various footy shows seemed inclined to show was of James Sicily getting kicked in the face with the ball, and then remonstrating, first with the umpire and then with Doc Duryea who was trying to calm him down.
Fascinating as this was, it hardly warranted the saturation coverage it received. Besides, it was hardly new; most Hawks fans have at some stage felt like telling Sicily to pull his head in, as Doc did. Likewise, when Duryea was having a run of poor form earlier in the season, I heard a number of Hawks fans address similar sentiments to him as Sicily had done.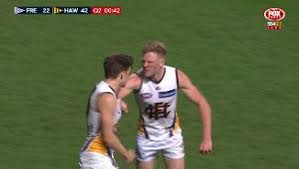 Both are playing good footy now as beneficiaries of Clarkson's revolutionary coaching strategies; Sicily down back and Duryea up forward. The same goes for Howe, Gunston and others. I must admit I doubted the value of having Sicily and Gunston in defence, especially considering we were having difficulty scoring. And Duryea up forward seemed ludicrous, until of course he scored a couple of goals each week and set up several in this match. Plus we replaced a Kiwi with an Irishman, so clearly Clarko is treating selection like a Laughing Clowns experimental jazz improv piece. In any case when Cyril returns and is selected in a back pocket I'll reserve judgement for a few weeks at least.
I have since seen all of the highlights, or at least all of Hawthorn's goals, which amounts to the same thing. It's good to see Breust back from injury and back in form, and Howe, Henderson and even Hartung kicking goals. Predictably Isaac Smith kicked a goal from about the same distance as he missed the previous weekend and Brad Hill's emotional reunion with the boys in brown and gold was touching to watch, especially when Clarko gave him a big hug. We love Hilly, he was a great champ at Hawthorn for five years, but Clarko is eternal.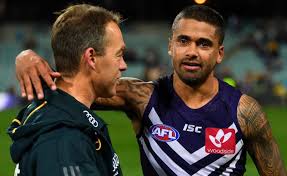 Ed Kuepper's concert was a request show in which audience members yelled out the song they wanted to hear. I got one request in, Collapse Board, but my subsequent cries for We're a Happy Team at Hawthorn were sadly ignored.  Still, I'm not sure Ed would have brought to it the requisite joi de vivre that a 52 point win demanded.
Final scores: Hawthorn 15 10 100 d Fremantle 7 6 48
Round 17
Geelong v Hawthorn
MCG
Saturday 15 July 2017
MILESTONE OR MILLSTONE?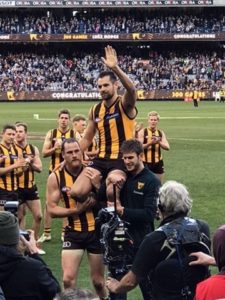 Well that settles one question at least. Last season Isaac Smith missed a set shot for goal after the siren from about 30 metres that would have given us victory over Geelong in the Qualifying Final. At the time a number of Hawks fans, myself included, could be heard to opine that had he been a little further out and on the run he probably would have kicked it. Well, after Saturday, we now know he probably wouldn't have.
In a turn of events that even Game of Thrones fans might have found too gruesome to watch, our man Isaac took a mark about 50 metres out from goal with only a few seconds remaining on the clock and the Hawks four points behind. He played on immediately to get closer and fired at goal, only for his shot to hook to the right again. The Cats won by three points. At this rate Isaac Smith will make Geelong's team of the century.
In his defence he was pushed in the back as he kicked it and could possibly have received a free kick – there's no question that had it been Patrick Dangerfield or Joel Selwood, he almost certainly would have. But even so, on all available evidence he probably would have missed the set shot anyway, so it's all academic really.
But for all those alleged Hawks fans slagging off Isaac Smith on social media, just cast your minds back to the final quarter of the 2013 Grand Final and recall the goal he kicked from 60 metres out that pretty much sealed the premiership. Considering that, and even factoring in his two famous last kick misses, I'd still say he's well ahead on credits.
In any case, it was rural round (whatever that is) and as Geelong is the only team in the competition that could be said to be anywhere near a barnyard or to constitute a regional centre, unless you count Adelaide, then perhaps they deserved to win.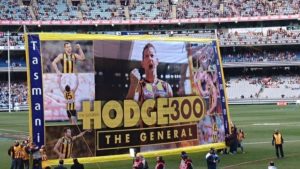 Besides, as we know, the day wasn't about who won or lost, how many free kicks Selwood received, or how many possessions Tom Mitchell gathered, or why, given that it was rural round, Geelong was playing in the centre of Melbourne. No, it was all about Hodgey's 300th game. At least we thought it was until Dangerfield suffered a career ending ankle injury that could have resulted in him never playing again, possibly never walking again, or even amputation, until, that is, he jogged down to full forward and kicked five goals to win the match for Geelong.
I'm not going to blame the umpires like some (17 free kicks to 7 in the first half! not to mention the several mystifying 50 metre penalties), however, I did greet the news that Razor Ray was umpiring with the same degree of horror as the average middle-aged Whovian received the news that the next Dr is going to be a woman. Nor am I going to blame Isaac Smith's miss, as others missed easier shots during the game. But I'm not ruling out the possibility of Russian interference. After all, do the names Kolodjashnij, Blicavs and Menegola all sound suspiciously foreign?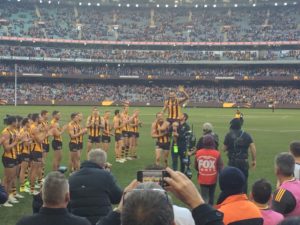 Tom Mitchell was our best player yet again – possibly aided by the fact that Dangerfield wasn't in the centre. In the past we've lost Buddy, Josh Kennedy and Ben McGlynn to Sydney, so Mitchell has some way to go to even the ledger, but he could hardly be doing any more. I don't know how they award votes in the Peter Crimmins medal, but whatever method they use, I suspect Tom Mitchell will set a new record for the winning margin. We might need Alan Turing to keep tally of his votes. If he doesn't win, I think we can categorically assume the involvement of hostile foreign entities.
Hodgey provided the highlight of the match. Quite aside from the majestic occasion of his 300th game, the goal he kicked with his right foot from 50 metres with just 20 seconds to go, cutting the margin to four points, gave the game its drama. And the Hawks a chance.
Chan-Tha, Declan and I only went to the match because of Hodgey. I'm sick of watching Geelong beat us so I was going to sit this one out, but Hodgey's 300th was too big an occasion to miss. Even though I knew that being against Geelong, the occasion would be more millstone than milestone. In truth it wasn't his greatest game, but such were his media commitments this week that I doubt he had much time for training.
Naturally we got sucked into buying the Hodge merch. My favourite is the commemorative badge in which Luke Hodge's head is nearly actual size. And just in case there was any doubt, you can tell it's a commemorative badge because it says so in font the same size as it says 'Luke Hodge.' Having a a commemorative badge that says 'Commemorative Badge' is a bit like having a neck tattoo that reads, 'Fucking stupid neck tattoo.'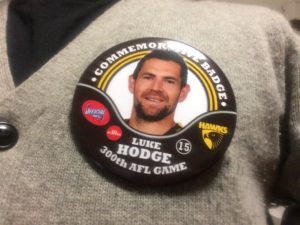 All up a disappointing loss, but the team is beginning to mix it with the best. In the past month we've played the top three teams for a win, a draw and a narrow loss, and in the latter two we've had the ball going goalwards on the siren.  Not bad.
I think we're now in the reasonably unique situation where it is mathematically possible for us to both make the eight, and therefore win the flag, and also finish on the bottom and therefore win the wooden spoon.
I doubt very much that we'll make the finals this season, but after making finals in nine of the past ten years, this might be our only chance for some time to take a break in September, because I suspect we'll be back there next season.
Final scores: Geelong 13 10 88 d Hawthorn 12 13 85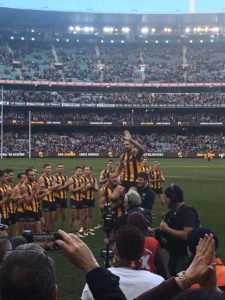 Photos by Linda Williamson, Susan Duffy, Declan Taylor & Chan-Tha Birch
Round 16
Hawthorn v Greater Western Sydney
University of Tasmania Stadium, Launceston
Saturday 8 July 2017
HAWKS IN HOT PINK AND HOT FORM
Invincible three-peat premiers at the end of 2015. Bottom of the ladder and getting routinely thrashed by early 2017.
Brown and gold stripes one week. Brown and hot pink stripes the next.
Twenty one points up against top team the Giants three minutes into the final quarter  – we shouldn't lose from there.
Thirteen points down with two minutes to go – we can't win from here.
The Family Club one week. New recruit Ty Vickery embroiled in an extortion plot the next.
These are the wildly fluctuating perspectives Hawks fans have been grappling with of late.
No wonder some of us were jumping up and down and squealing at The Linc Hotel in Essendon as Ryan Burton punched the ball goal-wards on the final siren during this Round 16 match in Launceston.
I say 'on the siren,' but of course I didn't hear it, which brings to mind the age-old philosophical conundrum: 'If a tree falls in a forest and there's no one there to hear it, did it really make a sound?'
The answer to that question, from a purely scientific perspective is 'no', because sound is vibration transmitted to our senses via the mechanism of the ear and recognised as sound only at our nerve centres. The falling tree will only produce vibration in the air, so if there are no ears to hear, there is no sound. Make sense?
It seems even simpler in this instance. There were plenty of ears to hear the siren, but none of them did, so therefore the siren never went, Burton's behind stands and the Hawks win! To declare otherwise is to deny philosophy, science and the moral code by which we all live!
If they can re-score the boxing fight between Jeff Horn and Manny Pacquiao, then surely they should review the final seconds of this match.
What's that you say? Tom Mitchell said he heard the siren. And that it went before Burton punched the ball? Oh well, we'll take the draw then.
Hope is the Thing With Feathers
Emily Dickinson once wrote that, 'Hope is the thing with feathers' – and Hawks have feathers so we can only assume she was referring to Hawthorn. And after a tough season, hope is the thing that Hawks fans are gradually regaining.
After a dispiriting loss to Gold Coast in June, we faced the prospect in the weeks immediately after the bye of playing the top three teams plus Collingwood, who had already beaten us. Things weren't looking all that positive, but three weeks into that stretch of matches and we've notched two wins and a draw. Plus we're still unbeaten in pink. Things no longer look quite so hopeless.
I doubt that we'll beat Geelong next week, notwithstanding that it is Luke Hodge's 300th game (that might actually just spur on Geelong), and then we have Fremantle in Perth followed by Sydney, but at least I'll go to each of these matches with the hope that it is possible for us to win.
The best part is that this newfound hope has come, not from the expected sources of Roughead, Smith, Gunston and co, but from Tom Mitchell, Ryan Burton, Blake Hardwick, Daniel Howe, Kaiden Brand, Kurt Heatherly, Tim O'Brien, James Sicily and Will Langford, who is stringing together some vintage 2014 performances, including another crazy, bouncing goal to level the scores against the Giants.
Plus if Ty Vickery can become as threatening on the field as he allegedly is off the field, then who knows how far the Hawks can go.
Hawks Win TV Ratings War
We did have one major win on the weekend. I was watching the match with my old footy buddy Phillip and his family at the Linc in Essendon. We had a table in front of the big screen and next to us was another table of Hawks fans.
The pub's manager, however, was wandering around with remote controls threatening to switch over to the Essendon Collingwood match. Naturally we objected, highlighting that there was already a considerable throng of Hawks fans there, plus if Essendon fans really wanted to watch their game, they could just get on a tram out the front and go to the MCG to watch it.
Happily the Hawks kicked a couple of quick goals and we got enough noise going to give the impression that any attempt to change channels could result in a violent and destructive uprising.
It was fun watching the game with Phillip again – he moved to Cairns some years back and I don't think we've watched a game together since the 90s. So we got to reminisce about the good old days, as well as the good recent days.
There is a Light That Never Goes Out – Luke Hodge Retires
As if we Hawks fans weren't already thrown into emotional turmoil by the draw, Luke Hodge announced on the Monday following the match that he was retiring at the end of the season. Even though we suspected this was coming, now that it's real most Hawks fans are in a sort of shock, or state of near nervous collapse.
A man-crush doesn't even come close to describing how I feel about Luke Hodge, so there is no way I can process this information just yet.
The name Luke means 'light' (as in 'Light and Easy' perhaps?), and it's fair to say that he casts a large shadow over Hawthorn. Win, lose or draw, I can't wait to cheer him off after his 300th game next week
And as Morrissey sang in 1986, (that's Morrissey the lead singer of the Smiths, not James 'The Freak' Morrissey who played for Hawthorn in that era), 'There is a light that never goes out.' We'll always have Hodgey.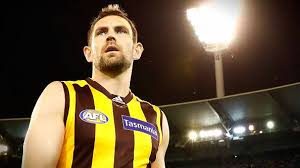 Final scores: Hawthorn 14 13 97 drew with GWS 15 7 97
Round 15
Hawthorn v Collingwood
MCG
Sunday 2 July 2017
WE HEART HAWTHORN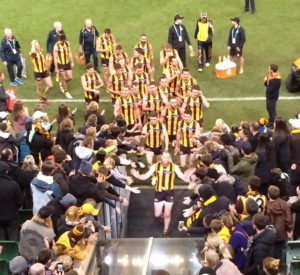 Hawthorn has defeated some good teams this season: West Coast, Melbourne, Sydney and Adelaide – the latter two away from home. However, thrashings by Geelong and St Kilda, and two losses to the Gold Coast border on embarrassing. But not nearly as embarrassing as two losses to Collingwood would be – particularly after we blew a 43 point lead in the first encounter.
So, it was imperative that we defeat them this time. To paraphrase Oscar Wilde; to lose to Collingwood once is unfortunate, to lose to them twice looks like carelessness.
Happily, our brown and gold boys did the honourable thing this time and won, sparing us all considerable humiliation and ending the weekend on a bright note.
Bucks Fizzer
Defeating Collingwood is always good. It doesn't matter where your team is relative to Collingwood on the ladder; whether it's a pre-season match or a final, or just nicking in front of a Collingwood fan to nab the last bucket of chips – any victory over Collingwood equates to Good triumphing over Evil. It gives one a warm glow of contentment and in some cases, a little tingle of erotic excitement.
The only disappointing aspect of this victory, like any victory over Collingwood these days, is that it was inevitably mediated through the prism of Nathan Buckley's coaching tenure. Talk about tedious. No one mentioned Schoenmakers' two first quarter goals, McEvoy's strong marking and straight shooting, Duryea's snap for goal, Sicily's 60 metre missile that went flat, fast and straight through the middle, or even Langford's new haircut.
And that was just the first quarter. No, instead, everyone just focused on Buckley's employment prospects for next season. It's such a non-topic and tedious as it might be for us, imagine how tedious it is for Buckley. When asked about it at a press conference, as he invariably is, he should return fire by quizzing the journalist on how long he thinks he'll keep his job working for an outmoded and unprofitable newspaper in the era of online news.
Personally, I like Buckley. Aside from anything else, since he took over as coach in 2012, he has systematically dismantled Collingwood's great 2010 premiership team and taken them from the Grand Final in 2011 to ever lower depths of the ladder. Without a single finals appearance in four years. Even had I been appointed coach and tried to achieve the same result, I'm not sure I would have achieved it quite so thoroughly. So, what's not to love about Bucks? Long may he reign.
But I see I'm falling into the same trap as everyone else. I don't care one way or the other whether Buckley coaches Collingwood next season – although really, who else are they going to get? I think we need to focus on the things that really matter, the things that can make us feel good, such as Henderson's goal in the second, Burgoyne's dinky finish and Taylor Duryea getting a taste for life forward with his second.
Smells Like Team Spirit
I was in the MCC with Oscar, Chan-Tha, Baker and Charlie. We'd begun the match in the Percy Beames bar, but moved out to our seats in the balcony in front of the Long Room in time for Hawthorn's first goal. I'm sure we only had one drink, but perhaps we'd had several, because from where I was sitting, I could swear it looked like Taylor Duryea was playing full forward.
Collingwood had fought back in the second term, but as our friend Baker highlighted when the goalkickers were shown on the scoreboard, it was an unlikely looking list for the Hawks: Schoenmakers 2, Duryea 2, Shiels 1, Henderson 1, McEvoy 1, Burgoyne 1, Sicily 1. It was a bit like seeing a batting scorecard when the tailenders have made all the runs. Or a setlist by Nirvana without anything off Nevermind.
Waleed and the Member for Wentworth
One of the benefits of Hawthorn performing poorly this season is that I haven't been watching the innumerable footy chat shows on TV. It has freed up my time no end and I feel much more liberated, but no less informed. They call it analysis, but it's just middle-aged blokes banging on, raking over the same tiresome issues. People like Robbo and Damo really do put the anal in analysis, and don't get me started on Darce or The Duck (Bruce is different; I want him to commentate my funeral).
But it was hard to avoid the waffle this week with arguments raging over punching, diving, and the value of Bachar Houli's character references at the tribunal.
I haven't seen the incident and I don't really care whether Bachar got two weeks or ten, but I share the outrage that the penalty was informed by character evidence from Waleed Aly and Malcolm Turnnbull.
Waleed is a known Richmond fan, so that was like having Joffa give evidence for Collingwood's convicted drug cheat, Josh Thomas, who returned for this match against Hawthorn, ("we only had three bucket bongs, Your Honour"). Aside from that, can we have just one forum where Waleed isn't giving us the benefit of his many insights. Eddie Maguire was once known as Eddie Everywhere, but even he didn't spread himself around as promiscuously as Waleed Aly. He's more ubiquitous than Stephen Fry on the ABC. He's on The Project every night, Offsiders every other week, ABC Grandstand, Agony Uncles, writes a column in The Age, The Saturday Paper, other learned journals, and now he's telling the AFL tribunal what they can and can't do. He'll be a coach on The Voice next.
As for Prime Minister Turnbull, his ignorance about Australian Rules football is only surpassed by his inability to maintain unity in the Liberal Party. Of course, it's quite possible they were going to let Houli off with a fine until Malcolm chipped in.
Then just when we thought this chatter had all died down, Melbourne's Tomas Bugg thumped Sydney's Callum Mills and the whole debate started up again. Chris Judd even piped up and said that it's time to introduce red cards in football. I think he's right, if only to stop the vicious eye gouging incidents and pressure point pinching that a certain someone was famous for during his playing days.
Mr Damage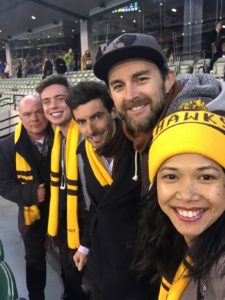 Anyway, while everyone else in the footy world was banging on about Bugg, over at the MCG Roughy O'Brien and Breust kicked third quarter goals for the Hawks. Sure, we went in to the final break two points behind, but neither team was particularly assured or slick. Both sides looked quite capable of blowing this one, and that gave us at least some chance.
When last we met Collingwood, Buckley questioned the value of Tom Mitchell's 50 possessions and said that he hadn't been a particularly damaging player. The football world agreed; it was the worst 50 possession game anyone one could remember seeing.
So how glorious and even predictable was it that with the game in the balance in the final quarter, it was Tom Mitchell who steered through two set shot goals from 50 metres, just to add to his usual 30+ possessions. Further goals to Gunston and the sealer to Roughy, plus a trademark rolling leg break from Breust made me teary and nostalgic for the days when we routinely kicked 18 goals in a match and rolled over the top of opponents. If nothing else, jumping up to cheer these final quarter goals helped us keep warm in the Sunday evening chill.
The gods were with us for this round of football: Tom Hawkins missed a set shot on the siren that would have given Geelong victory, Essendon blew a 5 goal lead to lose to the bottom placed Lions,  we defeated Collingwood and Hardwick was nominated for the Rising Star. Satisfying outcomes that left me with no mental energy to ponder questions such as whether Buckley will coach Collingwood next season, why Taylor Duryea was playing up forward or how Mike Brady could possibly be named Victorian of the Year.
Final Scores: Hawthorn 18 10 118 d Collingwood 14 10 94
Round 14
Adelaide v Hawthorn
Adelaide Oval
Thursday 22 June 2017
IT WAS THE WORST OF TIMES, IT WAS THE BEST OF TIMES
These are strange and troubled times. Just in the past week or so a fire in a high-rise apartment block in London incinerated 80 residents, an Islamist exploded a bomb at Brussels airport, a right-wing nutter drove his car into a group of Muslim worshippers in Finsbury Park, someone drove a vehicle filled with gas cylinders into a police car on the Champs-Elysees, bollards were erected in Melbourne streets to prevent similar car attacks, another Islamist stormed Bishop International airport in Michigan and stabbed a police officer, an American student released from prison in North Korea died mysteriously upon his return home, Johnny Depp made veiled threats about assassinating President Trump, Pauline Hanson called for autistic children to be segregated from other students, Bill Cosby announced plans to embark on a speaking tour about sexual abuse (!), Sam Newman insulted trans-gender people (surprising it took this long really), Chris Scott called for an end to staging for free kicks (has anyone told the Selwoods?) and the Queen incorporated coded political messages in her headwear!
What was going on? This is enough for most people to seek refuge beneath their doona or in their closest distillery. Yet amid all these tales of terror, disaster, negativity, hate speech and millinery, signs of renewed hope for humanity have emerged, small green shoots of promise have broken earth, or are they brown and gold shoots? For on Thursday night the 17th placed Hawks played a game for the ages and toppled ladder leaders Adelaide – in Adelaide!  There's something to crow about.
If this wasn't already cause for celebration, Essendon blew a 19-point lead with just three minutes left on the clock and lost to Sydney with a kick after the siren. To be honest I'm not sure which I enjoyed more.
Divine Intervention
It's fair to say that hopes for a Hawthorn victory were not high heading into this match, despite the inclusions of Hodge, Birchall and Breust. Even if Brereton Dunstall, Knights and Matthews had been named I still wouldn't have liked our chances much.
It all began well enough, however, with Burgoyne and Roughead kicking the first two goals. By quarter time we were matching the Crows around the ground and the scores were level.
All good, but we've been in this position before this season, so there was no thought that anything miraculous was afoot. I didn't see any need to reorganise my normal weeknight schedule. I still picked up the boys from footy training, organised a late dinner and went about other domestic chores as the match was underway.
The second quarter was also progressing well enough until the Crows piled on a few goals just before half time and went into the long break with an 18-point lead. I wasn't particularly surprised and got on with stacking the dishwasher.
The Hawks were playing quite well, but to be honest, the best I was hoping for at this stage was for us to remain competitive and to keep the damage to five or six goals. Eddie Betts hadn't done much, so we knew he had a miracle goal or two to come; Taylor Walker, who had kicked a beautiful long goal at the end of the second quarter, was threatening to make the game his own and the Crouch brothers and Greenwood were looking dangerous.
Really, I just couldn't see how we could peg back a three-goal deficit without something like divine intervention. But then Adelaide is the city of churches, so you never know.
Outplay, Outwit, Outscore
After a season defined by third quarter lapses, I was impressed that we outplayed Adelaide in the early parts of the quarter. It was disappointing that we missed three successive set shots (Gunston, Langford and Roughead), and that we weren't capitalising on our dominance, but nonetheless, we weren't getting bossed. At some point in this quarter I stopped folding laundered clothes and focused on the game.
We were playing a handsome brand of football and everyone was contributing; not just Hodge, Mitchell, Burgoyne and Birchall, who always do, but Langford, Henderson, Hardwick and Burton were also playing exceptionally well. Even the whipping boy Billy Hartung was running hard, getting involved and creating options.
Then it happened – Ryan Burton twice found himself running through 50 with the ball and kicking long goals. We were in front! It was only fleeting once the Crows answered, but we still went into the final break just five points behind. I still expected the Crows would get going and overrun us, but we were in the game and I was enjoying watching the team play with such endeavour.
By this stage not only had I stopped fussing about the house, but I'd shut down any attempts at spousal conversation or canine interaction and was ensconced in the armchair with a beer and barracking hard.
I had thought about live blogging this match, and it's probably lucky I didn't because the final quarter would have just been a series of inarticulate high-pitched yelps, incoherent shrieks of of 'kick it!,' 'quick, get rid of it,' 'BAAALLL!,' and 'stop him' followed by a calm, reassuring low pitched 'Hodggeeey!' as the great man performed some routinely heroic and useful act.
Apocalypse Later
It was a stirring final term. Henderson and Mitchell kicked goals and Langford was cruelly denied one by the absurdity of the goal review system (I'm still baffled as to how technology introduced to prevent incorrect decisions somehow exacerbates them).
However, in a brilliant passage of play not long afterwards, Langers found the Poo just 30 metres out with a superb running kick. It was looking good. We were playing as well as we'd played all season and we continued to attack; every player was focused and fired up and I still had a couple of cold Mountain Goat Pale Ales in the fridge.
Suddenly we were 7 points up half way through the quarter. In my mind, I was transitioning from 'I still don't think we'll win' to 'hang on, we might just do this,' to 'lube me up and pass the champagne.'
With eight minutes remaining, Bruce McAvaney declared that he couldn't see Adelaide winning. I wasn't quite there yet. Even though I had my shirt off and was waving my Hawks scarf around my head, I still feared he might have called it too early. However, when Henderson marked and received a 50-metre penalty to put him in the goal square, I conceded Bruce's point and raised my Roughy 500 goals stubby holder to the TV. I don't know why I ever doubted him. We were playing too well to lose.
And it was high fives all round when Burgoyne won a free kick for a typically tough tackle and slotted the sealer from nearly 50 metres. Cue another famous Hawthorn victory.
The world wasn't in any better shape at the end of the match than it had been at the beginning, and who knew what horrors had occurred while the match was underway, but a Hawks victory at least kept any pesky apocalyptic thoughts at bay for at least another week.
Final scores: Hawthorn 14 12 96 d Adelaide 12 10 82
Round 12
Hawthorn v Gold Coast Suns
Saturday 10 June
MCG
It's My Party and I'll Cry if I Want to.
I'm not disappointed that Hawthorn lost on my birthday; I'm just disappointed they lost. But after learning that Hodge and Breust were late withdrawals, joining Rioli, Birchall, Frawley, Stratton, O'Rourke and Ceglar on the sidelines (O'Meara hasn't played enough to be missed yet), I didn't hold out much hope of victory. After last week, I held only faint hopes that we'd outscore Argentina who had defeated Brazil 1-0 at the same venue the previous night.
Even so, it wasn't all bad. The sun was out. There were more people at the ground than I thought would be there, but it wasn't overcrowded – I could get my Super Dog without any undue queuing. I thought the best chance of there being a crowd for this match was if some of the 96,000 who had been at Argentina v Brazil the night before had stayed over. But all things considered, more than 27,000 people turning up to watch a below par Hawks side play Gold Coast in the middle of a long weekend is pretty good, especially when you consider that it was opening weekend of ski season, Van Gogh was showing at the NGV, there was a matinee of The Book of Mormon at Her Majesty's and the Wallabies were playing Fiji across the road (okay, I'm not sure that one counts, even if Fiji does have more fans than the Gold Coast Suns, it's still rugby). Plus there were sock drawers to be rearranged, Autumn leaves to rake, UK election results to pore over. So it was amazing that there was anyone there at all.
As for the game, well, the Hawks played okay in the first quarter and were pretty good in the final quarter. Even if we didn't quite suffer the massive two-quarter lapse to which we've grown accustomed, we were still comprehensively outplayed across the second and third terms.
So it wasn't a happy birthday as such, but it wasn't as miserable as it might have been, especially when you consider that we lost by 86 points when last we played the Suns – and that was only eight weeks ago. This relatively mild 16 point loss represented a 70 point turnaround!
Sorry Seems to be the Easiest Word
The public apology is now a staple of the media cycle. Whether you're a comedian apologising for a skit in which you hold the severed head of the president, a TV journalist (of sorts) who launches a cancer beanie fund on the same weekend as a former footy champ is holding an MSD beanie fund, a former swimming champion who who has been on a drug bender, a politician who has been caught in a compromising situation in a public toilet, a cardinal who has been found to be complicit in covering up sexual misconduct in the clergy, or pretty much anyone from The Footy Show who has bullied and humiliated women, gay people, members of the Indigenous community, or anyone else from a minority group, we've become accustomed to the reading of prepared statements and the 'If I've offended anyone' cop outs.
So I was still a little shocked that Clarko felt the need to participate in this type of charade and apologise to the umpires after his post-match comments on the weekend. All he said was that the umpiring was 'disgraceful.' It was. And it could have been far worse, imagine if he'd said what he really thought, or if the journalist had asked any of the 25,000 Hawks fans at the ground what they thought of the umpiring. Imagine the flow of uncensored invective. The Seven network would have lost its licence for breaching broadcasting standards.
Don't get me wrong. I don't think the umpiring cost us the game, you only need to look at the discrepancy in scoring shots to understand who was playing the better football. However, the decision to award a Suns player a 50 metre penalty after he had missed a set shot at a crucial stage of the final quarter as the Hawks closed in was certainly a pivotal moment.
And it wasn't necessarily the worst of it. By that stage we were almost expecting a moment of absurd umpiring interference. After all, Razor Ray, who was one of the umpires, had once stopped a game as Luke Breust was running into goal because he 'thought' he heard the siren, (he'd actually heard just one of the many inner voices that clamour in Ray's mind telling him that he is the Umpire Overlord, and that people flock to the football to marvel at his subtly nuanced interpretations of the game's laws and the technical infringements only he can detect, not Gary Ablett Jnr or Cyril Rioli's sublime skills). We were wondering what he might have up his sleeve should the Hawks draw too close to the Suns. In the end it was another umpire who paid the absurd 50 metre penalty – an umpire trying to prove himself worthy of sharing the field with Razor Ray perhaps.
Talking of Ablett, the glowing tributes for his 37 touch, two goal game fail to mention that both goals came from dubious free kicks awarded in front of goal. Imagine the orgy of free kicks that will be paid to him and Selwood next season when he goes to Geelong. Although quite why the Cats would want to take back someone who walked out on them for money is another thing.
And not to go on, but clearly I've misunderstood the incorrect disposal rule, because it was applied only intermittently and rarely when it should have been. My point being, Clarko had nothing to apologise for, except perhaps for the decision to offload Mitchell and Lewis.
The chief reason we lost the game is the way we move the ball. Judging by the comments I overheard from frustrated fans around me – not me of course, I was a model of Zen-like calm – Billy Hartung is not everyone's favourite. Ostensibly he is in the team for his speed, yet somehow he manages to slow down the game whenever he gets the ball, either by simply stopping while he ponders what to do with it, or by turning back on himself and running into trouble.
I have no wish to join the chorus of Billy bashing, because in his defence, there were several moments during Saturday's game when he, or someone else would burst free with the ball, look up and see nothing but empty paddock in front of them, necessitating a sideways pass or a hopeful bomb forward that was invariably marked by Steven May. It was as if our players had heard Hawthorn were looking to recruit him for next season and thought they would test his marking ability.
Now I don't pretend to be an expert, unless you're talking about the the first four Echo & the Bunnymen or making pom poms. It's my belief, however, that if you have marking forwards of the calibre of Roughead, Gunston, O'Brien and Sicily, and crumbers like the Poo, then perhaps it would be a good idea to station one or two of them somewhere on our forward line, just on the off chance the umpires overlook a free kick opportunity to Ablett and we win the ball in the midfield.
In the final quarter we kicked five goals, largely because Gunston was hanging about near the goals we were attacking.
It's well known that Hawthorn adopted a game plan based on soccer's possession game, but we seem to have taken the analogy too far and we are now playing as if there is an offside rule.
So we go to the bye sitting 17th on the ladder with a 4-8 win-loss record. Not ideal perhaps, but perhaps we'll be the first team to win the flag from outside the eight. We should just be thankful that at the end of 2016 the Hawks adopted a recruitment strategy based on not bottoming out – imagine the predicament we'd be in otherwise.
Final scores: Gold Coast 13 17 95 d Hawthorn 12 7 79
Round 11
Port Adelaide v Hawthorn
Adelaide Oval
Thursday 1 June 2017
LET US PRAY
Football is often likened to a religion; both inspire fanatical devotion from adherents, involve strange customs, dressing up in weird costumes and singing songs of praise. And then there's the sex scandals, but that's another story.  Like any religious acolyte, a football fan will have their faith tested from time to time. So it is with Hawks fans this season.
The good news is that in the past couple of weeks Hawthorn seem to have overcome their third quarter, second half problem of conceding multiple goals and not being able to score any themselves.
It was very encouraging that we outscored Port Adelaide in the second half of Thursday night's clash. On the other hand, given that we were already 10 goals behind and hadn't scored even one goal in the first half – no, not a single goal in half a game of football – this was small comfort indeed.
In fact, I doubt that many Hawthorn supporters were even watching by this point. I certainly wasn't, but thankfully I didn't see the first half either.
I was at the Melbourne Recital Centre watching a concert by American singer-songwriter Sun Kil Moon. This is the second consecutive week that a Hawthorn game has coincided with a concert. On this occasion, however, it was something to be thankful for.
If you're not au fait with the work of Sun Kil Moon, it is the stage moniker of Mark Kozelek, who is quite a singular voice in the world of what might loosely be called indie music. His songs are rambling affairs that run for anywhere up to 12 minutes long and generally recount his day to day routine, getting breakfast, talking to his mum on the phone, running into an old friend, that sort of thing. He sets these tales of personal minutiae against the various miseries that rain down upon humanity and the atrocities that engulf the world. The personal is the political – you know the sort of thing. The accompanying music is sparse, often just guitar, but for this show he had a band consisting of bass, drums and piano that created a minimalist soundscape over which Kozelek intoned his dire songs of ill-portent.
If I had to pin a label on him, I'd say he is a minimalist miserablist. He makes Leonard Cohen sound like a vaudeville act – a glass half empty kind of guy, only someone has also spat in the glass. I think I can say with absolute certainty that there is zero chance he'll ever be invited to sing at the Grand Final.
It won't surprise you to learn that Kozelek enforces a prohibition on mobile phones at his shows. This meant that I couldn't sit there consulting the AFL app for score updates during the show. The game commenced before he came on and we were already a few goals down by the time he walked on stage.
Bad signs early, but that didn't prepare me for the next time I checked the scores. After listening to Sun Kil Moon sing an especially depressing song about his mother's death (she's not actually dead, but that's the sort of guy he is, if there's nothing currently upsetting in his life, he'll project forward to some future sadness), I peeked at the scores only to find it was 62 to 3! At half-time. How do you go an entire half of football without scoring a single goal? Plus, our customary third quarter lapse was still ahead of us! When Kozelek then started a song about the mass shooting in Orlando I was already well and truly in the zone.
There was some relief when I checked the scores again and saw that we'd kicked a couple of goals. At least it wasn't going to be completely humiliating. But even so, the reality is that we only won the second half because Port kicked inaccurately, got bored or both.
Not that I've seen the match. But I can tell. Only a sense of morbid curiosity could impel me to watch the game, and for now at least, Sun Kil Moon has used up my quota of morbidity.
If football is a religion, I hope any Hawks fans who travelled to Adelaide availed themselves of the opportunity while they were in the city of churches, to pray hard for Hawthorn.
Final scores: Port Adelaide 13 20 98 d Hawthorn 7 5 47
Round 10
Sydney Swans v Hawthorn
Sydney Cricket Ground
Friday 26 May 2017
ROUGH JUSTICE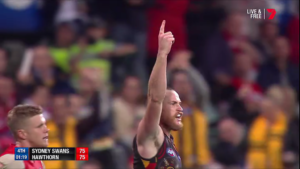 While most Hawks fans on Friday night were sitting on the edge of their seats in front of the TV, pacing the room unable to watch, clutching their drink nervously while taking in the game at a bar, or even screaming support at the SCG, I was at (the now controversially named) Margaret Court Arena listening to Ryan Adams tease out wild satanic rock on his guitar.
Ryan Adams' most famous album is called Heartbreaker and as I watched Hawthorn's lead steadily evaporate via the AFL app, I was thinking that at least I had a theme for this blog entry.
Fair to say, however, that as Ryan picked out the laid-back licks of Let it Ride, my attention was fixed on my phone where my friend Chan-Tha was keeping me updated with text messages about what was transpiring at the SCG – her texting thumb being much faster than the AFL app updates.
As Roughy banged through the winning goal I punched the air in victory, a gesture that worked equally well as both a rock 'n roll salute and a gesticulation of Hawthorn triumph. Ryan may have been singing Let it Ride, but I was singing 'riding the bumps with a grin.'
Deja-vu
As soon as I got home I found my recording of the game and skipped forward to the final few minutes. There it was – a ball in on the wing, Lewis goes third man up and taps it over his head where Sammy volleys it forward to Gunston who drops the mark, but recovers and handballs to Izzy who kicks forward to where Cyril marks 50 metres out. Cyril kicks…it's through, we've won!
Hold on, that can't be right, you can't go third man up anymore. Also, what were Lewis and Sammy doing out there, and isn't Cyril injured? 
My bad: I had the wrong game – that was last year's last-minute win at the SCG.
Okay, here we go, SCG, ball up in the middle, tap down to Sewelly who bursts through the middle and rams it home! Yeeeessss!
Hold on, Sewelly retired three years ago. Besides, I remember that game, I was there. That was 2012. Wrong game again. Playing Sydney at the SCG is like experiencing deja-vu, or even LSD flashbacks, but of the best possible kind.
Right, surely this is it. Scores are level, 2.18 minutes left on the clock, Hardwick marks in the back pocket and passes to Luke Hodge. Hodge finds Sicily, who comes inboard to Duryea. There's 2.06 on the clock and the ball is still at half back. Duryea's pass finds McEvoy who handballs to Tom Mitchell on the wing. Mitchell finds a leading Ty Vickery just forward of the centre. Ty marks, turns, spots big Rough on the half forward flank and kicks a pin-point 40 metre pass. The big Rough takes the mark with 1.51 left on the clock. Eight possessions in less than 30 seconds to get this far. Big Rough goes back and calmly slots it from 50! Six points up with 1.18 left on the clock. We hold on to win.
It's past midnight by now, I have to be up at 7.30am in the morning to take my son to his footy match, but I make the only decision I possibly can – I go back to watch the match from the beginning.
Indigenous round
The match was part of the AFL's Sir Doug Nicholls Indigenous Round which coincides with National Reconciliation Week (NRW). NRW runs from Saturday 27 May to Saturday 3 June.
The dates that bookend NRW mark two very important milestones in Australia's path to reconciliation – the 50th anniversary of the 1967 Referendum and the 25th anniversary of the Mabo High Court decision.
On 27 May 1967, more than 90 per cent of Australians voted 'yes' in a referendum to grant the Commonwealth the power to make laws for Aboriginal and Torres Strait Islander peoples and to include them in the national census.
On 3 June 1992, the High Court of Australia determined that terra nullius should not have been applied in Australia and recognised that Aboriginal and Torres Strait Islander peoples have rights to the lands they occupied before British colonisation, and that these rights still exist today. This is known as the Mabo decision, named after land rights campaigner Eddie Mabo, and led to the Australian Parliament passing the Native Title Act in 1993. And it is good legislation; there is part of the SCG, about 50 metres out from goal at the Randwick end, that I consider to be forever Cyril's.
More broadly, these are also significant dates at Hawthorn – 1967 was the year Peter Hudson made his debut for the club, while in 1992 Hawthorn were reigning premiers and Shane Crawford arrived at the club, even though he didn't make his debut until the following year.
The match carried other important milestones; Luke Breust's 150th game and Brendon Whitecross' 100th game. 
With Cyril out injured, Shaun Burgoyne was Hawthorn's focus for Indigenous Round. He wore no. 67 on his back and was our best player on the night, kicking 2 goals, including a vital 50 metre goal in the final quarter to bring us within one point of the Swans. 
Significantly, Breust and Whitecross also kicked 5 goals between them. The milestones worked, so hopefully we have a few more coming up. Next week is James Cousins' second match, surely that should be enough to get us over the line.  
It has to be acknowledged that Buddy Franklin, who kicked 5 goals himself, was clearly the most dominant player on the ground. Even while I was at the Ryan Adams concert I knew he was playing well, because the first text I received from Chan-Tha read "Fucking Buddy."  Still, it was one of his great games and a real pleasure to watch – particularly from my perspective of already knowing the result. Even so, I thought Josh Gibson, ostensibly Buddy's opponent, played pretty well all night and stopped as many goals as Buddy kicked.
In the end Buddy may have kicked 5, but big Rough kicked the one that mattered most!
Final scores: Hawthorn 12 9 81 d Sydney 11 9 75. 
Round 9
Collingwood v Hawthorn
MCG
Saturday 20 May 2017
Hawthorn Horrorshow
I'm not an aficionado of the horror genre in film and literature, but I know enough to recognise an archetype when I see one. And I saw one on Saturday night when Hawthorn played Collingwood.
In your typical horror narrative, there is a story involving people, usually young and innocent,  who are placed in a particular situation, perhaps moving into a new house, or embarking on a new adventure, say a holiday to a remote location.
At first everything is going along swimmingly, even better than expected, but then one or two signs of discomfort or disquiet emerge. The characters will be unsure whether to quite believe these signs and won't necessarily detect any connection between separate unsettling events. Then suddenly the world is turned upside down and a legion of ghouls or otherworldly entities will rush in and engulf them. And if there's a dog involved, it will almost certainly die.
Such was the case on Saturday night when Hawthorn began in remarkable form, kicking six first quarter goals, even getting out to a 43 point lead early in the second quarter. Then the horror began – a few Collingwood goals hinted at trouble, but we still went in at half time with a six goal lead. Even allowing for our customary third quarter lapse, the Hawks were playing well enough to hang on and clinch our fourth win in five weeks. 
Of course the moment you have such a thought, you invite in the ghouls, undead and other dastardly entities of disharmony and destruction. 
Hawthorn managed just one behind in the third quarter and by the final break the scores were level. Based on current form, there was very little reason to be optimistic.  
Even so, we were trailing by just two goals late in the game when Tyson Goldsack was delivering the ball back to Luke Breust* to take a kick. His kick flew 10 metres over Breust's head and 25 metres beyond him – the very time wasting scenario the 50 metre penalty rule was brought in to address. The penalty would have brought Breust to the goal square and a certain goal. Amazingly, the umpire didn't pay it. 
*It might have been Gunston or someone else even – I refuse to rewatch the match to check.
Three days later I'm still seething at this non-decision. Not that it would necessarily have made any difference, especially considering the trend of the second half, but as we proved last time we played Collingwood, one goal down with 30 seconds left on the clock is still a very winnable position. 
That said, the second half of this match ranks as one of the worst halves of football I've had the displeasure to sit through. Nine goals to just one in an entire half of football! The only match that could rival this is from 2009, when as the reigning premiers, we went in to the half-time break against the Western Bulldogs trailing by 14 goals – without us scoring even one goal.
This match was possibly worse because it was against Collingwood.
Seriously, what do Hawthorn do during the half-time break? My third quarter tracker now has us at 23 goals for and 51 goals against. Something is desperately wrong with our fitness levels. Either that or we need to change suppliers for our half-time oranges. My friend Julian, who as a Collingwood fan got to cheer on his team in their comeback, suggested Hawthorn should perhaps have the players run through another banner for the third quarter so that they think it is the start of the match again. We're at the point now when we should give anything a go, however bizarre or unlikely to succeed.   
The only bright spot for Hawthorn was Tom Mitchell's 50 disposals. In the days since the match a bizarre debate has arisen over the value of Tom Mitchell's game – as if he somehow doesn't deserve to be one of only a few players to have had 50 disposals in a match. Well, he had them, whether he was BOG is kind of irrelevant. 
Some experts are suggesting he didn't play that well and his disposals were of little value. If that's the case I wish the rest of our team were playing as poorly as Mitchell, and I dread to think by how much we would have lost had he not had those possessions. The problem is not with Mitchell's disposal, but with the one by the next player in the chain.
The other bright spots of the night related to Collingwood supporters. I saw their most famous fan, Joffa (sorry Eddie, you come in second), walking around the perimeter of the ground before the match wearing white satin pants, a white top and a sparkling silver jacket. Capped in a hat with his long white hair spilling out beneath it, he looked like he was just about to perform at Eurovision. 
Then on my way home a group of young Collingwood supporters shouted a warning to me as I was about to step into a pool of vomit on Platform 4 at Flinders Street. That would have capped off my night perfectly. Thanks guys.
We live in topsy-turvy days indeed. In the week leading up to this match, Australia's most senior Catholic was forced to defend allegations of sexual abuse of minors, the Deputy Commissioner of the ATO was implicated in the country's biggest ever tax fraud, the President of the USA was accused of leaking secrets to Russia and obstructing the course of justice, allegations that have constitutional lawyers joining lefty TV hosts in calling for his impeachment, Chelsea Manning was released from military prison after 4 years, having entered it as Bradley Manning with a 35 year sentence, and Swedish authorities dropped rape charges against Julian Assange. 
Who knows what's true anymore? It was only the fact that Richmond lost in another last kick of the match scenario that confirmed I wasn't living in a weird parallel universe. 
While on the topic of a alternative worlds, the new series of Twin Peaks started this week, unveiling a typically demented and bizarre synopsis, but still one far more plausible than the plot Hawthorn ran with this week. 
But some plot conventions never change. During the week Josh Gibson uploaded a post to Instagram suggesting that his dog Zeus was being put down. See, I told you a dog would die. Vale Zeus.
Final scores: Collingwood 13 12 90 d Hawthorn 11 6 72
Round 8
Hawthorn v Brisbane
University of Tasmania Stadium
Saturday 13 May 2017
Back to Back
There was a time, in the not too distant past, when the phrase 'back to back' at Hawthorn denoted premierships. Nowadays it simply refers to consecutive wins. At the rate we're going, it might soon refer to goals.
After defeating Melbourne last week, hopes were high for two wins on the trot when we came up against one of only two teams below us on the ladder, Brisbane. Especially as the game was being played in Launceston, which has long been considered Hawthorn's impregnable fortress. At least it was until St Kilda demolished us there two weeks ago, after which it felt less like a fortress and more like a suburb of Mosul after an ISIS insurgency.
Geographically at least, Hawthorn v Brisbane in Launceston is a bit of a strange fixture. However, it's not the strangest this weekend. And I'm not necessarily referring to Port Adelaide playing Gold Coast in Shanghai, but Australia, and for that matter, Israel, competing in Kiev, Ukraine as part of the Eurovision song contest. By comparison, Hawthorn and Brisbane in Launceston seems almost logical.
We seem to play Brisbane in Launceston every year. I've even travelled to Tassie a few times for this fixture, including in 2009, which was the last time Brisbane defeated us. My chief memory of that day is how cold it was. It was only the groaning over Jonathan Brown's goals that kept me warm.
Hodgey Hoofs It
This year I went to my friends Chan-Tha and Alex's house in Richmond to take in the game. It was ¼ time by the time I arrived. I was late partly because I stopped off at Dan Murphy's for some last-minute Mother's Day shopping – with two teenage children and a virtual teen for a husband, only booze can alleviate the challenges of my wife's day to day domestic life.
The main reason I was late, however, was the customary crawl across the Bolte Bridge. I don't know who designed the artery of roads that lead off the bridge, but clearly no one had done any sort of traffic analysis when they allocated one lane for the tunnel, one for King's Way and two for Geelong. As if everyone from the north-western suburbs is on their way to Laverton. So while I sat in virtual stasis waiting to get into the stream leading to the tunnel, cars were whizzing by on my right on their way to the Westgate. Inching forward across the Bolte was as agonisingly slow as Hawthorn bringing the ball out of defence this season.
The Hawks were in front by a couple of goals when I sat down to watch the game. However, any comfort I might have taken from this quickly vanished when Luke Hodge hoofed a routine kick on the boundary line straight into the grandstand. This was followed moments later by the Lions booting two quick goals to close the margin to two points.
I was distracted at times by Chan-Tha and Alex's 18 month old daughter, Chloe, who wanted me to read books, and help her sweep the floor among other domestic chores, so I wasn't paying close attention to every kick. But it seemed that every time I looked up Brisbane's Eric Hipwood had the ball. He is so thin Alex likened him to Flat Stanley, a cartoon character from the 1960s who had been sqaushed flat in an accident and lived on in a wafer thin state. Hipwood looks like he'll be a good player, especially when he learns to kick straight. Happily, that skill largely deserted him for this match.
I was paying closer attention when Isaac Smith roved a pack from a stoppage to kick a goal on his right foot. This was good, but is not exactly a high percentage play for us. I was more confident of Isaiah Firebrace bringing home Eurovision than of Smith being able to do that again. While on the topic of Isaiah Firebrace, I do wonder, looking at his eyebrows, if he is any relation to Shaun Burgoyne?
Burgoyne comes to mind for football reasons too, because as usual, it was he who saved us from several emerging crises in defence. Burton was also playing well down back, however, Gibbo and Chip Frawley were less than convincing; both getting caught and dispossessed on a couple of occasions. It's not that Gibbo is slow necessarily, but he does seem to run headlong into tackles as heedlessly as a St Kilda player runs into a scandal.
This is where people criticising Hawthorn's decision to recruit Jaeger O'Meara aren't seeing the bigger picture. With Gibbo nearing the end if his career, if not this season, then possibly next, we need someone else to take Gibbo's place, not only in the back line, but also modelling singlets and training tops in the Hawks Nest catalogue. And who better than handsome young Jaeger? We may not get any game time out of him, but we're sure as hell going to work him hard on those photo shoots.
Not Pretty
As for the game, most of the commentary painted it as 'scrappy', 'frustrating,' or 'not pretty' – and that's just Clarko and the Hawks leadership group. I'd hate to think what Brisbane thought about it.
Still, Henderson kicked a few nice goals, the Poo dished off a couple of telling handballs, O'Brien took some good marks, Big Boy continued his good form and Tom Mitchell emerged from most packs with the ball. Overall, it was a reasonably even team performance.
Sure, it lacked the flawless virtuosity of our 2014 Grand Final performance, but we still kicked 17 goals. We won. So what's not to like?
Actually, now that I think about it, there was a fair bit not to like about the match. Isaac Smith getting reported. I haven't seen the incident, and I seriously doubt that he did anything worse than slap someone, or withhold a smile, but still, the MRP is unpredictable.
Ben Stratton getting injured – we are already missing Birchall, and with Gibbo and Frawley down on form, this could be bad news for the defence. Not only that, but who is going to lay down the beats pre-match?
Post match we learnt that Frawley will miss a few weeks with 'turf-toe' – I don't know what that is, but it sounds like something transmitted by barnyard animals, so I dread to think how he contracted it. And God knows what it is doing to his kicking.
Worst of all, however, Cyril injured his knee. On the list of tragic events that might befall mankind, Cyril getting injured sits somewhere between global nuclear Armageddon and the affects of catastrophic climate change – it's even more serious when he's in good form. I don't know how many people go to the football just to see Cyril play, but I can certainly understand why people wouldn't go when he isn't playing. Sadly that seems to be the case for a number of weeks now.
Of course another reason not to go to the football next week is that we're playing Collingwood. Quite aside from having to mix with their feral fans, we'll be missing up to 12 players from our 2015 Grand Final team, assuming Ryan Schoenmakers and Taylor Duryea aren't selected – that's half the team!
Our current jinx over Collingwood, which has so far stretched for six years, could be in jeopardy next week. Reason enough then to get along and cheer on the boys.
Final score: Hawthorn 17 11 113 d Brisbane 11 9 75
What we liked
The AFL's push into China on the weekend with Port Adelaide playing Gold Coast in Shanghai was a momentous occasion. The football was okay, but I was mainly impressed by the number of people in the crowd wearing Hawthorn jumpers.
What we didn't
Jesse Hogan's cancer diagnosis just two weeks after the death of his father is heart breaking. All strength to the big power forward and here's hoping he pulls through.
Round 7
Melbourne v Hawthorn
Sunday 7 May 2017
MCG
Mayblooms
Travelling to the Hawthorn v Melbourne match on Sunday I put on my headphones and found the newly released album by one of Melbourne's best bands, Underground Lovers. The first song on the album is called St Kilda Regret and while I don't think it is necessarily about football, the sentiment of the title put me in mind of the previous week's clash against the Saints. Although, truth be told, 'regret' doesn't quite capture my mood about the 75 point loss – 'remorse' might be more to the point.
Obviously, I was hoping for something better this week. After all, it was our first match in May and we're not called the Mayblooms for nothing.
The good news is we lived up to our name, that is of course if a narrow win over Melbourne can be said to be blooming.
With Fairfax journos on strike, I consulted my inner sub-editor to come up with a suitable handle to describe the result, something about slaying or exorcising our demons perhaps. Except I'm not sure 3 points constitutes a 'slaying' as such. Nor was the game the spiritual battle that an 'exorcism' might suggest, unless you count the moment near the end when Jesse Hogan gave Ryan Burton an almighty shove in the back with two outstretched hands and there was no free kick paid. I still haven't quite exorcised the horror of that moment.
The AFL website, I noticed, ran with something about the Hawks shrugging off their demons, but 'shrugging off' suggests a confident nonchalance that is at odds with the anxiety I felt as Melbourne brought the ball forward for one final flurry.
Perhaps 'wrestling with our demons' comes closest, largely because Melbourne's third quarter charge and late burst lent the game an element of psychological torture as we watched the Hawks hang on grimly.
The main point is we won, and for a good cause too. It was the pink lady round raising funds towards cancer research. It was therefore disappointing, as one of my friends pointed out, to hear Melbourne fans booing Roughy after a marking contest. It's generally poor form to boo a cancer survivor anytime, with the possible exception of Lance Armstrong or Belle Gibson, but to boo him at a match themed around raising funds towards breast cancer research is verging on scandalous.
Roughy wasn't the only player they booed. They also hooted James Frawley. Go figure. They've got former Hawthorn player Jordan Lewis running around in Melbourne's famous pink and blue, but they boo a former Melbourne player who is now at Hawthorn. Except that Frawley is in his third year at Hawthorn – it's not as if he left yesterday. Besides, by coming to Hawthorn, he's one of only a few Melbourne players in the past 53 years to have played in a premiership team. You'd think they'd be pleased for him. Notably, Hawks fans didn't boo Jordan Lewis, although some of us sighed heavily when he kicked the goal that brought Melbourne within a kick with less than a minute to play.
The booing by the Melbourne members was at least noise. The crowd was otherwise pretty flat. However, as my work colleague posited, the MCC Members were possibly anxious about funding cuts to private schools – it could mean the difference between skiing in New Zealand or Aspen this year.
Hell
There were a few lowlights for the Hawks: Grant Birchall's knee injury so soon after returning to the team; Jaeger O'Meara being ruled out with bone soreness, although we should be thankful it isn't anything more serious, such as split ends or alopecia; another third quarter in which we conceded seven or more goals. That's the fourth time this season. In fact, we've been outscored by 25 goals in third quarters alone this season. Is there gin in the Gatorade. Is Ty Vickery rolling joints at half-time?
Perhaps the worst part of the day was the song Melbourne played over the loud speaker at the beginning of each quarter, It's Time to Raise Hell. It sounded like an AC/DC B-side played by a second rate Acca Dacca covers band. Surely they can find something more demonic in the heavy metal canon. Even so, as far as entertainment goes, it still beats the inane 'how many t-shirts can you put on in a minute' competition that Hawthorn runs at ¾ time.
Heaven
But these shouldn't detract from the many highlights of the day: the continued good form of Big Boy, the return to form of Burgoyne, four goals to Rough and Tim O'Brien's big pack marking – most of them crucial. How great is it to see the big number 23 back in the highlights reel?
I also liked Langford's left-foot dribble goal from the 'Hodge' pocket in second quarter. It was reminiscent of his third goal in the 2014 Grand Final – and indeed, this might have been the best game he's played since that match. Perhaps they should threaten to drop him every week.
I also enjoyed seeing Jeff Garlett hold three fingers up in Ben Stratton's face after kicking a goal in the third quarter. Was he seeking clarification about how many premierships Stratts had played in, or making a prediction about the final margin?
Seeing Jordan Lewis play again was also a pleasure, even if it wasn't for the Hawks. As Melbourne rampaged in the third quarter and towards the end of the match, a dispassionate onlooker who knew nothing about the history behind it all might have might have observed that what Hawthorn need is someone with the poise, precision passing and nicely sculpted beard of Melbourne's number 6. I'd agree.
Still, we hung on and won. And as my son pointed out, our two wins this season have come against Sam Mitchell's and Jordan Lewis' new teams. Perhaps we should have gotten rid of even more players last season – bring on Freo and Brad Hill!
Final score: Hawthorn 14 10 94 d Melbourne 14 7 91
Vale Lou Richards – there's not many Collingwood people universally loved, but Lou was certainly one of them. R.I.P.
And I suppose that's one more name they can cross off the list of prospective Buckley replacements for next season.
Round 6
Hawthorn v St Kilda
Sunday 30 April 2017
University of Tasmania Stadium
Humbled
Midway through the third quarter of Saturday's match between Hawthorn and St Kilda, as the Saints piled on the goals, my friend Linda texted me to say, "I have no words…"
Well I have one word to describe our performance, 'shit.'  I could probably add a few more along the same lines, but you probably get my drift.
It is perhaps telling that the only highlight from the game that might give Hawthorn fans cause to celebrate came from St Kilda's Josh Bruce, who somehow managed to miss a straight forward shot from the goal square. However, by that stage we were already 60 points behind and very few Hawks fans were watching, let alone celebrating.
I was never confident about Hawthorn winning this match, mainly because of what transpired last season when Hawthorn played St Kilda at the same venue. We won that match by three points, but only after the umpire did not pay a Saints mark in defence, deeming that the kick hadn't travelled the required 15 metres. From the resulting 'play on' call, the ball spilled free and Jordan Lewis snapped a goal to put us in front. Even if the footy gods didn't get us back, I thought St Kilda might.
This year it was another third quarter wipeout and another disastrous result for Hawthorn. A 75 point loss to St Kilda, unthinkable really, like Richmond sitting undefeated or Sydney winless after five rounds. Especially when you consider that only three years ago we defeated St Kilda by 145 points in a match at the MCG.
Interestingly, the respective teams on that occasion would have included many of the same players. We should have been nicer to them on the way up and they might have shown us some mercy on our way down.
Three of the players from that match, Sam Mitchell, Jordan Lewis and Brad Hill must be thinking they have superhuman ability. After all, last season with them in the team, Hawthorn was a top four side who were feared by opposition clubs and even some nation states. This season, with each of them having left for other clubs, Hawthorn is a bottom four side against whom even the new Box Hill VFLW team would give themselves a chance.
I say bottom four, but of course it's bottom two at the moment, and may get even worse. Did Mitchell, Lewis and Hill really make that much difference to the side?
It is perhaps instructive that York Park in Launceston has changed its name again. For the past several years it's been known as Aurora Stadium. One associates the word aurora with spectacular displays of natural beauty, like the 2014 Hawks in full flight. From this year, however, there is a new naming rights sponsor and the venue is now known as the University of Tasmania stadium, which is fitting really because the Hawks clearly need to go back to school.
Equally fitting is the fact that during the week US rapper Kendrick Lamar dropped his new album, DAMN, together with lead off single HUMBLE. Lamar might well be addressing Hawthorn fans in this song's repeated refrain of "sit down bitch, be humble." We may have no choice.
With Adelaide sitting undefeated on top of the ladder, and 12-15 goal losses now commonplace for the Hawks, our six goal loss to them in round two is beginning to look respectable.
"the venue is now known as the University of Tasmania stadium, which is fitting really because the Hawks clearly need to go back to school."
Giving St Kida fans further cause to gloat is the fact that they received Hawthorn's first draft pick for 2017 as part of last season's trade period. As things are going, this could end up being the #1 pick.
However, before Saints fans get too excited by this prospect, they should consider their history of draft selections.
St Kilda has had more #1 draft picks than any other club. This is by virtue of being so crap for sooo long.
But very few of their first selections have amounted to much. Sure, Lenny Hayes, Nick Riewoldt, Luke Ball and Brendon 'the whinger' Goddard turned out okay, and Paddy McCartin and Jack Billings looks like they'll be pretty good, but the law of averages suggests that you'll get one or two right over time.
Consider some of their other first round selections in the past 25 years or so: Rob Malone, Brodie Atkinson, Michael Frost, Daniel Healy Ben Wolton, Cayden Beetham, Xavier Clarke, Raphael Clarke, Nicholas Winmar, Sebastian Ross and Nathan Wright.
Not exactly household names, with the exception of Nicholas Winmar, but it's his cousin you're thinking of, and the Clarkes, well, enough said.
So St Kilda is welcome to our first round pick because history suggests they'll waste it anyway. Even the few good players they recruited with all their number one and priority picks didn't actually help them win a premiership. Runners up twice is the best they could manage.
The only way a St Kilda player is going to win a premiership is to move to another club. Since St Kilda won their only premiership in 1966, no less than 12 ex St Kilda players have won premierships with other teams – including three with Hawthorn:
Stephen Rae 1973 (Richmond)
Ian Stewart 1973 (Richmond)
Mick Malthouse 1980 (Richmond)
Val Perovic 1981, 1982 (Carlton)
Russell Greene 1983, 1986, 1988 (Hawthorn)
Paul Harding 1992 (West Coast Eagles)
Dean Rice 1995 (Carlton)
Darryl Wakelin 2004 (Port Adelaide)
Barry Hall 2005 (Sydney)
Brent Guerra 2008, 2013 (Hawthorn)
Luke Ball 2010 (Collingwood)
Ben McEvoy 2014, 2015 (Hawthorn)
And at the rate they're going, you can probably add Tom Lynch from Adelaide to that list at the end of this year. Counting the multiples won by Russell Greene, Brent Guerra and Ben McEvoy – all Hawthorn of course – that will be 13 players in 18 premiership teams since St Kilda last won it. Really, I think there might be a limit on how much gloating can Saints fans can really do.
In fact, with Adelaide sitting undefeated on top of the ladder, and 12-15 goal losses now commonplace for the Hawks, our six goal loss to them in round two is beginning to look quite respectable.
Tracey Island
Hawthorn has now appointed Tracey Gaudry as the club's new CEO. Tracey becomes the first female CEO of an AFL club. I just hope Hawthorn isn't adopting the political model a la Joan Kirner and Julia Gillard, of appointing a woman in a time of crisis just so that she can be made the scapegoat for failure.
At least if fans from other clubs taunt us for our mounting losses, we can fire back with, "Yeah, well where is your club's socially progressive recruitment policies? Huh?"
To be honest I don't really know what the CEO of a football club does, presumably keeping our pokie money rolling in is part of her brief, but we could also use her across half back just at the moment.
Either way, hopefully it won't be long before she's in the winner's circle singing the song.
Final score: St Kilda 19 16 130 d Hawthorn 8 7 55
Round 5
Hawthorn v West Coast Eagles
Sunday 23 April 2017
MCG
Lest We Forget
A great sense of relief accompanied Hawthorn's first win of the season. It had been awhile. The Anzac Day homily, 'Lest We Forget,' had a double meaning this year, because Hawthorn fans could barely remember our last win. Some of us were even struggling to remember the words to the team song at the end of the match. After all, we haven't sung it since last August. In Roughead's case, it has been even longer. After sitting out 2016 through injury and illness, the last time he sung the song was after the 2015 Grand Final, also against the Eagles.
This week the lines, "we love our club and we play to win," were invested with extra meaning. Largely because after the trading out of Sam Mitchell and Jordan Lewis, some fans' love of club has been questioned and for the first time in more than 10 years, it hasn't been clear that we necessarily have been playing to win. But that's all over with now; the resurgence has begun. We could be the first team to win the flag after a 0-4 start!  Or have I already gotten ahead of myself?
For one week at least, the Hawthorn bashing that has been the main focus of all football media can subside. Some of these outlets might even notice that last year's Grand Finalist, Sydney, is currently sitting on 0-5, as is North Melbourne, another finalist from last season. You never know, they might even notice that a nuclear war between the USA and North Korea is looming and shift their focus accordingly.
The reporting on Hawthorn reached a new level of absurdity, culminating this past week with claims that Cyril could be traded, Gibson should have retired, O'Meara is unfit and unhappy, Vickery is feeling the pressure of social media trolling, Hodge and Burgoyne are in their final season, Roughead wasn't ready to be captain, Stratton wants to quit football and become a DJ, Puopolo wants to run away and join the circus, Clarkson is finished, Clarkson could go to Collingwood, Gold Coast or even North Korea.
Every known football journo (and it is one of the few industries where journalists can still find work) has felt the need to bash out a few paras on the plight of Hawthorn. Even Campbell Brown has offered his summation. You know you're struggling when he's offering advice. You're struggling even more when you take it.
Wayne Carey's comments that Cyril is homesick and wants to go back to the Tiwi Islands were among the most bewildering. I'm not sure which I enjoyed more, Julie Bishop telling Kim Jong-un got go fuck himself or Carko telling Wayne Carey the same. It is a measure of the esteem in which I hold Carey as a football commentator that I think he deserved it more.
I did enjoy The Front Bar's take on the topic. Their 'End of an Era' memorabilia and 'four-peat' DVD collection were amusing, and the Mark Knight 'Cooked' poster in the style of the Herald-Sun premiership poster was funny.
I'm happy to take it from those boys – a panel made up of Carlton and Richmond fans. After all, I've long felt that we live in a blessed epoch – not just because this is an era in which Hawthorn has made the finals nine times in the past 10 years, including five Grand Finals and four premierships, but also because it's been 22 years since Carlton won the premiership – 22! And the way they're going it's going to be at least another 22 before they're likely to challenge again.
Likewise with Richmond, while Hawthorn's slump lasted four weeks, Richmond's has lasted the best part of four decades. The fact that they are currently sitting on 4-0 is interesting, not because they have anything like a realistic chance of winning the premiership, but because their inevitable plummet to finish ninth will be all the more swift and amusing. A DVD collection of Richmond's dark years would, by necessity, include several instalments on VHS.
The 500 Club
Anyway, we won, thanks largely to all the players listed above that have been subject to the most media scrutiny. Even Vickery, who some might argue contributed by not playing. Of course that would be unfair because he did kick four goals for Box Hill. And had Tim O'Brien not kicked three goals against West Coast, the Big V (note my subtle attempt to rebrand Vickery in a new, non-Richmond way) might be back in the mix for next week.
Hodge, aside from one clanger, was good again. Cyril was astonishing and played nearly as well as he did in the 2015 Grand Final, including one speccy, one attempted super-speccy, a handball nutmeg and a deft tap or two. Plus a goal. Burgoyne regained his customary poise and Roughy kicked his 500th career goal midway through the final quarter.
So in tune with the times is Hawthorn's marketing team that merchandise to commemorate Roughy's 500th goal was being advertised on the scoreboard before the ball had even got back to the centre. Sure we've only had one win for the year, but the marketing team, to their credit, found a way to milk it. At least it was a better idea than auctioning guernseys worn during an 86 point loss to Gold Coast. I bought the stubby holder. There's still time to make my bid on Vickery's jumper.
Another noteworthy point from the game was the absence of any ANZAC Day commemoration. When I walked into the ground I noted the players were still doing their warm-up, so I popped into the Hugh Trumble bar for a quick snifter before the game started, assuming I had 10 minutes or so of anthems, regimented marching and Last Posts to get through. But no, nothing. Not so much as an ANZAC badge for sale. As a result, I missed the start of the game and saw our first goal from the monitor inside the Trumble.
We Play to Win
The Hawks played pretty well, but I was never particularly confident, even as we moved into the final quarter with a five goal lead. The spectre of the past two weeks was still with me.
Fuelling my unease were some of Will Langford's wayward disposals, but also the umpiring decisions going the Eagles' way. Overall the umpires gave Hawthorn the better of things, but a few bizarre decisions highlighted how the game can turn. Jack Darling's blatant two handed push in the back to get rid of Kieren Brand in a marking contest in front of goal. The 50 metre penalty awarded to Josh Kennedy when he hurled himself forward after Ben Stratton made contact with him in a marking contest – executed with the sort of hammy over acting that would have secured him a nomination in the Logies. If he'd left the ground at 3/4 time he might even have had time to make the red carpet at Crown. Then there was the non-decision to Cyril: after handballing through the legs of his opponent and running around him to re-gather the ball, Cyril was yanked by the neck of his jumper to the point where I was worried he would suffer whiplash. But no, no free kick.
In the end it didn't matter and may even have fuelled Hawthorn's us against the world mindset. It was a very satisfying match and great to see Gunston and Breust kicking goals again, Big Boy taking marks around the ground, Tim O'Brien clunking marks and kicking straight, Cyril doing his stuff and even Billy Hartung hitting the occasional target. Sure the ball went through his legs a couple of times but at least he generally ran in one direction rather than in circles.
Tom Mitchell was excellent again – he probably already has the Crimmins medal sewn up after five rounds.
Talking of Mitchells, on one hand it was disappointing that Sam Mitchell was unable to play for the Eagles due to injury. On the other hand, I was glad that he wasn't there. While it would have been nice to give him a well-deserved ovation, his presence would have caused conflicting emotions for most Hawthorn fans, not to mention innumerable problems for our midfield.
We can farewell Sam another day. On this day we had victory to celebrate and the A League Elimination Final to get to over the road, where Melbourne City was taking on Perth Glory.
Final scores: Hawthorn 19 11 125 d West Coast Eagles 11 9 75
Round 4
Hawthorn v Geelong
Monday 17 April 2017
MCG
Four-thorn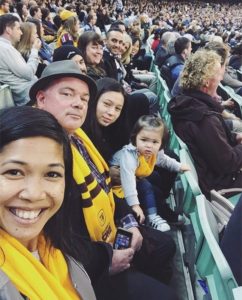 Bob Geldof said it best when he sang, "I Don't Like Mondays," but as a Hawks fan I'd like to be a bit more specific and declare that "I don't like Easter Mondays."
Even when Hawthorn was good we regularly lost to Geelong on the now traditional Easter Monday clash, but now that we're less than competitive, well, we get thrashed. Either way, we never get the (Easter) chocolates.
If I was Christ and had risen from the dead in time for this match, I'd probably regret going to the all that trouble. What a waste of a good miracle.
It was dire. The Hawks seem to have lost all sense of cohesion, conviction and confidence. And we can't even blame Vickery for this one as he was a late withdrawal. Back soreness apparently – he must have strained something carrying his cat about in that 'cat-pack' he gets about with. 
A win-loss ratio of 0-4, well, more just a loss ratio really, is bad enough, but it is the manner of the losses that is alarming. Two consecutive losses by 86 points is consistent, if nothing else, but all the more depressing because of it.  
I've written previously about the team's apparent lack of fitness, as evidenced by our second-half fade-outs, but it gets worse by the week. After conceding a 10 goal third quarter to the Suns last week, this week Geelong finished off the game with an 11 goal final quarter. 
Across the four games so far this season, we've been outscored by 32 goals in the second half! We've kicked a total of 19.28 compared to 52.22. That alone is astounding. 
Hawks fans being criticised for leaving before the end of the match need only point to this statistic in their own defence – if the players are clocking off at half-time, fans can also be excused for leaving a few minutes early so they can get home and get dinner on.  
Across the four games so far this season, we've been outscored by 32 goals in the second half! We've kicked a total of 19.28 compared to 52.22.
Besides, sitting through Geelong's goal rush in the final quarter pretty much sapped my will to live. It was only Ray Chamberlain's ever inventive ways of finding free kicks for Geelong in front of goal that kept me interested. My favourite was the one against Gibson for deliberately rushing a behind, even though he was actually being held at the time.
Not that I blame the umpiring – even if you take out the free kicks Geelong were awarded in front of goal, we still would have lost by 10 goals. If it wasn't for Luke Hodge, who played a typical gutsy game, we might have lost by 20.
Anyway, another week of media assault lies ahead of us – on Monday there were six separate articles in the Herald-Sun on Hawthorn's plight, compared to one article on the impending nuclear war between North Korea and the USA. You may think this is disproportionate, but I know which one I consider to be the more serious. On the other hand, perhaps nuclear Armageddon is our only way out of it.
As we were heading into Flinders St station after the match, even the homeless people camped outside the concourse were taunting Hawthorn supporters. It's gotten so bad that even they see us as a class of citizen with less cause for optimism than themselves.
Final scores: Geelong 20 14 134 d Hawthorn 6 12 48
Round 3
Gold Coast Suns v Hawthorn
Sunday 9 April 2017
Metricon Stadium
Sunburnt
On Sunday night our dog Bella tore the pom pom off my son's Hawks beanie and completely demolished it, leaving little clumps of brown and gold wool scattered across our lounge room floor. Was it a metaphor or was she venting?
Amidst all the teeth gnashing and catastrophising that has accompanied Hawthorn's disastrous start to the season, I think Roughie put it best when he said with typical understatement, "it's not ideal."
Not ideal indeed. In fact I'd say the Hawks are now officially fucked for 2017. It's only three rounds in and the best we can say of our season is that we're still a mathematical chance of avoiding the wooden spoon. Although even to do that we'd have to win a match and after a quick scan of the fixture I'm not sure I can see when that might occur. Not after this 86 point loss to Gold Coast.
How do you explain a result like this? It's too easy to point to the absence of Sam Mitchell and Jordan Lewis – although still not so easy to explain why we traded out our two best players. 
It's also easy to point to Birchall's injury or the inclusion of our newer, inexperienced players. Or Ty Vickery. We must also factor in that Clarko's right hand man for many years, Chris Fagan, has also left to be coach of Brisbane. 
Our second half fade-outs suggest there is a problem with the fitness and training regimes. Plus the week-long media commentary about Gary Ablett's attitude and lack of form was also only ever going to result in the little champ playing a blinder. All of these factors, I felt, fed into the result on the weekend.  
But there could also be other non-football reasons to explain why Hawthorn has deteriorated so dramatically. The gas attack in Syria and America's retaliatory air strikes must have been unsettling. Plus the players must still be reeling from the news during the week that Barry Manilow has come out as gay – Barry Manilow, of all people! No Sammy in the middle and Barry Manilow gay. It's no wonder the Hawks players are disoriented – they don't know what's true anymore. Jordan Lewis serving a suspension for striking is the only clue we have that we are not all of a sudden living in a parallel universe.
As the match progressed and the margin increased, my mood grew ever darker. On the other hand, I felt quite blessed that I don't have Foxtel and so didn't have to sit and watch.
So I write this match report having only seen approximately 30 seconds worth of match highlights on the news – before the match had even concluded. Despite this, I saw enough to know what went on and I certainly have no wish to see any more. 
Was the extent of our game plan simply to rough up Ablett? That just made him angry. We might have been better off to ignore him. Or even go after the ball. Just an idea. 
The most disturbing element of the match was that as with Essendon and Adelaide before them, Gold Coast kicked clusters of goals in quick succession. And as with Geelong in the JLT Community series, they kicked 10 goals in the third a quarter alone. That means we've conceded two 10 goal quarters in six matches. Not good signs. 
Clarko had to reinvent our game plan in 2010 and it looks like he's going to have to do so again. Perhaps he needs to look beyond sport for inspiration this time and reach out to the world's self-appointed Mr Fixit, Elon Musk, or even the world's self-appointed winner, Donald Trump. Or just get a defensive coach. 
Really, the only positive Hawthorn can take from the match was that our new away kit is not as hideous as the one we wore for the past two seasons. That's something, but it does suggest that Hawthorn should focus less on branding and more on ball skills, less on marketing and more on marking, and dare one say, less on fashion and more on football.
But I don't want to join the chorus of doomsayers. The reaction from the media has been predictably over the top. On Tuesday alone, The Age had no less than four separate feature articles devoted to Hawthorn's downfall. Rohan Connolly and Chris Judd wrote opinion pieces while Sam McLure interviewed Cameron Ling and Jon Pierik interviewed Jeff Kennett on the topic. The Herald-Sun had two articles, features by Sam Landsberger and Jon Anderson, plus a podcast on the topic.
It says something about the tone of these pieces that Jeff Kennett comes across as the voice of reason. That's six articles two days after the event. And not a single article about the Sydney Swans – last season's Grand Finalist – who also find themselves at 0-3. Or North Melbourne, another finalist from 2016 also with a 0-3 start to 2017. Hell, it's even more coverage than was given to the US military action in Syria.
While it is disheartening to see the mighty Hawks ensconced on the bottom of the ladder, perhaps we can take some comfort from the fact that we are still giving large numbers of football supporters a lot of joy – sadly, just not Hawthorn supporters.
Final scores: Gold Coast Suns 21 13 139 d Hawthorn 7 11 53
In what can only be the marketing department's idea of a sick joke, there is an online auction for signed alternate guernseys worn by the players in the game against Gold Coast. At the time of writing there are no bids on Ty Vickery's guernsey.
Round 2
Hawthorn v Adelaide
Saturday 1 April 2017
MCG
Riding the Bumps with Chagrin
Reports of Hawthorn's death are growing ever louder and a little more convincing after a second up loss, this time to the Adelaide Crows.
Anyone who had witnessed, as I had, Adelaide's dismantling of GWS the previous week would not be surprised by this result. They may also have seen it coming even after the Hawks got out to a 25 point lead at one stage in the opening quarter. For the Giants had led the Crows by nearly as much the week before, but had still lost by 10 goals. 
Hawthorn began in sparkling form, but in the end did well to lose by just five goals. If Adelaide had kicked more accurately and the umpires had penalised us for every incorrect disposal, and not paid The Poo an absurd free kick in front of goal for a push in the back, it might have been a lot worse.
As with the JLT Community Series, Hawthorn fell away completely after half-time. Basically we need a 10 goal lead at the main break and a sudden downpour if we are to have any hope of hanging on.
But there were highlights; Poppy's mark, Tom Mitchell and Jaeger O'Meara played well, as did Luke Breust and Ryan Burton. Even newbies Kade Stewart and Teia Miles had their moments – both good and bad. And it was a reasonably warm Autumn afternoon, so result aside, it was quite pleasant to be at the G.
Even Ty Vickery kicked a goal! He took possession, lined it up carefully, the ball drop was good and the goal umpire didn't have to move. Admittedly, Ty was only about five metres out, so even he would have found it difficult to miss from there, but hey, small victories.
Just on Ty, it is worth noting that since he left Richmond and came to Hawthorn, Richmond's win-loss record is 2-0, whereas Hawthorn's is 0-2. Coincidence?
Adelaide just played better for longer and held their marks. Really, it was a pleasure to watch McGovern fly for his pack marks, to witness Rory Sloane's skill and determination and to see a player as mercurial as Eddie Betts do his thing so confidently. Don't get me wrong, it was annoying and deeply depressing, but we did at least see some pretty good football – it's just that most of it was from Adelaide. 
As with the Essendon match, however, Hawthorn looked very slow. The fans trudging up the aisles 20 minutes in to the final quarter were moving faster than our midfield, admittedly they had good reason to hurry and get the fuck out of there. Oscar and I stayed to clap the boys off, but were making our way to the exit as the second rendition of "We're the pride of South Australia…" rang out. 
Predictably the journos are trotting out stats that show we can't make the finals from here, and while that might indeed happen, there are 20 games to go and we are only two games out of the eight, so we are still comfortably within the 'mathematical chance' zone.   
Besides, it wasn't all bad; Ryan Burton received the NAB Rising Star nomination and the Poo won Mark of the Week. It's not all about the win-loss ratio; sometimes you've got to count your small victories, especially if that's all you get.
Final scores: Adelaide 16 17 113 d Hawthorn 13 11 89
Round 1
Essendon v Hawthorn
Saturday 25 March 2017
MCG
Seller's Remorse?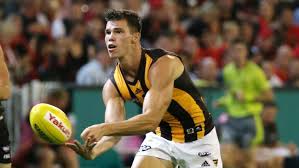 Like Mark Twain some years back, reports of Hawthorn's death may have been greatly exaggerated, but we are definitely looking a bit off-colour. Our jumpers looked less brown and gold and more brown and jaundice in our opening game of the season.
 Our round 1 match against Essendon was as awful as feared. With no Sam Mitchell or Jordan Lewis we basically didn't win a centre clearance for the night. Meanwhile our former greats were both best on ground for their respective new teams and each had more possessions than any Hawthorn player. All of which suggests that getting rid of them may have been the most ill-advised trade week move since we offloaded Gary Ablett in 1982.
On the other hand Tom Mitchell was our best player and Ty Vickery performed as expected and did everything we thought he would – i.e. missed two set shots and any other target he might have been aiming for. I imagine when he went to toss his boots into his bag after the match he missed and hit one of Shaun Burgoyne's kids. But he wasn't the only one; Cyril, Rough, Breust and O'Meara also missed set shots.
Gunston & Sicily didn't miss any set shots, or even have any, because somewhat mystifyingly, our two best marking, straight kicking forwards were stationed in defence. 
'Gun recruit' Jaeger O'Meara was okay, if not outstanding, but we should allow for the fact that he hasn't played for two years, and even then he has never played in front of more than 15,000 people. So the 78,000 rabid Essendon supporters would have been a little bit daunting for him. His hair, it must be said, remained immaculate throughout and satisfyingly in place.  
Essendon won as I'd envisioned and the vile hordes gloated with predictable relish. The team and fans carried on as if they'd won the premiership – on ground interviews broadcast to the crowd, a lap of honour, kissing babies. In their defence, most of them don't remember what it's like to win premierships so no surprise they got carried away.
On the train on the way home one woman was proudly showing off her limited edition t-shirts with "I was part of the comeback' emblazoned across the front. I was wondering if on the back they read, 'I injected players with Thymosin B4.'.
All this talk of 'the comeback' is fine so long as Essendon remember what they're coming back from – the most shameful and ignomonius event in Australian sporting history.
I'm more interested in whether the Hawks can come back from this terrible round 1 performance.
Final scores: Essendon 17 14 116 d Hawthorn 12 19 91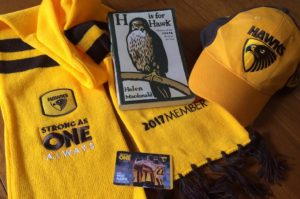 2017 Season Preview
Hold on! What's this? Upon receiving my 2017 Hawthorn membership pack in December I was outraged that it didn't include the standard items of Premiership bumper stickers, bandanas, Four-thorn lanyards and miscellaneous Premiers '16 merchandise opportunities. The membership card didn't even have the customary picture of the players posing with the cup – not such a bad thing really for it was too easy to get the membership cards mixed up – more than once I've tried to gain entry to the ground using the wrong card. Nor did my final Hawk Talk of 2016 include a full-colour, quarter by quarter, player by player rundown of another successful season and the triumphant big day in September. Something was seriously wrong.
I was just about to call the club to complain about this oversight when the awful truth hit me – we didn't win the flag! 
Somehow I'd managed to suppress this unwelcome truth – or 'alternative fact' as Donald Trump's spokeswoman, Kellyanne Conway, would soon come to reclassify any inconvenient or unpleasant reality. It was only when I went to apply my new Premiers bumper sticker to the car that I realised. For months I'd been living a lie? Even more disconcerting, I'd been living under the premiership reign of a team other than Hawthorn. We'd been premiers for more than 1000 days, so this new world was going to take some getting used to. It was worse than Trump's America. Happily I had recourse to my 2013,14 & 15 DVD Victory Packs. 
Always Hawthorn…until we trade you 
As we know, Hawthorn was bundled out of the 2016 finals in straight sets, as they say, after losses to arch-enemy Geelong in the Qualifying Final and eventual premiers, the Western Bulldogs, in the Semi Final. But really, we weren't that far away. To keep the tennis analogy going, you could argue we had match point against Geelong. Had Isaac Smith kicked accurately from 40 metres out straight in front in the Qualifying Final, we would have been through to our sixth consecutive Preliminary Final. From there anything is possible; a few fortuitous umpiring decisions (no point putting up with the #freekickhawthorn meme all year without having something to show for it), some standard Cyril stuff and we might have snuck into our fifth consecutive Grand Final. We might even have achieved the mythical Four-thorn. 
Either way, my point is that the Hawks weren't far off in 2016 so no need to panic and make wholesale changes for 2017. A bit of tinkering around the edges would do to see us back in our rightful spot on top. Perhaps Roughhead returning would be enough.
Gossip that we were chasing Sydney's Tom Mitchell was welcome. He is a good ball winner and inventive player, a handy midfield foil for Sam Mitchell and Lewis. 
More troubling were rumours that Richmond's Ty Vickery was going to sign at Hawthorn. Unless Rough was never going to play again, I didn't see why we needed to chase Vickery. Afterall, this is a player that wasn't even good enough to be selected for Richmond at the end of the year. And based on how Richmond supporters rate Vickery's usefulness, a more effective way of getting extra height up forward might be to just wait for Puopolo to grow.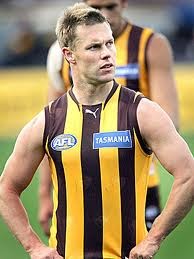 Nothing however, could have prepared me what actually transpired during trade week. First Sam Mitchell – the greatest Hawthorn player of his generation – is traded to West Coast for pick 88 – 88! – with some spurious spin about allowing him to pursue his post-playing coaching career. What, he couldn't do that at Hawthorn? With Hardwick, Bolton, Simpson, Beveridge, Cameron and Fagan all being poached from our assistant coaching ranks in recent years, I thought Hawthorn had become known as Clarkson's Coaching Academy. And pick 88 – what's that about? It's like trading in an Audi for a bike, even if Mitchell is more like the latter in terms of road speed.
Then within a few days, Jordan Lewis was traded to Melbourne for a similar late pick. My man Lewis! What was going on?
I haven't felt quite so betrayed since Buddy left for the Swans or Paul left The Beatles. Not that I blame the individual players – why not get more money and longer assurance of a spot on the playing list. But I suspect the club completely cocked this up. In wanting to get rid of one player, they inadvertently got rid of two. As Lady Bracknell says in The Importance of Being Earnest, "To lose one midfield general may be regarded as a misfortune, to lose two looks like carelessness."
Just as cricket fans struggle to understand the Duckworth Lewis system, surely I'm not alone in struggling to understand Hawthorn's Mitchell Lewis situation. 
Sam Mitchell and Jordan Lewis had finished first and second respectively in our Best & Fairest award and were also first and second for disposals for 2016. They were also first and second for cute offspring. So if they were considered past it and surplus to requirements, what does that say for the rest of the team? Or the person who made the decision to trade them? After all, if they get 50-60 disposals between them in a match, that is effectively more than 100 disposals for the team given that they usually use it properly. That's not going to be easy to replace, no matter how many pretend marks Ty Vickery takes.
So far from just a little tinkering, a squirt of oil here, tightening a bolt there, or teaching Isaac Smith how to kick straight, Hawthorn has dismantled the entire engine. 
Just as I'm happy to leave assessments of climate change science up to climate scientists, I'm prepared to admit that issues of list management are generally best left in the hands of list managers – the experts who supposedly know what they're doing. However, I fail to see how getting rid of Mitchell and Lewis and bringing in Vickery could possibly make Hawthorn a better team. At the risk of being seen as a list management denier, having a list manager who wants to get rid of Sam Mitchell and Jordan Lewis is a bit like having Cori Bernadi in charge of climate policy or Pauline Hanson in charge of immigration. 
These changes were brought on, I assume, by Jaeger O'Meara's sudden availability and the club's need to find room in the salary cap to accommodate him, Vickery and Tom Mitchell. O'Meara might be good, but is he worth tearing apart the club and disenchanting thousands of fans in the process? Well, I suppose if we win the 2017 premiership, perhaps. If O'Meara wins the Norm Smith medal and Vickery kicks six goals in the big one, then okay, I'll concede. 
I feel a bit sorry for Tom Mitchell who agreed to move from Sydney under the impression that he'd be lining up alongside Sam Mitchell and Jordan Lewis. But now has to play against them separately.  
A little discussed, but nonetheless very real consequence of this trade is that if Hawthorn ever fields a women's team in the AFLW, we may now miss out on Mitchell's twins under the father-daughter rule. 
The only compensating factor in all of this is that when the national draft came around Hawthorn recruited a kid called Mitchell Lewis. The construction: OUT: Mitchell, Lewis. IN: Mitchell Lewis looks like one of those scenarios designed to show how crucial commas are to accurate communication. Recruiting someone called Mitchell Lewis was either a concession they'd got it all wrong in the first place, a desperate hope that he will turn out to be as good as both of his namesakes combined,  or Clarko was just taking the piss.
Sweet revenge!
Another indicator of Hawthorn's sense of humour is that our first pre-season match in the JLT Community series, against Geelong came down to a kick after the siren, just like our encounter in the Qualifying Final.
Of course we had the last laugh when Kade Stewart put it straight through to seal the victory. Surely there can be no sweeter revenge for a Finals loss than to triumph in the JLT Community Series!
I don't know what JLT stands for, but the pre-season competition might attract more interest if it was called the G&T Community Series.
Despite our win against Geelong, the pre-season competition was less than triumphant for Hawthorn. Aside from our victory over Geelong, we lost to North Melbourne and Port Adelaide. Hardly a reassuring beginning to the new post Mitchell-Lewis-Hill era, particularly as all three ex-Hawks have been turning it on for their new clubs. The most disturbing element is that in each of the three games the opposition went on uninterrupted goal sprees in the third quarter. Even Geelong fought back from a 40 point half-time deficit. Are the players protesting about the cut in Sunday penalty rates by playing at half pace in the second half? Are they experimenting with mindfulness techniques? Allowing someone other then Stratts man the decks or letting Ty Vickery run some of Richmond's old half-time warm up rituals? Whatever they're doing, it's time to change. 
Dodgey Hodgey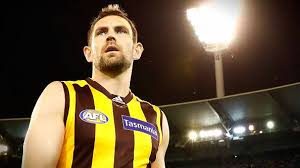 Luke Hodge has been suspended for the Round one match against Essendon for a misdemeanour. Unlike the NRL in which off-season scandals involve 'bubbling' or simulating sex with canines, Hodge's transgression was disappointingly benign – failing to notify club officials about his reasons for missing training. For this the leadership group have decided to suspend him for a match. God knows what they would have done had he been caught in the same position as Wests Tigers' Tim Simona who has admitted to match fixing, snorting cocaine and defrauding a children's charity. Or the Brazilian soccer player who murdered his girlfriend. 
What I find troubling is that this punishment affects me and other Hawks fans as much as it does Hodge, arguably more so. It goes without saying that we have to beat Essendon in Round one, but with a dozen or so Essendon players returning from their drugs suspension, Hawthorn owes it to the entire football world to absolutely demolish them – and for that we need Luke Hodge.  
The club needs to be more imaginative when dispensing punishments – why not make Hodge wear last season's away kit in public every day for a week? That punishes him unduly, perhaps in contravention of the United Nations Human Rights Commission, but at least it frees him up to play in Round one. 
Fix The Fixer
Talk this week that Essendon tried to recruit renowned underworld figure Mick Gatto in 2012 to sort out their drugs problem raised eyebrows and a chuckle or two amongst football observers and Crimewatch alike. For a start who would have thought that Essendon would ever reach out to the Carlton crew for help. And really, this is just what Essendon needed, more dubious underworld figures involved in running the club's affairs – they already had The Weapon, Dr Ageless and  Peter Costello, did they also need The Fixer?
Most of Essendon's problems during the supplements saga arose through poor governance and record keeping, so I'm not sure how they imagined a fixer like Gatto was going to help. Unless they were under the misapprehension that the word 'organised' in 'organised crime' stood for someone who was good at filing and knew their way around Excel.
Of course Essendon claims it was Gatto who contacted them, whereas Gatto says that it was Essendon who approached him. It says something about Essendon that in a dispute between these parties, most observers would find Gatto's testimony to be the more trustworthy of the two.
Women in Uniform
The biggest news in the pre-season was the success of the inaugural AFL women's competition. Big crowds, good TV ratings and a close competition. I went to watch the Dogs v the Dees at the Whitten Oval and it was great – the old suburban ground atmosphere and $5 cans on the hill made for a good night out. And the makeshift portaloos were still a step up in luxury and hygiene from the old toilets at the Western Oval.
My enthusiasm for the women's competition remains muted, however, not because of any doubts about the quality of the matches, but until there is a Hawks team I can only get so excited. 
The biggest challenge, I imagine, is finding 20 women with good enough football skills and poor enough fashion sense to wear brown and gold stripes in public. I just hope that when they do, our women's team can reclaim the old nickname the Mayblooms.
Rough Justice
January 20 2017 will go down in history as one of the most celebrated inauguration days the world has ever witnessed. Garlands were tossed, champagne glasses clinked and I for one nearly wept with joy as one of the most deserving humans assumed command of the world's most powerful institution. 
Of course I refer to Jarryd Roughead being anointed as captain of Hawthorn, not the other altogether scarier ceremony in Washington D.C. on the same day when Donald Trump was inaugurated as President of the USA. The only similarity between the two is that they're both a bit orange.  
Roughead is an inspirational choice, and also, given that Lewis wasn't around, the only option once Hodge decided to hand on the captaincy. I look forward to his nonchalant raising of the cup in September. For surely this premiership drought can't go on much longer – it's been six months already!