Amanda Palmer
Amanda Palmer
NGV, Melbourne
Friday 10 March 2017
$30
AFP @ NGV…OMG!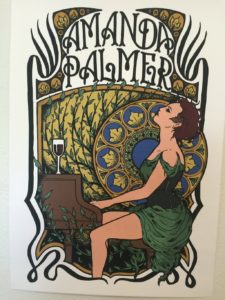 The Labour Day holiday weekend is one of the best times to be in and around Melbourne. For a start it's the only time of year when the weather is reliably nice. There's the Moomba Festival with the parade down Swanston Street, the carnival rides on the banks of the Yarra river as well as water skiing on it and the Birdman rally in it. Plus, now in its second year, and promising to become an annual event, there is the rioting and brawling of youth gangs in Federation Square on the Saturday night. Something for everyone really.
Music lovers were particularly well catered for this year. For those lucky enough to get a ticket in the ballot, there was the Golden Plains Festival at Meredith, just two hours out of Melbourne. This year's lineup featured The Damned, The Specials and Teenage Fanclub, so in a fortuitous opportunity, those who missed Glastonbury 1979 had another chance to catch many of the same acts.
The Port Fairy Folk Festival was also on, featuring a mix of old and new acts, including Marlon Williams, Melody Pool, Tash Sultana, The Waifs, Paul Kelly, Eddie Reader and Mexrissey – a group of people from Mexico playing Morrissey covers in Spanish. There's something we didn't know we needed.
For the more middle-class and mainstream who wanted to stay in the city and not camp out, The Day on the Green series moved to the Royal Botanical Gardens with a series of shows featuring Boy & Bear, San Cisco, Amy Shark, James Reyne, Clare Bowditch and Icehouse.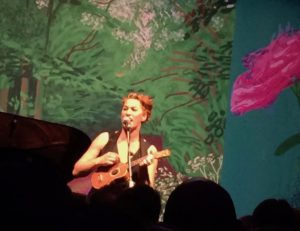 And on the Friday night alone you could choose between Justin Bieber at Etihad Stadium, John Farnham, Daryl Braithewaite and Ross Wilson at the Day on the Green in the Botanical Gardens (just think about that lineup for a moment – you've got Eagle Rock, Howzat, Horses, Sadie and You're the Voice all on the one night!),Martha Wainwright at the zoo, Mental as Anything at the Memo Music Hall (I know, who knew they still played!) and even Midge Ure at the Thornbury Theatre. Next door to the NGV at Hamer Hall, the Philip Glass Ensemble was playing the soundtrack to Koyaanisqatsi to accompany a screening of the film at Hamer Hall, with Philip!
Such a lineup of acts catered to anyone who might conceivably have wanted to hear live music on the night. Or whatever it is that Bieber does. Angela and I overlooked all of these acts, however, and ventured to the NGV for the final of this season's Friday Nights series featuring Amanda Palmer, or AFP (Amanda Fucking Palmer) as she is known.
We were meeting our friend Sue, who we had bought a ticket for her birthday present. I know some of Palmer's recordings and had seen live footage of her performances on YouTube, but had never seen her play live before. And what better opportunity than in the NGV's Great Hall with Leonard French's magnificent geometric stained glass ceiling adding just the right sense of grandeur to the occasion. Plus the booking site warned ticket holders of the possibility of nudity, so that was only going to be a bonus.
Pop Artist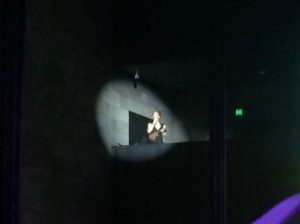 The concert was part of the Friday Nights at the NGV series to coincide with the David Hockney exhibition. I'd already been through the exhibition (see Gold Class – 6 January), so when I saw a sign announcing that Dan Kelly was DJing in the gallery's backyard, I bought an Asahi, took a seat under a tree and listened to Dan spin some discs (or program his laptop, but you know what I mean). When Angela arrived we got some burgers and more drinks while we waited for Sue to emerge from the Hockney exhibition.
Meanwhile the Great Hall was filling with people. When I wandered in 15 minutes or so before show time I could barely get in the door. The reason was that hundreds of people were sitting cross-legged on the floor. An announcement asking them to stand created a bit more space, but I couldn't get much closer to the stage.
Normally for the Friday Nights series there are tables and chairs set up for diners and drinkers, but there was no room for that on this night – with a bona fide international star on hand.
By showtime the Great Hall was packed tight. Suddenly the lights went down and a spotlight picked out a figure in the top corner near the ceiling – the cornice I suppose – it was Amanda Palmer perched in the balcony with her ukulele on which she immediately began playing her ode to self-empowerment, In My Mind.
When she made her way down to the stage she began the familiar strains of Radiohead's Creep. Uninvited, the whole audience joined in from the first line. Fuck it we thought – if Radiohead won't play it live, then we damn well will! It's a measure of how good a song it is that it stood up to a group sing-a-long with ukulele. Admittedly Palmer is a pretty good choir leader.
Play Your Ukulele Loudly
She stuck with the ukulele for a couple more songs, including her Aussie classic, Map of Tasmania, before repairing to the grand piano. This was where the shortcomings of the venue were shown up, for the temporary stage in the Great Hall is not overly high, meaning that most of the audience struggled to see her once she sat down at the piano.
Smart, articulate, sassy and funny, Amanda Palmer is a wonderful performer. Her between song banter is as entertaining as the actual songs, as evidenced by the fact that for her live album, An Evening with Neil Gaiman and Amanda Palmer on Spotify, the introductions are given separate billing. The songs themselves are equal parts profound and playful and she brought a nice touch of cabaret to her performance.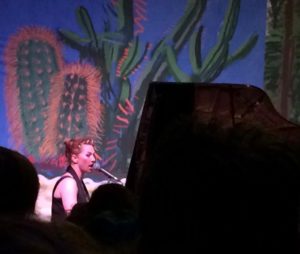 Her set at the piano included a mix of hits from her solo career, The Killing Type, and The Dresden Dolls, Coin Operated Boy and Missed Me, as well as a moving new song called A Mother's Confession. She said she was reluctant to play such a long song (10 mins) as part of an abbreviated set, but that looking through the Hockney exhibition, had encouraged her that the whole point of art is that you can do anything you like. Indeed, one of Hockney's works took up an entire wall of the exhibition space. So 'fuck it' she was going to play it. It's a beautiful, moving song that anyone who has been a mother, or indeed, father of an infant could relate to. It is at once heartbreaking and hilarious and included the rousing audience sing-a-long chorus of, "At least the baby didn't die."
As one of the few Australians who loathes the national condiment, Vegemite, I was happy that she played Vegemite (the Black Death). If nothing else, it served as vindication for all those times when I've left people aghast at my rejection of this vile spread. In the regular debate over whether Australia should change the national anthem from Advance Australia Fair (which competes with our other debates about building a rail line to the airport and moving the Grand Final to twilight), I nominate Vegemite (the Black Death).
In a weekend when you might go to the Botanical Gardens and hear Aussie anthems Eagle Rock, Great Southern Land, The Boys Light Up, The Voice and Howzat played by the original artists, I felt equally equally blessed and patriotic to be at the NGV to hear what I also consider to be two classic Aussie anthems, Map of Tasmania and Vegemite (the Black Death). Just because an Australian didn't write them doesn't make them any less Aussie.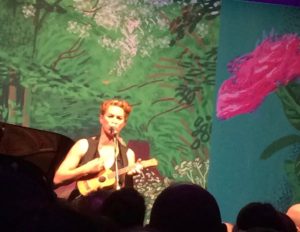 AFP returned to centre stage and her ukulele to conclude with Ukulele Anthem, her ode to an instrument that she has promoted with almost as much zeal that she has championed crowd-funding.
This was a profoundly joyous show. Okay, so there was none of the nudity they teased me with at the booking stage – the closest we got was a reference to Palmer's own map of Tassie and playing her ukulele naked – but AFP did bring her own degree of artistry to the art gallery. She may not be the killing type, but she certainly killed it on this night.
Suitably merched up with posters and cds, and sated by the artistry of AFP, Dan Kelly and David Hockney, we repaired to Southbank for a drink.
Setlist
In My Mind
Creep
Gaga Palmer Madonna: a polemic
Map of Tasmania
The Killing Type
Missed Me
A Mother's Confession
The Bed Song
Vegemite (the Black Death)
Coin Operated Boy
Ukulele Anthem