Hawthorn – Home & Away 2019
Round 23
West Coast v Hawthorn
Optus Stadium, Perth
Saturday 24 August 2019
WE LOVE OUR CLUB AND WE PLAY TO WIN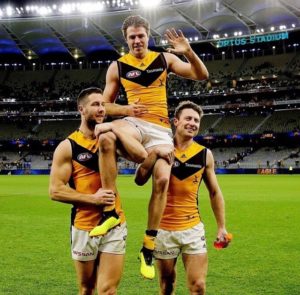 The finals equation couldn't be simpler. The Hawks need to defeat the top four Eagles in Perth with the dysfunctional Adelaide Crows needing to defeat the Western Bulldogs in Ballarat by less than 60 points, so long as Port beats Freo by less than 97 points, George Pell's conviction is upheld three – nil, and if Xi Jinping triumphs over Donald Trump in the US China trade war, the new moon must enter Virgo before Ryder learns Bella's secret in Home and Away. There, got it?
As it turned out, defeating the Eagles in Perth was the easy bit. And I'm not saying Clarko had no confidence in the Crows' chances of defeating the Bulldogs the following day, but he was handing out stubbies to the players in the post-match meeting. We were well into our Mad Monday long before the Crows fell 40 points behind in the first quarter.
From a Hawthorn perspective the match was effectively meaningless, yet the performances of players like Tim O'Brien, Chad Wingard and Jonathan Ceglar bestowed an unexpected degree of significance on the game. Any Hawthorn win is worth celebrating, but this one, away from home against the reigning premier who were playing for a top 4 spot was particularly pleasing. I mean if we're not going to make the finals, we may as well disrupt someone else's chances. And knocking off the Eagles lifts Collingwood into the top 4 and fills their fans with hopes that wait to be dashed over the next few weeks. Talk about win-win.
Optus Stadium in Perth is a magnificent venue. I've never been there or even seen it from afar, but I know of its stupendousness because Channel 7's commentary team felt obliged to remind me every couple of minutes. Two seasons in and the novelty clearly hasn't worn off for them. Just shows how infrequently they televise games from Perth into Melbourne. But it's a venue I like because Hawthorn has a 100 per cent winning record there, having won both of our matches at the venue, defeating Fremantle in 2018 and now West Coast in what might be an era defining victory. We should move our home games there.
This was Isaac Smith's 200th game and to celebrate he played with some of his former flair, even taking a strong contested mark in the first quarter and kicking truly. Luke Breust played his best game for a while, as did Jack Gunston. Big Boy played another solid game at half back and Shaun Burgoyne was good up forward. I would award Ceglar best on ground, but it was Tim O'Brien who thrilled Hawks fans the most. He took several strong marks and kicked four goals in probably his best game for the Hawks. He has come of age in the past six weeks or so and is starting to live up to the number 23. Hawks fans may have to find someone else to pick on. Conor Nash might seem the obvious target, but even he is starting to contribute strongly in games.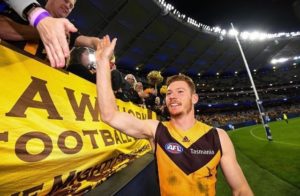 This match had many highlights: Tom Barrass dropping a chest mark early in the second quarter that allowed Luke Breust to pounce and dribble through a long goal, James Sicily's 50 metre goal in the third quarter, Tim O'Brien selling some candy as he lined up to kick his third early in the final quarter, and Jack Scrimshaw backing into Jack Darling and Liam Ryan to take a strong contested mark as the Eagles challenged late in the game. Even better was the sight of rows of empty seats as Eagles fans left early to get home and practice their booing for next week's Elimination Final.
This was a triumphant victory for the Hawks and even though we missed the finals, there is still plenty to be happy about. With Tom Mitchell to come back into the side, the continued improvement from O'Brien, Lewis, Wingard, Scrimshaw and Hanrahan, our first top 10 draft pick for a few years, and the recruitment of a marquee player or two, we can look forward to 2020 with the sort of demented optimism that will help us to shrug off petty concerns about trade wars, a flatlining economy, the rise of the right, bleached reefs, the climate crisis, floating islands of plastic, deforestation, Brexit, the Amazon in flames, and other such matters – so long as the Hawks have an upside the world will right itself.
It's the end of the season as we know it … and I feel fine.
Go Hawks!
Final scores: Hawthorn 16 9 105 d West Coast Eagles 9 13 67
Ladder position – 9th
Round 22
Hawthorn v Gold Coast Suns
Marvel Stadium
Sunday 18 August 2019
NEVER ENOUGH ROUGH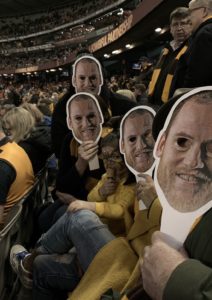 You can never have enough Rough. This was evidenced by the thousands of Jarryd Roughead masks that people were holding, waving and wearing for his farewell match, notwithstanding that the masks looked slightly disturbing if you didn't correctly match up your eyes to the slits.
Jarryd Roughead was set to play his final game for the brown and gold. And really, there was no other reason to attend this match. Even though there is still a slim chance of playing finals, our season is effectively over, we were playing the unprepossessing Suns and the match was at Marvel, which is no one's favourite venue, in the coveted 4.40 Sunday twilight timeslot.
Despite this, more than 32,000 people turned up to cheer on Rough. And the big man gave us plenty to cheer with a performance that harked back to his glory days.
In an age when game plans are multi-layered, highly secretive and carry the complexity of a quantum physics equation, Hawthorn went refreshingly old school on Sunday. We looked for and kicked to our power forward on every possible occasion resulting in six goals to Roughead and a resounding win to the Hawks. Turns out that playing football is not nearly as hard as we've made it look on occasions this season.
Admittedly the Suns played their part by pitting Roughead against 18 year old Caleb Graham, who whatever promise he may one day show, was never going to stop Roughead with the ball coming in so regularly.
Even the umpires got into the spirit of celebrating Rough by finding a downfield free kick for him right in front of goal. Possibly a gesture to the many free kicks he should have received over the years.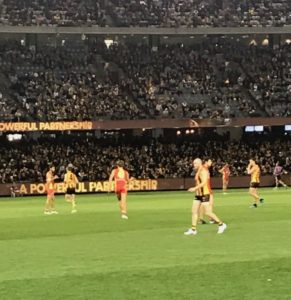 When Jack Gunston cut across to intercept a mark meant for Rough the crowd jeered good-heartedly. It was all good crowd-pleasing theatre, although we jeered again with greater intent when he missed the shot.
Clarko swung a surprise by playing McEvoy as a rebounding defender. The fact that McEvoy proved effective in this role was an even bigger surprise, though I'm not sure it will work so well next week when he has Liam Ryan and Willie Rioli scooting about at his feet.
This was the first time for the season that Hawthorn has managed 100 points which suggests either the Suns aren't very proficient in defence, or Rough is the answer we've been looking for up forward. He added two more goals in the final quarter, including a spectacular snap around his body on the run to enliven the final minutes of the game and cap off a magnificent career.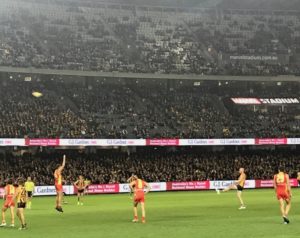 Like Cyril, Rough was universally loved by football fans. In the eyes of opposition fans, Rough remained our one redeeming feature. And now that he has followed Cyril into retirement, opposition fans will be able to give full, unfettered vent to their hatred and loathing of Hawthorn. It's fair to say James Sicily doesn't encourage quite the same degree of warmth and respect as Rough. Perhaps he should wear a Roughead mask next season.
Final scores: Hawthorn 18 10 118 d Gold Coast Suns 7 6 48.
Jarryd Roughead: 283 games, 578 goals (47 in finals) – 6th highest for Hawthorn, 2013 Coleman medal, 2 x all-Australian, 4 x premiership player, all-time legend.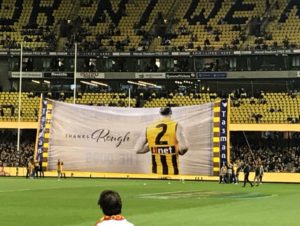 Round 21
GWS Giants v Hawthorn
Manuka Oval, Canberra
Friday 9 August 2019
RIDING THE MOGULS WITH A GRIN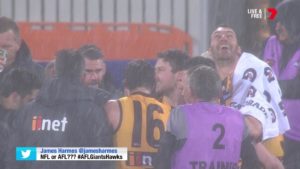 For important games in the late 1970s and 1980s, my cheer squad buddies and I would go to the football armed with a bag crammed with bundles of cut up phone books. At a pre-arranged juncture, usually the first Hawthorn goal of the last quarter, we would hurl the paper bundles into the air. The bundles would funnel upwards until they got caught in a thermal and then separate, whereupon hundreds of squares of paper would waft about before settling on the ground. Snow we called it.
And there were some memorable snowstorms or whiteouts as everyone in the cheer squad simultaneously let loose with our handfulls of paper. Once it settled, the goals at our end would be covered in a carpet of paper and if we were sitting upwind, the paper would spread across the oval.
Killjoys and pedants might call it littering, but it was all in the name of paying due homage to Hawthorn goals, so in the grander scheme of things, we were doing God's work.
At Manuka Oval on Friday night there was no need for our artificial blizzard as the temperature was so cold the real stuff fell from the sky.
This was the first ever recorded occasion of snow falling during a VFL/AFL match. As always when history is being made, the Hawks were not only on hand, but in front. GWS are officially our snow bunnies.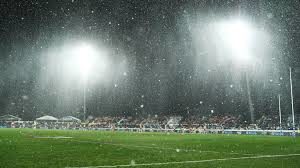 This was one of Hawthorn's finest all-round performances of the season. The three James', Worpel, Sicily and Frawley all played well, as did Isaac Smith, Paul Puopolo, Jaeger O'Meara, Chad Wingard, Luke Breust, Jon Ceglar and Tom Scully. Tim O'Brien continued his good form and Conor Nash, a late inclusion for the injured Jack Gunston also contributed. We stifled the opposition and attacked with enterprise and endeavour. We even kicked straight. Plus we held the Giants goal-less from half-time and to their lowest ever score.
However, despite this unexpected display of power and proficiency against top 4 opposition, no one is talking about Hawthorn's performance, and there is not even much discussion about GWS's poor performance, because the only talking point to emerge from the match is that it snowed. And that the Hawks players seemed to relish the conditions with a childlike glee which somehow contributed to the win.
Fair enough – it would be churlish of me to suggest otherwise. However, I also like to think that being Hawthorn's first game in Canberra, we were assuming our rightful position of power in the nation's capital. And perhaps it was lucky we weren't playing Melbourne.
It was a delight to see snow at the footy, but it was even more of a delight to see the Hawks turn on a blistering performance. I got into the spirit of things by throwing handfuls of cut-up paper across the lounge room as Luke Breust slotted our first goal for the final quarter.
Final scores: Hawthorn 13 7 85 d GWS Giants 4 5 29.
Round 20
North Melbourne v Hawthorn
Friday 2 August 2019
Marvel Stadium
WAR ON FAUNA
The organised slaughter of native Australian fauna was in the news this week when it was revealed that Chinese high rollers visiting Crown Casino in Melbourne also enjoy a rural retreat in Gippsland where they hunt wombats.
Even setting aside the legal and ethical side of this operation (which clearly the Chinese high rollers do), the ability to shoot a slow, cumbersome creature like a wombat would hardly be a challenge for a trained marksman. Shooting wombats in Gippsland is not that far removed from the fish in a barrel scenario. Unlike a kangaroo for instance, which can bound about and move at great speed.
Such was Hawthorn's dominance in the early part of this match, you'd have thought we were playing against wombats rather than kangaroos as we dodged the clutches of opponents, moved the ball with speed and accuracy and hit up targets at will. With the score at 4 goals to nil after 15 minutes, it looked like vintage Hawthorn circa 2012-2015.
Our new two-pronged forward line of Lewis and O'Brien were clunking marks like Roughy and Buddy of old. Our crumbers were gathering loose balls and our tacklers were bringing down opponents like it was a cull.
It was a fast and furious football and Hawthorn went to the first break in need of a rest. With a 20 point lead we could lounge on our laurels during the huddle. And our laurels must have been comfy because we remained resting on them for the next three quarters.
By half way through the second quarter North were back in the match and I was flicking between the footy on 7 and day 2 of the First Test on 9. Both were equally unrewarding with Hawthorn unable to kick a goal and Australia unable to take a wicket in England's first innings.
This raised questions over selection. Why wasn't Mitchell Starc in the team? And why was Conor Nash in the team?
I had given up on Australia by this stage, but was still pretty confident Hawthorn would find a way to win. Even if Shaun Burgoyne breaking Adam Goodes' record for the most games by an Indigenous player (373) wasn't enough, surely the fact that North had appointed caretaker coach Rhys Shaw into a permanent role during the week pointed to a hawthorn victory.
Imagine my consternation then when North's dominance grew and we fell further behind. But not so far behind that we could stop watching and do something more fulfilling, like fold laundry or load the dishwasher. Just far enough behind that you could sense all hope sapping away. Surprisingly, when Tom Scully snapped for goal with ten minutes remaining, we would have been within a goal had his kick not cannoned into the post. Having blown that chance, North then kicked a couple of goals and were able to run down the clock simply by getting Ben Brown to line up for goal. His run-up is longer than Mitchell Starc's, so long in fact that I expect the umpire to penalise him for running 'too far.' Once he's used up his 30 seconds, a further minute and a half elapses while he takes his run up to kick the ball.
Our finals campaign would seem to be over by now. I'm no numbers man, but I think our chances of playing finals have moved out of the parameters of 'mathematically possible' and into the murky realms of 'highly improbable.' That said, given that this season we've tended to lose to teams below us on the ladder while defeating those above us, we have a chance against GWS and the Eagles – it's the Suns we have to worry about.
Final scores: North Melbourne 12 14 86 d Hawthorn 9 10 64
Round 19
Hawthorn v Brisbane Lions
University of Tasmania Stadium, Launceston
Saturday 27 July 2019
SPACE ODDITY
During the week the world celebrated the 50th anniversary of the moon landing. It truly was a remarkable achievement. Just think about it, three astronauts (Neil Armstrong, Buzz Aldrin and Michael Collins) somehow managed to navigate their tiny rocket module all the way from Cape Canaveral in Florida, break through the Earth's atmosphere, fly onwards into the infinite inky vastness of space and land it with unerring accuracy in the moon's Sea of Tranquility.
The list of things that could have possibly gone wrong is almost endless. The number of unknowns that could have knocked the rocket even slightly off course on its 384,400 kilometre journey are too numerous to quantify. The number of unforeseen variables that could in some small way have affected the landing was limitless, yet somehow it all came off. They had one shot at it and they succeeded.
By comparison, on the weekend in Launceston, all Hawthorn had to do was guide a fully inflated Sherrin by foot through an aperture measuring 6.4 metres wide traversing a distance of somewhere between 10 and 40 metres. Sure, Launceston is a bit chilly and known for its tricky breezes, but that is nothing compared to the minus sub zero temperature in cold outer space or the buffeting and blustery galactic winds the astronauts had to contend with. So for Hawthorn to hit the target just 7 times and miss 18 times – or if you just count set shots, hit the target just once and miss 11 times – is a success rate that when translated to the Apollo 11 mission would have seen all three astronauts sucked into a black hole or asphyxiated in some outer-solar system vortex.
Thank God that Messrs Mitchell Lewis, Luke Breust, Paul Puopolo, Jack Gunston (although in fairness Gunston was responsible for the one accurate set shot) et al were not at NASA working on the calculations required to land man on the moon. On the other hand, what a shame that Armstrong, Aldrin and Collins weren't lining up on the Hawthorn forward line.
We can't blame Tim O'Brien as he was a late withdrawal after his three goal haul from the previous week. As the saying goes, 'No O'Brien, No Hawthorn.'
I missed most of the game as I was in East Sunbury (which is nearly as far away as the moon) watching my son's team play – a game in which interestingly, number 33 for Moonee Valley kicked a 50 metre bomb with the final kick of the game to put them in front and give them victory. When I returned home Hawthorn and Brisbane were level on 42 points apiece – which interestingly is the answer to the meaning of Life, the Universe and Everything in Douglas Adams' trilogy The Hitchhiker's Guide to the Galaxy.
I tuned into my Telstra livestream just in time to watch Brisbane kick 4 goals in nearly as many minutes to set up the decisive margin.
I was doing household chores as the game continued, but literally every time I checked in, I saw Brisbane kick a goal. Overall, in live action I saw Brisbane kick 7 goals to our none. So I took what I thought was the only responsible course of action for the sake of the team, and stopped tuning in. It didn't help, but at least I didn't have to sit through it.
To follow up a triumphant victory over Geelong at the G with a dispiriting loss to Brisbane in Launceston was disappointing, not least because a win could have landed us in the 8. Oh well, it keeps us grounded, not unlike the Apollo space program.
After many years, NASA is talking about reviving its moon landing missions. It might be worth sending some of the Hawks forwards to Florida in the season break to learn about the quantum physics involved in kicking a Sherrin accurately.
Final scores: Brisbane 13 9 87 d Hawthorn 7 18 60
Ladder position – 11th
Luke Hodge has now played in the winning team in the last 12 games between Hawthorn and Brisbane – 8 for Hawthorn between 2010 and 2017, and 4 for Brisbane between 2018 and 2019.
Round 18
Geelong v Hawthorn
MCG
Sunday 21 July 2019
THREE-PEAT
People around the world spent the week being grossed out by cats. This is nothing new to Hawthorn fans of course; we've spent the best part of 12 years being grossed out by them. However, this wasn't the Geelong Cats, but the trailer for the film version of Andrew Lloyd Webber's musical Cats which is set to open next year. What disturbed most viewers was the weirdly sexualised CGI cats with nude fur and large breasts. It was reminiscent of Geelong's famous Mad Monday dress-ups with Jimmy Bartel dressed as a school girl – just wrong on any number of levels.
And talking of missteps, I'm not saying Geelong are getting ahead of themselves, but Chris Scott spent most of the week leading into this match whining about how they should get a home final. Which I thought was a bit presumptuous given there are still six matches to go before the finals. Lose all or most of them and it will be a moot point. To say nothing of the fact that their boutique stadium holds only 35,000 people – considerably fewer than might wish to attend a potential final against Collingwood or Richmond. Or indeed, Hawthorn.
Perhaps they should have thought of this a couple of years back when Victoria's tax payers graciously paid for their stadium upgrade. I'm sure we would have agreed to plump for a few thousand extra seats – so long as we could get access to them when the time came.
As it was, this match at the MCG was a home game for Geelong. I'm sure they enjoyed the additional revenue generated by the 53,000 people who turned up to watch – a good 18,000 people more than their little country ground holds. Besides, this is the fifth time they've played at the MCG this season, so assuming they qualify for the finals, it's not like the MCG will be a foreign venue.
Not that there is anything novel about Chris Scott whining. The good thing is that Hawthorn gave him something to really whine about as we notched our third successive win – a three-peat!
Australia's netball team the Diamonds lost the world cup final to arch-rival New Zealand. Last week Australia's cricket team lost world cup semi-final to arch-rival England. And swimmer Mack Horton was runner-up in the final of the 400m freestyle at the world championships to arch-rival Sun Yang of China.
Depending on which side of the binary divide you sit, these could be seen as dark days, but cancelling out any disappointment derived from these results was Hawthorn's stirring victory over arch-rival Geelong on Sunday afternoon. What a triumph!
I'll admit I didn't see it coming. Despite the Hawks notching up successive wins coming into the match, I thought Geelong would have too many attacking options for us to withstand, irrespective of how well our defenders have been playing. Mainly I thought they'd receive too many dodgy free kicks, which of course they did – 22 to 14 – but somehow we overcame this discrepancy.
Not only didn't I see it coming, I didn't even see it. I was at West Meadows watching my second son's final match for the season with Moonee Valley. So I was confined to checking the Hawthorn scores via app. Miraculously, every time I checked we were ahead. There is a special sort of anxiety attached to following football via an app – that anxious moment of the unknown as the score updates. I imagine it's not unlike a bond trader monitoring the stock prices – you're just watching numbers rise and margins widen and narrow, waiting for the next fluctuation.
I watched the game when I got home and couldn't have been more impressed, particularly with Mitch Lewis and Tim O'Brien. Earlier in the weekend's round the football media were lauding Richmond's twin towers Tom Lynch and Jack Riewoldt for their return of 3 goals each. Well, Lewis and O'Brien, with a few hundred games fewer experience than their Richmond counterparts, and with several thousand dollars a week less in remuneration, were equally productive. Both of them marked strongly and kicked accurately.
Liam Shiels playing in his 200th game was the standout player and also kicked a couple of goals. My favourite passage of play came just after his second goal late in the third quarter. The Cats dominated possession and set up repeat shots on goal (although Shaun Burgoyne set up one of them with an uncharacteristic turnover), but could only manage 4 behinds. First Esava Ratugolea missed a set shot, then Rhys Stanley, Gryan Miers and Zach Tuohy all missed relatively straight forward shots on goal. It like the 08 Grand Final all over again.
This was arguably our best performance of the season; it was certainly the most satisfying win, notwithstanding the knee injury Jarman Impey sustained. We now face the remainder of the season without our best player in 2018, Tom Mitchell, and our best player in 2019, Jarman Impey.
This latest injury adds to the frustrations of a disappointing season, but if we get nothing else out of 2019, at least we beat Geelong.
Final scores: Hawthorn 12 13 85 d Geelong 8 13 61.
Round 17
Hawthorn v Fremantle
University of Tasmania Stadium, Launceston
Saturday 13 July 2019
BACK TO BACK
"He fisted the air the moment leather hit leather." This quote isn't lifted, as you might expect, from 50 Shades of Grey, or something overheard in the back room of the Peel Club in the early 90s, but is in fact a snippet of commentary from Dwayne Russell after Mitch Lewis nailed a set shot in the first quarter against Freo.
If one's thoughts turned to rough sex or sordid S&M practices, it's not necessarily a sign of deviancy, but a measure of how uneventful the game was.
For even though this was the first time Hawthorn registered consecutive wins, we did so without much in the way of flourish or finesse. Fans can be forgiven if their minds drifted to less mundane matters during the course of the game. Besides, it was Dwayne Russell who put ideas in our heads. And it's not such a great leap from watching the Hawks dominate to the fizz of sexual frisson. Or is that just me?
There was a period in the second quarter when it looked like Nat Fyffe might single-handedly win the match for Fremantle (literally single-handedly given the state of his shoulder), but the Hawks eventually shut him down. Which was good from a result perspective, but he was the only player from either side showing dash and dare, so perhaps not so good for the game's aesthetic. He'll still likely get the 3 Brownlow votes for this game and I don't think I'll quibble about it.
Even though we led, the main highlight of the first half was Grant Birchall taking the field for the first time in two years. Welcome back Birch.
The Freo threat persisted early in the third with Freo drawing within 1 point, until Conor Nash, of all people, snapped a goal that seemed to wake up his team mates. I say 'of all people' because Conor Nash is not exactly a prolific ball winner nor a reliable kick. A handsome man and a good athlete, he will hopefully be more valuable and a player when he can get into the game more.
The Hawks took control of the match from this moment with a goal from Breust and a couple from Mitch Lewis, to round out the quarter.
The final quarter was all Hawthorn. Our possession game eventually translated into goals and a 31-point victory. There was a time when the phrase 'back to back' at Hawthorn referred to premierships, but now it just refers to wins. Who knows what level of licentious behaviour and sexual wantonness this triggered among Hawks fans celebrating consecutive wins for the first time this season. Perhaps only Dwayne Russell can hazard a guess.
Final scores: Hawthorn 12 12 84 d Fremantle 8 5 53
Round 16
Hawthorn v Collingwood
MCG
Friday 5 July 2019
BLACK ARMBAND
We lefties may mock Donald Trump's accusations of 'fake news' but there is no better example of it than reporting on the AFL. The proliferation of 'experts' and commentators and the sheer amount of air time, page space and internet platforms acts as a breeding ground for people to just 'make shit up.'
It has actually reached epidemic proportions. This week alone, apropos of nothing and not based on anything said by any of the players or coaches concerned, and in direct contradiction to their reported statements in some cases, Jon Patton and Stephen Coniglio are leaving the Giants for Hawthorn, the Hill brothers are leaving Freo to also go to Hawthorn, or if not there somewhere else, Buddy Franklin is going to Carlton, Orazio Fantasia is going to Port, Jarryd Roughead is going to St Kilda, Clarko is going to coach Carlton, John Longmire set to coach is North and James Hird is coaching St Kilda.
Sure, none of this makes any more sense than Mark Latham joining One Nation, Neil Finn joining Fleetwood Mac, or Bob Dylan converting to Christianity, all of which happened, but that doesn't mean you can just make up any possible scenario and pass it off as news.
Normally I don't follow the footy gossip, but my mum is gravely ill and along with my brothers, we've been keeping a bedside vigil this week. So I've had plenty of time to read the papers, posts and Facebook feeds.
I watched this game under traumatic circumstances, by my mother's bedside in her nursing home while she was sedated. Mum and I would often watch football together so for me, this was a way of staying connected and even though she was not able to sit up and take in the game, I stayed to watch the game in her company.
My mother was a kind, generous person who accepted people for who they were. However, if there was one exception it was Brian Taylor's football commentary. So I watched the game with the volume on mute, as I didn't want mum's final audio experience to be BT's overly exuberant descriptions of the action. Instead, the final thing she probably heard was me groaning every time Hawthorn turned the ball over.
But it was a high pressure game, as opposed to a highly skilled game, so tackling was fierce and turnovers were commonplace. Happily Collingwood committed just as many as the Hawks. Hawthorn's main problem in the first quarter was conversion, with a prolonged period in attack resulting in a series of behinds, including a rushed behind when Gunston somehow contrived to miss a kick off the ground from the goal square.
Such was the agony of watching Hawthorn blunder in attacks, I thought about wrestling the nurse for some of mum's morphine. In contrast, Collingwood goaled almost every time they went inside 50. One sign that the Hawks forwards were struggling was that our sole goal kicker for the quarter came from back pocket Blake Hardwick.
From there though, things evened out and the intense pressure of the contest, or the extreme cold in which the match was being played, kept the scores relatively close. A 10 point deficit at the final break was not insurmountable, but with only 4 goals on the board to that point, it was still daunting enough.
Instead of the proverbial game of two halves, this was a game of one quarter, with both sides suddenly finding avenues to goal that had not existed in the first three quarters. Perhaps it took 90 minutes for the players to thaw out. However, when Will Hoskin-Elliott goaled 5 minutes in to extend Collingwood's lead to 18 points, it didn't look promising. We'd only kicked 4 goals in 95 minutes of football, and would require at least 4 more in the remaining 20 if we were to win.
In the circumstances I had never been better placed to put football into perspective, and even though I could accept a loss, I was still hoping we'd kick a couple of goals simply to avoid humiliation.
Then over the course of the next 10 minutes or so, Hawthorn maintained almost constant possession of the ball. Sheer weight of numbers, law of averages or simple karma meant that eventually we would score, and after several quick handballs and much fan exasperation, young Oliver Hanrahan squeezed through a goal.
It seemed to serve as a reminder to the rest of the team as to the point of the whole enterprise, because in the course of the next 10 minutes, first Ben McEvoy, then Mitch Lewis and Hanrahan again kicked further goals and we were 8 points in front. I celebrated in silence and even dared to hope we could win.
Having lost to the Eagles by less than a goal the previous week, I was fully expecting that Collingwood would overrun us, especially when Hoskin-Elliot kicked his second goal to make the difference just 3 points. It was very tense in the final flurry of minutes, but there was a moment of reprieve when Tim O'Brien took a fine steadying mark with just 40 seconds remaining. 'Just go back, eat up some time and bang it down the line or hit up a leading target' I thought. Of course O'Brien had other ideas and decided to switch play and passed to Hardwick in the corridor. His kick looped up and hung invitingly in the air as Chris Mayne closed in. In a flash I could see what was about to unfold; interception by Collingwood, long kick forward and De Goey slamming through the winner on the siren. It was then as the ball hung in the night sky that I came up with the idea of fitting a device in O'Brien's GPS tracker so that if he looked like he was about to switch play, someone in the coaches' box could deliver a short, sharp electrical charge to jolt him out of it.
But whether it was the footy gods or some other form of divine intervention, xyz held the mark and the Hawks held on.
This was Luke Breust's and Ben McEvoy's 200th game, both played well, as did Jarman Impey and James Sicily.  Breust even kicked what turned out to be the sealer after a great handball from Conor Nash.
The match wasn't front of mind for me, but I was glad of the victory nonetheless. And I know mum would have been pleased that Hawthorn won, or at least that Collingwood lost.
Mum passed away early the next morning, so I was more pleased when Jayden Hunt goaled the following day to give her beloved Melbourne victory over Carlton.
R.I.P. mum. Go Dees!
Final scores: Hawthorn 9 13 67 de Collingwood 9 9 63
Melbourne 15 15 105 d Carlton 15 10 100
Round 15
Hawthorn v West Coast Eagles
MCG
Saturday 29 June 2019
RAPTORS IN THE RAIN
Eagles and Hawks – both birds of prey, but with the Eagles the reigning premiers and the Hawks plummeting down the ladder, this match was seen more as birds of prey versus birds without a prayer.
I wasn't necessarily planning to go to the Saturday's game between the Hawks and the Eagles – the time wasn't convenient, it was cold, expected to piss down with rain, and Nic Nat was back to dominate in the ruck for the visitors. But then who should slide into my DMs but Clarko, texting me to urge me to get along to the game.
It would be rude not to go if the master coach has personally requested my presence. I don't know how he got my number, possibly through all the unsolicited free advice I text through to the club on a weekly basis; things like, "Put Rough back in the team," "Have you thought of playing Sicily up forward?" "Luke Hodge comes out of contract at the end of the year – he'd be handy on the backline," "Any chance Jason Dunstall could drop by training and give the boys some goal kicking practice?" and "I don't suppose we could interest Cyril in a fly-in, fly-out arrangement?"
There were a series of other texts about O'Meara in the showers, but as I explained to the police when they questioned me, that must have been when my phone was hacked by Russian fembots.
Anyway, it was nice of Clarko to send me a personal invite. I know he contacted one or two other people, but I reject any suggestion that this was a mass group text to every Hawthorn member who resides in Melbourne in a desperate attempt to get a crowd for the match.
As it happened, I couldn't get to the match until late in the second quarter and we were trailing 3 goals to 6 when I pushed through the turnstile. So it was hardly propitious, but nothing a few half-time drinks in the Hugh Trumble Bar wouldn't help mitigate.
Somehow, I managed to find my crew among the throng of thousands, and as luck would have it, there was a spare seat nearby. About 70,000 spare seats as it happened.
The third quarter was a good old-fashioned Hawthorn blitz with wave after wave of brown and gold attack. Worpel, Burgoyne, Hanrahan and Smith all piled on goals. Unfortunately, they all piled on behinds as well, as did Howe, Gunston and Nash. Our quarter of dominance resulted in 4.7 to 1.0 – with the Eagles solitary goal coming from a 50-metre penalty awarded after when Isaac Smith knocked the ball away from Luke Shuey.
Still, we held a 5 point lead at three-quarter time, so we were not entirely without hope. We still held a 1 point lead with two minutes to go, and I was starting to believe that we might just hold on, which was of course the cue for a series of Eagles attacks – which resulted in a behind to Brad Shephard to level the scores. Burgoyne's long bomb up the middle was the right idea, like Glen Maxwell trying to heave one over cow corner for six, but like Maxwell's more speculative lobs, this one didn't quite come off and it was the Eagles who won possession and got the ball forward where Jamie Cripps kicked the winning goal.
Oh well. It was disappointing to lose when we had been so close to winning, but the boys tried hard. We just couldn't get a clean possession in the final minutes. Jarman Impey and Liam Shiels were excellent and James Frawley kept Kennedy goalless. Unfortunately, our forwards weren't able to kick accurately and the Eagles displayed more polish when it counted.
It was our fourth loss in succession – a four-thorn if you like. In the wake of the loss, the media is full of people who aren't 4-time premiership coaches offering their opinions on what Clarkson should do to resurrect the Hawks. Call me a traditionalist, but I reckon someone with 15 years coaching experience, including 4 premierships, might have a little more insight on how to get Hawthorn back on the winning list than someone working in the offices of The Age, Herald-Sun, or the numerous other media outlets that feel the need to clog the airwaves and the 24 hours news cycle with their hair-brained theories. 
Worst are those who are setting out the rationale for Clarkson to go to Carlton. Talk of Clarkson going to Carlton, or anywhere else, is somewhat premature at this point, especially now that he's in my contacts list.
Final scores: West Coast Eagles 11 11 77 d Hawthorn 9 17 71
Ladder position – 15th
There has been much talk about Hawthorn's poor crowds this season and our fair weather supporters. Sure the MCG looked sparsely populated on Saturday, but that's because it was pissing down with rain and most people were all sitting undercover, or in my case, in the Hugh Trumble Bar.
But the excellent people at the Glenferrie Gold Facebook site posted a comparison of the weekend's crowds that makes for interesting reading.
Hawthorn v West Coast Eagles (v interstate team) – cold weather, driving rain – 31,895
Essendon v GWS (v interstate team) – under roof – 25,195
Geelong v Adelaide (v interstate team) – clear night – 28,195
Sydney Swans v Gold Coast Suns (v interstate team) – clear night – 26,194
Port Power v Western Bulldogs (v interstate team) – driving rain – 25,623
Even Collingwood v North – two Victorian teams playing in the dry under the roof attracted only 7,000 more people – 38,800. Admittedly, North is virtually the equivalent to an interstate team when it comes to crowd numbers.
So, it seems that our supporters aren't that bad after all, and anyone who was there can hardly be called a fair weather supporters given that it was sub 10 degrees Celsius and pissing down with rain.   
Round 14
Sydney Swans v Hawthorn
SCG
Friday 21 June 2019
Clarko has been bemoaning Hawthorn's lack of consistency this season, but after three consecutive losses, each by 19 points, in which we've kicked 10, 11 and 9 goals respectively, it appears we've overcome that problem – just not in the way we wanted.
Jarryd Roughead was back in the team for this match, but I suspect his selection owed less to his form and more to Hawthorn needing a good news story after the Stratton pinching saga the week before. Still, Rough kicked a nice goal just before half-time to keep us in the game, and with a total of 1.1 for the night, he kicked more than 10 per cent of our score, so he more than justified his selection.
This was another disappointing game for the Hawks; after a woeful first quarter we worked back into the match, but never really looked like winning. We broke even around the ground in the third quarter, but four consecutive behinds represented about the same return for our efforts as Jaidyn Stephenson's bets.
Again, our forward line was beaten. Our tall forwards – Roughead, Gunston and Sicily – could no more take a grab than our small forwards – Breust, Puopolo and Moore – could swoop on the crumbs. In fairness to them, the ball was in our forward line so infrequently I thought that perhaps we were the victims of Sydney's lock-out laws.
The midfield of O'Meara, Shiels and Worpel more or less held their own and aside from the first quarter, the defence weren't too bad. Even Tim O' Brien only turned the ball over once for a goal. Unfortunately, the damage had been done by quarter time and even though Buddy went off with a hamstring injury, he'd cut loose with 4 goals by then. Which, as it turns out, was the difference. It was a shame he got injured because there's still no one better to watch than Buddy in full flight, even when he is kicking goals against us. This was his 299th game and it was a shame that his 300th didn't fall on this night so we could pay true homage to one of the greatest players of the modern era.
So it's not that we were completely dreadful, we were just not that good – kind of like the third season of The Good Place, or the third season of any other TV series for that matter. Even so, we're compelled to keep watching because we remember the good episodes and we live in hope that it might get better. The problem is we're not playing with any penetration or panache, any drive or daring, or let's face it, any Tom Mitchell. Our game plan of possession football would be fine if we could maintain possession. I'd also accept if we played like men possessed. But we're not skilled enough to keep the ball and the result is either a calamitous turnover or ball movement that is as slow and predictable as a Kevin Costner movie. And as painful to watch.
This is our 3rd loss in succession and our 5th loss to a team outside the 8. Over the next 4 weeks we play 4 teams from the top 8. I don't know much about numerology, but these don't look like a propitious set of figures.
Talking of numbers though, it was a nice touch from the Hawthorn players to wear no. 37 on their warm up tops in honour of Adam Goodes, even if most Hawks fans were wondering why we were paying tribute to Angelo Lekkas.
In the end, the Hawks are not the first group of fit young men to go to Sydney wearing gold jumpers, tight shorts and long gold socks, only to return home bruised, battered and full of regret. But we will rise again.
Final scores: Sydney Swans 12 10 82 d Hawthorn 9 9 63.
Ladder position – 12th
Round 13
Essendon v Hawthorn
Marvel Stadium
Friday 14 June 2019
A BRUISING ENCOUNTER
I didn't attend Friday night's game between Essendon and Hawthorn. With the crackdown on fan behaviour there was no way I was going to get through a match against Essendon without being ejected from the stadium. Or quite possibly arrested on my way into the ground. So I decided to cut out the middlemen – the middlemen on this occasion being the new 'Behavioural Awareness Officers' that patrol the aisles of Marvel Stadium like the AFP going through the underwear drawers of journalists – and just stay at home to watch the game on TV.
But even this presented a dilemma. During the week Collingwood 'superfan' Joffa announced that he was boycotting all games until AFL supremo Gillon McLachlan apologises to fans for the overzealous enforcement of umpire abuse, opposition player abuse and even cheering. Well, I thought, if nothing else, the crackdown will have achieved something. It will be interesting to see how committed Joffa is to the boycott if Collingwood makes the Grand Final.
Here was my dilemma; do I boycott the match in protest over Gillon McLachlan and his thought police henchmen, or do I boycott Channel 7's telecast in protest over brother Hamish McLachlan's irritating match commentary?
In the end I didn't attend the match because like all Essendon home games at Marvel – it was virtually impossible to get a ticket. The match was officially a sell-out – which meant of course that level 2 was half empty. I don't know who does ticketing at Marvel, but I wouldn't want them to be in charge of a head count on a school excursion.
As for the match, the Hawks were underwhelming. Not entirely hopeless or terrible as some fans venting online would have it, but just lacking in a bit of finesse, composure and drive. Ultimately, we were outplayed by a team that ran harder, faster and played with greater energy and endeavour. Essendon's three big 'ins' Fantasia, Stringer and Shiel all had an impact, while of Hawthorn's three 'ins' McEvoy, Moore and Brand, only McEvoy made a significant contribution.
As has become a Hawthorn trademark, we dominated the early parts of the game in terms of possession, but unfortunately this didn't translate into goals. Which was good in a way because it saved fans the anguish of watching on helplessly as we got overrun.
For the Hawks, Jarman Impey, James Worpel and Liam Shiels all played pretty well, Luke Breust tried to set an AFL record for the number of fend-offs he could dish out – the only problem being that he didn't get the ball enough. The decision to drop Mitchell Lewis was perplexing enough, but to not bring in Jarryd Roughead as a marking forward option compounded the problem – a problem borne out by our inability to take a mark inside 50.
I don't know what upset me more; that we weren't playing well enough to win, or that we were playing well enough to stay irritatingly within touch, without posing any real threat of winning.
Not that anyone is talking about the match. In fact barely a mark or goal is making the highlight reel. Even Adam Saad's brilliant interception of a James Frawley handball from which he goaled on the run from 50 isn't being replayed. Instead all the focus is on Ben Stratton's onfield actions, mainly his pinching of Essendon forward Orazio Fantasia who finished the game with several bruises on his upper arm. The football world has become outraged by Stratton's actions and so fixated on Fantasia's bruises that people have almost forgotten to argue about the correct way to pronounce his name.
Ben Stratton's tactics of niggling and pinching are designed to annoy and irritate his opponent. Defenders have been doing it for years. 'Whatever it takes' to borrow Essendon's own slogan. However, another option Stratton might like to consider is to deny your opponent the ball and get it yourself. That would irritate them more and arguably be more effective. Whatever you think of Stratton's tactics, they didn't work because Fantasia still kicked two goals and played quite well.
However, I'm not so sure that Ben Stratton's actions warranted quite the degree of media hysteria that he received. In the same week that the Australian man accused of the Christchurch massacre appeared in a New Zealand court, it was Stratton who received by far the worse press. Perhaps some of the focus should be on the umpires who didn't pay a free kick against him at any point, even though they could see what he was doing. Or perhaps some of the scrutiny should be on the AFL's behavioural awareness officers – these people have supposedly been trained to spot anti-social behaviour and yet this was going on right under their noses without any of them intervening. Should Essendon's dieticians be held to account for Fantasia's obvious iron deficiency?  Or are the bruises from something else entirely, the administering of a supplements program perhaps?
During the commentary Bruce McAvaney expressed worry on behalf of Fantasia's parents – saying that he'd be concerned if that was his boy. Perhaps he's right, but I'd be more concerned if I had a son who played for Essendon.
Really, only Fantasia came out of this with any credit. His matter of fact commentary and dismissal of the tactics being in stark contrast to the confected outrage from all other quarters. In any case, no one can accuse him of playing 'bruise free footy.'
My favourite commentary came from Jon Anderson writing in the Herald Sun who invoked the words of Gary Ablett Snr who complained after being subjected to similar treatment from Collingwood's Craig Kelly in the 90s. "I didn't respect him as a player. I didn't like the way he handled himself on the ground," which is all fine, but I'm not sure it is necessarily wise to invoke Gary Ablett Snr as the moral arbiter on any issue when you consider how he handled himself off the ground after his career.
Just as the dust was beginning to settle on the Ben Stratton story, Hawthorn president Jeff Kennett decided to weigh in on the issue of crowd control. Sure, he prefaced his comments that the security guards are 'new arrivals' and don't understand the culture of the game by saying that he wasn't being racist. But if he wasn't being racist, he was getting pretty close.
Hawthorn's week of bad press wasn't quite over, because Stratton still had to face the tribunal. He was suspended for 2 weeks; 1 week for stomping and 1 week for pinching. And fair enough; after all, the upper arm is sacrosanct. So for those who were wondering where pinching ranks on the hierarchy of offences, to adopt the Gary Ablett Jnr scales of justce, it would seem that it is more serious than elbowing someone in the head, and equally grave to punching someone in the face.
It was proving to be a bad week for Hawthorn. But just as I was hoping for an Essendon drug crisis or St Kilda sex scandal to take the focus away from us, up stepped Collingwood and Jaidyn Stephenson with a good old fashioned Magpies betting scandal. Go Pies!
Final scores: Essendon 14 12 96 d Hawthorn 11 11 77.
Ladder position – 12th
My favourite footage of over-zealous security was footage of a security guard at Blundstone arena moving in to intervene as Jack Ziebell wrestled with Heath Shaw. People assumed he was moving in to break up the fight, but perhaps we shouldn't rule out that recognising it was Heath Shaw on the ground, he decided he was going to sink the boots in while he was down.
Round 11
Brisbane v Hawthorn
GABBA, Brisbane
Saturday 1 June 2019
DISINTEGRATION
There's an old saying that if you put a lolly in a jar every time you have sex in the first year of a relationship, and then take one out every time you have sex after the first year, you'll never finish the jar of lollies. Watching Hawthorn is a bit like that at the moment; frenetic, non-stop erotic action for the first quarter followed by diminishing returns thereafter.
Goals to Wingard, Breust, Impey, Henderson and Lewis in the first quarter got us positively excited. Aroused even. We were attacking the ball and moving it swiftly. The tropical air was moist. The umpiring was going our way. Brisbane were missing shots at goal. It was almost too good to be true. Almost…
Of course, from then on Brisbane made what adjustments they had to, Hawthorn ran out of energy and endeavour, our attacks became flaccid and impotent and we barely touched the ball for the next three quarters. If not for Shaun Burgoyne smothering, tackling and disrupting several Lions' attacks, the game might have been over at ¾ time.   
As it was, with just over 7 minutes left, Mitch Lewis took a mark and lined up from 30 metres out on a 45 degree angle for a goal that would put us just one point in arrears. When I say 'lined up' I mean he faced across the ground to go for one of those around the corner kicks that are all the rage these days. It was apparent from the look of mild panic on his face that he'd never pulled off such a kick previously, which begs the question of why he chose that moment to attempt one, especially as a straight forward drop punt would get the job done. Of course he missed and less than one minute later the Lions had piled on two goals to lead by three. Game over.
It certainly excited the large group of school boys who were attending the game – and oddly for a Saturday night – were all wearing full school uniform. In fact there were more people in the crowd wearing blazers than Lions jumpers.
It was 1 June, the first day of winter, and as Richard III so pithily put it, "Now is the winter of our discontent." One day in and already we'd suffered an ignominious loss to the resurgent Brisbane. Even in this however, the Hawks were ahead of the curve, for we were getting beaten by Brisbane long before it became fashionable. We are old hands at this. So much so that erstwhile Hawk hero, turned Lion, Luke Hodge, is now 3 wins from 3 against us. The Federal election was one thing, but if ever there was cause for a Quexit, then surely a 3 game losing streak against Brisbane is it.
The loss was upsetting, but I was at least partly primed for it. Earlier in the week I'd been to Sydney's Vivid festival to see The Cure. While Hawks fans remember 1989 as the year of the greatest Grand Final of them all, it was also a pretty good year for music with The Cure's masterpiece Disintegration among the year's best releases. To commemorate its 30th anniversary, The Cure played the album in its entirety during a series of shows at the Sydney Opera House and I scored tickets in the ballot. So while The Cure celebrated the 30th anniversary of their finest hour in majestic, triumphant style, Hawthorn, in an apparent act of homage, duly disintegrated.
The way the season is panning out, it is unlikely we'll be celebrating the 30th anniversary of 1989 by reprising our triumph in quite the same way as The Cure. We may need to find other diversions. Pass me a lolly would you.
Final scores: Brisbane 12 13 85 d Hawthorn 10 6 66
Ladder position: 11th
Round 10
Hawthorn v Port Adelaide
University of Tasmania Stadium, Launceston
Saturday 24 May 2019
MIGHTY MAYBLOOMS
Both Hawthorn and Port Adelaide have flattered to deceive at various stages this season, with impressive wins followed by demoralising losses. In other words, the only consistent thing about either team this season has been their inconsistency.
Port is operating in couplets, with sequences of two wins followed by two losses. Coming off a win against the Suns the previous week, they were due for a follow-up win against us if they were to continue the pattern of their season.
Whereas Hawthorn have gone win-loss-win-loss-loss-win-loss-win-loss … – a pattern that if continued, pointed to another loss in this match.
So quite aside from Port having Robbie Gray back in the team, we were also going to have to overcome an algorithm to win this match.
Watching Port Adelaide is always interesting, not just because of players like Travis Boak, Robbie Gray and Paddy Ryder, but because the Hawks have been using Port as a feeder team for several years now. You could argue that the Port of today is the Hawthorn of tomorrow. In this match Shaun Burgoyne, Jarman Impey and Chad Wingard were all playing against their former club; Wingard for the first time. Fittingly, it was the Sir Doug Nicholls Indigenous round and Hawthorn's entire contingent of Indigenous players had been recruited from Port.
In the past Port has provided us with Stephen Gilham, Brent Guerra and most famously, Stuart Dew. Even Clarko was poached from Port all those years ago. It's almost a case of identity theft. Ryan Burton, the only Hawthorn player to make the reverse career move to Port, was not playing in this match due to injury.
Happily, Port Adelaide didn't keep Hawthorn's talent scouts very busy in the first quarter, with the Hawks completely dominating play. We had all the possession and did all the attacking. Our game plan worked to perfection, that is, Launceston's numbing cold meant that it took Port's players until quarter time to thaw out, by which time the Hawks had established a decisive lead. Port were having the same impact in Tasmania as the ALP a couple of weeks previous and went scoreless for the quarter.
There was a disappointingly small crowd in attendance to watch the match. However, it looked bitterly cold on the telecast and that may have kept people away. That said, judging by the photograph showing hundreds of climbers waiting in line for their turn to reach the peak of Everest, cold alone isn't necessarily as deterrent.
Really our quarter time lead should have been bigger than 25 points, but our forward line isn't the potent force it once was. Even so, give or take a goal either way, we managed to maintain our advantage for the remainder of the match.
It was a largely uneventful game with neither team providing much in the way of highlights.
Jack Gunston was the obvious star of the match with six goals, including a deft soccer goal off the side of his boot, but his possessions around the ground were also telling. It's good to have the sharp shooter back.
Ricky Henderson was also impressive, picking up possessions with the same frequency as Julian Assange accumulated espionage charges.
Chad Wingard didn't kick any goals, but he set up a couple with some slick handballs, and he played a crucial decoy role in the first quarter as his former team mates focused on attacking him rather than the ball.
And for the second consecutive week, Tim O'Brien played a solid game and Marc Pittonet, a late inclusion for injured Mitch Lewis, worked well with Ceglar to stifle the influence of Ryder. Though how Pittonet would be selected ahead of Jarryd Roughead is a mystery that runs deeper than the truth behind Moby's relationship with Natalie Portman.
This was a good win by the Hawks. Just as Moby interpreted Natalie Portman's politeness to him as 'having a relationship,' so too Hawks fans can happily fantasise that defeating Port will lead to something more significant.
It's never too late in May for the Mayblooms to bloom.
Final scores: Hawthorn 12 8 80 d Port Adelaide 6 13 49
I was amused by Chris Judd berating Dale Thomas for drinking a glass of wine at a charity function during the week, as if a cheeky shiraz is the cause of Carlton's malaise. Especially considering the reported indulgences of Judd's team mates in the Eagles crack cocaine premiership team of 2006.
Round 9
Richmond v Hawthorn
MCG
Sunday 19 May 2019
HOW GOOD'S HAWTHORN?
It wasn't the result I was after. We certainly showed promise and I thought we got out of the blocks well, but despite our bright start, we couldn't quite cement our advantage.
Our established leaders looked assured and confident when the battle began, and even if some of our newbies were less certain, at least they were in the contest.
But then things started to go sour. We didn't exploit our head start and our more experienced opponents started to gain headway.
In the end, I think it was the franking credits that did us in. Not that I know what they are, but it definitely seems unfair to take them away from people.
The ALP's tax policies were the equivalent of Hawthorn's inaccuracy in front of goal in the match against Richmond. They were all over the place. Talk about inviting the opposition in to win.  Just as Bowen and Shorten's dividend imputation scheme made the ALP an easy target, so did Hawthorn's missed shots on goal. Breust, Gunston, Moore, O'Meara, Shiels and Lewis all missed relatively straight-forward shots at goal.
I blame the umpires. Half way through the second quarter, the free kick count was 12-2 in our favour, but we were going to need double that if we were to stand any chance.
The other problem was injuries. For the third time this season, the Hawks emerged from half-time with two players unable to take any further part. And they weren't bit players either; one was Ben McEvoy, arguably our best player this season, and the other was our tall forward target, Mitch Lewis. This left our height advantage sitting on the bench for most of the second half. And then Luke Breust, who kicked 3 goals, was hobbling around towards the end of the match.
Of course, we can't play the victim card too strongly. After all, Richmond was missing Jack Riewoldt and Trent Cotchin, among others. Still, losing players mid-match is a big disadvantage. It's a bit like losing a candidate a week out from the election for some racist, sexist, online hate-speech from their social media past.
Another issue was overuse of the ball. Running into goal our players were looking for handball targets, to the point that by the time someone actually took a shot at goal, their space had largely been closed down, affecting their kick.  It was a bit like the ALP's scattergun approach to policy. They had so many policies out there that they didn't have time to explain them all, whereas the coalition had one policy that they prosecuted relentlessly. The Tigers took a similar approach – they took the direct route forward and had a shot when they got within range.
It was a real 'woulda, coulda, shoulda' game. If only the Hawks hadn't suffered injuries mid-game, if only we'd nailed our shots on goal, managed to stop Dustin Martin marking and goaling on the quarter and half-time sirens and been awarded more free kicks in front of goal, then perhaps we may have got closer. To win though, we probably needed the sort of miracle Scott Morrison and the coalition enjoyed.
'How good's Hawthorn' our PM might ask rhetorically, if he knew what AFL was. Well, just at the moment we're not overly good, but we're not too bad.  I still burn for them, as our Pentecostal PM might say.
Naturally as an old lefty I was disappointed by the ALP's loss in the weekend's election, but perhaps it says something about my political convictions that I was far more upset by Hawthorn's loss. Just don't get me started on Kate Miller-Heidke's 9th placing at Eurovision.
Final scores: Richmond 14 11 95 d Hawthorn 8 11 59
Vale Bob Hawke – arguably Australia's greatest Prime Minister, not because he saved the Franklin, offered Australian residency to Chinese students after the Tiananmen Square massacre, reformed the Australian economy or could expertly scull a beer, but because his name is Hawke and he was PM from 1983 to 1991 – a period in which Hawthorn played in 8 out of 9 Grand Finals, winning 5 of them. Talk about a (brown and) golden era. RIP Bob.
The Carlton Cheer Squad have been sent a 'please explain' notice by the AFL after they were heard chanting 'the umpire's a wanker.' And quite right too! This is outrageous. I mean, learn the umpire's name and personalise the chant – it makes it so much more insulting. It's this lack of attention to detail that explains why Carlton are sitting on the bottom of the ladder.
Round 8
Hawthorn v GWS
MCG
Sunday 12 May 2019
IN ABSENTIA
"Where are all the Hawthorn supporters?" "80,000 members supposedly but none of them are at the game."  "They've dropped off pretty quickly." "Hawks fans obviously didn't like their chances today." And so on…
The vitriol on social media, the snide remarks from the AFL and Channel 7 commentator Brian Taylor over the poor crowd (14,000+) at the Hawthorn v GWS game has been trending for days. For a while it almost drowned out Clive Palmer's election ads and the noise from Essendon fans whingeing about Sydney Swan Dane Rampey's pole dancing exploits. Some people got so obsessed with Hawthorn's crowd they even stopped concerning themselves with how to pronounce Orazio Fantasia's name. Amazingly, even Orazio telling us didn't end the argument.
And perhaps these people have a point – perhaps Hawthorn don't deserve the Sunday 3.20pm timeslot on Mother's Day. Is it time to let another club have this marquee fixture?
I've been going to the football regularly since 1973, which means I've probably been to approximately 750 games of VFL/AFL during my life.  To most people this would seem excessive, and now that I look at it, perhaps I could have used my time on this planet better. But I didn't realise I would need to provide a letter from home and a doctor's certificate on the odd occasion I can't attend. So, what's my excuse?
Well, my youngest son has decided to take up football and he was making his debut in the Under 17s at 2.20pm on Sunday. And after I was through supporting grass roots football, I went to visit my elderly and ill mother for a Mother's Day dinner.
I don't know if these reasons are satisfactory to Gill, Brian et al, but that's the upshot of the Hawthorn game being scheduled for 3.20pm on a Sunday, on Mother's Day.
I would have liked to have been at the game, not least because my friend Chan-Tha had tickets to get into the Hawthorn rooms. Instead I got to visit the Moonee Valley under 17 rooms, where despite a 5 goal loss, the vibe was reasonably positive. Plus, there was no roaming Brian. My son played well and enjoyed the experience – which is worth more than a trip into the G on a chilly Sunday.
All this meant that I caught most of the Hawthorn match via 774ABC while I was in the car. Given the heavy traffic on the Eastern Freeway, there's a chance I wasn't the only Hawks fan in transit rather than taking in the game from the MCG.
I could tell from the radio commentary that Hawthorn was playing reasonably well, maintaining possession for long stretches and providing plenty of pressure when we didn't have the ball. There's always something comforting about hearing the name 'Burgoyne' over the radio commentary. Even when you can't see what's happening, just knowing that he has the ball provides reassurance that at the very least, a turnover isn't imminent.
It sounded like we were dominating the match actually, in every aspect except scoring. But we were maintaining our lead, and the Giants didn't appear to be threatening, so I wasn't particularly worried, despite our habit this season of being overrun by the opposition.
Jeremy Cameron had a few shots but sprayed them all – and while I was pleased with this from the perspective of the result, he wasn't exactly playing like someone desperate to come to Hawthorn next year. Stephen Coniglio seemed to be paying well though, in fact I think he was trying a bit too hard to impress Clarko.
CHAIRMAN OF THE BORED
Once people exhausted the topic of the crowd size, the post-match criticism against Hawthorn has been that we played a boring brand of football. Wayne Carey was the chief cheerleader of this particular thread, and look sure, when I watched it back, it wasn't the most scintillating game I've ever seen. It was the football equivalent of a quietly fulfilling marriage with once a week missionary position sex, rather than say, the fireworks and drama of a tumultuous marriage supplemented by wild couplings in the bathroom with your best friend's wife, and a dash of domestic violence. So yes, it could have been more exciting, but sometimes, as Wayne Carey knows, exciting can be counter-productive.
The Hawks played a strong and disciplined defensive game, which was pretty much the only way we were going to win. We were just lacking that last part of the game plan – the bit where you actually kick goals. If only we had a bloke, let's say a big hulking type from Leongatha, who could take a big grab up forward and kick a bag of goals, let's say 5 of them. Oh that's right, we do, but for reasons I can't quite fathom, Rough was playing in the reserves.
Still, the decision to drop Jarryd Roughead may well have been Clarkson's masterstroke. It sends a pretty clear message to the rest of the team that they need to pick up their act. Even so, I remain baffled by a universe in which Tim O'Brien deserves a place in the side ahead of Jarryd Roughead.
The vision of Roughead coaching his young Western Bulldogs opponent during the VFL game was perhaps the only good press Hawthorn received during the week, so even when he's not in the team, Rough remains our most inspirational player.
But if Hawthorn were boring, then the Giants must have been even more tedious – 5 goals in a game of football is a stat that may save Rough, but it condemns the Giants.
ELBOW ROOM
Footy fans bemoaning that the bump is dead will be heartened by the news that the elbow to the head is back! Gary Ablett's second reprieve in as many weeks for elbowing an opponent in the head, along with Nat Fyffe's reprieve for a similar incident, has highlighted the patent absurdity (I never said bias cheating) of the match review panel. These decisions make Brian Taylor's stance on the pronunciation of Orazio Fantasia's name seem almost reasonable. The head, it seems, is only as sacrosanct as the elbow that hits it. However, if the AFL is truly concerned that Gary Ablett is getting booed, they might want to rethink their policy of one rule for Ablett, one rule for everyone else. Also, it would help if Ablett refrained from elbowing people in the head. I wonder where people who commit assault sit compared to the drunks, homosexuals, adulterers, liars, fornicators, thieves, athiests and idolators, on Israel Folau's list of people who are going to Hell?
Final scores: Hawthorn 10 11 71 d GWS 5 8 38
Ladder position: 9th
Round 7
Melbourne v Hawthorn
MCG
Saturday 3 May 2019
RIDING THE BUMPS
2019 is only four months old yet it has already thrown up a number of mysteries and inexplicable conundrums. What would it take for a Geelong player to get suspended? How did the semi-mohawk, or half-Dusty haircut become a thing? How did Billy Ray Cyrus return to the charts? How is there a chance Clive Palmer will return to Parliament? What sort of person would willingly watch Married at First Sight? Even worse, what sort of person would willingly go on Married at First Sight?
Equally hard to comprehend is why Hawthorn can't win a game against mediocre, if not downright dire opposition. I simply don't understand it. Hawthorn has a pretty good team with talented players on each line. In defence we have Ben Stratton, James Sicily, Shaun Burgoyne and Blake Hardwick. In the midfield we've got Jaeger O'Meara, Liam Shiels, James Worpell and Ben McEvoy. On the wings there's Isaac Smith and Tom Scully. And up forward there's Jack Gunston, Luke Breust, Jarryd Roughead and Chad Wingard.
So even allowing for lesser lights like Dylan Moore and Mitchell Lewis or fan fall guys, Tim O'Brien and Kaiden Brand, there's enough good players on the park to help us get us over the line against ordinary teams.
In the past month we've lost to the Western Bulldogs, St Kilda and Melbourne. Talk about embarrassing. A trio of teams that have won one premiership between them in the past 53 years. There are Jamaican bob-sled teams with higher success rates. 
What's worse, we've been in a winning position late in the final quarter of each game.  Against the Dogs we were in an unbeatable position. Even worse, last week we very nearly lost to Carlton – two more seconds on the clock and Carlton would have lined up for a shot at goal to win the match.
The best we've played all season was against Geelong. Sure, we lost that too, but they at least brought us up to their level – well nearly.
From the moment Brownlow medallist Tom Mitchell broke his leg in the pre-season, I've viewed 2019 as pretty much an extended pre-season for 2020 when Tommy returns. But even without Mitchell, I still thought we'd be a top 8 team. As it stands now, we're looking every bit a bottom four team, and Geelong aside, we haven't even played any of the good teams yet, so it's only likely to get worse.
This must be what it feels like to be a Demons, Saints or Bulldogs fan all the time. Just imagine that – what we've felt like as Hawks fans over the past month is what a Demons fan has felt like for the past 50 years! Why would you choose to go on living?
The best part about Saturday's game was that I couldn't go. I was at Jacana Reserve where my son was lining up for Moonee Valley twos. Due to the early start of the Hawks game, I couldn't get to the G in time. So I had to watch the game on my phone – which was a blessing really because just as a large screen TV magnifies everything, a small iPhone screen minimises everything. I could barely tell what was going on, and judging by what was going on, neither could the Hawks players.
What I could see however, was that we had no flow, no system – like the Murray-Darling after one of Barnaby Joyce's dodgy water deals. We move the ball so slowly at times that government action on climate change looks swift and decisive by comparison.
Hardwick and Impey played well, but it's never a good sign when defenders are among your best players. Gunston kicked straight. Burgoyne was back. That's about it for positives. It was such miserable viewing that it made the leaders' debate between Scott Morrison and Bill Shorten later that night look like an absorbing contest of ideas.
The only explanation I can come up with for our underwhelming display is that we're tanking – we've caught the Melbourne disease.  How else do you explain Tim O'Brien's recall to the team? Clarko is biding his time. He knows that if we finish 13th or lower, we get a nice soft draw next year, just as Tommy Mitchell returns to the team, and if you believe the media, Stephen Coniglio and Jeremy Cameron both join Hawthorn, plus, according to some sources, Buddy Franklin also returns!
And with a royal baby due any minute, it won't be long before he or she is also linked to Hawthorn in a trade deal. Perhaps we'll swap a second round draft pick for seventh in line to the throne.
It doesn't look like we'll have finals to look forward to this year. At this stage, Collingwood and Geelong look like the two teams that will contest this year's Grand Final – which sounds as painful to watch as Married at First Sight or reliving the election campaign. But that doesn't mean September will be without interest. With a Geelong and Collingwood Grand Final on the cards, I hope Gill is already thinking about the Grand Final pre-game entertainment. Last time these two teams faced off in the big one, Meatloaf delighted us all with his dulcet tones. Let's hope the AFL have put in a call to Meatloaf's people to have him on stand-by for an encore performance this year.  He'd cap off the season nicely.
Final scores: Melbourne 11 13 79 d Hawthorn 11 8 74
Ladder position: 12th
Round 6
Hawthorn v Carlton
University of Tasmania Stadium, Launceston
Sunday 29 April 2019
GAME OF GROANS
Angela and I bought a new bed a few months ago and it was delivered on Saturday morning. So with no plans for Sunday until the Hawks' game started, I resolved to spend as long as possible in bed the next day. True to my word, I didn't get up until 3pm, 20 minutes before game time.
The problem, as it turned out, was that the Hawks adopted a similar approach to the day and slept through most of the first half. They didn't start playing until the third quarter, by which time I was no longer paying any attention.
This ANZAC round game against the AFL's basket case team Carlton was meant to be a lay down misere for the Hawks. Instead we just lay down. I groaned as David Cunningham kicked Carlton's third, and then groaned even louder when Mitch Lewis missed a set shot for us from 15 metres out.
After conceding 6 goals to 2 in the first quarter I watched with mounting horror as Carlton continued to kick goals and got out to a 36 point lead. You know you're in trouble when Matthew Kreuser is galloping out of the centre square and dobbing goals from 50.
The general consensus was that the Hawks weren't playing well, but it was hard to tell because aside from Jaeger O'Meara, no one from Hawthorn was able to get a possession. It got so bad that half way through the second quarter I started to look for jobs to do around the house. Folding the laundry suddenly had new appeal and dusting the book shelves took on new urgency. I also thought about going back to bed.
But I had promised to go and visit my mum for dinner, so it was a welcome relief when half-time hit and I had to leave. We were 31 points behind and I gave us about as much chance as I would've given the ANZACS at Gallipoli. I opted for radio silence while I took my 45 minute drive out to Box Hill and just hoped that somehow things would get better while I wasn't paying attention.
So imagine my delight when I pushed open mum's front door to see Chad Wingard stealing the ball off the pack and kicking a goal to put the Hawks in front! I gave serious thought to getting back in the car and driving around for 30 minutes just in case it was my driving that had brought us good luck.
And perhaps I should have because no sooner had we hit the front than we were 8 points behind again after a brace of Carlton goals. But then goals to James Cousins, Liam Shiels who was making a welcome return to the team, Mitch Lewis and Luke Breust surely put the game beyond doubt. I started the dinner, cracked a can and got ready to watch my boys bring it home.
Of course for Hawthorn in 2019, no lead is ever big enough, and it wasn't long before I was watching Carlton storm back again. Oh My God, we just couldn't keep the ball. With less than a minute to go we were barely clinging on and I was rocking back and forth on the couch groaning.
Despite being the ANZAC round, the battle occupying the minds of most people this weekend was the battle for Winterfell in Game of Thrones. As a match this one perhaps wasn't on the epic scale as the Long Night battle between the White Walkers and the armies of the seven kingdoms, and it probably didn't enjoy quite the same viewing figures, but the battle for supremacy was every bit as intense, the last five minutes lasted an eternity and the Launceston gloaming was nearly as dark as the cinematography in Game of Thrones.
In the end we got the result we wanted in both battles, and it must be said, Jaeger O'Meara, the baby-faced assassin, had a touch of the Arya Stark about his performance.
Sure it wasn't our most famous victory, but I slept very well that night, and not just because of the new bed.
Final scores: Hawthorn 13 15 93 d Carlton 13 10 88
Ladder position – 11th
Round 5
Hawthorn v Geelong
MCG
Monday 22 April 2019
WE'LL ALWAYS HAVE '08
I like to think that I'm a relatively rational person with my priorities sorted – family, health, happiness, Hawthorn (though not necessarily in that order). I no longer get overly upset if the Hawks lose a game, or indulge in petty gloating to opposition supporters if we defeat their team. After 50 years of following Hawthorn, I've seen us beat every other team, and I've seen us beaten by every team. Everything moves in cycles and when we're down, the only certainty is that we'll one day be up again. Sadly, the same probably also applies to Carlton, although I'm not sure it does to North Melbourne (see how I'm above taking petty swipes)
But like most Hawks supporters, losing to Geelong is particularly irksome. Partly it's Joel Selwood, partly Chris Scott, and partly I still haven't forgiven them for their orchestrated thuggery in the 1989 Grand Final. However, a fair part of the irritation stems from their supporters and their misplaced sense of arrogance. Sure they won 3 flags in 5 years, but we won 3 in 3 years. And they seem to have completely forgotten the fact that they are not long out of a 44 year premiership drought, during which they lost 4 Grand Finals in 7 years between 1989 and 1995.
Geelong fans seem to live in some sort of weird Corio Bay bubble where they are seemingly unaware of anything or anyone that is not Geelong. This week alone I heard one wonder aloud where Gary Rohan had come from – she was surprised to learn that he had previously played for Sydney – more than 100 games in fact. Another Cats fan asked who wore no. 20 for Hawthorn and when informed it was Chad Wingard, said they'd never heard of him. Not that they didn't know the Port Adelaide champ had moved to Hawthorn, but they had literally never heard of him. He's kicked more than 230 goals and Easter Monday was his 150th game!
Sadly, Wingard didn't add to his goal tally this week and another Easter Monday clash went by without Hawthorn getting the chocolates. Despite this, I was reasonably pleased with Hawthorn's performance. We played about as well as we might have hoped and fought hard right to the end. Ultimately however, we were outclassed by a better team who also played well.
In fact it was a good, high quality match. We kicked our highest score for the year so far, so we can't really complain, especially when you consider we are still missing our big four: Dunstall, Brereton, Matthews and Ayres. Well, Shiels, Burgoyne, Stratton and Mitchell at least.
But McEvoy, Henderson, Worpel and Sicily all played great games. Mitch Lewis did well, and Brand was quite good. It's just that the Cats were better. Selwood and Taylor were very good and Gary Rohan played an excellent game – his two goals just before quarter time turned the match really. And Gary Ablett's two goals early in the second quarter more or less secured it. One of them came after a classic speccie and one was a clever boundary line dribble. Ablett had goal of the day and mark of the day, until Esava Ratugolea took an even better mark late in the match. And Danger did what Danger does; which is spend most of the match holding his arms outstretched appealing for free kicks.
BOO-WHO?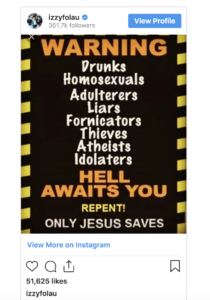 But the big talking point to come out of the match was the booing of Gary Ablett. Many commentators have wondered why Hawthorn fans were booing Ablett. And I agree; there are lots of Geelong players worth booing, I don't know why we didn't spread it around more. Why just Ablett? Unless he was responsible for the Notre Dame fire?
Dangerfield said afterwards that you shouldn't boo champions, and I'm with him. But then, you also shouldn't punch opponents in the stomach 50 metres off the ball either, as he did against the Giants the previous week. So perhaps Danger should examine his own actions before he starts taking the moral high ground.
But if you examine the reasons why Gary Ablett was getting booed, you begin to see that it wasn't necessarily Hawthorn fans who were at fault. Or at least they weren't necessarily booing with their Hawthorn hats on.
During the week it was revealed that Ablett had 'liked' an Instagram post by rugby player and devout Christian Israel Folau. Folau's post said: 'WARNING Drunks, Homosexuals, Adulterers, Liars, Fornicators, Thieves, Athiests, Idolators – HELL AWAITS YOU. REPENT. ONLY JESUS SAVES'
That's a pretty comprehensive list. In a crowd of 66,000 people, there are not many who don't fit into at least one of those categories. At least three of them apply to me. In fact you can count among the Idolaters every Cats fan wearing a Gary Ablett badge. And how do fornicators make the list? If it weren't for fornicators, none of us would even be alive – Folau and Gary Ablett included.
Remember, Gary Ablett is a devout Christian, so Hell is not an abstract concept to him, but a real place, like the Gold Coast but even warmer. By 'liking' that post, Ablett was actively advocating for most of the crowd in the MCG that day to spend all eternity suffering the fiery torments of Satan and his demons. No wonder people were upset. Most of the criticism has focussed on Folau and Ablett's overt homophobia, but even if you set that aside, they had also shamed the drunks, liars, thieves, adulterers and fornicators – which is pretty much everyone who isn't a law abiding, tea-totalling Christian virgin – Hamish McLachlan in other words.
So when Ablett says, as he did afterwards, 'I didn't mean any offence,' he's really saying, 'I condemn you to burn in the flames of hellfire for all eternity…but don't take it personally.'
And perhaps Ablett should consider his own family history before he starts consigning other people to burn in Hell.
I didn't boo Ablett, but that's because I knew it would just make him play better, and he was already doing enough damage. However, if I was to put together my own list of deplorables for an Instagram post, I might include hypocrites, sanctimonious footballers, mercenaries who go to the Gold Coast for a million dollars a year and sulk because they're no longer part of a decent team, and of course Geelong fans.
The other talking point to come out of the match was Tom Hawkins' vicious elbow into James Sicily's back 50 metres off the ball. I wonder if people who commit unprovoked acts of violence also make it onto Gary's list of the condemned? In a surprise to absolutely no one, Hawkins got off with a fine, as did Dangerfield the week before. Sicily didn't even get a free kick. No wonder some people boo at football matches. You do wonder what a Geelong player would have to do to get suspended – set Notre Dame on fire perhaps.
Sure we lost this time, but as Bogart said to Bergman, 'we'll always have 08.'
Final scores: Geelong 17 11 113 d Hawthorn 13 12 90.
Ladder position – 13th
Round 4
St Kilda v Hawthorn
Sunday 14 April 2019
Marvel Stadium
STARING INTO THE BLACK HOLE
A big deal was made during the week of the supposedly first photographic evidence of a black hole. But I don't get what all the fuss was about. I spent at least 30 minutes of the final quarter against St Kilda staring straight into the black hole of Hawthorn's forward line. There was nothing worth photographing there.
Unfortunately, the ball didn't get sucked into this black hole, but just came rebounding back as we got overrun again.
I suspected we were in trouble against St Kilda when I watched the North v Adelaide game the night before. The standard was so poor that I had to turn away, and then I realised with a degree of disquiet that these were the only two teams we'd beaten this year. Perhaps we weren't that good after all?
My fears about our chances continued to grow as our injury toll mounted during the match. A succession of players were helped from the ground like Julian Assange being dragged from the Ecuadorian Embassy during the week. "Hawthorn must resist" you could lip read Ben Stratton mouthing as the trainers dragged him away.  Stratton, Frawley, Cousins, Roughead and Nash all spent extended periods on the bench – the first three half the game.
Much was made during the week of Richmond missing their 'big 4': Martin, Cotchin, Riewoldt and Rance. But at least they knew that before the match and were able to replace them. We went into the match without Burgoyne, O'Meara, Shiels and Mitchell. And then when we lost our two key defenders either side of half time meant we were always barely holding on.
If all these signs weren't already troubling, I almost gave up all hope when we got to a 25 point lead half way through the third quarter. With our inability to hold onto a lead, I'd have been more confident if we'd been 25 points behind.
And so it proved. I knew for certain that we were in trouble when the umpire paid the dodgiest of free kicks against David Mirra in front of St Kilda's goal. There was no way they were ever going to hit the front without assistance. This is our second loss for the year where mounting injuries and the intervention of bad umpiring has directly determined the result.
And the Mirra decision wasn't the only travesty of justice. When Ben Long kicked a goal for St Kilda in the second quarter, the PA pumped out audio of St Kilda players singing 'You shook me all night long" – which was so excruciatingly embarrassing that surely the goal should have been reversed.
The galling thing about losing to St Kilda is that they're so crap: always have been, and always will be. In 95 years, they have won the competition just once. Once! By any measure that is an astonishing failure rate, especially when you compare it to Winx who the day previous won his 33rd race in succession. In fact, the vegan activists who blockaded Melbourne earlier in the week have more chance of seeing their demands met than St Kilda fans have of ever seeing a premiership.
Rant over: on a positive note, Big Boy McEvoy played his 100th game for the Hawks against the club we poached him from – note Saints fans: Big Ben has won two flags since coming to the Hawks – that's at least one more than any St Kilda player has ever won.
Also, Tom Scully, Ricky Henderson, Jack Scrimshaw and James Sicily all played well.  Sicily lived up to his bad guy image, with St Kilda players constantly trying to rile him. Of course, he didn't receive any free kicks – but by some miracle he didn't give any away either. As Billie Eilish sings,
"So you're a tough guy
Like it really rough guy
Just can't get enough guy
Chest always so puffed guy"
…that's why we love him.
Final scores: St Kilda 10 14 74 d Hawthorn 10 9 69
Round 3
Hawthorn v North Melbourne
MCG
Sunday 7 April 2019
THE CHAD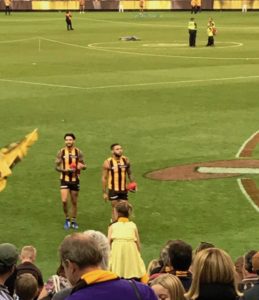 There are unmistakeable signs that Hawthorn's season is now on track. We've had our first win at home, Big Boy McEvoy is starting games with a bandage around his head – it just saves time – Chad Wingard has played his first game in brown and gold verticals, and Brian Lake is back in gaol.
The match didn't start out so promisingly. Roughead was a late withdrawal, officially because of a corkie, but more likely because of the sunshine and unseasonal 26 degree heat. He was replaced by the diminutive Dylan Moore – not exactly like for like.
Plus, we brought our final quarter form from the Bulldogs match into the first quarter of this game, with North kicking the first four goals of the game. If you take the final quarter of Round 2 and the first quarter of Round 3, the Hawks had an unprepossessing deficit of 2 goals to 13.
The umpires too brought forward the same form, with three of North's first six goals coming through 50 metre penalties.
From there though, things picked up immeasurably. And thankfully North slowed down. Frawley took Ben Brown out of the game, Isaac kept running, Big Boy dominated around the ground, Luke Breust started to nail goals and Jaeger O'Meara's hair remained immaculate throughout – plus he was our prime mover.
But the final quarter was all about Chad Wingard. He put the 'win' in 'Wingard' and the 'Cha Cha' in 'Chad.' His set shot from a tight angle followed by a shimmy and shake to kick the sealer were electrifying moments. I caught myself squealing out the names "Chad!" and "Big Boy!" so often I thought I was in a porno. Perhaps in my own mind I was. Go Hawks!
Final scores: Hawthorn 13 9 87 d North Melbourne 10 11 71.
Ladder position – 7th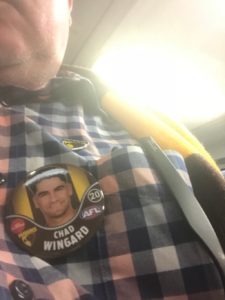 Round 2
Hawthorn v Western Bulldogs
MCG
Sunday 31 March 2019
EXPLETIVE DELETED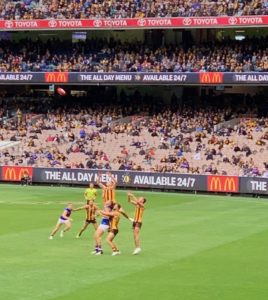 On Saturday I watched my son's basketball final. Not being a basketball fan, I spent most of the game in a state of utter bafflement at the refereeing decisions, of which there seemed to be two or three every 10 seconds. My confusion wasn't entirely surprising because I've never watched a full game of basketball in my life, so the constant stopping of the game for no apparent reason was irritating, but I didn't know any better.
However, I was even more confused by the refereeing in the final quarter of the match between Hawthorn and the Western Bulldogs, and I've been watching football for nearly 50 years. In a startling period, the Western Bulldogs were paid a series of highly questionable, by which I mean completely absurd, free kicks that led directly to four Bulldogs goals – and our five goal 3/4 time lead disappeared.
I'm not saying there was any match fixing involved, but when I saw the umpire pick up the ball in the centre and run down to the goal square to hand it to a Bulldogs forward, I began to look around to see if there were any Indian bookmakers on their phones.
Some of the decisions were so nonsensical I thought the umpires were going a day early with their April Fools jokes.
And it wasn't just the final quarter – it had been going on all day with the free kick count being 25-15 in favour of the Dogs. It was the worst umpiring I've seen since the first quarter of the 2001 Preliminary Final, and arguably the biggest travesty of justice since the Lindy Chamberlain trial – another occasion in which a dog got away with it.
In a way it was fitting, for it was a week of dubious decisions, both on and off the field. First, One Nation honchos were caught on camera trying to wrangle cash from the NRA to water down the gun laws in Australia. At the ceremony to pay respect to the victims of the Christchurch massacre, Cat Stevens, or Yusuf Islam, performed his song Peace Train, everyone seemingly forgetting he once advocated for the murder of Salman Rushdie. The Sultan of Brunei introduced death by stoning for adultery and homosexual sex, (note to football teams – avoid Brunei for end of season trips). In response to this ruling, George Clooney has called for a boycott of hotels owned by the Sultan, hotels like The Dorchester in London, where rooms start at around AU$1000 per night. This is the sort of grass roots campaign I'm keen to join, so along with Elton John, another man of the people, I'm taking up George's fight and I vow never to stay at the Dorchester again. Although it occurs to me that perhaps a better protest campaign would be to have adulterous homosexual sex at The Dorchester.
But arguably the most misguided call of the week came from Eddie McGuire in his commentary duties on Fox Footy, when he mocked Cynthia Banham, a double amputee air crash survivor, for her inability to perform a perfect coin toss.
In other words, after this shit show of a week, what else should we have expected? Hawthorn's loss was so disappointing it even took the shine off Essendon's second successive loss.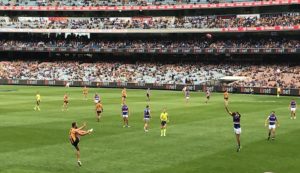 Umpiring aside, what concerns me most is that we have now given up a 40 point half time lead in the JLT match against Richmond, and a 30 point 3/4 time lead against the Western Bulldogs. It just means that for the entire season we'll be on the edge of our seats, even if we hold a 75 point lead going into time-on in the final quarter.
In a previous blog post – who knows when – I inventoried the history of Hawks v Dogs clashes, and concluded that in 90 years, other than the 1961 Grand Final and a couple of finals in 85 and 08 – there has barely been a game between these teams that has mattered. So, hopefully this game too will disappear into the foggy mists of time and forgetfulness.
As for the positives, it was good to see Tom Scully get through the game. I liked Roughead's towering mark over Caleb Daniel, Ricky Henderson played well, Gunston kicked straight, and the Superdog returned to my diet after a six month hiatus. Plus my son's basketball team won their final.
Final scores: Western Bulldogs 16 10 106 d Hawthorn 13 9 87
Ladder position: 9th
photos of Big Boy McEvoy marking and Gunston kicking 'the sealer' by Linda Williamson
Round 1
Adelaide v Hawthorn
Adelaide Oval
Saturday 23 March 2019
THOUGHTS AND PRAYERS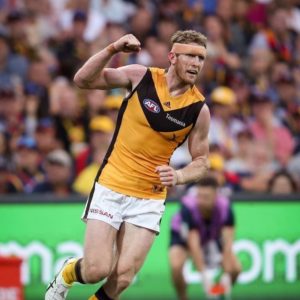 Football is routinely considered a religion: there's the worshipping of idols, the chanting and singing of hymns or club songs, the fanaticism of the devotees and men wearing dresses, although that usually only happens on the end of season trip.
But as the new football season beckons, religion is going through a crisis. Religion is no longer something you necessarily want to aspire to, other than its tax-free status.
Catholicism is imploding after Australia's most senior Catholic, and former No. 1 ticket holder for Richmond, Cardinal Pell, was sentenced  to six years behind bars for child sex crimes.
Meanwhile, Islam is in mourning after more than 50 Muslims were gunned down by a right-wing extremist while at prayer in their local Christchurch mosque. Religious beliefs are being tested and football lessens in significance by comparison.
So for Hawthorn, kicking off the season in Adelaide, the city of churches, came with some trepidation. Admittedly, most of the trepidation came from the cruel season-ending, or not-even-beginning knee injury to star midfielder and reigning Brownlow medallist, Tom Mitchell.
Accepted wisdom among footy pundits is that Hawthorn will slide ingloriously down the ladder this season. There's the injury to Mitchell, the widely-held belief that we were lucky to finish in the top 4 in 2018, our quick exit from the 2018 finals and our ageing list, which we added to by recruiting Tom Scully, who may never play again due to injury, and Chad Wingard, who is also injured and, if you believe Port Adelaide fans, often disinterested.
On the other hand, we've got The Worpedo! Okay, I went into this match thinking that Hawks fans were tending to overestimate the impact of our 11-gamer James Worpell, and that perhaps we need to temper our expectations. Sure, he beat Joel Selwood in a one-on-one battle last year, but Selwood has been doing that sort of thing three times a match for 10 years. And Worpell's match winner against Essendon, when you think about it, was running into an open goal. I think he's a promising player, but let's not destroy him by calling him the new saviour.
I couldn't get to Adelaide for the game, and still haven't sorted a convenient television streaming option. So I took in the match lying on a beanbag while watching on my phone. It's not ideal, but I got the general gist of things and could see that the Hawks were playing tough, intense football with a game plan centred on tackling and pressure – none more so than The Worpedo, who starred in the midfield and kicked two crucial goals.
Also outstanding were Jarman Impey, playing in his 100th game, James Sicily, Jaeger O'Meara and, once his head was bound in bandages, Big Boy McEvoy. Captain Stratts was also excellent playing on Eddie Betts.
Even Conor Nash, who the casual observer might think contributed very little, set up four of our goals with telling handballs – which if you've seen his kicking style, is something to be thankful for. And James Frawley – I rarely sighted him, but then I saw even less of his opponent.
It was an all-round strong team performance and in the space of one win, I've gone from having modest expectations of the season ahead to demanding a premiership. We just have to re-teach Jack Gunston how to kick a set shot and we'll be fine.
Another positive was our new clash strip, the old mustard pot guernsey. We looked good and we played well. Go Hawks!
Final scores: Hawthorn 12 15 87 d Adelaide 7 13 55
Ladder position: 4th