Hawthorn – Home & Away 2019
Round 4
St Kilda v Hawthorn
Sunday 14 April 2019
Marvel Stadium
STARING INTO THE BLACK HOLE
A big deal was made during the week of the supposedly first photographic evidence of a black hole. But I don't get what all the fuss was about. I spent at least 30 minutes of the final quarter against St Kilda staring straight into the black hole of Hawthorn's forward line. There was nothing worth photographing there.
Unfortunately, the ball didn't get sucked into this black hole, but just came rebounding back as we got overrun again.
I suspected we were in trouble against St Kilda when I watched the North v Adelaide game the night before. The standard was so poor that I had to turn away, and then I realised with a degree of disquiet that these were the only two teams we'd beaten this year. Perhaps we weren't that good after all?
My fears about our chances continued to grow as our injury toll mounted during the match. A succession of players were helped from the ground like Julian Assange being dragged from the Ecuadorian Embassy during the week. "Hawthorn must resist" you could lip read Ben Stratton mouthing as the trainers dragged him away.  Stratton, Frawley, Cousins, Roughead and Nash all spent extended periods on the bench – the first three half the game.
Much was made during the week of Richmond missing their 'big 4': Martin, Cotchin, Riewoldt and Rance. But at least they knew that before the match and were able to replace them. We went into the match without Burgoyne, O'Meara, Shiels and Mitchell. And then when we lost our two key defenders either side of half time meant we were always barely holding on.
If all these signs weren't already troubling, I almost gave up all hope when we got to a 25 point lead half way through the third quarter. With our inability to hold onto a lead, I'd have been more confident if we'd been 25 points behind.
And so it proved. I knew for certain that we were in trouble when the umpire paid the dodgiest of free kicks against David Mirra in front of St Kilda's goal. There was no way they were ever going to hit the front without assistance. This is our second loss for the year where mounting injuries and the intervention of bad umpiring has directly determined the result.
And the Mirra decision wasn't the only travesty of justice. When Ben Long kicked a goal for St Kilda in the second quarter, the PA pumped out audio of St Kilda players singing 'You shook me all night long" – which was so excruciatingly embarrassing that surely the goal should have been reversed.
The galling thing about losing to St Kilda is that they're so crap: always have been, and always will be. In 95 years, they have won the competition just once. Once! By any measure that is an astonishing failure rate, especially when you compare it to Winx who the day previous won his 33rd race in succession. In fact, the vegan activists who blockaded Melbourne earlier in the week have more chance of seeing their demands met than St Kilda fans have of ever seeing a premiership.
Rant over: on a positive note, Big Boy McEvoy played his 100th game for the Hawks against the club we poached him from – note Saints fans: Big Ben has won two flags since coming to the Hawks – that's at least one more than any St Kilda player has ever won.
Also, Tom Scully, Ricky Henderson, Jack Scrimshaw and James Sicily all played well.  Sicily lived up to his bad guy image, with St Kilda players constantly trying to rile him. Of course, he didn't receive any free kicks – but by some miracle he didn't give any away either. As Billie Eilish sings,
"So you're a tough guy
Like it really rough guy
Just can't get enough guy
Chest always so puffed guy"
…that's why we love him.
Final scores: St Kilda 10 14 74 d Hawthorn 10 9 69
Round 3
Hawthorn v North Melbourne
MCG
Sunday 7 April 2019
THE CHAD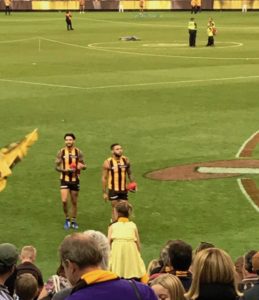 There are unmistakeable signs that Hawthorn's season is now on track. We've had our first win at home, Big Boy McEvoy is starting games with a bandage around his head – it just saves time – Chad Wingard has played his first game in brown and gold verticals, and Brian Lake is back in gaol.
The match didn't start out so promisingly. Roughead was a late withdrawal, officially because of a corkie, but more likely because of the sunshine and unseasonal 26 degree heat. He was replaced by the diminutive Dylan Moore – not exactly like for like.
Plus, we brought our final quarter form from the Bulldogs match into the first quarter of this game, with North kicking the first four goals of the game. If you take the final quarter of Round 2 and the first quarter of Round 3, the Hawks had an unprepossessing deficit of 2 goals to 13.
The umpires too brought forward the same form, with three of North's first six goals coming through 50 metre penalties.
From there though, things picked up immeasurably. And thankfully North slowed down. Frawley took Ben Brown out of the game, Isaac kept running, Big Boy dominated around the ground, Luke Breust started to nail goals and Jaeger O'Meara's hair remained immaculate throughout – plus he was our prime mover.
But the final quarter was all about Chad Wingard. He put the 'win' in 'Wingard' and the 'Cha Cha' in 'Chad.' His set shot from a tight angle followed by a shimmy and shake to kick the sealer were electrifying moments. I caught myself squealing out the names "Chad!" and "Big Boy!" so often I thought I was in a porno. Perhaps in my own mind I was. Go Hawks!
Final scores: Hawthorn 13 9 87 d North Melbourne 10 11 71.
Ladder position – 7th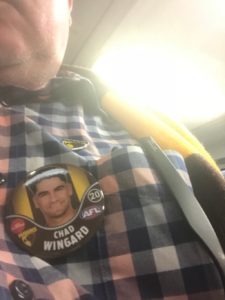 Round 2
Hawthorn v Western Bulldogs
MCG
Sunday 31 March 2019
EXPLETIVE DELETED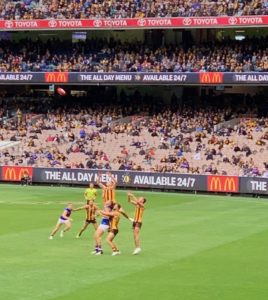 On Saturday I watched my son's basketball final. Not being a basketball fan, I spent most of the game in a state of utter bafflement at the refereeing decisions, of which there seemed to be two or three every 10 seconds. My confusion wasn't entirely surprising because I've never watched a full game of basketball in my life, so the constant stopping of the game for no apparent reason was irritating, but I didn't know any better.
However, I was even more confused by the refereeing in the final quarter of the match between Hawthorn and the Western Bulldogs, and I've been watching football for nearly 50 years. In a startling period, the Western Bulldogs were paid a series of highly questionable, by which I mean completely absurd, free kicks that led directly to four Bulldogs goals – and our five goal 3/4 time lead disappeared.
I'm not saying there was any match fixing involved, but when I saw the umpire pick up the ball in the centre and run down to the goal square to hand it to a Bulldogs forward, I began to look around to see if there were any Indian bookmakers on their phones.
Some of the decisions were so nonsensical I thought the umpires were going a day early with their April Fools jokes.
And it wasn't just the final quarter – it had been going on all day with the free kick count being 25-15 in favour of the Dogs. It was the worst umpiring I've seen since the first quarter of the 2001 Preliminary Final, and arguably the biggest travesty of justice since the Lindy Chamberlain trial – another occasion in which a dog got away with it.
In a way it was fitting, for it was a week of dubious decisions, both on and off the field. First, One Nation honchos were caught on camera trying to wrangle cash from the NRA to water down the gun laws in Australia. At the ceremony to pay respect to the victims of the Christchurch massacre, Cat Stevens, or Yusuf Islam, performed his song Peace Train, everyone seemingly forgetting he once advocated for the murder of Salman Rushdie. The Sultan of Brunei introduced death by stoning for adultery and homosexual sex, (note to football teams – avoid Brunei for end of season trips). In response to this ruling, George Clooney has called for a boycott of hotels owned by the Sultan, hotels like The Dorchester in London, where rooms start at around AU$1000 per night. This is the sort of grass roots campaign I'm keen to join, so along with Elton John, another man of the people, I'm taking up George's fight and I vow never to stay at the Dorchester again. Although it occurs to me that perhaps a better protest campaign would be to have adulterous homosexual sex at The Dorchester.
But arguably the most misguided call of the week came from Eddie McGuire in his commentary duties on Fox Footy, when he mocked Cynthia Banham, a double amputee air crash survivor, for her inability to perform a perfect coin toss.
In other words, after this shit show of a week, what else should we have expected? Hawthorn's loss was so disappointing it even took the shine off Essendon's second successive loss.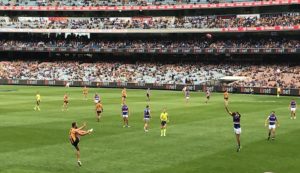 Umpiring aside, what concerns me most is that we have now given up a 40 point half time lead in the JLT match against Richmond, and a 30 point 3/4 time lead against the Western Bulldogs. It just means that for the entire season we'll be on the edge of our seats, even if we hold a 75 point lead going into time-on in the final quarter.
In a previous blog post – who knows when – I inventoried the history of Hawks v Dogs clashes, and concluded that in 90 years, other than the 1961 Grand Final and a couple of finals in 85 and 08 – there has barely been a game between these teams that has mattered. So, hopefully this game too will disappear into the foggy mists of time and forgetfulness.
As for the positives, it was good to see Tom Scully get through the game. I liked Roughead's towering mark over Caleb Daniel, Ricky Henderson played well, Gunston kicked straight, and the Superdog returned to my diet after a six month hiatus. Plus my son's basketball team won their final.
Final scores: Western Bulldogs 16 10 106 d Hawthorn 13 9 87
Ladder position: 9th
photos of Big Boy McEvoy marking and Gunston kicking 'the sealer' by Linda Williamson
Round 1
Adelaide v Hawthorn
Adelaide Oval
Saturday 23 March 2019
THOUGHTS AND PRAYERS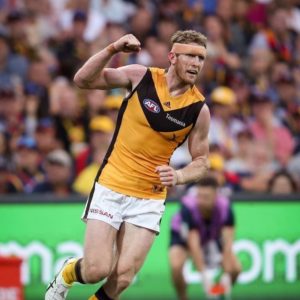 Football is routinely considered a religion: there's the worshipping of idols, the chanting and singing of hymns or club songs, the fanaticism of the devotees and men wearing dresses, although that usually only happens on the end of season trip.
But as the new football season beckons, religion is going through a crisis. Religion is no longer something you necessarily want to aspire to, other than its tax-free status.
Catholicism is imploding after Australia's most senior Catholic, and former No. 1 ticket holder for Richmond, Cardinal Pell, was sentenced  to six years behind bars for child sex crimes.
Meanwhile, Islam is in mourning after more than 50 Muslims were gunned down by a right-wing extremist while at prayer in their local Christchurch mosque. Religious beliefs are being tested and football lessens in significance by comparison.
So for Hawthorn, kicking off the season in Adelaide, the city of churches, came with some trepidation. Admittedly, most of the trepidation came from the cruel season-ending, or not-even-beginning knee injury to star midfielder and reigning Brownlow medallist, Tom Mitchell.
Accepted wisdom among footy pundits is that Hawthorn will slide ingloriously down the ladder this season. There's the injury to Mitchell, the widely-held belief that we were lucky to finish in the top 4 in 2018, our quick exit from the 2018 finals and our ageing list, which we added to by recruiting Tom Scully, who may never play again due to injury, and Chad Wingard, who is also injured and, if you believe Port Adelaide fans, often disinterested.
On the other hand, we've got The Worpedo! Okay, I went into this match thinking that Hawks fans were tending to overestimate the impact of our 11-gamer James Worpell, and that perhaps we need to temper our expectations. Sure, he beat Joel Selwood in a one-on-one battle last year, but Selwood has been doing that sort of thing three times a match for 10 years. And Worpell's match winner against Essendon, when you think about it, was running into an open goal. I think he's a promising player, but let's not destroy him by calling him the new saviour.
I couldn't get to Adelaide for the game, and still haven't sorted a convenient television streaming option. So I took in the match lying on a beanbag while watching on my phone. It's not ideal, but I got the general gist of things and could see that the Hawks were playing tough, intense football with a game plan centred on tackling and pressure – none more so than The Worpedo, who starred in the midfield and kicked two crucial goals.
Also outstanding were Jarman Impey, playing in his 100th game, James Sicily, Jaeger O'Meara and, once his head was bound in bandages, Big Boy McEvoy. Captain Stratts was also excellent playing on Eddie Betts.
Even Conor Nash, who the casual observer might think contributed very little, set up four of our goals with telling handballs – which if you've seen his kicking style, is something to be thankful for. And James Frawley – I rarely sighted him, but then I saw even less of his opponent.
It was an all-round strong team performance and in the space of one win, I've gone from having modest expectations of the season ahead to demanding a premiership. We just have to re-teach Jack Gunston how to kick a set shot and we'll be fine.
Another positive was our new clash strip, the old mustard pot guernsey. We looked good and we played well. Go Hawks!
Final scores: Hawthorn 12 15 87 d Adelaide 7 13 55
Ladder position: 4th