They Might Be Giants
They Might Be Giants
Friday 1 March 2019 – 170 Russell
Saturday 2 March 2019 – Croxton Park Hotel
$80
LAND OF THE GIANTS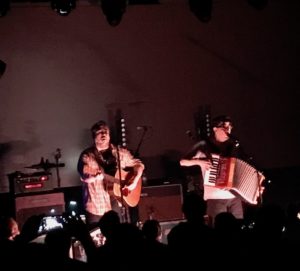 The first two days of Autumn saw an unexpected heat wave hit Melbourne with temperatures nudging 40 degrees Celsius during the afternoon, and barely cooling overnight. It was as if summer was offloading some of the excess heat it hadn't quite got around to shedding during its scheduled months.
Into this maelstrom flew They Might Be Giants for two shows: Friday at 170 Russell where they were to perform songs from the 80s and the 20-teens, and Saturday at the Croxton where they were to perform songs from the 90s and 00s.
Also jetting in from Cairns was my friend Phillip, who is one of TMBGs biggest fans. So big in fact that he is a member of their fan club and receives a plus one for any show for which he purchases a ticket. I already had a ticket for the show at the Croxton, but was happy to join Phil as his plus one for the Friday show at 170 Russell.
They Might Be Giants are principally John Flansburgh and John Linnell plus backing band. A very good backing band mind you, but I don't know their names – in truth, I'm not entirely sure which John is which.
As you can tell, my knowledge of TMBG is fairly scant. Sure, I have their first few albums and saw them play in Melbourne in 1991 or so, but that still leaves nearly 30 years unaccounted for. Which in a rock 'n' roll context might carry the romantic notion of lost drug years for some, but in reality, I've just been doing other things.
TMBG meanwhile, have been carrying on much as before. They still pen witty, absurd ditties that are equal parts profound and pastiche, silly and surreal. Including albums for children – of which Who Put the Alphabet in Alphabetical Order must rank as one of the great tiles.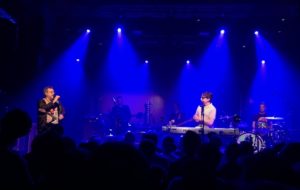 So while serious rock fans were at Mt Dunedin winery to see Red Hot Chili Peppers, fans of Looney Tunes and left of centre rock stayed in the city to see the Giants.
I was surprised how much of the material they played on the opening night I was familiar with. But there was a fair bit from their break-through album, Lincoln and it's not as if their core sound has undergone any dramatic transformation in the subsequent years.
The value of splitting the two nights into decades meant that they could sort of get away with playing their 1990 hits Birdhouse in my Soul and Istanbul (not Constantinople) on both nights. Even then, Istanbul was given two different treatments – performed one night as a trio with piano accordian, guitar and electronic percussion, and the next with the full band.
The banter by and between the two Johns was as much of a highlight as the music. It was smart and witty and the moments of crowd participation were enthusiastically taken up by willing audiences.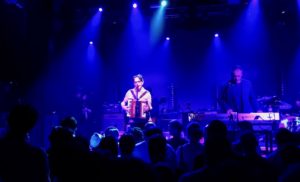 Impressively, the gags and stories from the first night were not repeated on the second, and the grins of the band members gave the impression they were hearing some of it all for the first time as well.
One musical gag that deserved its rerun was Flansborough's (I think) conducting of the band that saw members being called on to play one note at a time in turn depending on who he nominated – even the audience were roped in for a shout at the right moment.
Across the two nights we were called on to raise our left fists and scream, wave our arms from side to side, clap and start singing in a low moan and bring our voices up to its highest pitch. It's the most fun you can have at a rock gig this side of The Flaming Lips.
The band were very accomplished and put on a slick display of musicianship that both belied and heightened the absurdity of some of the material they were playing.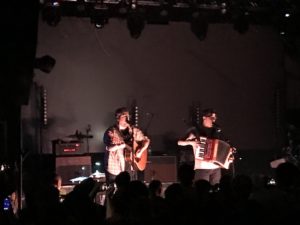 Over the course of two nights they probably played more than 60 songs – I was probably familiar with about 15 of them, but that didn't lessen my enjoyment. On each night they played two sets as well as multiple encores. There was also a pastiche of the Run DMC v Aerosmith song, Walk This Way, with the Johns taking on vocal duties from off stage. They were long shows. Fiona said it was like sitting through Wagner's Ring Cycle – and she was only at one of the gigs. It certainly felt like that after two shows.
I didn't even try to capture the setlists because they played too many songs, including too many I didn't know, but happily, other more knowledgeable people did the work for me. I'm indebted to Tyler Jenke at tonedeaf.com for the setlist for night 1 (170 Russell) and setlist.com for night 2 (The Croxton) – possibly the woman behind me who was taking notes throughout.
Setlist night 1 – 170 Russell
The Communists Have the Music
Ana Ng
Why Does the Sun Shine?
I Left my Body
Authenticity Trip
Cowtown
Let's Get This Over With
Put Your Hand Inside the Puppet Head
Trouble Awful Devil Evil
Nothing's Gonna Change My Clothes
Music Jail, Parts 1 & 2
Mr Me
Spy
——–
Istanbul (Not Constaninople)
I Hope That I Get Old Before I Die
Maybe I Know
I Like Fun
Shoehorn With Teeth
Let Me Tell You About my Operation
Don't let's Start
Mrs Bluebeard
Hide Away Folk Family
Where Your Eyes Don't Go
All time What
She's An Angel
Hey Mr DJ, I Thought You Said we Had a Deal
———-
The Guitar
Birdhouse in Your Soul
———-
Number three
Doctor Worm
Setlist night 2, Croxton Park Hotel
Damn Good Times
The Mesopotamians
Bangs
New York City
Fingertips
Bee of the Bird of the Moth
Your Racist Friend
Turn Around
Pet Name
Birdhouse in Your Souls
She's Actual Size
Experimental Film
Mink Car
Spy
———–
Walk This Way
Older
Drink
Letterbox
How Can I Sing Like a Girl?
Istanbul (Not Constantinople)
Twisting
Spider
The Guitar
Whistling in the Dark
Memo to Human Resources
Man, It's so Loud in Here
Particle man
Doctor Worm
———–
Robot Parade
The Communists Have the Music
———–
Thank you For Coming to the Show
Museum of Idiots