Hideous Towns
Hideous Towns
Contrast, Mares
Bella Union, Carlton
Friday 2 December 2016
$15
WHERE THE STORY BEGINS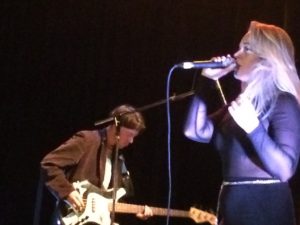 Powderfinger, Sticky Fingers and Oh Mercy are three Australian bands named after a song or album from one of rock and roll's luminaries. They are not tribute acts, but original artists who openly acknowledge their influences in their identity.
In this case it is respectively, Neil Young, The Rolling Stones and Bob Dylan, basically, your standard heavy hitters of rock. So what then to make of Hideous Towns, who are named after a little known song by The Sundays? Tautology watchers will be on to me here, for let's be honest, all but one song by The Sundays, Here's Where the Story Ends, are little known, if not unknown, but you get my point.
More obscurely perhaps, just to follow this tangent, there is also an Australian act named Touch Sensitive. I don't know whether he is actually named in honour of the great 1999 song by The Fall, but when you consider this name in light of Powderfinger and Sticky Fingers, a somewhat unexpected digit theme begins to emerge. To be honest, I don't know what it means and I'm not entirely sure I want to find out.
The Black-eyed Susans are also named after a song by The Triffids, but as the songwriter David McComb was a founding member of both bands, that name may have been more about self-mythologising than anything else.
Likewise Nick Cave's Bad Seeds, who were named after an E.P. by Nick Cave's previous band, The Birthday Party. Plus The Loved Ones, who named themselves after their own song. Onanism in every respect with that name.
I don't know if King Gizzard and the Lizard Wizard are named after another band's song, but if they are, I can only assume it is some overblown nonsense from the psychedelic era, or something to do with Jim Morrison.
But back to Hideous Towns. They are a four-piece indie band in Melbourne who have just released their debut album, Disquiet Living. As their name suggests, they are purveyors of the sort of gentle, fey indie dream pop made famous by bands like The Sundays, Mazzy Star and Frente, or even The Cure's more poppy moments. In other words, pretty good.
Mares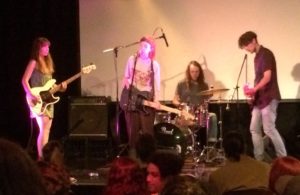 The band was holding its album launch at Bella Union, a room inside Trades Hall, an imposing Victorian building on the corner of Lygon and Victoria Streets. There were fives acts on the bill, and despite turning up quite late, I still only missed two of them.
The room is a good size and is decorated with flags of various trade unions hanging from the ceiling. There's several tables and chairs up the front, a couple of benches, bar stools at high set tables and some comfy chairs and poufs along the sides. In other words, all posture requirements are catered to.
I grabbed a beer, a copy of the Hideous Towns vinyl and plonked myself in a comfy leather arm-chair by the mixing desk.  I would have been happy to sit there too, but the band who came on, I think called Mares – I say 'I think' because they were obviously too cool to introduce themselves – were actually compelling enough that I stood up to check them out.
A four-piece, two chaps (guitar & drums) and two chicks guitar/vocals & bass), they played slow, mournful dirge-like songs that built in gradual layers of guitar reverb around a bass melody. That description may not sound particularly enticing, but they had quite an arresting sound.
It's my theory that The Cure encapsulate all varieties of what has become known as indie rock (of course there was no such genre when The Cure were actually doing it). If this is true and Hideous Towns operate at the Just Like Heaven end of things, then Mares (if that's who they were called) operate more around the Seventeen Seconds/Faith end of the spectrum.
The girl on vocals wore a Birthday Party 'skeleton race' t-shirt and as any regular punter will attest, band tees are usually a pretty reliable form guide as to what the band will sound like, with the possible exception of R&B singers who wear Ramones t-shirts. In any case, it was inevitable that I would like them.
There wasn't much variety to their sound, but the players all looked quite young, so there is plenty of time to work in more melody and some variations in tempo, although a lack of neither ever bothered The Ramones.
As they were paying I was trying to grasp who they reminded me of, but in the end couldn't come up with anything more concrete than The Cure or Joy Division, which is simply to say that they sounded vaguely indie, and perhaps a tad on the emo side.
Between sets the DJ, or are they called maestros these days, played Siouxsie & The Banshees, The Psychedelic Furs and Nick Cave, which should provide a reasonably accurate sense of the 'vibe' of the joint as well as the prevailing fashion sense among the punters.
Contrast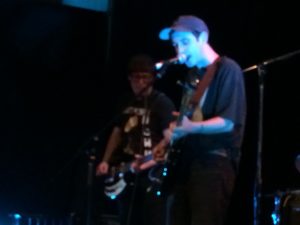 Contrast is an all male four-piece outfit fronted by Jack Crook – a memorable enough name, but one that pretty much reduced his career choices to rock musician or pirate.
Their music was defined by chiming melodic guitars and long instrumental intros to their songs (again, another Cure trope). Between each song the lead guitarist tapped on various peddles to create ambient, industrial loops.
All of this was good, but if there was an element that let down the whole, it was Jack Crook's vocals that tended to the 'dolewave' non-expression variety. I don't know if it's a stylistic choice or just a vocal limitation, but the simplicity of the singing was at odds with the sophistication of some of the musical compositions. He wasn't out of tune or off key as such, but just a little lacking in modulation.
Bob Dylan and Mark E Smith are two of my favourites and while their singing has invited a legion of detractors over the years, at least they vary their pitch and inflection.
Having said that, we live in an era when TV Talent shows privilege the voice over any other aspect of a song (other than the singer's 'journey'). To the point that the only music that gets promoted is of the loud, show-offy, excessive vibrato variety.  Therefore, perhaps this dolewave non-expressive singing style should be seen as a reaction against that – a sort of democratization of the voice. In the end, perhaps that is the 'contrast' inferred by the band's name, intricate musicianship mixed with everyman vocals.
Hideous Towns – Attractive Tunes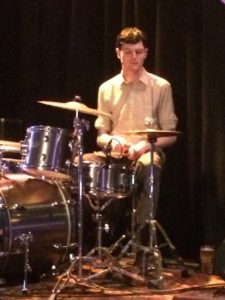 The DJ was obviously enjoying her work for Hideous Towns were waiting on stage for a good couple of minutes while the PA continued to pump out its neo-goth tunes. In the end the band just started playing over the top of it, and it still took a few bars before the DJ either got the picture or worked out where the mute button was.
They opened with Jacques-Louis David and kept it going with single Don't Forget and Lion – three of the more powerful up tempo tracks from the album.
As a band Hideous Towns have an interesting on stage dynamic that seems to centre around guitarist Chris MacLean. Drummer Ashley Stirling kept time by focusing intently on whatever MacLean was doing, to the point that I thought MacLean must have the drumming charts tattooed on his forehead.
Likewise vocalist Alana West also kept a close eye on MacLean's movements and tended to drift over to his side of the stage. Bassist Ryan DeCoite, who sported a fine looking pudding bowl haircut, may have felt put-out by this lack of attention from his band mates, but you wouldn't know it. Although he ignored MacLean entirely, he barely averted his gaze from drummer Stirling as he thrummed away.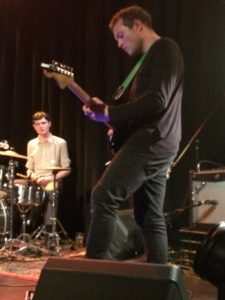 For his part MacLean – who looked a bit like a young Grant McLennan – struck a pretty calm and relaxed pose as he played. Admittedly he faced in towards the band at all times, never out to the audience. I wondered if he was just shy, or whether he is a Mark E Smith, James Brown type who rules the band like a tyrant.
Either way, his dextrous playing defined the band's sound and gave it both edge and melody. It would possibly be too much to call his playing Johnny Marr-esque, but he wasn't far from it.
The audience, while not pushing and shoving, did edge towards the front as the band played, with several people kneeling between the tables and chairs so as to get close to the front. One of them I recognized as the lead singer from stablemates, Parading – see review of their show here.
Live Hideous Towns were more powerful than I expected, and vocalist Alana West sang with more gusto on stage than she does on the record. There was less reverb on her voice than on the record, which gave it a welcome directness that helped the audience to focus on her. I can't say for sure, but her blonde hair, glitter eyelashes and see-through black blouse with black bra may also have played a role in focusing attention on her.
Jack Crook from Contrast joined the band on stage to add guitar to a few songs, while Jarrod Dexter joined them on violin during Wake Us.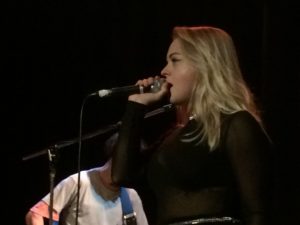 Fantasy, West explained, is about a 'naughty dream' she once had, but wouldn't elaborate. According to the lyrics accompanying the album, however, the dream was either about committing bestiality in a church or watching a cross-dressing priest as he masturbated – probably not topics she wanted to flesh out with a broader discussion then and there. Whatever the song was about, it certainly shows up the paucity of my own inner life, to say nothing of my sex life.
The final song for the night was a cover of The Sundays' Hideous Towns, which they performed with a bit more vigour than I recall the original possessing. This may have been because it was to be the final gig for drummer, Ashley Stirling, who had announced he was leaving the band. So perhaps he gave it a bit more oomph than he might have otherwise.
There was an air of finality about the show. The band embraced on stage at its conclusion and DeCoite did various "thank-you's," while a relieved and exhausted West said, 'We did it boys.'
They sure did. Great show.
The Sundays enjoyed only a brief career, releasing just three albums in seven years. Hideous Towns show similar promise and are now one album in – let's hope it's not their last.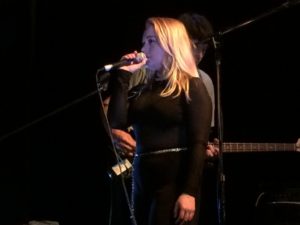 Setlist
Jacques-Louis David
Don't Forget
Lion
Expression (?)
Glass Curtain
Wake Us
Fantasy
Value
Natural Expression
Hideous Towns