Hilltop Hoods with the MSO
Hilltop Hoods with the Melbourne Symphony Orchestra –
Conducted by Hamish McKeich
Maverick Sabre
A.B Originals
Rod Laver Arena
Saturday 23 April 2016
$80
FROM THE NOSEBLEED SECTION
There was a time when I considered that the prospect of my children growing up to like Australian hip hop would be nearly as bad as if they grew up to barrack for Essendon. I haven't softened my stance on Essendon, and happily, both of my boys have joined me on the righteous path of following Hawthorn. But somewhere along the line, led by my eldest son Oscar, both boys have developed a taste for Aussie hip hop: Seth Sentry, Illy, Bliss 'n Esso, but of course their favourite act is the Hilltop Hoods.
Either Australian hip hop has improved over the years or I've just gotten used to it, but not all of it is downright woeful and some of it is even pretty good. And I'm in a reasonable position to judge because it's virtually all I ever hear in the car these days.
Two years ago I accompanied my eldest son Oscar and his friend Alex to see the Hilltop Hoods at Margaret Court Arena for the Cosby Sweater tour and it was fantatstic. As far as sheer energy and audience rapport goes, they're one of the best live acts I've seen. Ever. As a result I promised my youngest son, Declan, that when they toured again, I would take him.
So when the Restrung tour was announced I was on my laptop for the pre-sale and picked up some good seats on the side near the stage. This was to be Declan's first concert, so I wanted him to have good seats. The only problem was that the date of the Melbourne show coincided with Sarah Blasko's show at The Forum, for which I already had tickets. I've been buying Sarah Blasko's music since her first album and for a variety of reasons, I've never gotten around to seeing her live. So for this tour I got in early so that nothing else could get in the way. But I couldn't go back on my promise to Declan, so once again I had to forego Sarah Blasko.
In the end I didn't sit with Declan anyway. My band buddy John also bought tickets for him and his son Sebastian, so we gave the boys the good seats down the front and John and I sat together in the seats that he bought.
John must have been one of the last people to get tickets, because we found ourselves in the Upper section, row PP – the very back row, otherwise known as the 'nosebleed section.' While usually you wouldn't want to sit in the back row, it was quite appropriate for a Hilltop Hoods gig, given that The Nosebleed Section is the name of their best-known song. In their case 'the nosebleed section' refers to the people in the front row who are getting bloodied by violent and aggressive moshing, but we were happy living out the more traditional definition.
Oscar and Alex were there again with their friend May, but obviously at 16/17 years of age, they were way too cool or badasss to be going to concerts with a Dad.
Maverick Sabre
I missed the first act, A.B Originals, as John and I were enjoying a pre-show bevy on the terrace while Declan and Sebastian ransacked the merchandise stall. A.B Originals, I later discovered, are indigenous rappers Briggs and Trials. I was sorry I'd missed them becaue I saw Briggs perform at The Age Music Awards the previous October and he was very impressive.
We were in our seats for Maverick Sabre, an Irish singer who guests on the Hilltop Hoods' Walking Under Stars album. He has an evocative name, which I presume is one he gave himself. He was performing with DJ3, who has a less impressive moniker (as May pointed out – DJ1 and 2 must have been taken), but he did have sparkly gold boots. In truth I don't know what DJ3's role was, other than to be Maverick's 'up' man or fluffer. He came on ahead of Sabre and tried to get the audience to do a Mexican wave, only realising after it started that with most of the arena in utter darkness, there was no way of knowing when it was your turn to stand. Hence it fizzled out somewhere near where the base line would be. So he tried again. Predictably it didn't fare any better the second time. Thankfully Sabre came on stage at that point and DJ3 stuck to his mixing desk where between exhortations for the audience to put their hands in the air, he pressed the occasional button or flicked a switch. I couldn't tell whether he was spinning any records.
Maverick Sabre is a purveyer of that particular style of soul singing that requires every vowel sound to be elongated to breaking point. His particular style meant that I'd lost interest in the lyrics before he got to the end of a word, let alone the end of a verse. As such I couldn't tell whether he was singing heartfelt romantic ballads or delivering stinging politically charged barbs. He sounds good on the Hoods' record, where his voice offers a melodic counterpoint to Suffa and Pressure's strident rapping, but with the echo of Rod Laver Arena and the limited musical palette offered by DJ3, it all sounded a bit samey to me. I quite liked Emotion (Ain't Nobody)and his set got better the longer it went, but he obviously took his role of support act quite literally, for between every song he tried to get a "Hiiillltoooppp" call and response going with the crowd.
Hilltop Hoods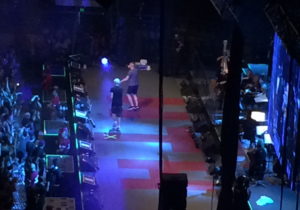 In the break between performers, the audience showed that they didn't need anyone prompting them to get up a good 'Hilltop' chant. In a stadium that has known its moments of general crowd uproar, it's unlikely that even Lleyton Hewitt or Pat Rafter have generated the same anticipatory roar as the Hoods. And certainly not Nick Kyrgios.
The 'Hiiiiiilllttooop, Hiiiiiilllttooop' chant filled the room, giving it a football crowd atmosphere. And with the lights down the first twinkle of smart phone torches flickered through the crowd. It began as a smattering of distant lights, but quickly grew until a whole galaxy of stars was lighting up the room like the Milky Way. We weren't so much walking under stars, as sitting among them.
The Restrung tour was an ambitious undertaking by the Hilltop Hoods; having rearranged and remixed selected songs from their two most recent albums for orchestral accompaniment, they were travelling the country with conductor Hamish McKeich and playing with a different symphony orchestra for each show. A week gap between each show suggested a fairly intensive rehearsal schedule; either that or they were keen to fit in some sight seeing.
The rearranged tracks from the album Drinking From the Sun / Walking Under Stars Restrung retain all the urgency and passion of the originals, but I was interested to see whether the live show lost anything in the translation from hip hop beats to orchestral arrangements. Or would the soaring string section, brass fanfares and choral accompaniment add operatic grandeur to such gritty urban grooves as The Hard Road and Chase That Feeling.
The curtains opened as the orchestra struck up an overture. DJ Debris was stationed up the back with the rhythm section that included a full drum kit. Suffa and Pressure came bounding on stage and ripped straight into recent hit, Higher followed by Chase That Feeling, setting an early highlight for those packed into the mosh pit. The audience was doing that cranking hip hop arm movement that is somewhere between patting an invisible balloon on a string and giving a Nazi salute.
The duo ran through a selection of older and newer material, all of it delivered while Suffa and Pressure walked, ran, skipped, jogged, jumped and bounded about. Their energy was relentless. They literally didn't stand stil for a moment. Even when they were at the front delivering a rapid-fire rap, their arms were in constant motion providing regular exclamation points to the monologue.
Maverick Sabre joined the boys on stage to add his voice to Live and Let Go and Won't Let You Down, the latter enticing a further 15,000 strong choir to join in. Anyone not entirely sold on his solo set now understood why he was on the bill.
On his way off stage Maverick Sabre tag teamed Montaigne who was there to contribute her distinctive vocal to current hit 1955. All of these guest performers not only speak to the Hoods' understanding of their own vocal limitations, but also their sense of theatre and what makes a good show. It also highlighted their generosity as performers; they're not afraid to let someone else take the lead.
Even when they introduced The Nosebleed Section as being a significant cultural moment in Australia, it wasn't so much a statement of grandiose self regard, in the same way that Kanye might interpret his own achievements, but a way of acknowledging that while the song's success was good for them, it was great for Australian hip hop. And the measure of this might have been the fact, announced on stage, that this was the biggest audience ever for an Australian hip hop show. Of course it might have just been the sheer number of people on stage that boosted the numbers over the previous benchmark, but it was still an impressive feat.
For me the highlight of the show was Through The Dark, MC Pressure's powerful and touching song about his son's battle with leukemia. Regardless of whether or not you like hip hop, this is a great song and I tear up every time I hear it. Live it was made even more affecting by the orchestral and choral arrangement. The audience lent it extra poignancy with a celestial display of cellphone torches and even one or two cigarette lighters.
The orchestra sounded strong and clever arrangements added nuance to the familiar material, even a new layer of sadness to a track like I'm a Ghost. Particularly effective was the choral backing. From a theatrical view perhaps they could have done more to feature the orchestra, but then I suppose 15,000 people were there to hear the Hoods and wave one arm up and down with furious intent, not nod in appreciation of a plaintive violin solo. The orchestra featured in its own way by bringing out new layers of meaning in the material.
As always, DJ Debris took a back seat to his more exuberant frontmen, but he exerted himself with a mash-up of Fatboy Slim's Praise You to introduce the final song, Shredding the Balloon. The song may have ended with Suffa declaring that "I'm over and out" but even as the curtain closed we knew there would be more.
When the curtains re-opened the orchestra's string section picked out the pizzicato opening of Cosby Sweater that also featured fanfare brass, lilting flutes, vibraphone, timpani and of course scratching. Remi also skipped on stage to deliver a mid-song rap. This is the second time I've seen Remi – he did the same thing at Damon Albarn's Palais concert a couple of years earlier, bouncing on to belt out the rap that features in the Gorillaz track Clint Eastwood. Just as on that night, he gave his brief cameo absolutely everything.
The show ended with Rattling the Keys to the Kingdom during which audience members were asked to remove an item of clothing and wave it above their heads in the air. I was minding Declan's jacket so I gave it a cursory twirl, but from the back row, I felt that my contribution was somewhat minimal. Still, I was happy to be there and be involved, and despite professing a preference for Sarah Blasko on record, I can't imagine that her live show was anywhere near as dynamic as that of the Hilltop Hoods.
When we caught up with the rest of the crew after the show, they'd all loved it. Declan's Instagram post declared it the 'best concert ever' and even though he was assessing it on a sample size of one, in his case at least, it was absolutely true.
Setlist
Overture
Higher
Chase That Feeling
Drinking From the Sun
The Hard Road
Lights Out
I Love It
Live and Let Go – with Maverick Sabre
Won't Let You Down – with Maverick Sabre
1955 – with Montaigne
Speaking in Tongues
The Nosebleed Section
Walking Under Stars
Through The Dark
I'm a Ghost
Shredding the Balloon
– – –  – – – –
Cosby Sweater – with Remi
Rattling the Keys to the Kingdom
Encore: R.I.P. Prince – the purple reign is over