Honeyblood
Honeyblood
Totally Mild
Curtin Hotel, Carlton
Saturday 1 April 2017
$30
JUST LIKE HONEY

There is, it seems, something of a Scottish renaissance going on. T2, the Trainspotting sequel was released in cinemas a fortnight ago. The Jesus & Mary Chain last week put out Damage and Joy, their first album of new material in 17 years, and Simple Minds, Midge Ure, Eddie Reader, Teenage Fanclub and Frightened Rabbit have all just toured or are set to tour Australia.
Even the person most synonymous with tartan – the biggest tartan of them all you might say – Les McGowan of the Bay City Rollers is also touring here shortly. I know, what about Woody, Derek and the rest of the boys you ask?
Not only that but there are renewed calls for another vote on Scottish independence. Even Dr Who is Scottish. All we need is for Susan Boyle, Rod Stewart and The Proclaimers to star in a stage musical of Braveheart and conspiracy theories about Scotland taking over the world would gain credence.
Into this Highland zeitgeist comes Honeyblood – a young Scottish duo, Stina Marie Claire Tweeddale (guitar, vocals) and Cat Myers (drums), to play the Curtin Hotel in Carlton.
Two albums in, Honeyblood join a select group of musical duos in which one of the two members is a drummer. It's a surprisingly successful alumnus; most famously there is The White Stripes, The Black Keys, The Dresden Dolls and The Carpenters, but also one of Australia's best bands, Big Scary, as well as The Kills, Japandroids (not to be confused with Japan or The Androids), Royal Blood and Twenty One Pilots, among others.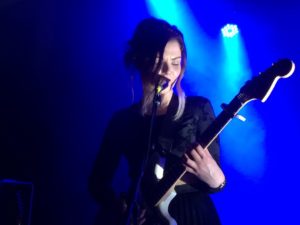 With such a lineage, it is tempting to question the usefulness of bass players. Would The Jam be any worse off without Bruce Foxton? Probably not, even though he's the only one left operating under that moniker. Would anyone have noticed if Kris Novoselic hadn't been in Nirvana or if Cream consisted only of Eric Clapton and Ginger Baker, with no Jack Bruce? It's unlikely.
But it wouldn't work for every band – it's hard to imagine The Beatles with just John and Ringo, The Stones made up of only Keith and Charlie, or The Police without Sting. And whatever your thoughts on Garfunkel, he was probably a better match for Paul Simon than say, Keith Moon would have been.
Behind the Curtin
The Curtin Bandroom is the upstairs room at The John Curtin Hotel on Lygon Street. It's one of the few remaining un-gentrified pubs left in inner Melbourne and is all the more popular because of it.
The John Curtin Hotel is named after the 14th Prime Minister of Australia, the man who led the nation through the Second World War. The high regard in which he is held by the people of Australia is evidenced by the fact that he has a pub named after him. Whereas other countries honour their renowned leaders by erecting statues or naming airports after them, in Australia we find pubs a more permanent signifier of greatness.
I'm not sure, however, if having a pub named after him in any way reflects his manner of death, in the same way that Harold Holt, who drowned off Portsea beach, had a swimming pool named after him. If so it's a peculiar form of homage we indulge in, and it makes you think that had former Liberal leader Billy Sneddon ever ascended to the top job, he may now have a sex position named after him, "Come on darlin', give me a Sneddon."
Totally Mild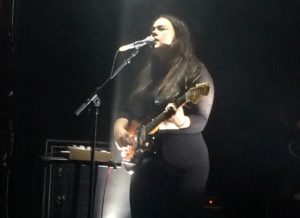 One of Melbourne's most impressive band's, Totally Mild, was supporting Honeyblood which made this a double header worth catching.
I hadn't seen Totally Mild play for over 12 months so was keen to hear if they had new material. They play a type of unorthodox pop noir characterised by Elizabeth Mitchell's wistful and at times, eerie falsetto and Zachary Schneider's evocatively textured guitar tones.
The sparsely populated room filled quickly as the band began. They opened with Christa from their debut album, but their set was an even mix of new songs as well as tracks from their album Down Time and E.P. Alive in Denmark.
There were at least five songs I didn't know, including one that Elizabeth Mitchell began with an extended a capella verse, before the band joined in with a haunting soundtrack.
The new songs all sounded good and bode well for their next recording. They evoke a similar mood of ennui and slight menace. Even more promising is Schneider's new Will Sergeant haircut.
Explaining her skittish between song patter, Mitchell said that she'd been DJing in the pub with her wife for a few hours and they'd been paid in bubbles, "so that's where I'm at" she said as she raised her flute of sparkling wine. Cheers to that.
This was an impressive set with When I'm Tired and Nights the stand out songs here as on the album.
Setlist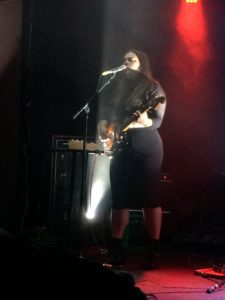 Christa
?
More
?
When I'm Tired
Nights
Today Tonight
?
Battleship
Work it Out
?
?
Honeyblood
My first encounter with Honeyblood lead singer and guitarist Stina Tweeddale was when I purchased a copy of the Babes Never Die vinyl from the merch desk at the back of the room early in the night. Not that I knew who she was. I'd only ever heard the band on Spotify and hadn't seen any film clips. I thought she was just the young chick the pub sat behind the merch desk because she's not old enough to serve behind the bar. I didn't realise the retailer was also the dulcet toned riff queen of the Scottish indie scene. Which explains why she couldn't tell me where the toilet was or whether there was an ATM downstairs. I only realised it was her when she began setting up her nest of guitar pedals on stage after Totally Mild finished their set.
Despite their relative youth, or perhaps because of it, the two girls of Honeyblood displayed remarkable confidence and command on stage. And they cranked out a few decibels as well.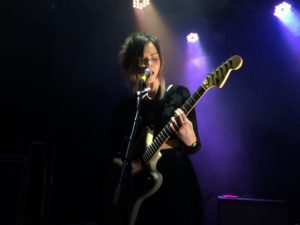 From their opening song, Justine, Misery Queen, Stina Tweeddale gave full vent to her strong voice and her guitar reverb, and let the melodic hooks of her songs propel the show along. There isn't one song in their repertoire that doesn't contain a satisfyingly catchy refrain or a take the listener down a tuneful tangent. From the insistent chant of Love is a Disease to the power pop of Ready for the Magic, the duo set a cracking pace and created an irresistible sound palette. Really, who needs a sullen bass player skulking in the corner or a keyboard player bouncing up and down on the spot when you can just set up the drum kit and the effects pedals at the front and bash it out? Plus it's at least one less person on the rider.
In other hands, these same songs could easily be bouncy Taylor Swift-like pop gems, not that there is anything wrong with that, but Tweeddale's dynamic guitar thrusts and Cat Myers powerful drumming transform them into statements of intent, without sacrificing the hooks. There's an element of early Blondie to their sound in so far as no amount of punk posturing can quite mask the melodic imperative and the sheer pop brilliance of their material.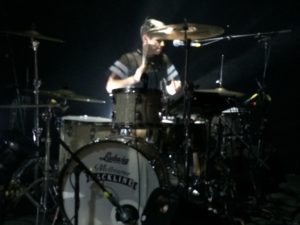 Lunch Date
There was plenty of stage banter, some of which, I have to admit, was rendered indecipherable by the girls' Scottish accents, but there were enough ex-pats in the crowd who seemed to understand what was being said. We got our own back when Cat asked for some Australian sayings they could take back with them and a loud voice from up the back bellowed, 'Get a dog up ya!' which seemed to baffle them somewhat.
Tweeddale sought suggestions for things to do on their day off the following day. A few suggestions elicited no real response until someone yelled, "Go to the footy!"
"Yeah, footy!" became the shout taken up by the room that very nearly escalated into a chant. When Cat asked if there was a team that had like a cat or a tiger emblem, she was besieged by a barrage of shouted suggestions that actually seemed to frighten her a little. "Oh God what did I start?" she said.
We take our footy seriously here. Normally I'd have advocated loudly for the Hawks, but we'd lost that very afternoon and as we're still public enemy number one in the footy world I thought I'd hold my tongue.
One gentleman handed her a business card for Small Victories, a cafe in Rathdowne Street, upon which Tweeddale invited us all to meet there at 12.30pm for lunch the next day. I didn't go, and I don't know if they did, but I hope they did get to the footy later, because the Cats and North Melbourne played a memorable high quality match that was only decided with a minute to go.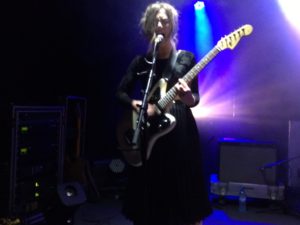 Blood Sisters
The set pretty much consisted of songs from the new album, Babes Never Die, interspersed with occasional tracks from its self-titled predecessor, which were unfailingly introduced as 'old' songs, as if 2015 were some ancient epoch and they were dredging up these songs from some misty past.
The intensity of the playing never lapsed, and indeed, heightened over the final trio of songs, All Dragged Up, Sea Hearts and Babes Never Die. The recorded versions of these songs are punchy, but live, they were a full-on assault.
Talking through the pointlessness of the encore, they handed a GoPro into the crowd to pass around and pushed on with lively readings of Super Rat and Killer Bangs. Cat urged dancers to come to the front which merely emboldened the pissed fuckwits to start the pushing and shoving routine rather than any actual dance steps. At some stage the GoPro passed through my hands so the footage that hits the cutting room floor will include vision of my slightly surprised face in mid-panic as I tried quickly to find someone else to pass it to.
I hadn't been feeling well at the beginning of the night, a touch of the man flu, but I left the Curtin feeling buoyed by Honeyblood's exuberant brand of music.
Honeyblood is an appropriate name for the band because their music contains the sweetness of honey as well as the heavier bodied life force of blood.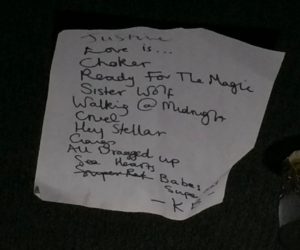 Setlist
Justine, Misery Queen
Love is a Disease
Ready for the Magic
Choker
Sister Wolf
Walking at Midnight
Cruel Kids
Hey Stellar
Gangs
All Dragged Up
Sea Hearts
Babes Never Die
Super Rat
Killer Bangs