Dave Graney and the mistLY
Dave Graney and the mistLY
The Tote, Collingwood
Sunday 16 April 2017
$20
THE SOFT 'N' SEXY SOUND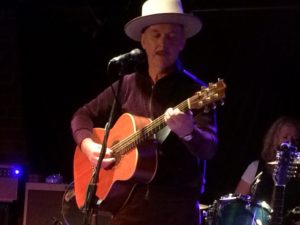 If Christ rose on Easter Sunday, he would have been just in time to catch this show by Dave Graney and the mistLY, or the Lurid Yellow Mist, as they were once known. Not much else is open for a start. If was there, I didn't see him, however, it was very dark inside and he may have been one of the shadowy figures skulking in the corner sipping a can of Melbourne Bitter.
Easter Sunday is an odd time for a gig. However, if anyone can handle the pressure and live up to the symbolism of performing on the anniversary of Christ rising from the dead, then that person is Dave Graney.
Dave Graney and Clare Moore were at The Tote to launch their new album, Let's Get Tight. The album has been released in increments over the past 14 months with one track being made available for download or streaming each month. The 14 songs have now been collected on CD.
Totes Cool
The Tote holds a special place in the hearts of Melbourne music lovers. In 2010 new liquor licensing laws at live music venues made it too prohibitive for the venue to continue to stage gigs and it was forced to close. This provoked a ground roots protest to rise up, culminating in a march on Parliament House that was approximately 15,000 people strong. The protest movement forced the government to back down and although it was too late for the then proprietor, long-time Melbourne music promoter, Bruce Milne, the venue did eventually re-open. This essentially makes The Tote a cause celebre of the local music industry, the Franklin River of music venues.
We are lucky to have it because where else would bands like Batpiss, Ouch My Face and Suss Cunts play?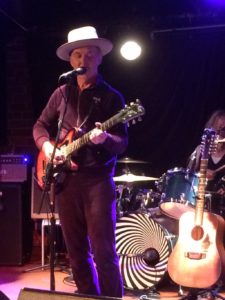 Despite its symbolic significance in Melbourne's live music scene, I haven't actually been to The Tote in years. And when I say years, I may as well say decades. It's probably the 90s and quite possibly the 1980s since I was last in the bandroom. There have been a number of occasions when I have intended to see a particular band there, but the weather, the lateness of the bill – headliners come on at 11pm – or just general laziness have intervened and caused me to stay at home.
Even so, not much has changed since I last darkened its hearth. Certainly not the décor, even the same unpleasant odour still hung in the air. The phrase, 'it hung around like a bad smell' might well have been coined in The Tote. I don't know if the smell was fresh beer spillage, stale piss, the smell of fear from when Chopper visited, or just the accumulated years of sweat and grime from unwashed inner city punks.
Even the look of the clientele hasn't changed much. There were some young girls in the front bar with black eye makeup wearing tight leather skirts and fishnet stockings. Obviously they weren't the same girls that I tried to pick up in the 80s – they're probably all on remand, in rehab or living in Reservoir, these days – but they were wearing the same outfits.
I was lured to The Tote on this occasion not by the promise of young goth chicks, but by the special Easter Sunday time slot. With the band scheduled to be on stage just after 8pm, I'd be home by 10.
Rock 'n' Roll is Where We Hide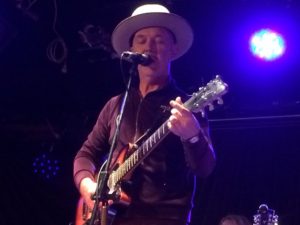 As I wandered into the darkened bandroom Penny Ikinger was on stage wringing a buzz of feedback from her guitar. She had a strong voice, reminiscent of PJ Harvey, and played well, but as with most solo performers with guitar, it was all a bit one-paced. When Dave Graney (bass) and Clare Moore (drums) accompanied her for a couple of numbers, they lifted the tempo and mood of the songs.
It was a small audience, no more than a smattering of people really, which was not particularly surprising for Easter Sunday. Not many of the 15,000 throng that marched on Parliament to protect The Tote's right to exist managed to find their way to the venue on this night. Perhaps 15 of them. Having said that, there are probably few dates on the calendar less auspicious for staging a rock show. I was mildly surprised that anyone was there really.
The mistLY assembled on stage consisting of Clare Moore on drums, Stuart Perera on guitar and Stu Thomas on bass. Dave Graney was on a 12 string acoustic guitar and looked dapper in a dusky, charcoal two-piece velour number teamed with a wide-brimmed Fedora.
Stuart Perera got things going with a light, jaunty riff to introduce I Ain't High Viz, one of the tracks from the new album, before they settled into album opener, I'm a Good Hater. The first person pronoun is never far from a Dave Graney song title.
The set consisted mainly of songs from Let's Get Tight – it was the CD launch after all. The album was recorded largely by just Dave and Clare, with occasional guest musicians. It is characterised by sparse instrumentation and a low-fi production, but the presence of the band gave songs like Everything Was Legendary With Robert (not about Robert Forster, Graney assured us) and You Need a Kleek, Klook, a bit of extra punch and verve. This served the material well.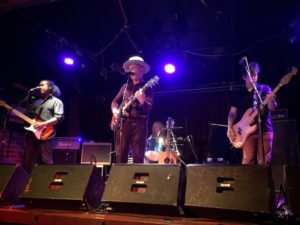 Two guest vocalists joined the band for Are You Out of Your Mind (Get Back In), while Girgio Valentino and Patrizia replaced the two Stu's on guitar and bass respectively for I'm Never Off. Valentno's arch, Keth Levene guitar style gave the song a stark post punk vibe, not unlike The Moodists really.
All of this added variety to the sound. I Need to be Hot, Wanna Get Lost Again and Saturday Night Bath brought more of a relaxed, jazzy vibe before the band dug into their back catalogue for All Our Friends Were Stars and My Schtick Weighs a Ton – "a song all about me for a change" added Graney by way of introduction.
This is the Deadest Place I've Ever Died In is driven by a dirty, funk bass line and Clare Moore's Stone Roses-esque percussive patterns. It tells the the story of a  performer playing an abysmal show in an unprepossessing dive of a venue. The song's setting may or may not have had any resemblance to The Tote, but the noisy reception was evidence enough that the band hadn't died.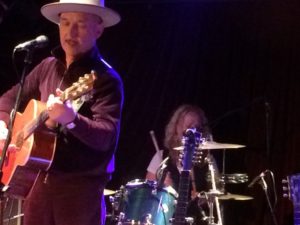 Not Afraid to be Heavy
Such was the clamour that Graney couldn't refuse the call for an encore and played a solo number, Let's Kick This Mob Out. Not a veiled reference to the audience – there weren't enough of us to constitute a mob – but a political number based on a Daily Telegraph headline from the time of the 2013 federal election. Dave has re-purposed the headline to comment on the current government's asylum seeker policy, with particular reference to former immigration minister, Scott Morrisson, and current Immigration Minister, Peter Dutton or "Dutton dressed as man" as Graney referred to him.
As ever, it was a polished performance by Graney, Clare Moore and band. I stole a set list and got Dave to sign a copy of the CD, then headed home up Johnston Street, passing another remnant of the 1980s – the famous Keith Haring mural that backs on to The Tote.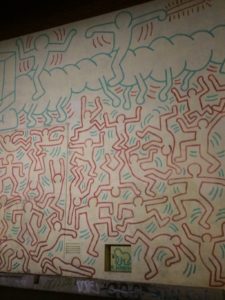 Setlist
I Ain't Hi Viz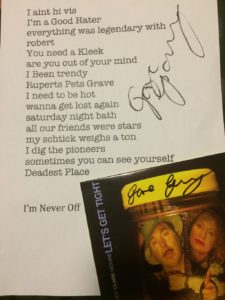 I'm a Good Hater
Everything Was Legendary With Robert
You Need a Kleek, Klook
Are You Out of Your Mind (Get Back In)
I'm Never Off
I Been Trendy
Rupert's Pet's Grave
I Need to be Hot
Wanna Get Lost Again
Saturday Night Bath
All Our Friends Were Stars
My Schtick Weighs a Ton
This is the Deadest Place I've Ever Died in
– – – – – – – – – – – – – – –
Let's Kick This Mob Out
Dave Graney and the Coral Snakes – Memo Music Hall, August 2015
Dave Graney – The Worker's Club, May 2014