Hugo Race
Hugo Race and Michelangelo Russo
John Lee Hooker's World Today
The Spotted Mallard, Brunswick
Saturday 27 January 2018
$13
Hugo Bosses It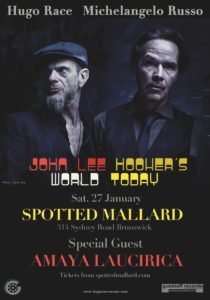 It was still 35 degrees Celsius when I wandered into the Spotted Mallard on Saturday night to catch Hugo Race and Michelangelo Russo play their renditions of John lee Hooker songs. It was also one set all in the women's final of the Australian Open tennis and the Australian men's cricket team were just beginning to falter in their run chase in a One Day International against England. In other words, there were other things I could be doing instead of walking into a hot, sweaty venue for a rock gig, mainly sitting in an air-conditioned room flicking between sporting contests.
It was so hot as I took a seat near the front that even the stubby of Melbourne Bitter I selected over some unknown craft beers tasted refreshing. The Spotted Mallard is a dinner and show kind of venue, so there were tables and chairs set up around a large dance floor, and a few couches in the corner. The heat, however, had kept the audience to a modest number, so there was plenty of room.
The show is Hugo Race and Michelangelo Russo's take on John Lee Hooker songs, called John Lee Hooker's World Today. On stage, Race played guitar and set up a deep, resonant beat through a bass pedal, while Michelangelo Russo – who looked as cool as his name suggests – played harmonica and twiddled with effects pedals to set up a rich ambient soundscape.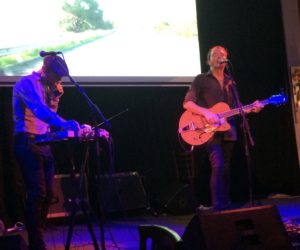 Behind them on a large screen was projected a dashcam video of a road trip through northern Victoria in late afternoon. Possibly the Hume Highway – I saw Euroa highlighted on a road sign – suggesting that if John lee Hooker was alive today and in Australia, he'd be driving through Kelly country.
Those familiar with Hugo Race's career will know that he has a long history of playing modern blues, particularly in his band True Spirit, but also distorting and twisting it through bands like The Wreckery, Plays With Marionettes and even in his brief stint with the Bad Seeds. But this show – and its accompanying album – draws more on the mood he has set up in his current projects, Dirtmusic and Fatalists. There is a menacing, hypnotic heartbeat, Russo's wistful harmonica and Race's strummed guitar and brooding, talking baritone.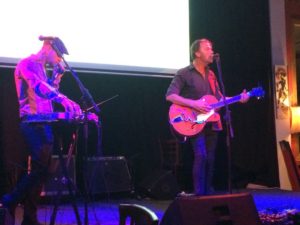 Half way through the set a couple of people took to the dance floor to sway along with the music and by the end of the show there was a reasonable cluster of people on the parquetry. I wasn't doing anything that my raise my sweat levels so I remained in my seat.
I'm not overly familiar with Hooker's work, other than via the accompanying album and cover versions by Cave & co, so I can't guess what a blues purist might make of these versions, but they were performed with honesty and respectful care. The contemporary flourishes never get in the way of the song, and there is a consistent through line to the material. Even the one non-Hooker song, The Motor City's Burning by MC5 fitted in smoothly. If Race hadn't told us that it wasn't by John Lee Hooker, I wouldn't have known.
In the end Wozniacki won the tennis and Australia lost the cricket, but I was glad I'd got out of the house to take in some music.
Setlist
Hobo Blues
Love Blues
Serves You Right To Suffer
?
Decoration Day
The World Today
The Motor City's Burning
Country Boy
?
Tupelo
When My First Wife Left Me
——-
Magnetic Girl
Rockin' USA