R.I.P. M.E.S.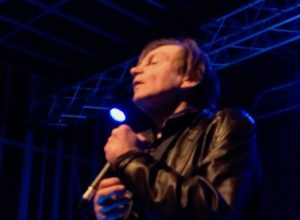 Mark E Smith 5 March 1957 – 24 January 2018
"What's a computer?" asks the age and gender non-specific kid in the latest ad for Apple's iPad Pro, a question that is intended to show how the next generation are dispensing with conventional thinking and looking to the future. Of course Fall fans will recall Mark E Smith asking the very same question way back in 1983's Eat Y'self Fitter. "What's a computer? Eat Y'self Fitter, What's a computer? Eat Y'self Fitter" he sang, or rather yelped, at which point the song's driving staccato rhythm kicks back in and Smith resumes his freeform rant.
Was Mark E Smith's comment a prescient sign of a visionary genius who saw through to a post-computer world, or that of a luddite rejecting notions of faddish modernity? Your answer to this question may well reveal where you stand on The Fall's place in music, and Mark E Smith's mantel as post-punk's maverick maestro.
There are two schools of thought when it comes to Mark E Smith. One side has it that he was an uncompromising and singular lyrical genius, a sort of modern day William Blake. The opposite view is that he was just a pissed old git whose songs were the nonsensical gibberish of a warped fantasist that gullible music nerds mistook for post-modern poetry. Again, a sort of modern day William Blake.
Where both schools of thought do agree however, is that he was a cantankerous and curmudgeonly autocrat who subjected fellow band members to bouts of mental and physical abuse. OK, so no one's perfect.
'The Thin Line Between Transcendental and Terrible'
When it comes to the music, however, I land firmly on the Smith is a genius side, notwithstanding the fact that the music itself is repetitious and rudimentary (that was the point), the production quality of his 32 studio albums is of wildly varying quality (also the point), and his vocal delivery renders the lyrics, however poetic (and even that is debatable), largely indecipherable. For me, it's not what he says but the way he says it; his intonation carries the meaning and the attitude – and Mark E Smith had nothing if not attitude. Indeed, it might have been his greatest gift.
The online comments and tributes on his passing have reflected both schools of thought. Most of them have been written by fans, so they've been largely affectionate and have tended to the view that whatever else he might have been, Mark E Smith provided a unique voice in rock music. Even his detractors generally concede that.
One person credited him with inventing rap, which might be a theory worthy of investigation, but I wouldn't want to be the person to visit Compton and proclaim it. Sure, his vocal style owed more to spoken word, or rather ranted word, than singing, but I'm not sure that necessarily constitutes 'inventing' rap.
Several people picked up on his statement that "if it's me and yer granny on bongos, then it's the Fall," commenting that, "I suppose it's just yer granny on bongos now."
Another wrote that even Mark E Smith has at last become an ex-member of The Fall, while someone else simply quoted, "just step sideways from this world today."
I was expecting someone to write, "There's a new face in hell," but it seems that even Mark E Smith commands a modicum of respect upon his passing – a point which is perhaps more saliently made by the many people he offended over the years who, rather than expanding on his many tirades, simply refrained from commenting. By the same token, there wasn't exactly an outpouring of tweeted tributes from his musical contemporaries and former bandmates.
My favourite comment was from TheHallowMan who wrote, "I shall fire a drummer & bass player in his honour tonight," to which someone called Guess added, "It's what he would have wanted."
Stewart Lee, a Fall fan writing in The Guardian, described the band's famous inconsistency, writing, "And the nerveracking thrill of not knowing which side of the thin line between transcendental and terrible tonight's show might fall. Two nights in a row, in the same room, with the same set list, utterly unrecognisable from one another."
The same applies to their albums. It's tempting to say that the band's best days were behind them, but they have been confounding fans for three decades. Just when you think they've run out of ideas, they hit back with an unexpected masterpiece. This Nation's Saving Grace (1985), The Infotainment Scan (1993), The Unutterable (2000), Real New Fall LP (2004), Your Future, Our Clutter (2010). Even Sub-Lingual Tablet (2015) was a very good album. Even their average albums contained at least one gem, and many of their best songs weren't even included on albums.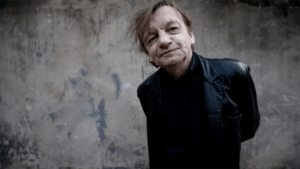 It's unlikely, however, that Smith's death will inspire a round of Fall covers by other bands. You can't cover The Fall. Which is ironic given how many of their own finest moments were inspired cover versions.
In any case, judging by the number of comments added to online threads and forums, it seems that contrary to the self-evaluation he proclaimed in Hip Priest, he was indeed appreciated – even if only by people who didn't know him.
But I am one of them. I saw The Fall play on several occasions; on each of their four visits to Melbourne as well as once in London in 1993. The last time The Fall toured Australia was in 2015, when they played a three night stand as part of Melbourne's International Festival. I went to each of the three gigs and you can read about them here.
I have every Fall record in one format or another, and in some cases in two or more. I'm quite devastated that there won't be any more to look forward to, except of course several hundred more compilations and live recordings. Their most recent LP, their 32nd, New Facts Emerge, was released just last year. It isn't their best, nor their worst. I don't know if the world really needs any more Fall albums, but I'm saddened that there will be no new facts, or indeed fabrications, to emerge.
As the name of one of their many compilation albums has it, 50,000 Fall fans can't be wrong, which may be true, but no two of them can agree on the band's best albums. Here's my top 10, well 13 actually, because who can pick just 10?
Hex Enduction Hour (1982)
This Nation's Saving Grace (1985)
Real New Fall L.P. (2003)
Bend Sinister (1986)
The Infotainment Scan (1993)
Perverted By Language (1983)
Fall Heads Roll (2005)
Grotesque (1981)
Your Future, Our Clutter (2010)
The Unutterable (2000)
Shift-Work (1991)
The Wonderful and Frightening World of The Fall (1984)
Dragnet (1978)
R.I.P. M.E.S.