Wolf Alice at Laneway
Wolf Alice
Laneway Festival
Footscray Community Arts Precinct
3 February 2018
$170
WHO'S AFRAID OF WOLF ALICE?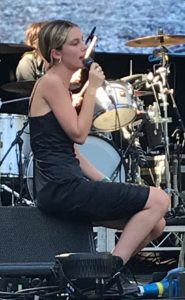 When you get to my age, you begin to look for reasons not to go out, rather than the opposite. A music festival offers many compelling reasons not to attend – the cost, the queues, the crowds, the kids, the inconvenience and in some cases the music itself.
Laneway Festival, however, boasts a consistently good lineup. This year Aldous Harding was touring her splendid Party album, plus there was an exclusive performance by Wolf Alice. These alone had me slapping on the sunscreen, lacing up sturdy shoes and heading down to the Footscray Community Arts Precinct with my friend John for a whole day of music.
There were other good reasons to attend, such as The War on Drugs, Father John Misty, Slowdive and a number of great Australian acts, including Cable Ties, City Calm Down, Amy Shark and Pond and that's just those I'd heard of.
I had a ticket to see Aldous Harding's sideshow at The Croxton later in the week, so Wolf Alice became my main focus of the day. They are a fantastic young band from the U.K. whose music pinballs between punk, pop and everything in between. A sort of modern day Blondie. Their second album, Visions of a Life, was one of the very best of 2017 and I was keen to see them live.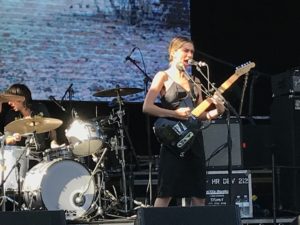 John and I got to the Dean Turner stage in time to see Sylvan Esso, unrelated as far as I know to Bliss n Esso, or David Sylvian for that matter, who were preceding Wolf Alice. It was packed near the front, but John and I were happy to take in their act from the shade of a conveniently located tree. And they were pretty good too, their danceable electronica was smooth and infectious.
Once the electro trance fans wearing overalls (what's with that?) vacated the area, John and I moved up the front and got a good spot for Wolf Alice.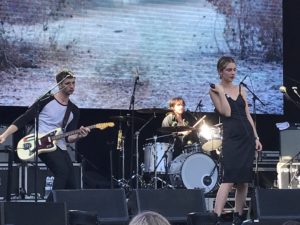 Late afternoon was an unusual time to see a major band, but I'm old now so matinee's suit me just fine. The time slot didn't stop the band from owning the stage and setting up an absorbing sonic assault. Ellie Rowsell is a captivating frontwoman – a sassy, guitar slinging siren – one minute cooing, the next screeching. And not many people  can rock a camisole and Doc Martens with such conviction.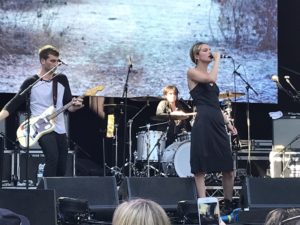 Bassist Theo Ellis stalked the stage menacingly and egged on the crowd, while guitarist Joff Oddie (relation to Bill from the Goodies?) extracted a series of shrieking sparks and fizzing feedback from his guitar. At one point he wielded his guitar like a cricket bat to send a plastic water bottle back into the crowd.
They played an exhilarating set that eschewed nuance and privileged the loud frenetic side of their aesthetic, the spiky and unfriendly Yuk Foo an early highlight. Only recent single Don't Delete the Kisses hinted at their dreampop side. Even melodic gems like Beautifully Unconventional and Formidable Cool were imbued with a thrashy, primal energy and edge.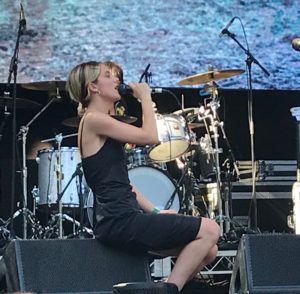 Rowsell clambered into the crowd at one point to bring the music right to the people, the performance owing more to the Wolf than the Alice in their name. They were the highlight of the day, but no sooner had the final notes of Giant Peach finished reverberating that it was time to head off to see Aldous Harding.
Alice may have gone to Wonderland, but Wolf Alice came to Footscray.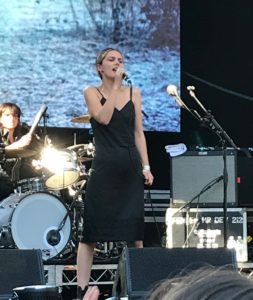 Setlist
Moaning Lisa Smile
Yuk Foo
You're a Germ
Lisbon
Bros
Don't Delete the Kisses
Beautifully Unconventional
Formidable Cool
Space and Time
Visions of a Life
Fluffy
Giant Peach
John and I took a  magpie approach to the day, catching shiny snippets from as many acts as we could. There were four stages with overlapping set times, so we missed more than we saw, including  Alex Cameron, Rolling Blackouts Coastal Fever, City Calm Down, The Internet and Bonobo, some due to scheduling, some because we needed to eat, drink or just sit.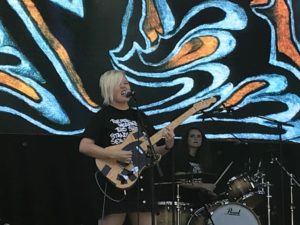 We started with the strident power punk of Cable Ties in the early afternoon, moved on to The Babe Rainbow, a few songs from Dream Wife and Amy Shark before seeing Billie Eilish and Mac De Marco from a distance.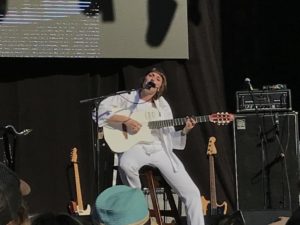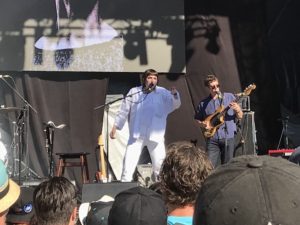 Aldous Harding was a revelation, battling the sun beating into her eyes and an audience insisting on offering her hats to wear. "No more hats!" she berated.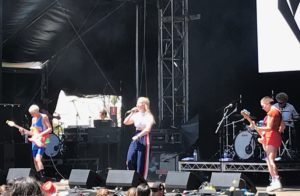 Dream Wife let rip some spikey punk, like a cross between Hinds and the Spice Girls.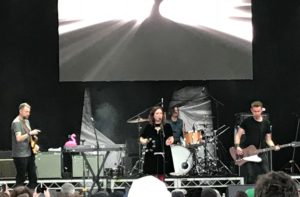 Slowdive got dreamy with some signature slow-wave.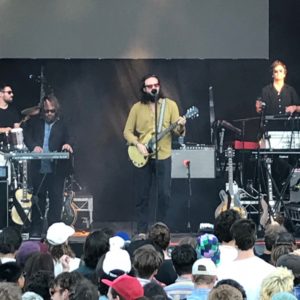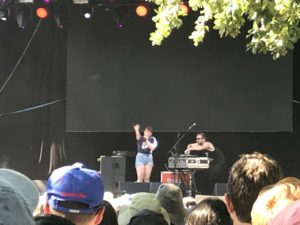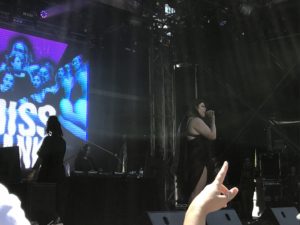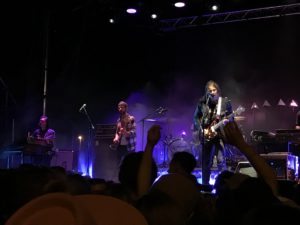 The War on Drugs were good, but it was so cramped and my feet were so sore by the time they came on that it was all i could do to stand through Adam Granduciel's earnest, 10 minute aural soundscapes.
I've see The War on Drugs on three separate tours now, starting at the tiny Northcote Social Club, then the slightly larger 170 Russell and now headlining a massive festival. They were slick and polished, but a little samey – but that might just have been my feet speaking by then.