Iggy Pop
Iggy Pop
Festival Hall
Sunday 21 April 2019
$130
OF COURSE I'VE HAD IT IN THE EAR BEFORE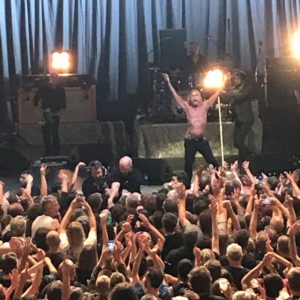 Iggy Pop is perhaps rock and roll's most enduring rebel – "a street walking cheater with a hide full of napalm." He has survived his contemporaries and musical compatriots, Bowie and Lou Reed. He has never caved into contemporary correctness or cowered to authority. He has lived life to the full while sticking up a big middle finger to mediocrity and the musical mainstream.
In the same spirit of rebellion and who cares attitude, I didn't even iron my shirt before heading out to see him at Festival Hall on Sunday night. Yeah, that's right, I just let it hang with the wrinkles. Take that society! Mind you, you don't want to overdress for Festival Hall.
As it happened, it was Iggy's 72nd birthday and surely the irony did not escape anyone that Iggy's birthday coincided with Easter Sunday, the day of Christ's resurrection.
John had wrangled seats in the balcony so we had a great view of proceedings, and more importantly, access to a private bar. Which was important because getting served at the Royal Mail Hotel before the show was virtually impossible.  So Cooper's Pale Ales in hand, we took our seats in the back row.
The Chats were in support – a rowdy three-piece act who belted out rudimentary Stooges-like punk. I don't mean that as a criticism – every band since the late 60s with guitars and attitude owe a debt of some sort to the Stooges. Naturally, they were "fucking stoked" to be playing with Iggy Pop.
I first saw Iggy Pop perform in 1982/3 at the Astor Theatre and have seen him several times since. But not for a while, so I was looking forward to this gig. And I wasn't expecting that the setlist would differ significantly from that early 80s show. Which is a good thing – not that Iggy hasn't made good records since; 2016s Post-Pop Depression was a beauty. I even liked 2012s Apres, on which he croons through a few old standards, some of them in French, while 2009s Preliminaires is among his best work – another album that features French vocals. But when you can assemble a setlist of out and out kick-arse crowd-pleasing anthems that you wrote in your early 20s, why wouldn't you?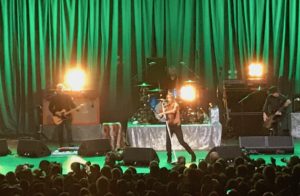 And that's exactly what we got. Iggy wheeled on stage, shirtless of course, as the familiar riff of I Wanna Be Your Dog filled Festival Hall. He followed up with Gimme Danger, The Passenger – which along with Roadhouse Blues, is one of the best driving songs ever – and the mighty Lust for Life – "I'm just a modern guy, of course I've had it in the ear before." Of course he has. Who hasn't? We were on our feet by this stage and relishing the sound bombarding our own ears.
Iggy has had a hip replacement and he now walks with a pronounced limp – which lends him a touch of Olivier playing Richard III as he wheels about the stage. Even that works for him. It certainly hasn't stopped him or slowed him down. All the old mannerisms are intact and he traverses every inch of the stage to bring in every last audience member, no matter from what outer reach of the venue they're watching.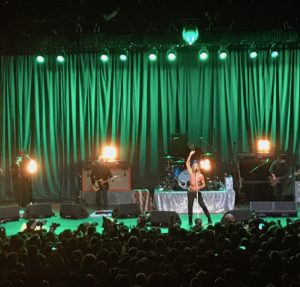 The band were tight, loud and focussed, consisting of two guitarists, bass, drums and a two- piece brass section.  They weren't deliberately unobtrusive, but all eyes were on Iggy. During a pause in I'm Sick of You, during which Iggy asked for the house lights to be turned on so he could coax extra applause from the crowd, what he got instead was an impromptu rendition of 'Happy Birthday' from the mosh-pit.
He said he'd been coming here for 40 years – not that he remembered, but people kept reminding him that 40 years ago he was rude to a TV host – a reference to his infamous appearance on Countdown.  He didn't play I'm Bored as he did on Countdown, but Repo Man. A surprising selection perhaps, followed up with another Stooges' classic, Search and Destroy, that saw Iggy clamber down into the mosh pit and sing from amongst his people. From our vantage we could just make out the platinum blonde top of his head as he edged through the crowd.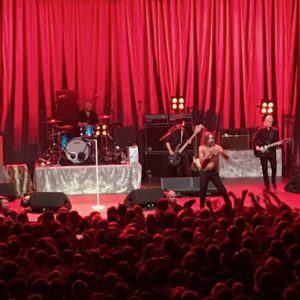 After TV Eye, there was a Bowie tribute of sorts with Mass Production from The Idiot followed by a cover of The Jean Genie, which led into an incendiary conclusion with 1969, No Fun and Real Cool Time.
Iggy invited the audience to join him on stage for No Fun, a decision he possibly regretted if his cries of "Take it easy!" were any indication as people crowded around him and piled on top. Sure, he may have led the life of a reckless roustabout, but he's 72 years old – be gentle people. Naturally the show was then delayed as several limelight seekers refused to leave the stage without the assistance of security.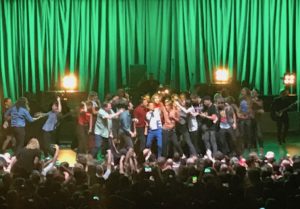 The encore began with an official band-led Happy Birthday to the industrial soundtrack of Nightclubbing and the fluttering payload form confetti canons. Iggy seemed suitably chuffed with all the attention. He screeched out Sixteen and the brass section took over for Five Foot One, with its aspirational staccato chant, "I wish life could be, Swedish magazines."
Real Wild Child was suitably celebratory with everyone on their feet waving their arms in the air. I don't think I've ever seen a Festival Hall audience go off quite as they did for this show.
A second encore not only brought us the classic Down in the Street, but a cover of Nick Cave's Red Right Hand. I remember The Birthday Party performing Loose with raucous abandon in the early 80s, so it was fitting that Iggy repaid the debt with what he referred to as something "vaguely Melbournian" which they played with the slowed down Loose riff.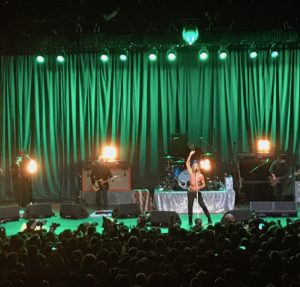 This was a high energy show and even after the band had vacated the stage, Iggy was still being chased by zealous security staff as he stalked the front of the mosh pit slapping the hands of audience members.
For me, Easter is about the Hawthorn v Geelong game at the MCG on Easter Monday and I'll be happy if the Hawks play with the same intensity as Iggy, a septuagenarian with a hip replacement.
Setlist
I Wanna Be Your Dog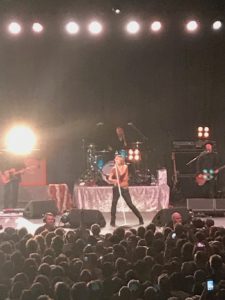 Gimme Danger
The Passenger
Lust for Life
Skull Ring
I'm Sick of You
Some Weird Sin
Repo Man
Search and Destroy
TV Eye
Mass Production
The Jean Genie
1969
No Fun
Real Cool Time
———–
Happy Birthday
Nightclubbing
Sixteen
Five Foot One
Real Wild Child
———-
Down on the Street
Red Right Hand